The official launch of Page's tour was here in Philadelphia at the World Café Live about a month earlier than this show, and it was broadcasted live for WXPN. I played hooky from work that day to review that show, and on this night I expected many of the same songs from the new self titled album. McConnell did play many of his new songs, but also included some surprises for his dedicated "phans."
The show started with the funk jam "Heavy Rotation." This is my favorite new Page song, so I was very pleased to hear how it has evolved since the last time I saw the band. Page seemed a lot more comfortable now than he did at his first show. The end of this song climaxes into a tightly woven jam when Page leads the charge on the piano instead of the many other instruments that he uses on this song (Wurlitzer, organ, clavinet, synth, toy piano, and accordion). On "Close to Home" the piano explodes in with the pleading McConnell singing almost immediately. This was a good song to play next because of the similarity in the vocals of the two songs. They sounded like an extension of each other.
Page then slowed things down with "Maid Marian." Maid Marian was the pseudo girlfriend of the legendary figure Robin Hood. As usual, this was a beautiful rendition of the sad song where McConnell bares his soul. The instrumental "Back in the Basement" sparked the crowd up again with guitarist Adam Zimmon playing a solid introduction. The talented Zimmon who has played with many artists in several bands once remarked, "I have some vices, like equipment, guitars, but life is pretty simple – it's music and that's it." This innate drive is what separates the men from the boys. But, Zimmon is not the only one who lives by this mantra. Jared Slomoff has been described as someone that Page could not do without on this album or the tour. Slomoff, who not only plays nearly every instrument, helped Page produce and engineer his new album. At first it was strange to see another keyboard on stage, but Slomoff hangs low while keeping the sound even.
Next came the only Vida Blue song of the night entitled "Final Flight." I really enjoyed Vida Blue and the music that came out of that side project. "Final Flight" is a very mellow, soothing, and short song, but it took most people by surprise as the crowd simply swayed and stared. Then, Page led into "Complex Wind," which is a synth heavy song that sounds like something that you'd hear in a Pink Panther movie. There are great sounds in this song that reminds its listeners to "take a pause" and to "breathe."
The autobiographical "Runaway Bride" and the Bunny Wailer cover "Walk the Proud Land," that asks "Why? Why? Why? Why?" came next. The crowd woke up when they heard the reggae rhythms of Rob O'Dea's solid bass line. "Rules I Don't Know" and "Beauty of a Broken Heart," kept the theme of hurt and defiance through the end of the show until the uplifting encores.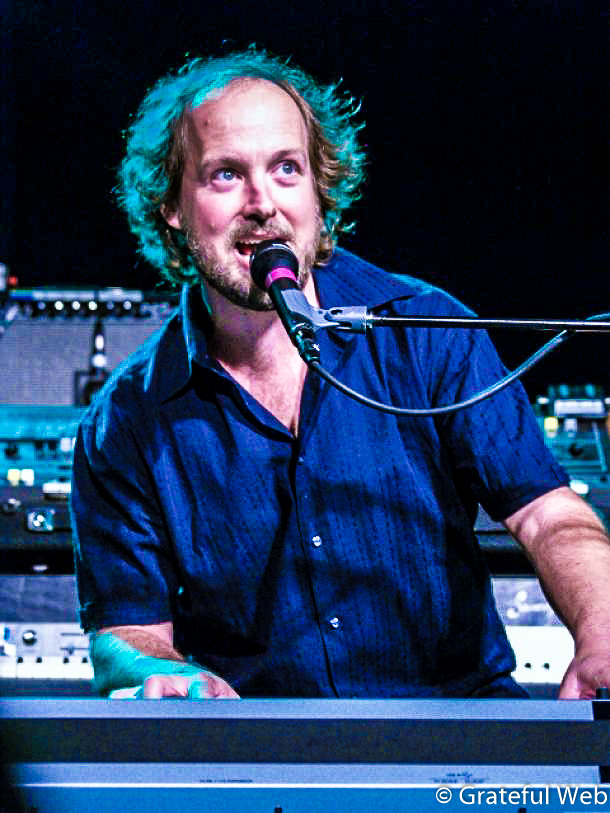 The phans went wild when Page walked up to the stage by himself to play "Strange Design," which Jon Fishman nicknamed "Ah Page Sing!" This ballad sung by Phish's own "Chairman of the Boards" was written by Tom Marshall for the Billy Breathes album, but it never made the cut. I don't know why because it's one of Phish's most beautiful and ethereal songs. This song was very appropriate to encore this set with not only because it's a Phish song, but because according to The Phish Companion, "its reflection on life and the evolution of thought and understanding that only comes with time is by far the most apparent notion." This song is reflective and pleasant to one's ears. The crowd was very happy to feel the nostalgia that we have been longing for since August 15, 2004.
Finally, the second encore was "Monkey Man" by the Rolling Stones. This was the first time that Page has covered this song. This is an upbeat rocker that sent the phans off feeling good. The whole night overall was full of good feelings, nostalgia, and reverence for a man that has made all of our lives a little better. Page's tour ended a week ago in Boulder, CO, with no further plans announced yet, but you can be sure of one thing…this man is a true musician and he's back.