The only detractor to using the word jazz to describe a genre of music that is too many different progressions have made it useless as an adjective. What does it mean when something is "jazzy"? Many would here a walking bass line accompanied by swinging guitar licks and a brass section leading a melody. Others might think of Flamenco, Indian sitar styling, or Bluegrass. Many fans prefer the Modal or Cool sound and the artists of that classic period. I find myself obsessed with what was going on with the "jazz" community around 1968, when legendary bandleader, composer, and horn player Miles Davis refused to consider his form outdated or stale. If psychedelia had become the new craze in improvisational music, then he was going to do it better than the mainstream Rock musicians. He did just that with three fantastic, now legendary albums, "In A Silent Way" (1968), "Bitches Brew" (1969), and "A Tribute to Jack Johnson" (1970). These three albums were groundbreaking landmarks in a brand new sub-genre of jazz that became known as Fusion. The idea seemed to combine the energy and tempo of rock music with the free eclectic nature of jazz music.
Davis had dozens of different players featured on these three quintessential jazz projects. To name a few; Joe Zawinul, Dave Holland, Chick Corea, Herbie Hancock, Billy Cobham, Airto Moreira, Wayne Shorter, Tony Williams, and guitarist John McLaughlin. McLaughlin became a session favorite of Davis' (he even named a track after him on "Bitches Brew") and with good reason. His melodic sensibility, combined with complete mastery of electric and acoustic guitar, in multiple different styles and contexts, made him the perfect guitar man for Davis most experimental projects to date. Over forty years later McLaughlin has solidified himself one of the jazz guitar greats with a bountiful and varied solo career aside from his legendary Mahavishnu Orchestra formed in 1971. With Mahavishnu, McLaughlin was able to develop the sub-genre of fusion beyond any other artist or group contemporary. His albums "The Inner Mounting Flame" (1971), and "Birds of Fire" (1973) are quintessential electric fusion and have gone on to influence generations of the most interesting musicians.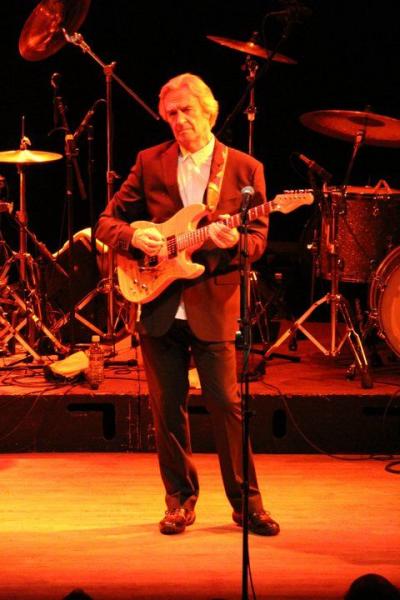 Perhaps the most incredible element about McLauglin's music is it's international influence. Drawing from Euro-Composition, American Jazz, Indian classical, and various Asian styles. McLaughlin's most successful collaborations have been international with each member of the original Mahavishnu Orchestra being from a different nationality, his "Shakti" project with Indian musical masters L. Shankar and Zakir Hussain, and the guitar trio with Al DiMeola and Flamenco master Paco De Lucia. Basically, there is nothing out of range from McLaughlin. The term virtuoso has never been more fittingly applied. Perhaps the most incredible thing about McLaughlin is that in 2012, he is still performing outstanding new compositions with the same flare and fire as his youthful days. His band of the last five years is called the "Fourth Dinemsion." Along with key and drum-man Gary Husband, fretless bass player Etienne M'Bappe, and drummer Ranjit Barot, McLaughlin has settled in with these talented musicians as his most interesting new project in years.
It's difficult for a musician and composer like McLaughlin, who has accomplished so much personally and collectively for the jazz community, to top himself at age 70. The 4th Dimenson's brand new album, "Now Here This" is as McLaughlin puts it "the culmination of my life's work until now". At first this statement might seem plain; shouldn't every musician expand upon previous works for their new music? But in reality for McLaughlin to acknowledge this is bold and satisfying remark for fans to hear. Having had the privilege of seeing this band perform, I can validate the statement since he's seemed to return to his roots with the electric fusion sound that was foundational to his development into his more eastern explorations. "Now Here This" sounds like a coda to the Mahavishnu and Miles Davis fusion band sound. Soundscapes with percussive mastery accompany the McLaughlin guitar sound and prove this lineup (with Barot as a new addition) to stand up to the best of his projects.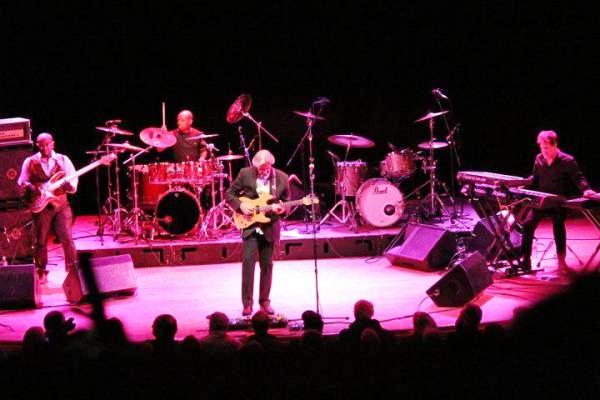 The opening track "Trancefusion" seems vintage altogether, with the term trance having taken on so many musical associations since McLaughlin began his career. Barot's virtuosic abilities are immediately worked out responding to his bandleaders soring scaling passages. This is the most "Mahavishnu" sounding track on the album, with bass-monster Etienne M'Bappe keeping right in synch with the guitar lines, while simultaneously acting as a hearty backbone for Husband and McLaughlin's melodic adventures. "Riff Raff" sees Barot radiating and shining through again, attacking his set with the intensity that the music demands. It's already apparent the 4th Dimension is no backing band, but a collaboration of like-minded wizards who share the fuel to play fast, heavily structured compositions. "Echos From Then" is reminiscent of John Scofield's finest studio moments. Nuanced in its heaviness, and above all precise. Then at about a minute thirty, McLaughlin picks up the pace and launches into a tempo-defying platform for all four to show off their chops. "Wonderfall" slows down the pace with some lovely piano and synthesizer work from Husband, a long-time collaborator of McLaughlin. His playing is undoubtedly influenced by Chick Corea's work with Return To Forever, and reveals a softer side to the album.
"Call And Answer" could be considered a sister song to "Vital Transformation," a Mahavishnu classic. With lightning fast shuffle drumming, extended bass explorations and McLaughlin leading on his axes,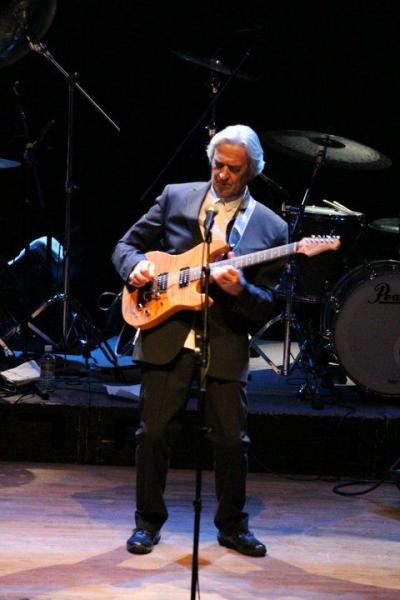 Husband is able to show off his acoustic piano abilities, with plenty of trademark time signature changes built in. "Not Here Not There" evokes a daybreak on the horizon of unlimited possibilities. Plenty of weeping guitar parts will keep listeners harnessed in. "Guitar Love" has some Latin flavor to it. I'm reminded of how McLaughlin toured with Carlos Santana in the mid 70s and a wonderful recording that I own of a Chicago performance. "Take It Or Leave It" could be one of my favorite tracks on the album, with breathtaking fretless finger-work from M'Bappe. I remember seeing him with the 4th Dimension and being in awe of his seemingly effortless ability to scale up and down the neck of his fretless with more accuracy and precision than any bass player I can recall. McLaughlin is honored musically by having such great accompanying players.
No doubt that "Now Here This" will stand the test of time as McLaughlin's best release of the 2000s. He's honed in on the sound that he wants with this project, and now it's about testing the limits. So many different musical themes and moods are present in these eight tracks that represent McLaughlin as an artist, composer, and bandleader until this point. And to have him still creating fascinating and energetic originals, let alone touring rigorously internationally is a true blessing for the worldwide jazz community. "Now Here This" will have no trouble finding an audience with the legions of devoted McLaughlin fans out there. This is a must have for any jazz fan or anybody trying to challenge their notion of what jazz means to them. Here's to decades more of creative triumph from one of the hottest guitar players on the planet.