Like the Universe, the passage of time, works in mysterious ways. Depending on perspective, it can seem to expand or contract, turning years into months, months into weeks and weeks into days - or days into weeks into months into years.
For the creation of "Weeks to Days", the second album by Bay Area band T.V. Mike and the Scarecrowes, it did both simultaneously and named the album in the process – or did the process somehow do the naming? A case could really be made for both sides...
It should come as no surprise that synchronicity is no stranger to this band, whose three core members independently decided to relocate from Bloomington, Indiana to the promised land of California - at precisely the same time. The year was 2007.
Over the ensuing years, T.V. Mike and his Scarecrowes would attempt to change their name to the Scarecrows, only to be thwarted by Marc Ford and a metal band from Petaluma. The extra "e" in their name had the last laugh.
They would find themselves accidentally making music with other Indiana ex-pats, recording their first album on 1" tape, selling over 700 copies by hand and accidentally having it named one of the Top 20 albums of 2009 by the East Bay Express.
And then time got a little crazy.
The recording of "Weeks to Days" took over two years thanks to the runaway success of tUnE-YarDs, who hijacked engineer Eli Crews as their front of house sound guy. Rather than work with someone else, the band choose to bide their time and work around his erratic schedule. Days literally turned into years, but their working camaraderie led the band to push their sonic envelope, adding heretofore unexplored instruments like synthesizers and electric guitars.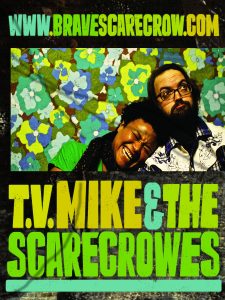 Somehow, Rogue Wave drummer (and fellow Hoosier) Pat Spurgeon found himself with some complementary free time and recorded basic drum tracks for the record. To increase versatility in the recording process, the band opted to record on 2" tape at Crews' New, Improved Studio but use the Pro Tools-equipped Walti Productions Studio for vocal and misc. overdubs. Crews ultimately brought the whole thing together.
However, as time was expanding, it was also contracting for singer/songwriter T.V. Mike, who was losing his mother to pancreatic cancer. Her years turned into months, then years, weeks and ultimately days. That experience seeps into the album in more tender ballads like "I Need You" and "Middle America."
If any of this leads you to believe you're in for a heavy trip, you clearly haven't heard these ex-Midwestern mischief-makers in action. "Weeks Into Days" is a raucous celebration of life in all its messy glory. T.V. Mike and backing vocalist De lead the charge, hootin', hollerin' and harmonizing their way through 10 twang-inflected tunes that are far more likely to have you raising your beer than crying in it.
And if you're worried that a couple of years sitting around waiting to finish a record took their toll on the band's energy level, don't you fret. These songs were forged through live performance the Scarecrowes are itching to get back in the field.
So while time may work in mysterious ways, it appears to have known what it was doing. "Weeks to Days" is freewheelin' Americana at its finest - a testament to a band whose patience and trust in the Universe continues to pay off in spades.
Upcoming shows: