On a night in the Rockies that provided us such amazing music, there were many decisions to make as to which show to choose. Medeski, Martin, Scofield, and Wood were playing in Boulder and EOTO's fellow band mate Kyle Hollingsworth was playing with Soulive at Cervantes in Denver, and this great artistic journey was being thrown down at the Fillmore Auditorium. It was a Conscious Alliance Benefit with EOTO performing a unique show, as they never play the same show twice, with VibeSquad and NiT GriT opening. And if that was not enough to get you going, Alex and Allyson Grey were going to be on stage doing live painting while EOTO plays their psychedelic, dubstep, percussion, electronic mayhem.I got there after NiT GriT played, but went up really close for VibeSquad. Sadly, I missed Alex Grey give his PowerPoint lecture explaining how he creates his very psychedelic artwork. My girlfriend, who is a Fine Arts major, would have loved to see the beautiful couple do this. Darn Christmas parties. Anyway, after a couple songs, I was itching to hear the main event. Denver native Aaron Holstein, who is VibeSquad, plays with a lot of emotion. The dubstep and heavy beats got a bit old for me, and the crowd seemed split with some who were really dancing and others who were not that interested. His lasers were pretty fun, but I was not digging the music very much aside from the sample of Macklemore, which erupted the crowd a bit. The Grey's painting was up on the stage at that point mostly done, and it was amazing to see it on the side of the stage; another beautiful creation from the duo with so much soul and talent.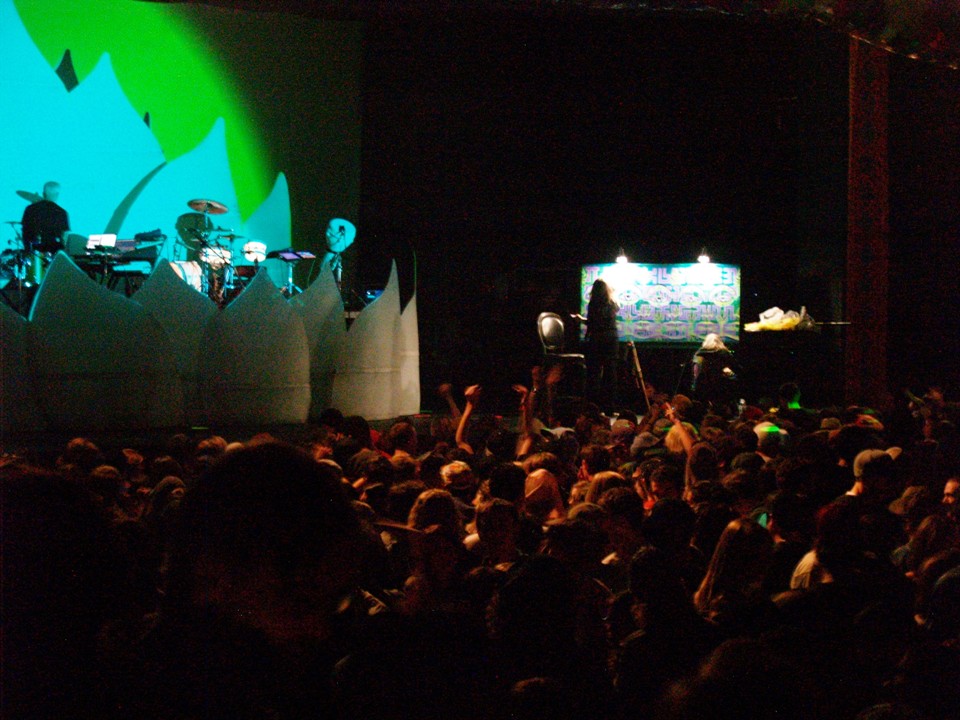 EOTO is made up of the percussion section from the String Cheese Incident. Michael Travis (drummer for SCI, dj, keyboards, guitar, and vocals through laptop) and Jason Hann (vocals and electronic percussion) make up this very high energy and unique duo. They record live without prerecorded loops. As a side project originating in 2006, these two seem to destroy all other musicians that do similar things as they do. It is as if they broke down the walls of genre and decided to be great at whatever flows through them that evening. It is amazing to see and very hard to stand still.They started the show in their enormous, 3D, lotus stage, cloudlike booths next to each other. Travis' first words to the crowd were "no one will ever hear this again." The first three songs were really fun in the pit watching the crowd going crazy. Then, sometime near the third song they teased "Sexual Healing" by Marvin Gaye. Hann kept egging on the crowd with his microphone teases while Travis played the guitar for a couple of songs, which is something that I have never seen before. As a longtime String Cheese Incident fan since 1996, I have to say that this is a lot different, but just as fun in its own right. The beats that they come up with seem to even sail over the capabilities of the contemporaries of the genre, which even in itself defies a lot of boundaries. By the time EOTO was well into the set, the Fillmore was packed. I was really surprised to see such an enormous turnout especially being that so much good live music was around, but the crowd brought in the early 20's crowd who wanted a serious dance party and light spectacle, and that is exactly what they got.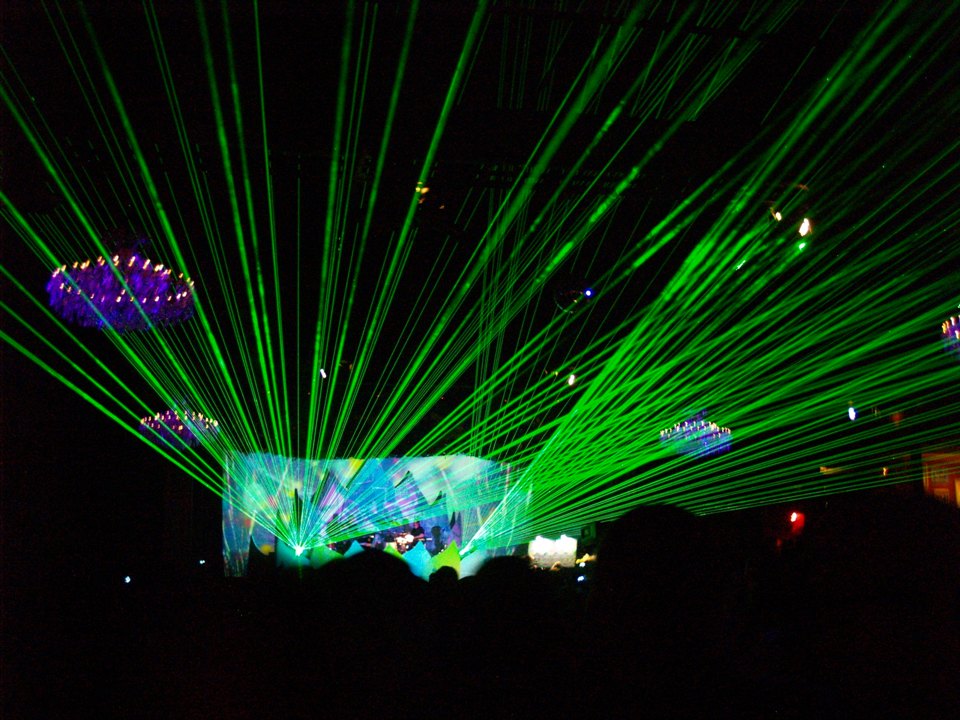 Then, after set break it seemed like the real dirty stuff came out, and the dance party was palpable everywhere in the venue. A lot of the dubstep heavy items were played then with the serious lasers slicing up the venue. Towards the end of the show EOTO explained what all the balloons were doing tied up on the ceiling. They said that since they will not be playing a New Year's Eve show, they decided to celebrate it on this night. Lucky for us, it felt like a celebration. Hann and Travis will be very close on the holiday though ringing in the New Year with the String Cheese Incident in Broomfield at the 1st Bank Center for four nights. This duo is the force of music right now in every aspect. They are probably pound for pound two of the most eclectic musicians in the scene right now. They can't be pigeon holed into a genre either. They can play for any audience, but more importantly, it is clear that they play for themselves some of the most fun music that I have heard every time they go on stage.