One would think that a band that is so well-known for their live performances would have released multiple concert discs by now. With the exception of a few "indie" releases years ago, prog-rock kings Umphrey's McGee waited until this month to birth their first commercially available, official live album entitled Live at the Murat.
Many of the group's live shows have been available as downloads for many years now, but rather than saturate the market with a slew of live offerings like many other jambands have done the band decided to wait until the time was right for such a production. And thankfully they did, because Live at the Murat is the perfect presentation of what this band is all about: skillfully crafted songwriting mixed with aggressive, progressive improvisation.
Recorded over a two-night run at the Murat Egyptian Room in Indianapolis, this two-disc collection is probably the finest the band has ever sounded. Kudos to sound engineer Kevin Browning, who managed to capture a pristine recording from what was obviously an amazing weekend of music.
The first disc begins with the Jammy-nominated original "In The Kitchen", which is actually broken down into four tracks. Tracks one and two begin the song as an acoustic structure, while tracks three and four weave into electric improvisations and finally into its conclusion. It probably did not need to be tracked this way, yet it serves to be a very creative means of displaying this unique piece.
Other highlights from the first disc include "Higgins", "Eat", "Ringo", and the long-time favorite "The Fuzz" which concludes with a jam originally belonging to "Nothing Too Fancy".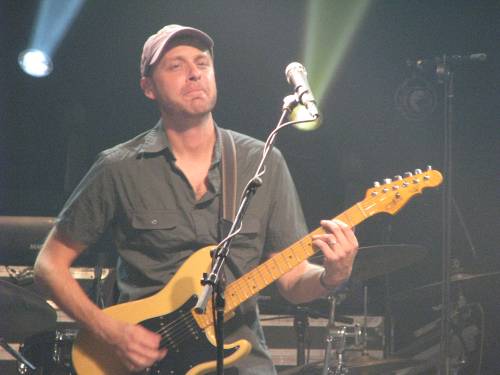 The second disc (or set, however you want to put it) dives more into their upbeat, heavy catalogue by starting with "40s Theme" directly into a deep-space "The Triple Wide". An odd but focused improvisational jam followed "The Triple Wide" this evening and is displayed here as "Angular Momentum", which showcases the absolutely mad chops that guitarists Jake Cinninger and Brendan Bayliss lay down. Playful guitar banter and all-out metal cohesion are explored throughout this segment.
The remainder of this disc flows along smoothly with other concert staples such as "Push the Pig" and "White Man's Moccasins", before finishing with a monstrous rendition of "Padgett's Profile".
When all is said and done, Live at the Murat is an excellent example of how Umphreys McGee performs in the live setting. As the liner notes state, "This is the essence of Umphreys McGee". Fans of the band will be thrilled to have such a clean recording of the boys in motion, and any newbies who give it a go might surely be turned on to their unique sound and undeniably superior musical abilities.