We have all been to shows in which our objectivity towards the music is undermined by a more powerful force. Something happens apart from the stage that distorts, and often intensifies, the true sonic nature of each set. These are the shows that lay futility at the feet of those who try to listen to a recording later on to recapture the magic. This happened to me for the first time in October '99 when I saw Phish at Illinois State. I was smitten with a girl who would, very soon after, become my first love. Redbird Arena was only about two-thirds full, so Jenny and I, along with five of our friends, trekked up to the last row in the upper balcony. Nobody else was around, not even security personnel. High up in the cheap seats, we intermittently made sheep's eyes at each other while gorging on Chris Kuroda's light show. Our ears feasted on music that was simply perfect. A few months later, I started listening to an AUD of the show and couldn't get through three songs. It was barely recognizable. Jenny's presence made a slightly better than average concert one of the most memorable nights of my life.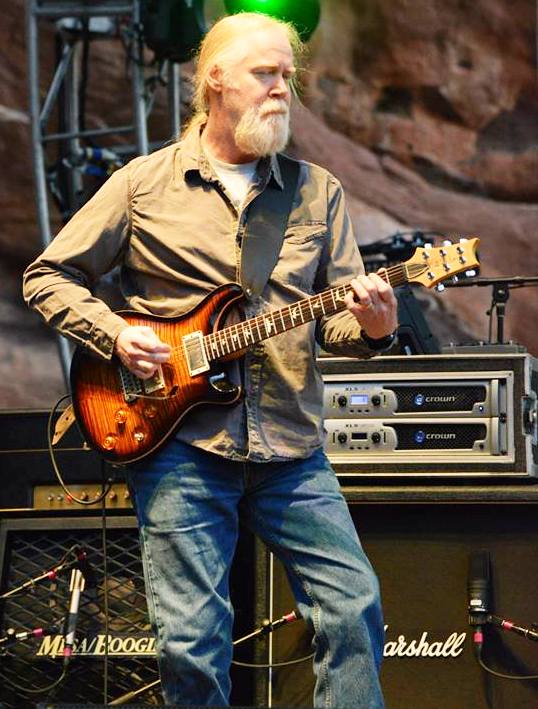 Last Friday, Widespread Panic took to Red Rocks for the second show in their four-night run. Like Phish, something extraordinary happened which made it one of the most special events I have been fortunate enough to attend. But before I delve into the subject matter, let me be clear on one thing: unlike Phish '99, this was a phenomenal show. It stands comfortably on its own merit, but meteorological – and some say even celestial – intervention shot the music into the stratosphere.
On this night, Mother Nature gave the sellout crowd an opulent three-part spectacle that accompanied two majestic sets of music. But before all the pulchritude arrived, She imparted Red Rocks with something a lot simpler, yet not at all trivial: cloud cover. Front Range inhabitants have been bombarded with non-stop highs in the mid to upper 90s for the past three weeks. The clouds conferred a much more pleasurable 65 – 75 degree evening onto a grateful crowd. Panic came out around 7:30 and, unlike Thursday night, immediately went to work. Sunny Ortiz established a high-energy tempo with his conga work on B of D. His plush 40-second timbale fill (mini-solo) on Surprise Valley signaled that he meant business. After those first two songs, the band populated the rest of the first set with five to seven minute pieces highlighted by Jimmy Herring's extraordinary guitar soloing. While there's no doubt that any great Panic show is a team effort, Herring stood out on this night and was seemingly indefatigable in his willingness to color every song with the perfect tone. Whether it was rainbow-beveled rock 'n' roll on Love Tractor, soul-shattering blues on Mercy, or a Santana-like Latin blaze in Chainsaw City, Herring wowed at every point in the show.
As the first set neared its close, the clouds parted and the firmament turned into a serene blend of pastels during sunset. Two amber clouds hovered directly above the amphitheater and were such a perfect shade of gold that they looked surreal – as if they were painted on the sky by Titian. Dave Schools's intricate and rapid-fire pick-work on Stop-Go – including a powerhouse two-minute solo – was breathtaking and met with loud hoots and hollers from an appreciative crowd. Schools, a recent participant in Mickey Hart's band, and Herring, a former member of Phil and Friends, gave a nice shout-out to The Grateful Dead with the first set closer, Cream Puff War.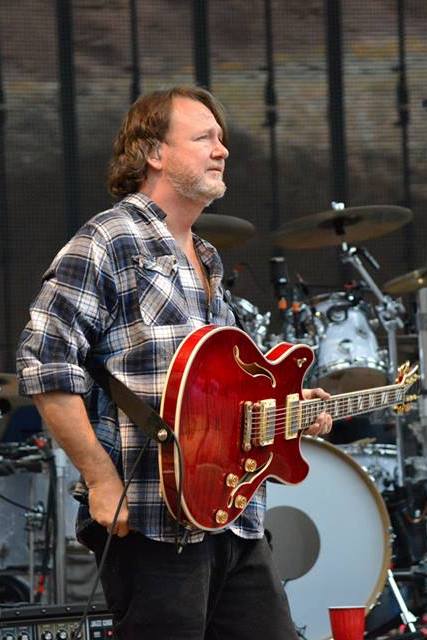 My neighbor in Row 36, Kansas City resident Johnny Lyle, turned to me right at set break and exclaimed, "Jimmy was on fire!" Not only was that statement terse and ever-so-true, Herring would only get better in the second set…as would Mother Nature.
When Panic returned from set break, a lightning storm erupted in the distance. If you have never been to Red Rocks, the crowd faces east north-east. From north north-east all the way down to southeast, the sky was alit with a constant blaze of lightning. In all due deference to Paul Hoffman, who staged a spectacular light show of his own, this lightning storm was the greatest light show I have ever seen. It augmented every song in the second set to the point where I made the conscious decision to put my notepad and pen away for a while. I realized that this was a once in a decade (at the very least) and, quite possibly, once in a lifetime event and didn't want to regret missing any of it. Additionally, through most of the entire set, nary a drop of rain fell on our head nor a thunderbolt rang in our ears. It was an almost purely optical experience.
The pinnacle of a show filled with highlights arrived four songs into the second set with Chainsaw City > Mercy > Chilly Water. The Jerry Joseph cover, Chainsaw City, allowed Herring and Ortiz to show off their reggae and Latin jazz chops. In the middle of the piece, JoJo Herman peppered his sublime organ solo with sequences of soft undulation.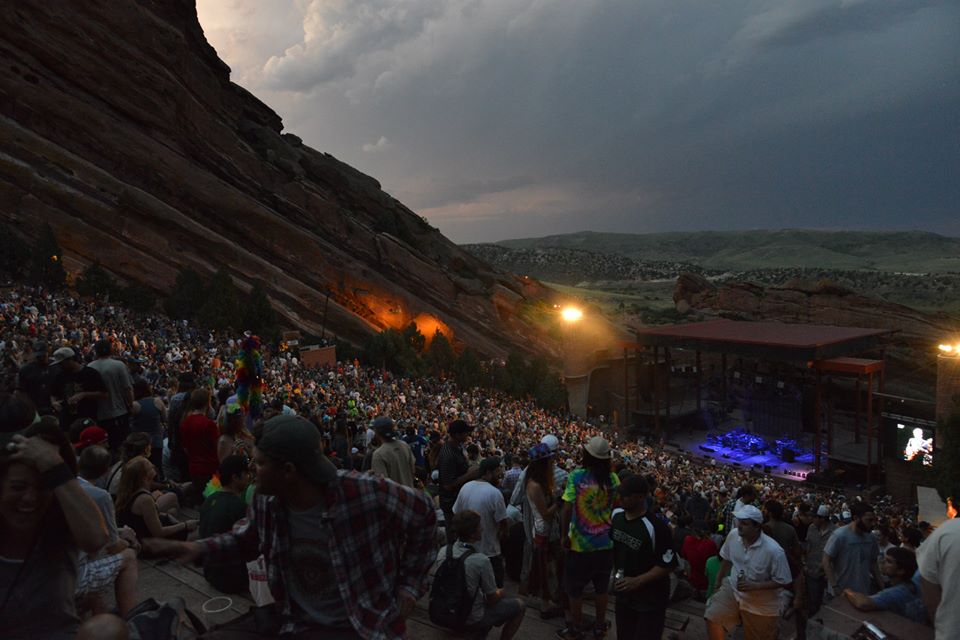 But when the band segued into Mercy, the lightning storm accelerated with the most furious and intense barrage of the night. This is when another neighbor of mine pointed out that the most dramatic of all the lightning was raining down directly behind the right wing of the stage, close to where Mikey Houser – the band's former founding member and lead guitarist who died of cancer 11 years ago – used to play. Whether you believe in celestial intervention or not, the observation was entirely true. The concentration of lightning was definitively strongest behind that area. In the second refrain, ferocious bolts of lightning struck down on each of vocalist John Bell's accents: "And I'm not begging for mercy" – as if there was a control panel in the sky. That was the night's pinnacle of eerie. Herring also struck lightning in a bottle with a blues solo he dug up from one of those dark places we all have in our memories. It was emphatically visceral yet technically brilliant.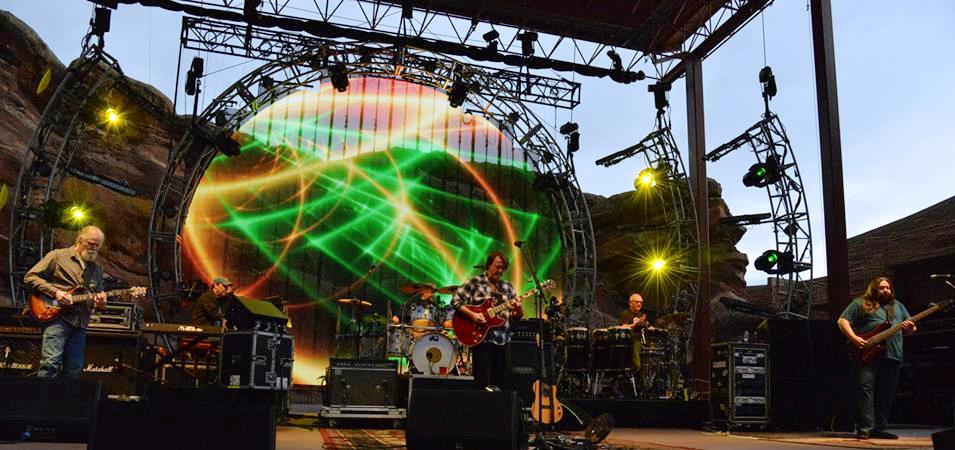 Chilly Water segued from Mercy and the crowd, as they are prone to do, went into a state of frenzy. Who would've thought the first precipitation to drop on us tonight would come from water bottles instead of the sky? In lieu of Drums, Todd Nance and Ortiz took a minute-long duet in the middle of Chilly Water (and at a few other spots in the setlist) which transitioned into Herring's best solo work of the night. If you have the opportunity, listen to this solo with your hand under your chin to stop your jaw from dropping on the floor. While Mother Nature continued to spoil us with Her lightning show, Herring's fretwork electrified the crowd. As his solo climaxed, I felt like I was lifting off towards heaven. It was one of those moments in time you just don't forget. Ever. The highlight of the night.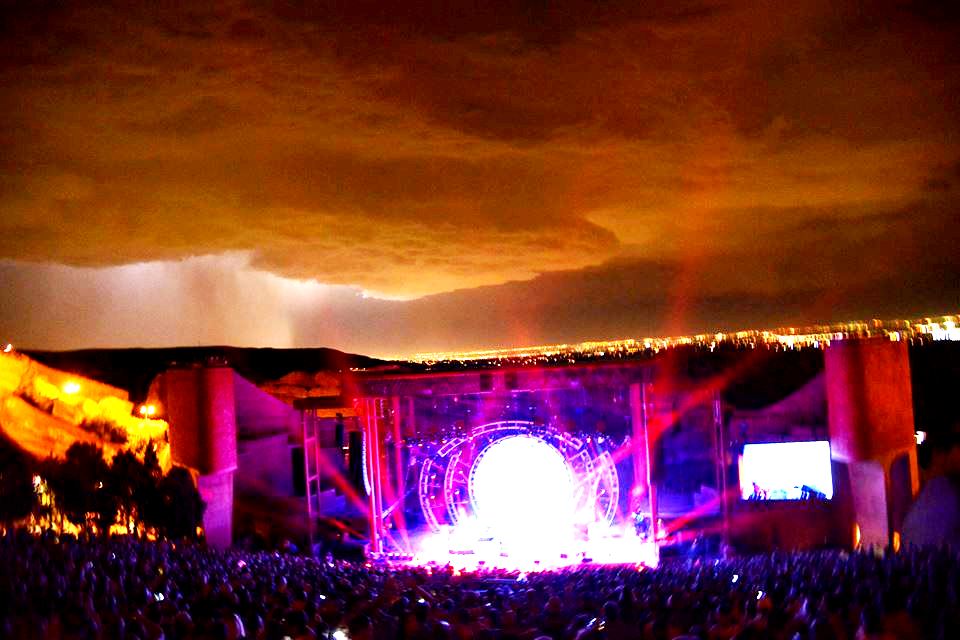 After one more song (Heaven), the band left the stage early to "get some stuff shored up" – i.e. wait out some potentially inclement weather. For almost half an hour, the crowd stood around and wondered whether the party was over for the night. But it wasn't. At about a quarter to eleven, Panic returned to the stage and laid down the opening chords for Space Wrangler. And then, five minutes in, Mother Nature hit Red Rocks with Act III – rain. At first, it was drizzling, but by the time the band closed out the set with Ain't Life Grand and Fishwater, it was pouring out. Honestly, I'm not a hippie who rages in the rain. I prefer to be warm and dry during a show. But this was different. The water felt so good as it hit my body. A lot of guys in the crowd took their shirts off to experience the storm in full. The lightning show, which was still present if a bit thinner, combined with the rain and the music for one hell of an invigorating ride. The band played a short encore, Many Rivers To Cross, and were done at 11:20 – early by Red Rocks standards. But considering that they started at 7:30, it was a full show: temporally, naturally, and sonically.
As I stated before, if you choose to buy Friday night's show, you will get plenty out of it. Without any context, it is a superb musical experience. But for those who were there, it will be indelibly emblazoned in their memory for many years to come. It's not everyday one is treated to the greatest light show of them all.