Yesterday's beautiful weather didn't last past noon. It wasn't long before the clouds rolled in and fog began to creep around the campsites. The first beer of the morning was cracked around nine as we made breakfast and waited for more of our friends to arrive. In the meantime, we met a bunch of our neighbors – everyone we're camped next to is really friendly! People would stop in just to say hello and ask how our night went, and we had great conversations with people who also love these gorgeous Ozark Mountains. Due to our proximity to Main Stage, we got to enjoy Useful Jenkins from the comfort of our camp chairs. Their sound was a really pleasant way to kick off the day – perfect beer drinkin' music! When our other friends finally arrived (and we welcomed them properly with another round of beers), we set up a canopy over our campsite living room and pulled on some extra layers before heading out to the day's new adventures!
The first show we actually made it down to was Dirtfoot at Main Stage. The rain had just really began to fall, forming fresh mud under damp straw and providing the perfect stompin' conditions for a crowd that was ready to party. Dirtfoot is one of those bands who is perfectly in their element when there's a little mud and lot of rowdiness. I have never seen a xylophone rocked so hard before in my life. The crowd was clearly fueled by the band's gypsy-punk-country-grumble-boogie energy: everyone who was up closer to the stage was dancing, some with ponchos and umbrellas, some who didn't seem to care at all about the rain. Suddenly, two huge sasquatches began dancing their way into the crowd and one of the guys from Coyote Union started dancing with one of them. He was so happy to have his picture taken at Dirtfoot with Bigfoot! I hope I can somehow stay up late enough to see their set at The Roost stage at 2 AM on Sunday morning!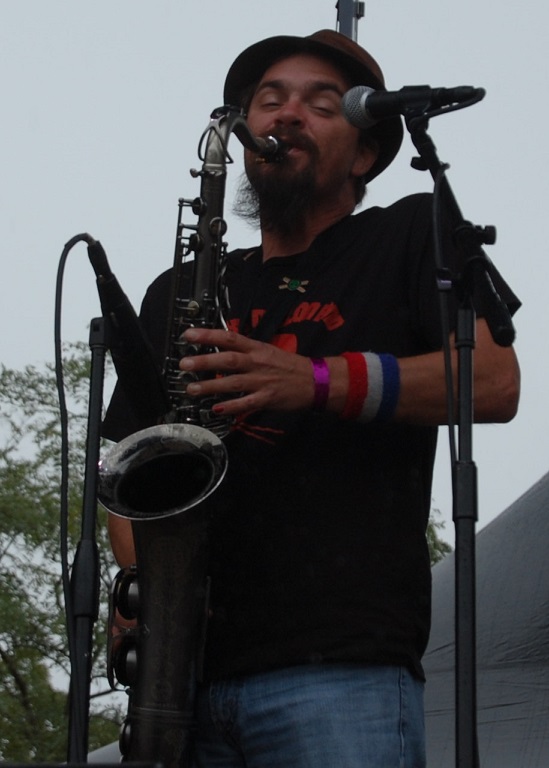 I left Dirtfoot a bit early to make sure to catch Elephant Revival's set at the Harvest Tent. After enjoying one of the most beautiful concert experiences of my life seeing them at last year's Harvest Fest, I made a promise to never miss an Elephant Revival show that was within reasonable driving distance. They are one of my favorite bands of all time, not just because of the fact that they are all excellent musicians, but also because of the spiritual quality of their songs. Going to one of their shows is like being in church, if the thing you worship is the beauty of being alive and in love with the Universe. The first couple of songs they played were inspired by the rain, slow and beautiful that built up to a danceable frenzy. A few songs in, vocalist and percussionist Bonnie Paine, introduced a new song with the story that inspired it. The band met a girl while on tour and made a special connection with her, but she passed away shortly afterward. On their way back through, the band played at her wake and got to know her family and formed a friendship with them. The song that they played was gorgeous. I wish I could remember the name, but I had tears in my eyes. They played a couple songs from their new EP "It's Alive" and their new album, "These Changing Skies." Then for the end of the set, they brought out their good friends, Laurie and Katelyn Shook, from Shook Twins to sing a couple songs with them. They closed the set with "Ring Around The Moon," which was incredible with the addition of those two beautiful voices. I really hope to catch their set this evening at The Roost stage!
As soon as Elephant Revival's last song ended, I hustled towards the Backwoods Stage hoping to see a bit of Star and Micey, and I am so glad that I did! They were an awesomely fun group of guys, all good musicians, but the thing that struck me most was the way they harmonized with each other. It reminded me of some Mumford & Sons songs, but with much better lyrics. Their sound is really positive and uplifting and the small crowd was dancing and loving it. For their last song, they came around out into the crowd and danced around as they sang a joyous song. Everyone in the crowd was smiling and clapping and the good vibes were tangible in the jostle and sway. Afterward, the guys agreed to an interview (which I will hopefully have posted soon!) and they were some of the nicest and most personable guys I've ever talked to.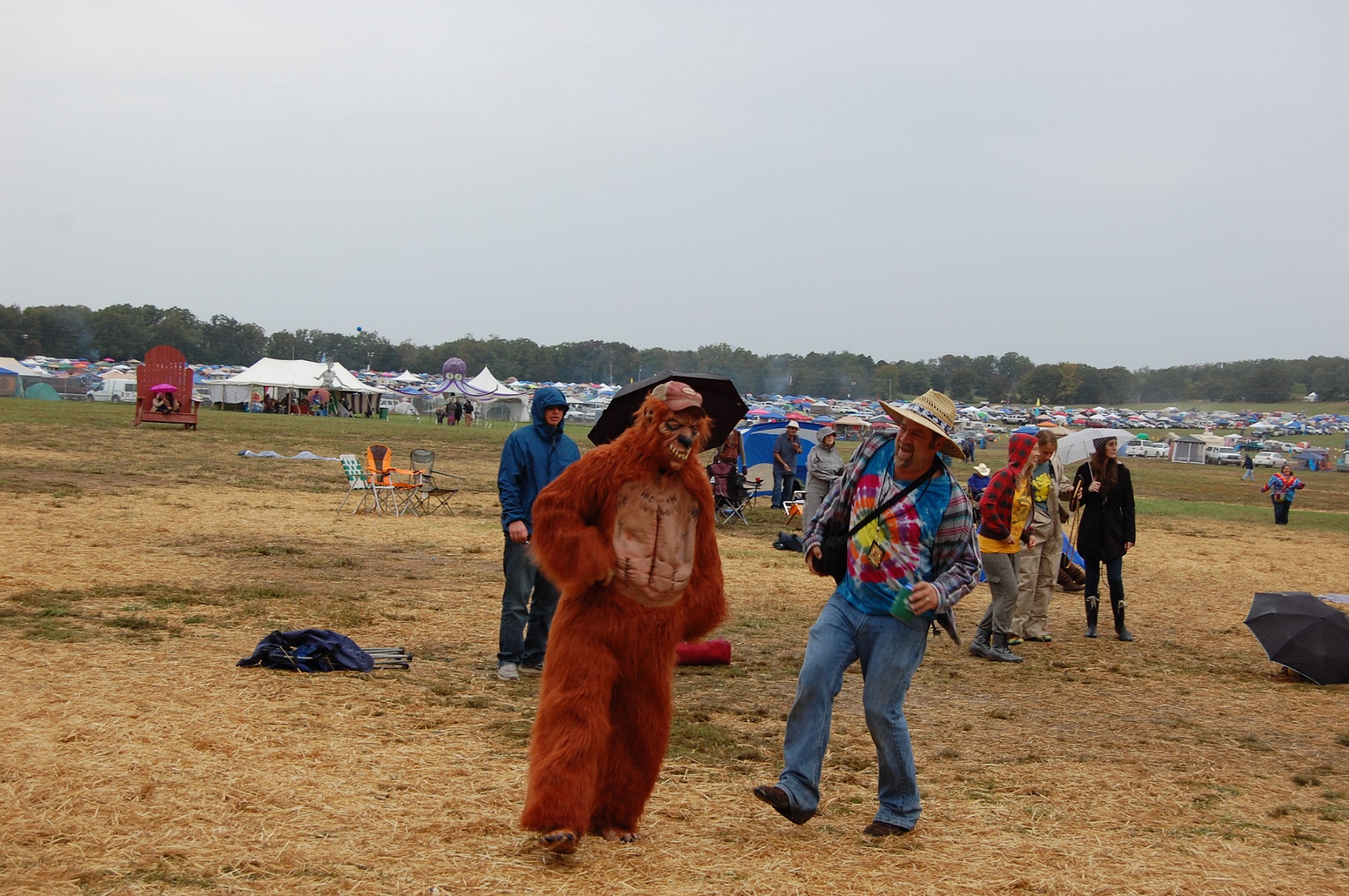 I stayed around Backwoods Stage to check out some of Rosco Bandana with their high-energy indie-rock jams and raucous stage presence. The crowd was really small but clearly having a blast! I didn't get to stay for long because my stomach was yelling at me to go back to camp and eat something, but I definitely hope to get the chance to see them again someday because their sound was awesome.
Back at camp, we listened to Turnpike Troubadours while we made some fajita chicken sausages and recapped with our friends. We all decided to head separate ways after dinner: I chose to head for the Harvest Tent and see Head for the Hills. I didn't realize I was about to have my mind blown by some sweet psychedelic bluegrass jams, but now I firmly believe that that is among the best kind of surprises. The fiddler, Joe Lessard, was incredibly charismatic, and Michael Chappell player just shredded his mandolin. They bluegrassed like rockstars and rocked out like hill people; during the course of one song there might be two or three complete changes in sound before switching back in and connecting the disparate pieces of music with each other through a great bass riff. I was so entranced, it took me a while to remember that I needed to take photos! (Don't worry! You'll get to see them!) When Michelle and I met back up at Yonder, we were both babbling about the bands we just saw, so make sure to read her recap of She's A Keeper! Which brings me to my next point….
YONDER MOUNTAIN STRING BAND.

No one seemed to care about the rain or the mud or the crowds or anything else except for dancing through the mud and cheering for the sweet sounds floating off the stage and into our grateful earholes. It was glorious. Our bff and campmate, Robbie Sams, gave the following review: "They played 'Forty Miles from Denver'early on, and I love that song. But the thing I disliked most about Yonder is… that they don't live and play in my house all the time." It was really nice to be in their house last night, those guys seem to love sharing themselves and their music with a crowd of happy people. The energy they were giving out had everybody happy to be alive. Each of the band members seemed to be giving us the best of themselves, professionally fun and on point like string-slinging snipers; I was particularly struck by Dave Johnston with his passionate picking. We also watched a live painter work near the stage, and it seemed almost like Ben Kaufmann was directing his paintbrush with the rhythm-working magic he was performing on stage with that bass. Overall, the experience was wonderful, and I was especially happy to be seeing them with our friends (who are bigger fans than I am) enjoying a Yonder show for the first time. Any band that can make that many people so excited to be in the middle of a field in the cold and the rain is something you should make it a point to experience at least once, and since they are the hosts of Harvest, you can catch them here every night of the festival every year. I can't wait to see what they give us tonight!
After Yonder, we grabbed some food at Rub-N-Butts BBQ and ended up staring down the most amazingly delicious BBQ nachos I have ever put in my mouth. I have also never gotten such a generous amount of food at a festival truck! As I was waiting for our friends to order, I realized upon looking at the menu again that the truck is from a local business out of Fayetteville, AR. There have been a lot of local food vendors this year, which is really awesome, as I totally support the "Think Globally, Shop Locally" mindset. Harvest Festival is a pretty conscious place – they are really serious about recycling, there is a place to drop off food bank donations, Dirtfoot's Chompdown allowed everyone to have a decent meal while they're living in the woods for a few days, and the local food vendors were a nice touch. My favorite part of this festival is the way it works like a family for a few days, all of these people here to genuinely enjoy the company of other music fans and lovers of Mulberry Mountain. It revives my faith in people every time.
We ended up going back to camp to eat, and the rain picked up again even harder. We were planning on going to see Tedeschi Trucks band, but they didn't seem to be starting on time and after we had all snuggled into our blankets and beer in our campsite, roll-out living room, we had pretty much decided that since we could enjoy the show from here, we were all staying put. I was exhausted, but midway through their set, I wished I was down at the stage! Susan Tedeschi's voice was stunning and incredibly powerful, and the wail of Derek Trucks' masterful guitar mixed with the steady rain on our canopy was so awesome. I fell asleep much warmer (or much more tipsy) than Thursday night, and this morning I am ready to go slog through the mud with my fellow music fans to partake of the final day of this awesome Harvest Festival! Things I will not be missing: Elephant Revival's second set, Gangstagrass, Beats Antique, Shook Twins, and an awesome time!