One of the greatest qualities of Colorado's Cajun Slamgrass legends Leftover Salmon is their ability to evolve with sincere versatility. Founding members Vince Herman and Drew Emmitt have taken the band to higher creative peaks, with new material (the fantastic Aquatic Hitchhiker release) and welcoming great musicians in that really understand how to play their demanding style while also kicking back and parting with their crowd. It really hasn't been too long retrospectively since banjoman Andy Thorn and Denver based Jazz bassist Greg Garrison joined Salmon. The band will undoubtedly continue to fuse grass, jazz, calypso and hard rock with their young new drummer ace Alwyn Robinson. When longtime drummer Jose Martinez retired from the road, the guys chose talented new blood to drive their rhythm section. Leftover Salmon truly defies genre, paying respect to all styles that meld their sound while creating something entirely new in the process.
As if all this activity wasn't reason enough to catch the current Leftover Salmon live and keeping digging their music, the band has been gigging occasionally with Bill Payne. Educated music lovers know Payne as the piano/synth wizard of Granddaddy Jamband, Little Feat. Payne first sat in with Salmon as a surprise guest at the 2011 Telluride Bluegrass Festival. He seemed enthusiastic to play with the band, if perhaps a little less familiar with their original material. When Leftover announced that their guest for the semi-annual Thanksgiving time Boulder run was going to be Payne for two nights, these shows became even more anticipated. After local Salmonheads were buzzing about Saturday's sold-out performance, I knew Sunday was going to be something special.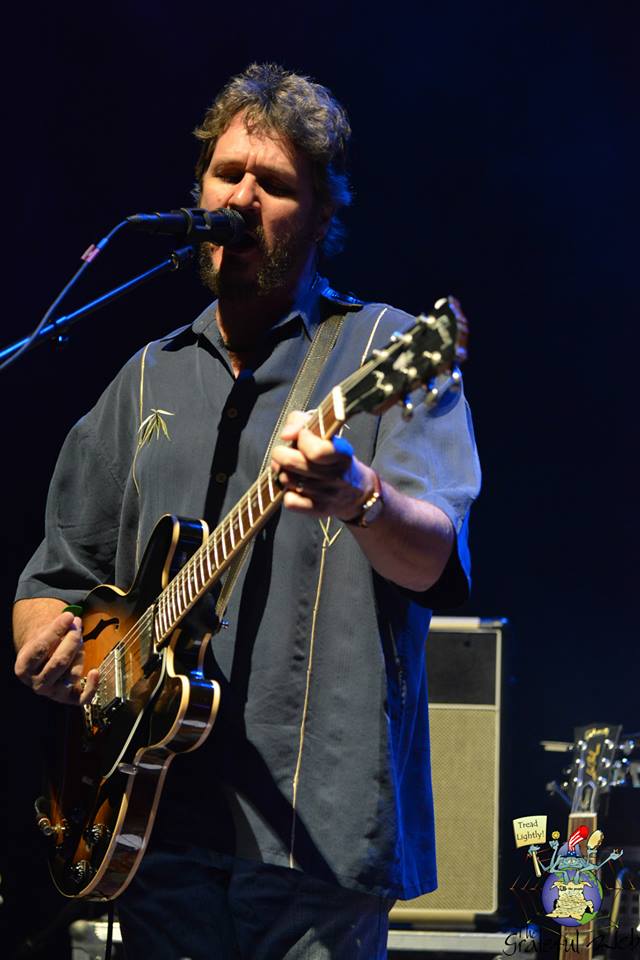 Leftover Salmon attracts everyone from old Woodstock-era hippies to young tour junkies that had heard it was a good time and got their asses rocked off; transformed and hooked thereafter. Salmon is always a campy time. Much of their music and stage demeanor is all about finding humor in the origins of their roots. A man dressed as a cob of corn walks onstage, houselights still up. He occasionally bobs side-to-side, waddling across stage now and then. When the band comes out and the crowd roars whoots of rowdiness, the nonsensical is absorbed. The first set is loaded with familiars and even more rarities. John Hartford's Steam Powered Aereoplane was punched up by Robinson's rock drumming and Emmitt's yodelesque vocals. My favorite Salmon songs stem from Island and Calypso roots. The traditional Who Put the Pepper In the Vaseline was classic Drew and Vince goofiness, bringing old fans back to their signature 90s sound. A speedy cover of The Band's hit Ophelia had the crowd signing every word along. Real dueling shred-grass surfaced with Squirrel Heads and Gravy with Vince imploring the crowd to "roll another fattie."
The whole time the legendary Billy Payne is up there like a long time member, coloring the tunes with his signature keywork. Many respected piano rockers since have cited Payne as a majorly fundamental player. Emmitt acknowledged Payne's influence before demanding a Little Feat tune out of him. Without hesitating he led the band into Little Feat's signature classic "Dixie Chicken" sharing lead vocals with Emmitt. Having seen Little Feat many times it was impressive to watch Payne loosely work his lead piano into Salmon's way of doing things. Greg Garrison nailed that bass-line right on. Results were pretty sweet.
The second set was sprinkled with more highlights. What could have been the high point of the evening turned into more simply a notable sit-in. Kyle Hollingsworth, piano man of String Cheese Incident, certainly influenced by Payne's work, popped out completely unannounced for "Here Comes the Night." On paper it seemed like a formula for historical posterity, but Hollingsworth's sit in was more of a novelty and he only appeared briefly. Still noteworthy and cool to see the dual key-monsters work it out together. Still wish they had taken it a little further.
Another Hartford standby Up On The Hill Where They Do The Boogie was a familiar upbeat stomper. Light Behind the Rain was led by Andy Thorn and displayed his strengthening presence as a member of Salmon. Vince Herman led the band through the classic Little Feat ballad Willin' to the pleasure of all in attendance. Though Vince may tend to fool around with his vocalizations sometimes he paid tribute to Lowell George with poignant attention and annunciation when it came to the "weed, whites, and wine" shout out. The band honored the memory of Lou Reed by sandwiching Walk on the Wildside in between Are You Sure Hank Done It This Way and a the Stone's You Can't Always Get What You Want. If all these shenanigans weren't enough to get excited about, the band encored with Flatt and Scruggs Hot Corn, Cold Corn with regards to the Corncob man. An extended electric workout of Led Zeppelin's Rock 'n' Roll closed out one of the best Salmon shows in recent years.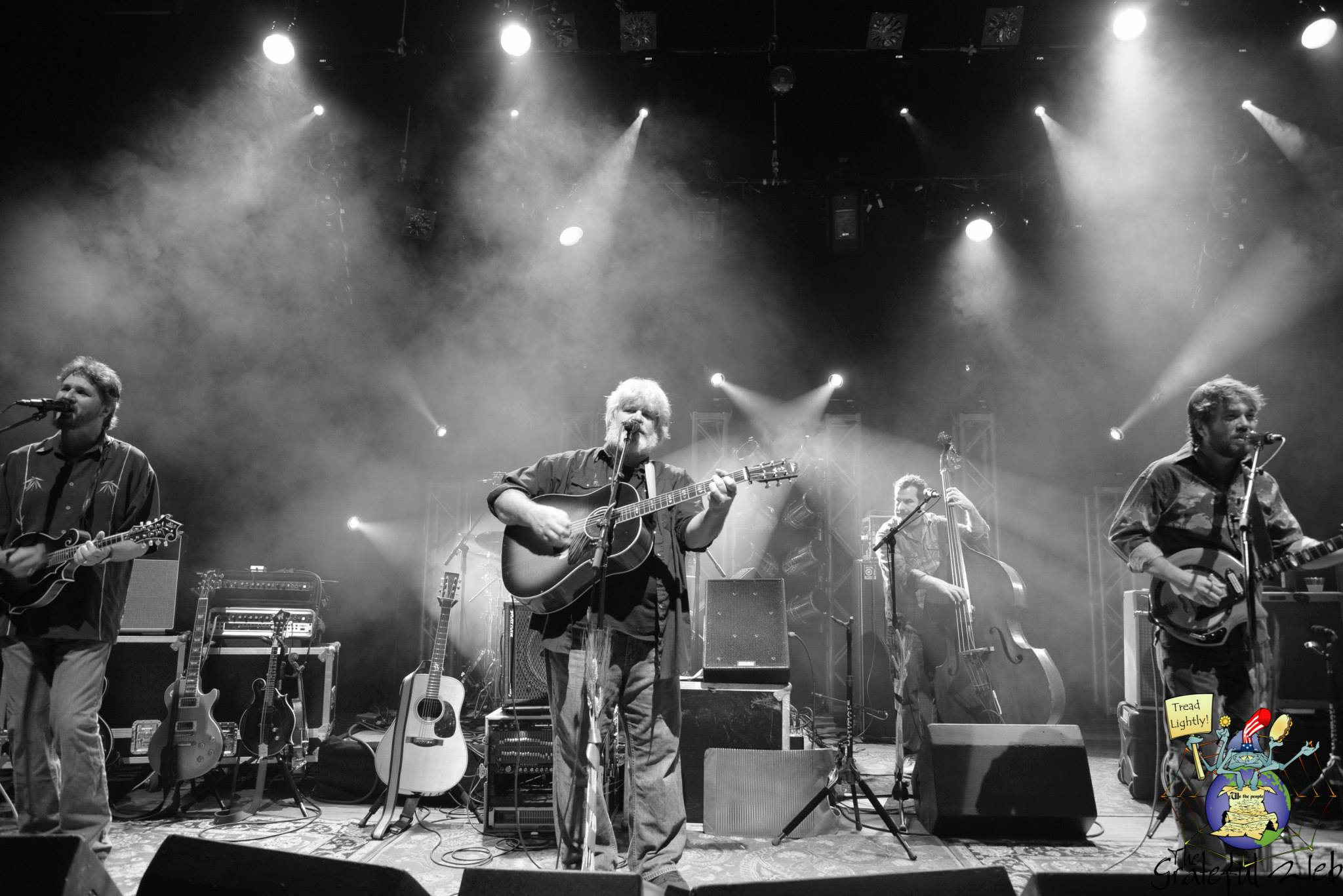 Keep keeping it interesting guys. Great way close out the Thanksgiving holiday and boogie off those loads of calories. Check out Taper Corey's killer recording of the show on the Internet Archive linked here: