In 2012 String Cheese Incident threw their first ever New Years Eve Celebration in Colorado. It was a grand event that left Colorado fans hopeful for another hometown showdown. After a heavy festival and summer tour schedule, few fans expected Cheese, who plays more occasionally now than their rigorous touring of the 2000s, to play anywhere for the holiday. When the band announced three nights for New Years Eve, at 1st Bank Center, anticipation began.  Not soon after the band dubbed these shows as their 20th Anniversary Shows. According to my recent Grateful Web interview with Keith Moseley, the show last Tuesday was to a tee their 20th Anniversary from their first show with Michael Travis in Telluride back on New Years Eve 1993. Since 1993 the band has built its clout from grassroots support, sticking true to their way of doing things and never compromising their identity for anything. Years of Incidents later, the band is in fine form, with a "new" keyboardist (Kyle Hollingsworth completed String Cheese Incident in 1996) and a "newer" percussionist (Jason Hann joined the guys in 2006). Contemporary Cheese draws from so much more than where the band started, while never compromising their sense of adventure and real diplomatic contribution from all. Nobody and everybody is front man.
This time around the band announced special guests to open their Incidents, all were esteemed and a huge surprise. Bootsy Collins Funk Unity Band opened on the 28th. Old friends The Flaming Lips opened the 29th show. Karl Denson and Chris Littlefield were Cheese's horn section as well on these nights. Some other unannounced guests showed up on the 29th including their forever guest member Keller Williams. Expectations for the 31st were high. With bluegrass titans Del McCoury Band opening, hardcore fans had somewhat of an idea what to expect. If Del's ever in house with Cheese, he and the boys are sitting in. Del McCoury Band's opening set was a great warm-up to satisfy the bluegrass junkies in the crowd, getting fans to grab their partner to swing some steps before getting really weird. While Del's opening set was a short hour, his assured the adoring crowd that we would see him soon.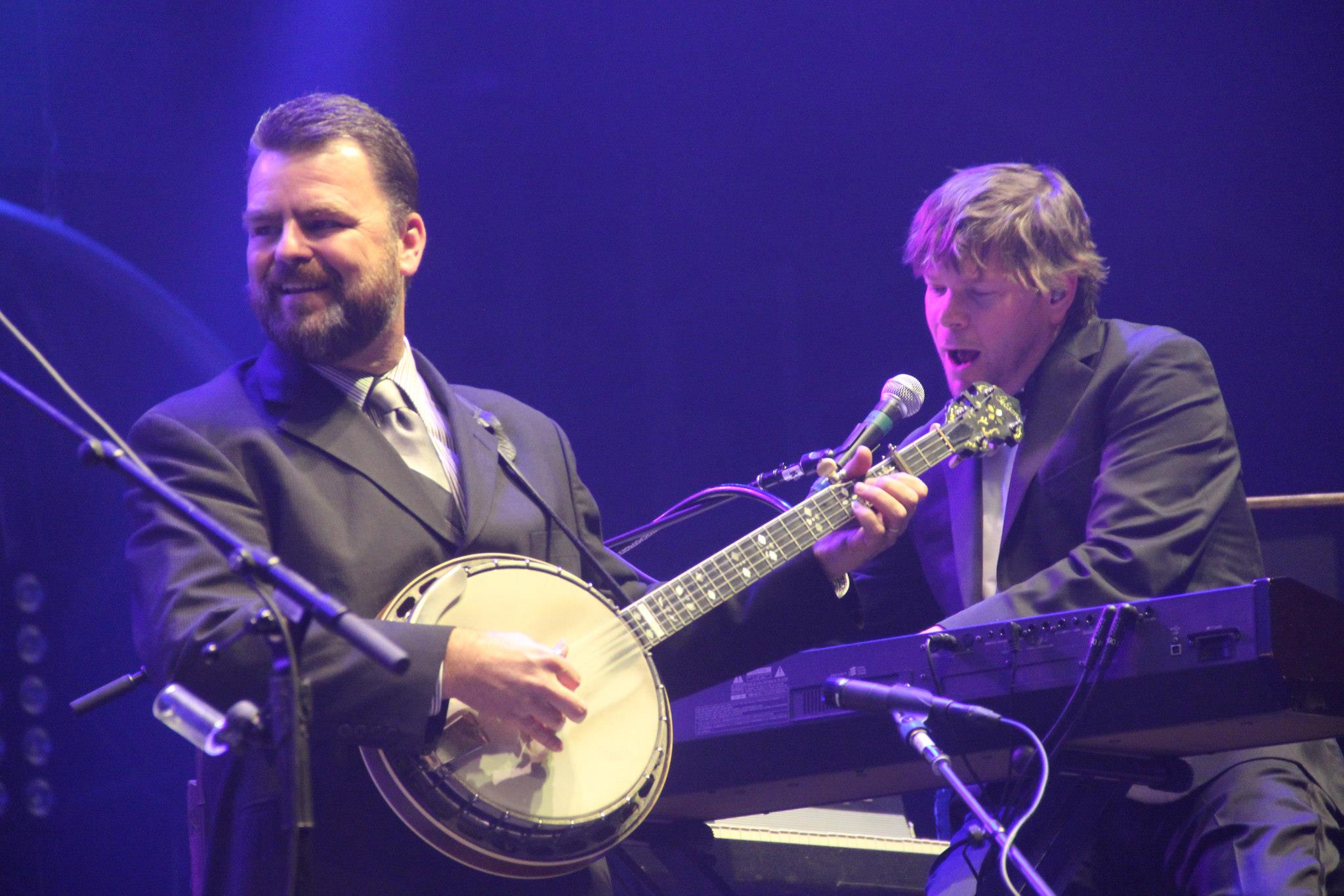 Sure enough, when String Cheese Incident came out after a short set break, they arrived with the entire Del McCoury Band including Jason Carter (fiddle), Ronnie McCoury (mandolin), Robbie McCoury (banjo) and Alan Bartrum (bass). String Cheese, usually toting their own funky casual attire, came dressed in black suites, as tribute to their esteemed guests. Michael Kang joked with the crowd about how they never dress up, but it was a special occasion. Del was smiling ear-to-ear and goofing around with guitarist Billy Nershi. After embraces and greets were finished the ensemble band kicked off the standard Rollin' In My Sweet Baby's Arms, with Del and Billy exchanging vocal duties. Chumming up some more, it was obvious the guys had been looking forward to this sit in for a while. Without stopping the band segued into their rare cover of Shenandoah Breakdown, allowing Robbie to show off his banjo chops. Deadheads in the audience must have been thrilled to hear Del take the lead on Cold, Rain, & Snow next, which he's been playing since he started in the 1950s. Del being 74 years old bowed off to let his sons continue on with the guys.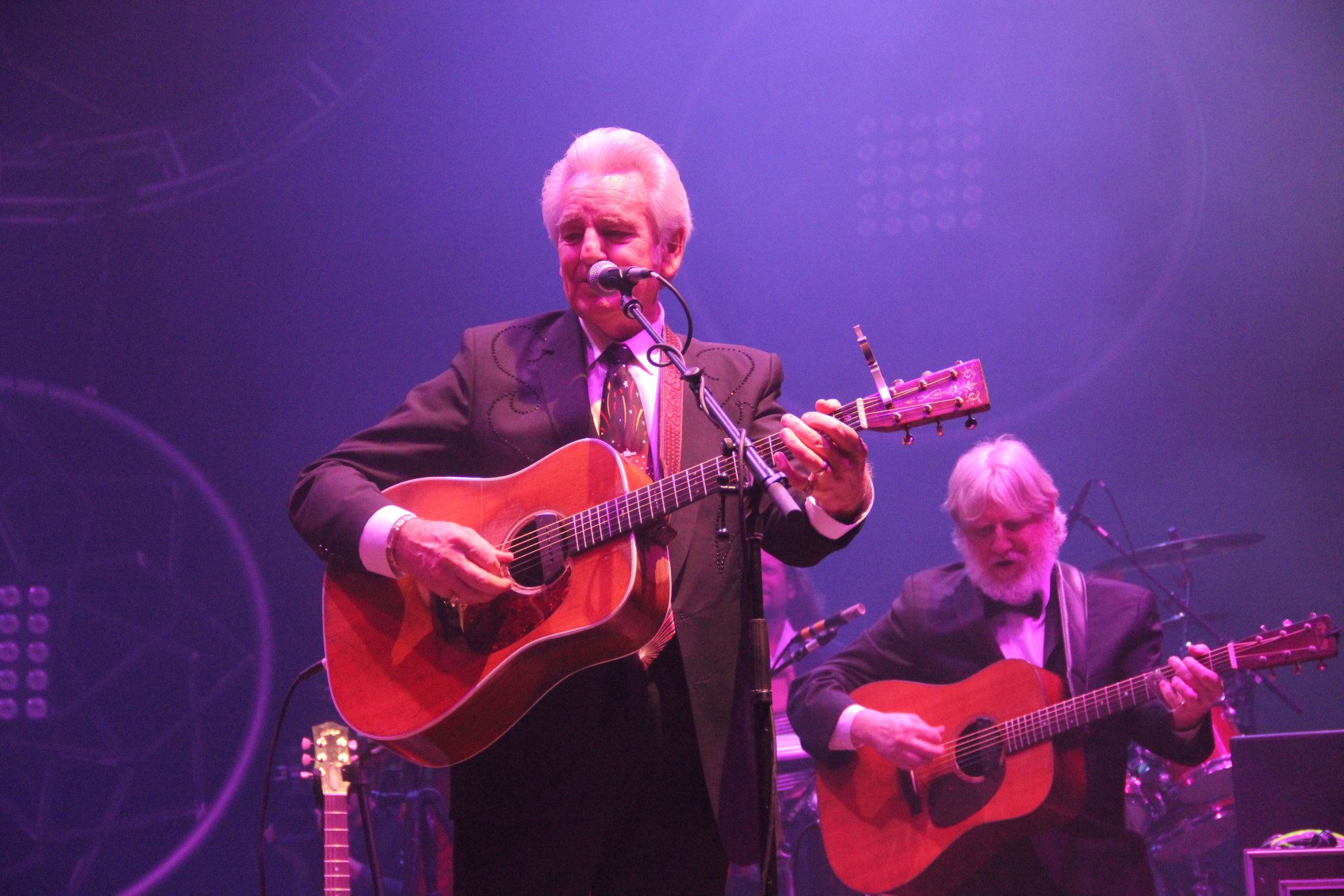 String Cheese Incident, with Ronnie & Robbie to support, launched into Weather Report's Birdland, by now a staple of the band's live repertoire. And being that they still had the bluegrass boys to play around with, they sandwiched in a cover of Bill Monroe's Wheel Hoss. More jamming and interplay led to a climactic instrumental crashing back into the reprise. The McCourys bid the band and crowd farewell, with well over half-an-hour of music together to start New Years Eve. Other first set highlights included a few old school tunes. Way Back Home was a fitting with to address their hometown fans giving the band's electrified side some exposure. Closing the first set was Valley of the Jig, an electronic rave-up featuring Kang on fiddle and of course some heavy involvement from drummers Travis & Haan. Set one finished and the band already took us through so many different musical ideas and settings. Set break at a Cheese show usually means catching up with old friends, because it's all about community.


The second set gave way for some really spacey and passionate jamming. The Water opener was accompanied by an impressive light show that would continue to mount in intensity for the rest of the night. A newer tune Colliding, got way out there and gave Kyle Hollingsworth a chance to display his array of funky synth-work. The reggae-twinged Sirens is a crowd sing-along about love and compassion for those who bring you joy. To quote another String Cheese tune "hold on to you friends, you're gonna need them in the end." Billy broke out a major rarity with Windy Mountain, after some heavy teasing it was a nice way to mellow out after the intensity of the last few songs. Billy's Las Vegas got the dance party going and upped the wildness of the lightshow. Las Vegas could be look at as an accompaniment piece to his earlier Texas. Billy's telltale tunes are always tequila-soaked good time. The second set ended with a personal favorite, the Michael Kang/John Perry Barlow collaboration Desert Dawn. Most of Cheese's lyrics are self-penned, but a few special tunes were written by ex-Grateful Dead lyricist Barlow, and are always noteworthy for their complexity. The guys really jammed this particular version out, with over twelve minutes of midi-mandolin and heavy drumming. After two full sets, the time was 11:20PM, just enough time to get things set up for the big event.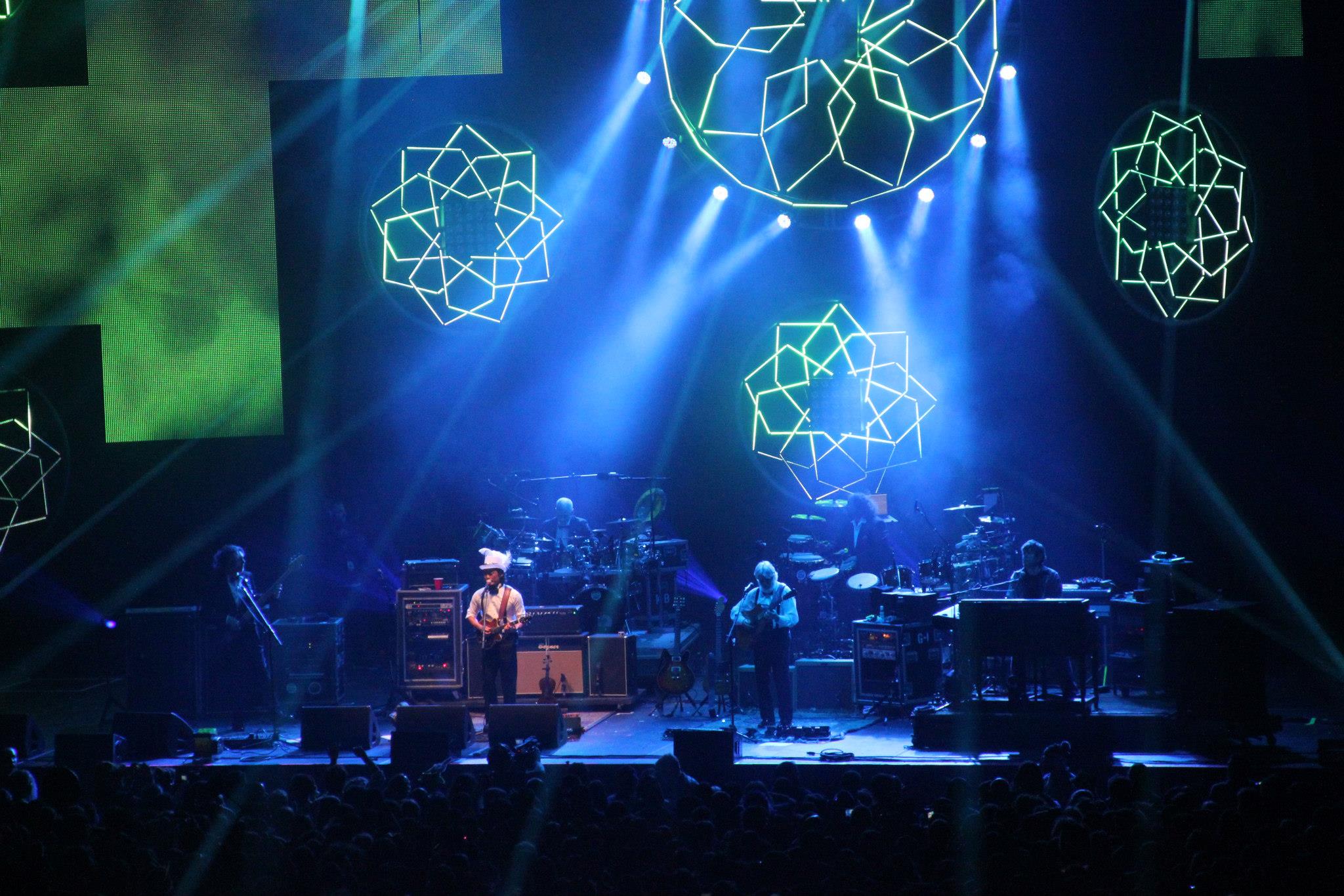 Fans who made it to the 2012 New Years Incident knew they were in for an over the top production. Right they were. The band arrived onstage in their usual garb, Kyle's funky glitter cape and Kang's white top hat with a huge feather. The band kicked off into their trippy Rivertrance to welcome in the New Year. Meanwhile the spectacle was borderline overkill (in a good way) including gowned ladies dancing in life-sized snow globes scattered across the venue floor. Trapeze ladies descended from the rafters above stage and swung around in between hula-hoops, showing off their incredible skillset. The ceiling above the main flood lowered to reveal a net and latters with several acrobats performing some sort of a ritual bounce-dance. Mortar fireworks began exploding onstage and in the crowd. A "father-time" looking figure sprayed a flamethrower of fireworks above the crowd. Endless confetti, glowing bats, and balloons were let go onto the crowd as the clock struck midnight. One has to wonder what this all looked like to the guys onstage. As the band bid the crowd Happy New Year, the McCoury family came onstage to toast the band and the crowd.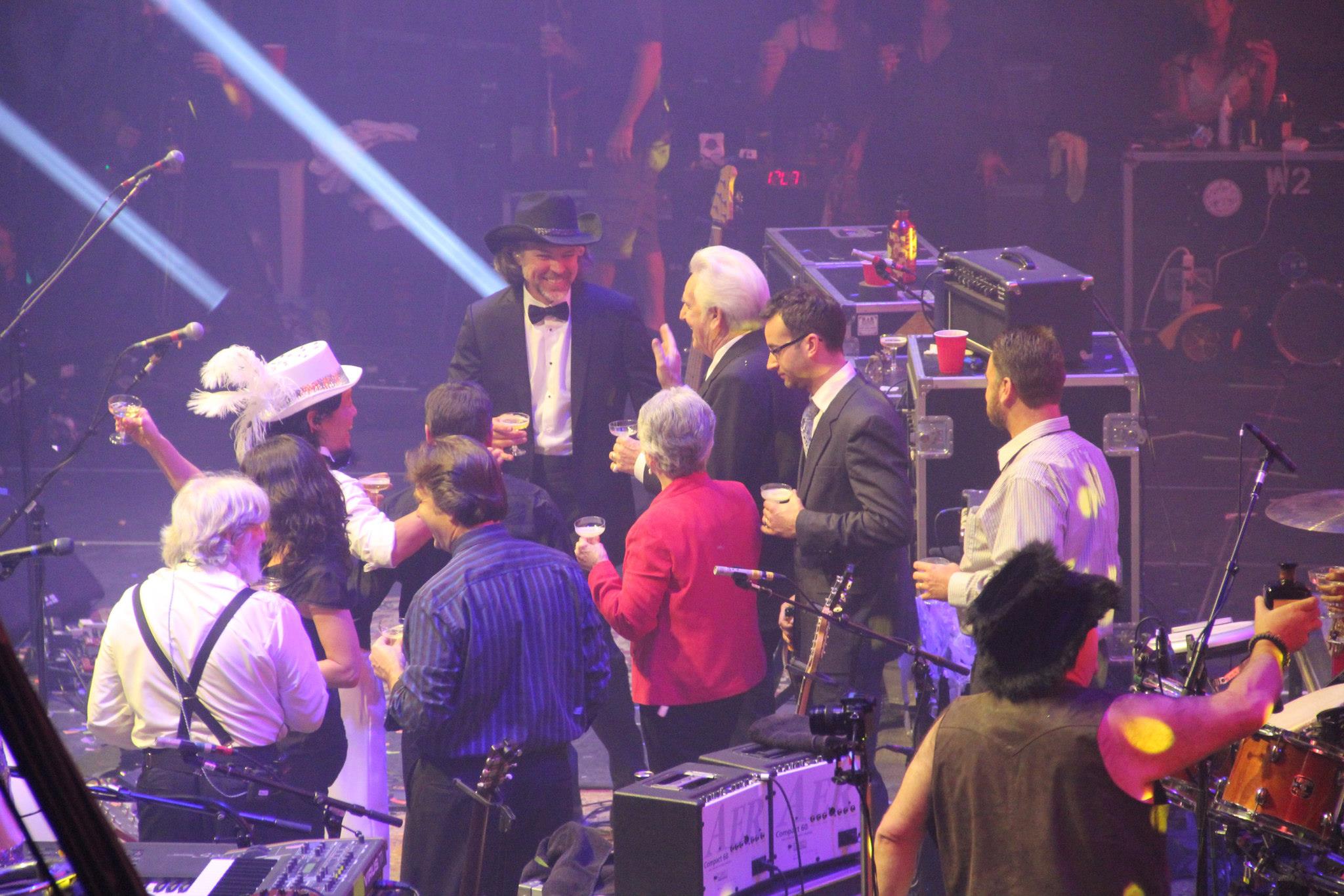 Keeping the energy level surging high, Kyle launched into his tune Let's Go Outside. The funky dance party continued, now glow-bat accompanied, in 2014 officially. Billy introduced his beloved tune Smile as being written for his beautiful wife Jillian. Smile is primal Cheese. Acoustic swing supporting Latin fused key and drum changes. After an instrumental that could have been their solo musical highlight of the night, the climactic moment had the crowd singing in unison "I can see you smile!" As the jammed cooled off, the Kang, Kyle, Keith and Billy left the drummers onstage to do their thing. It was unusual that they stuck to a pretty standard drum rig rather than digging into their arsenal of electronic toys. Fitting to their 20th anniversary vibe, the "EOTO" segment was pretty much a straightforward drum solo. Continuing with Kang/Barlow tunes the band played "Is What It Is" next; a rumination of the ups and downs of life and taking things for what they are. The jam to follow is always a special treat. The Talking Heads' This Must Be The Place (Naïve Melody) has become an SCI standard, fitting very closely into the band and crowds ethos of finding home and solace and the show. Unexpectedly, the band transitioned into the Beatles Sgt. Pepper Lonely Hearts Club Band reprise, the first ever version that they started the run with on the 28th. After the crowd sing along the band jammed an improvisational outro landing into another reprise from the 28th, Just One Story.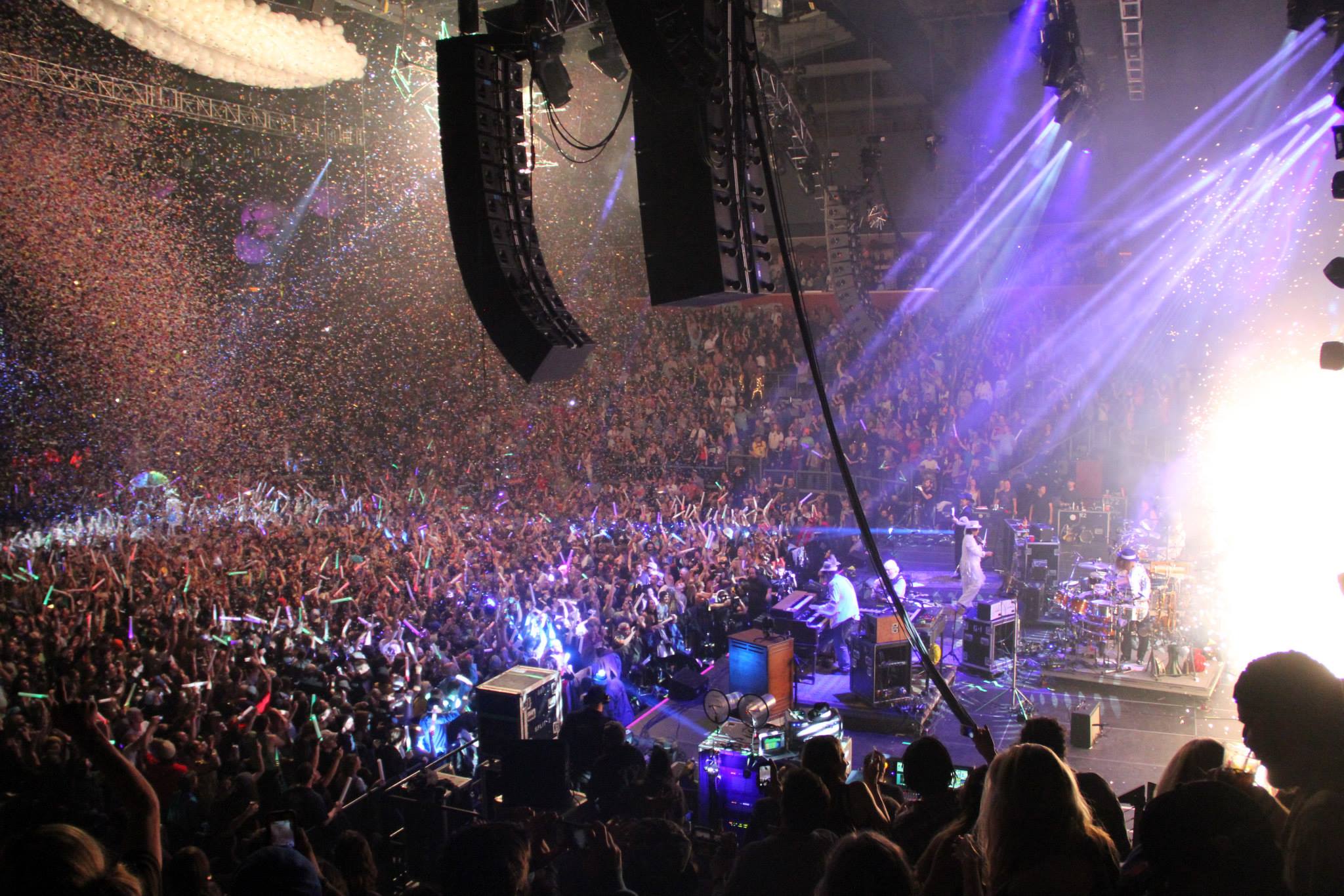 If an encore call was ever in order, now was the time. The guys embraced their hometown crowd with a thirteen-minute version of their developing newer tune Colorado Bluebird Sky. Out of all the newer tunes, this one has won even the most stubborn old-school hardcore fans over.
After a huge year of touring and festivals, this New Years Eve event is one that will never be forgotten. Thanks to the band for always taking it to the next level and bringing incredible guests to supplement. We really hope this 1st Bank Center New Years Eve becomes a Cheesy Tradition. Good Times Around The Bend.
Check out more photos from the show.