It's felt like eons since David "Dawg" Grisman has played in Boulder. Not that is really been all too long, but since then residents have all sorts of jammy and traditional grass growing underneath them. Theater performances and community picks become increasingly popular and plentiful. A sort of roots resurgence has blossomed and a generation of newgrass players is inheriting while reinventing this tradition. Purists need to a look back a few generations to what Dawg music did for what was then current in bluegrass. Bill Monroe, Earl Scruggs, Doc Watson, Lester Flatts, Jim & Jesse were all rooted in Southern Tradition and many folks from that walk valued their authenticity. Dawg music took American Bluegrass and fused in with the compositional brilliance of French acoustic legends Stephane Grappelli and Django Reinhardt, whose group Quintette du Hot Club de France combined elements of European folk, American Jazz, within an acoustic instrumentation that created an entire new school of jazz music. Grisman's influence on his peers such as Peter Rowan, Clarence White, Tony Rice, and Mike Marshall took the Newgrass genre to a new complexity that even John Hartford and Sam Bush hadn't touched.
Decades down the road, so many projects, and so many recordings. Dawg is a legend as a composer, musician, bandleader, music historian, and archivist. The last time Boulder saw him was with his Bluegrass Experience, which veered more toward the tradition of American roots and bluegrass rather than the Django-esque inspired instrumentals of his Quintet. His newest project, the FolkGrass Trio meets at a happy medium between the two. Folkgrass Trio sees Grisman sharing his signature "history lessons" between tunes. Even the hardest bluegrass buffs might be less familiar with certain obscurely relevant anecdotes. The FolkGrass Trio sees Grisman joined by flat-pick master Jim Hurst, and his son, Samson Grisman on standup bass. Hurst's southern roots combined with Grisman's scholarly virtuosity made this show a special affair. Sam is noticeably growing as a stronger on bass and adds a level of family humor to the whole experience. The seated Boulder Theater crowd kept quiet at all the right moments of nuance, and displayed rowdily embracing cheers when the time was right.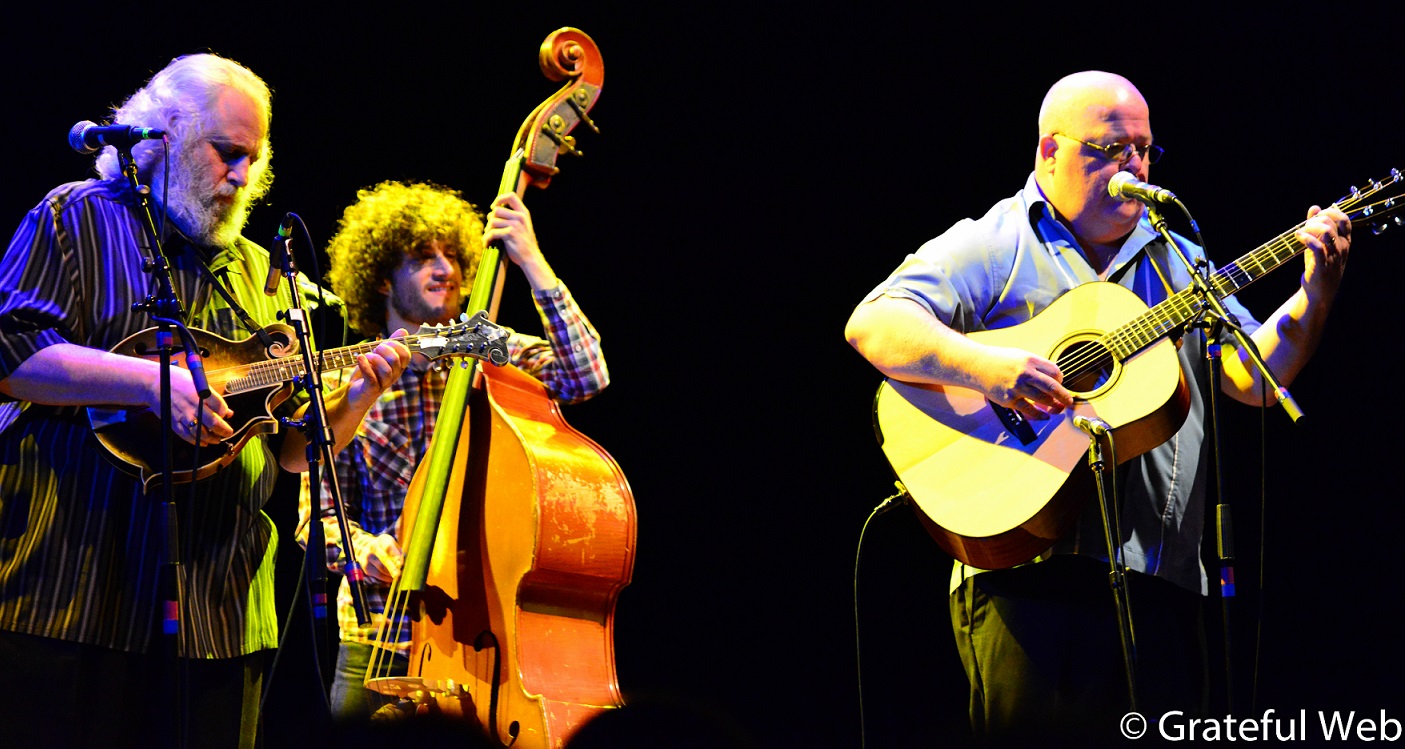 Many of the evening's highlights were moments when Hurst and Grisman shared a sweet dual harmony that carried the strength of a full ensemble band. Grisman humorously noted that within every trio there's a three duets. Mid show, Grisman left stage first to allow Sam and Jim to "mess around", which turned out to sound more along the lines of an improvisational link of musical comradery. The other two duets were equally engaging.
The musical height of the event came when Grisman introduced a traditional. "Two Soldiers (The Handsome Cabin Boy)," was covered famously by Jerry Garcia & Grisman back in the early 1990s. Last Friday's performance had the silent crowd, most of who seemed in the know, absorbing the bare-bones composition in trio format. Cheers from the hardcore fans came when the familiar chords to "Dawg Patch" launched an extensive signature Dawg jam with plenty of brilliant turns. The trio didn't wait to long to come back after a roaring encore call which called for one of the few sing-alongs of the night. "Shady Grove," a song now synonymous to Dawg, was a deserving farewell to the enthusiastic Boulder Theater audience.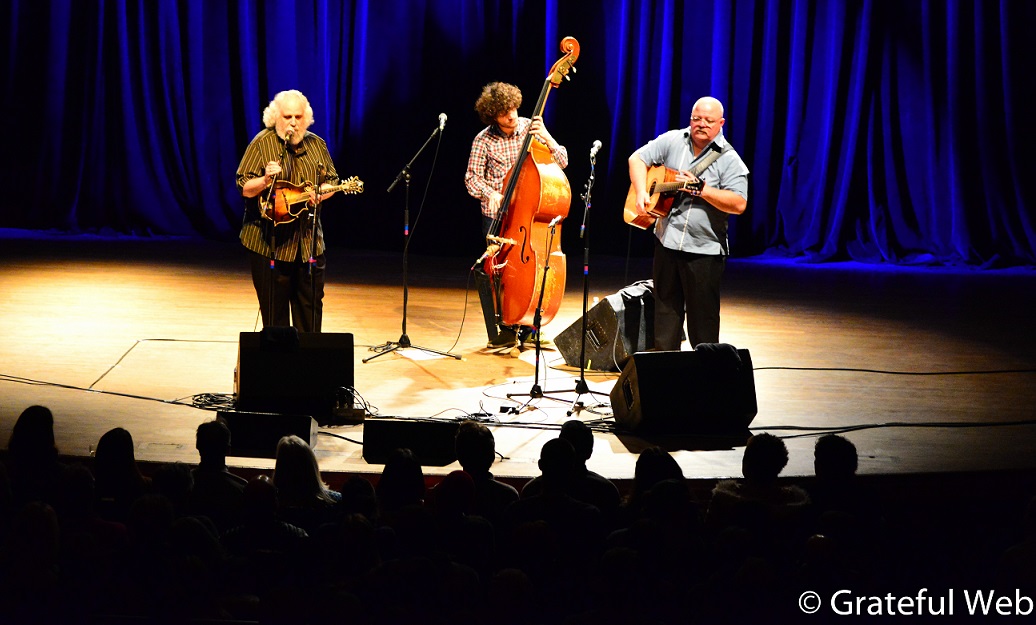 Grateful Web has always been a firm supporter of Grisman, particularly recently with his foray into preserving precious roots recording on his Acoustic Oasis website, which makes downloads available of contemporary but mostly historically crucial recordings of roots, country, jazz and bluegrass, American and worldwide. Support Acoustic Oasis and Dawg music.