Upon entering George's Majestic Lounge on Sunday night I noticed something in the air. It wasn't smoke, because you can't smoke in George's. But there was something else hovering in the spaces between us humans. Music wafted from the back room – a folk duo picking at stringed instruments and harmonizing light Arkansas accents. The venue was buzzing with old friends and new faces, happy hearts and big smiles. Elephant Revival was in town – a cause for celebration. And a celebration it was. Hoops, hollers, drinks and dancing lit up a full house of Sunday-night Revivalists. A somewhat different kind of revival than you'd experience in the morning…but an awakening nonetheless.
The show began with a set from Fayetteville husband-and-wife duo Smokey and the Mirror (they are also part of a band 3 Penny Acre). The band plays stripped-down, vocally driven folk tunes with some bluegrass mixed in. Their style is rooted in American folk music from days past. In fact, Brian Hembree of Smokey and the Mirror arranged an exhibit that showed at the Crystal Bridges Museum of American Art (or, as I call it, Crystal Britches Museum of Fancypants). The exhibit focused on modern folk and bluegrass music, as well as depression-era photography and art. Brian paired the songs with individual artwork. The experience was wonderful, and wonderfully synchronized. The songs that were chosen to accompany the photographs and paintings were simply right on point. The couple also hosts the Fayetteville Roots Festival. A SXSW-style festival with shows in various venues and stages in Fayetteville. This year the festival will feature Lucinda Williams, The Wood Brothers, Anais Mitchell, Jay Farrar, Darrell Scott & Tim O'Brien, Ben Kweller, and many more. Come visit Fayetteville, Arkansas – it is a beautiful city!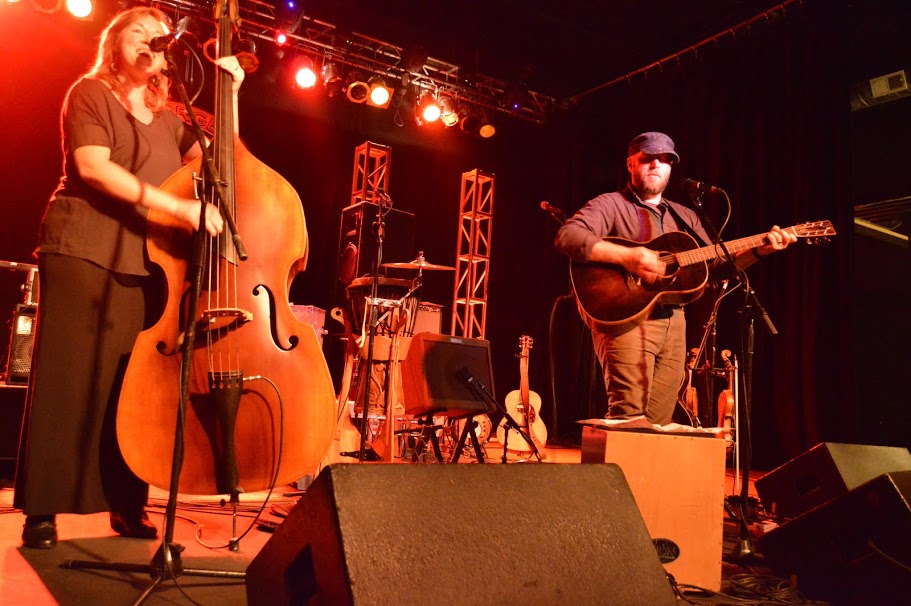 Smokey and the Mirror finished their set to a nearly-full house. The diversity of the audience at an Elephant Revival show really tells the tale of their breadth. Elephant Revival reaches so many people; their music floats easily through us as if they are playing to the firing of our neurons, not just our drunken sensibilities. There were people in the audience who have been there since the beginning of Elephant Revival; friends and family of Bonnie Paine (vocals, washboard, djembe, musical saw) hooted and danced to old tunes and new. And we all celebrated the band together, no matter our personal closeness with any of the band members.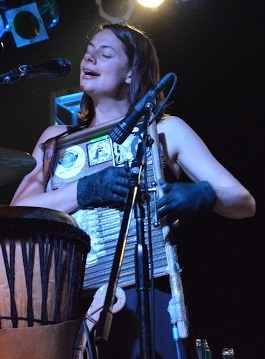 When Elephant Revival gathered on the stage they were poised and professional as always. Faces dancing with smiles and heart aflutter with the promise of another performance, the band began the show with a favorite of mine, Birds and Stars. The band bounced from new songs, to old, to a few I didn't know. They brought guests onstage with them and showcased their multi-instrumental talents. Bonnie began the show playing washboard, then to musical saw for "Satisfied", and then onto djembe to finish the set. Meanwhile, Bridget Law sang quietly and shredded her fiddle on stage left.
Elephant Revival's set began quietly, with a few older songs ("What's That" and another I didn't know), a mostly instrumental song that featured a rare jam and a somber ballad "Stolen." The band soon invited Bonnie's sister, Annie, to the stage; a mainstay on Elephant Revival's Arkansas/Oklahoma/Missouri stages. Annie joined the band on two songs playing upright bass, one of which is not on any albums I have heard ("Dream Within a Dream). Next they called Smokey and the Mirror's Brian Hembree to the stage. A musically delicious treat, the band played a song Brian and Bridget wrote together at a songwriter's retreat that came highly recommended by Bridget, Cricket-Crow Retreat.
By this time the band's set had really gained momentum. The crowd was yelling compliments at them every change they got and generally enjoying the hell out of themselves! Despite the heightened energy in the room, when Elephant Revival began "Remembering a Beginning" the audience was silenced and entranced. I can't imagine what it would be like to hear this song in a perfectly acoustic venue. Just in a bar, the song had a quiet beauty to it that cannot be destroyed. Truly, that is one of my favorite songs. Dango Rose and Daniel Rodriguez often seem to stand in the background, but on this night they were all smiles and great talent, a perfect combination.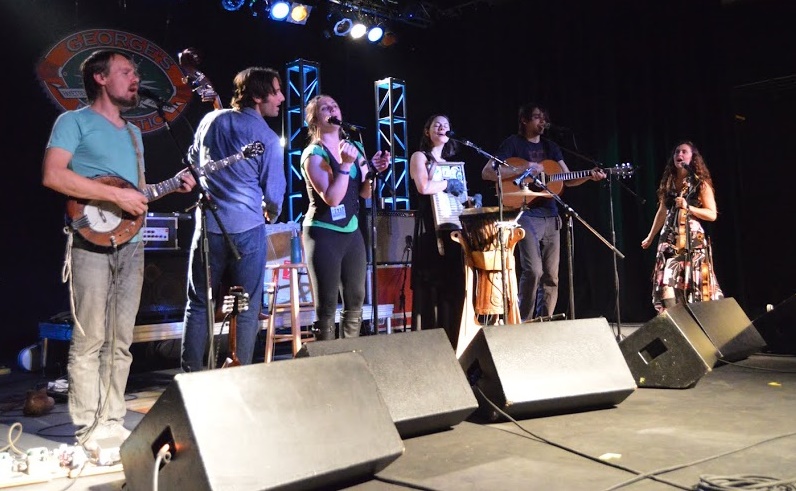 Next up were a slew of songs from their newest album, These Changing Skies. Songs like "Breathing" and "Over Over And" were thoroughly enjoyed by the audience, and they couldn't help but clap and sing along. Hell, I couldn't help it! After playing "Satisfied" Sage Cook (whose birthday it was!) took the fiddle and played alongside Bridget in a song I didn't recognize, but really resonated with me. It was, as many of their songs are, about the cycle of life. With lyrics like leaves become the soil…a flower full of the departed…what's not to love? Rounding out the last of the set, Elephant Revival played my fiancée's favorite song: "The Obvious". Then the band broke into a thick, full, fast instrumental that got the audience moving and shaking. Elephant Revival proclaimed the instrumental their last song and left the stage…until their returned to booming calls, and some begs, from the audience. As is customary now, but still enjoyed, the band played a 2-song encore of "Drop" and a great sing-a-long "Grace of a Woman".
I can't say I noticed anything new or innovated about this set from Elephant Revival. But I can say I enjoyed every second of it. From the reliable talent to the heart-moving songs they play, I couldn't ask for much more from a live performance. Sure, the band doesn't cart around expensive lighting systems or huge speakers like a lot of musicians these days. But it's because they don't need them. They don't even need any fancy dance moves or crazy hair, just their instruments and voices. Because Elephant Revival? They have what it takes and they are using it.
Thank god.