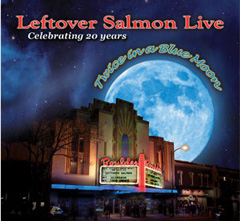 "There have been some good times, some hard times, some crazy times, some wild road times, some times where people have passed....but it's good to just keep walking" proclaims guitarist/vocalist Vince Herman before the band launches into their original "Just Keep Walking" from their recently released concert DVD Leftover Salmon Live: Twice in a Blue Moon.
He couldn't have said it any better, as the band celebrated their 20th anniversary this last year that has been full of many ups and downs throughout their career. Despite the rocky road they continue to successfully press on with their unique and signature blend of "Polyethnic Cajun Slamgrass".
Twice in a Blue Moon is their first concert DVD release, recorded at the Boulder Theater on New Year's Eve 2009 and filmed in brilliant high-definition video. The title couldn't be more fitting seeing how this was the first time a blue moon occurred on New Year's Eve in over twenty years. The last time it happened was December 31st, 1989, which coincidentally marked the very first live performance of the band (The Eldo in Crested Butte, CO).
So much has changed with this band since their beginning. They have gone through a large rotation of band members (Herman and Drew Emmitt remain the only original musicians), lost founding member and banjo extraordinaire Mark Vann to cancer, and have taken numerous hiatuses. But the one thing that has stayed constant is that Leftover Salmon still perform live shows as well as any band out there.
Evidence of that is shown on this DVD release as the band blasts through a host of originals and cover songs with energy and precision. And judging by the audience reactions during throw-downs of such tunes as "This Is the Time", "Headbag", or "Midnight Blues" it would appear that they still have a rabid fan base after all these years.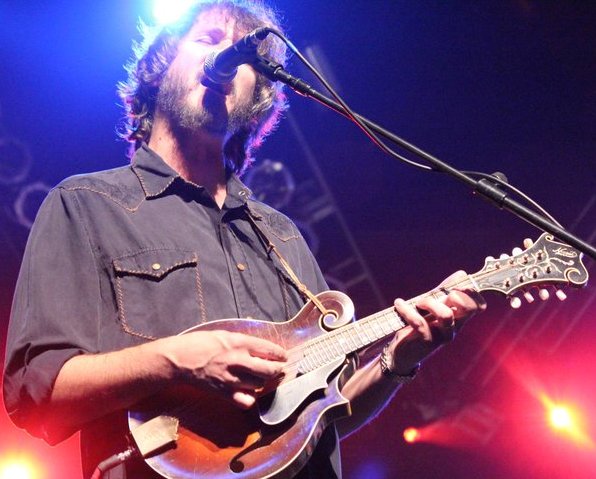 Other songs like "Mama Boulet", "Let's Give a Party", and the all-out jam beast "River's Rising" further capture the band playing as hard as they did twenty years ago, and give hope that the group can continue this ride for many more years to come.
As if the great music and superb video quality isn't enough reason to make this DVD a sweet addition to any fan's collection, it also contains a host of bonus material worth watching. Vince and Drew offer videos of their respective side projects Great American Taxi and Emmitt-Nershi Band, as well as provide interviews of them speaking about the beginnings of the band and how the life of LOS has transpired since then. The band even inserts a coupon for a free MP3 download with every purchase that contains studio mixed audio versions of the songs performed on this release.
Leftover Salmon celebrated their 20th anniversary as a band in fine style, and thank heavens they decided to record this once-in-a-lifetime party for all to experience.