I began my commercial broadcast radio career starting back in the early 90s, in Hampton Roads, Virginia. Working for that region's heritage rock station was quite an introduction to the civilian world, as I had only recently finished my enlistment in the U.S. Navy. I came from uniforms, and tradition, to working with a morning show that wasn't all that different from early Howard Stern. I went from having no music business experience at all, to setting up remote broadcasts at places as varied as the local car dealerships all the way to concert broadcasts from the famous arena, Hampton Coliseum. Instead of standing inspection, I was up at 4:30am, fetching coffee or bottled water to bleary eyed rock stars, as they sat waiting for interviews with our popular morning show. And I was suddenly encountering all the various kinds of colorful characters easily associated with each environment. I felt a bit – at first – like Cameron Crowe's alter-ego, 'William Miller,' in Almost Famous: overwhelmed, excited, but ultimately understanding that he was exactly where he wanted to, and was supposed to – be. One of the more musically-iconic moments of that time and place, was the April 1994 free concert at Norfolk's Town Point Park, with The Dave Matthews Band.
The band was in the middle of 'making it big,' and it was a heady time, to be sure. The crowd was electric. I can't remember now if Under the Table and Dreaming had come out yet, or was just about to.. But regardless, EVERYONE knew – Hell, everyone could FEEL, that this band was about to play its' last free show at a venue smaller than Central Park. There'd be no more drunken New Years Eve shows at the Richmond Marriott Hotel. Dave would never again need to work a shift as a bartender at Millers in Charlottesville. You could smell success in the air.
Sure – there were longtime fans that didn't like the loss of easy access to a band they'd watched, possibly taped, and no doubt partied to – for the last several years. And the influx of newer fans, not from the core jam band community -- had a strange muddling effect upon the overall audience vibe of old. 'They're sellin' out,' a few said, as they boogied to the preshow music while I watched from the relative sanity of the radio station van. But for a while longer, that afternoon, Dave and the boys still felt like one of us. Like their afterburners hadn't quite yet ignited, although it was surely imminent.
But the moment our afternoon jock, the brilliantly-gifted Les Wooten shouted their introduction, everything changed. We all just stood there, slack-jawed and smiling, as we watched those afterburners ignite amongst the blooming azaleas in downtown Norfolk, Virginia.
It feels like the scenario I just described above is preparing to happen to Vermont's own Grace Potter and The Nocturnals. Maybe not to the level of success as that of DMB; but -- I'm no mind reader, and I won't short change the band by suggesting it's impossible. But frankly, I'm not sure that The Dave Matthews kind of music industry success exists, now. However, as sure as we all were, that day in the Virginia sunshine, Grace and her band are headed for something far bigger.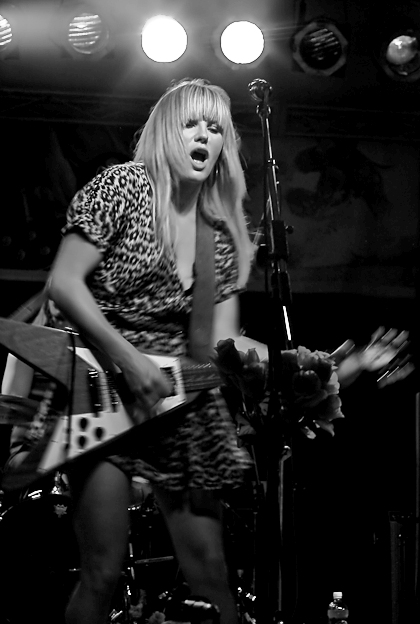 Tonight's free show at Richmond's Brown's Island was no 'Town Point Park,' mind you. But for the band that -- almost comically – was named one of Rolling Stone's Best New Bands of 2010, (despite playing 200 shows a year since forming in 2004,) that show is coming. It's just a question of when. Recent appearances on Ellen, an upcoming performance on Good Morning America, and the June 8th drop of their third major label release, the self-titled 'Grace Potter and The Nocturnals,' have this band on the brink. And if this night's performance were any indication, they are ready for the next step. In spades.
The newly-reconfigured quintet is now comprised of Ms. Potter on Hammond B3, Fender Rhoades, and Wurlitzer electric piano. She is joined on stage by Scott Tournet on guitar, slide guitar and harmonica, Matthew Burr on drums, bassist Catherine Popper and rhythm guitarist Benny Yurco.
According to the band's website, the "current lineup came together with downright cosmic serendipity during the spring of 2009, when they were asked to cover some songs from the late '60s for the VH1 documentary Woodstock: Then and Now." With no bass player at that time, the band turned Ms Potter, most recently with Ryan Adam's Cardinals. The addition of Mr. Yurco on guitar sealed the deal as a five some, almost from the moment they began playing together. The band website continued, "Popper and Yurco didn't just fit in, they crushed it. After that beginning, there was no question that this lineup would be permanent. It was as if the fates had insisted they come together."
The 'cosmic serendipity' is continuing for these musicians. Although only performing a free festival set at this outdoor city festival, GPN played with significant intensity, and deft musicianship. Ms. Potter was in motion from the moment the show began, owning the stage as only a travel-honed musician can.. And like the great dancer, Ginger Rogers, she was doing it in very high heels. Ms. Potter has that unmistakable and even more un-definable thing called star-power. No denying it.. If this were the 1960s, she'd be compared to Tina Turner.. If it were the 1970s, I'd go with the obvious choice of Stevie Nicks, whom Ms. Potter herself references in song, on occasion.
Turning down, or more accurately – delaying - a planned studio effort with famed producer T Bone Burnett, Grace Potter instead would seem to be focusing on developing her whole newly-reconstructed band sound, instead of some more solo-based effort, as she was previously working on, with Burnett. She isn't 'putting all her eggs in one basket,' as it were. Instead, I think she's taking a more controlled approach to developing an overall sound and public image before making what would seem to be an inevitable step out front and away from a group dynamic – even if that only proves to be an occasional musical diversion.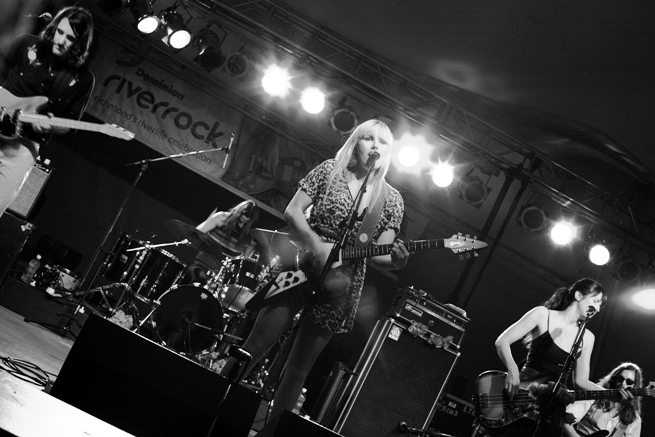 I don't see any afterburners ablaze just yet, with respect to this band. But after tonight's razor-sharp performance in downtown Richmond, I'd say we're close to ignition.