Upon walking into Music Hall of Williamsburg, it was easy to tell what kind of audience this venue attracted. It was a veritable sea of flannel, with thick-rimmed glasses aplenty, and varying amounts of facial hair. These were the hipsters of Brooklyn, all of whom had come flocking, on a Monday night, no less, to see Liam Finn.
The show began with opening act Marques Toliver, who took to the small stage armed only with a violin and a voice so smooth it could be made of honey. And he caught a lot of flies with that honey, as he began his set with charming rapport and a truly unique sound. The classical sound of the violin blended, miraculously, into an R&B style, using only a kick drum and a stunning voice to complete the transformation. He left the stage with the crowd literally begging for more.
As the crowd began filling out, with even more flannel plugging holes in the standing room, the next act, The Generationals, began their set. With a five-man band comprised of drummer, bassist, guitarists, and keyboard, the Generationals were able to achieve a fresh sound from a seemingly old as time configuration. The double vocalists were perfect together, and although the music was electronically-driven from the keyboard, the band had a distinctly rock and roll sound. These guys will no doubt be giving similar bands like Foster the People a run for their money in the near future.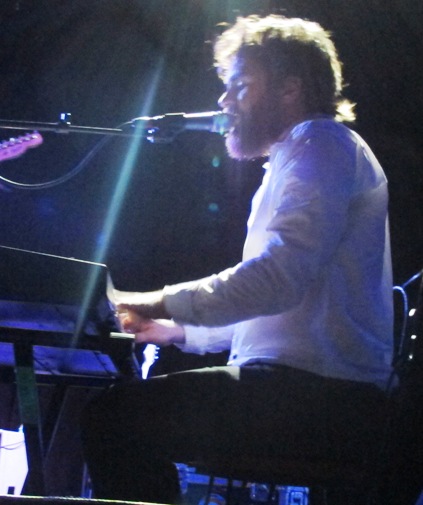 Liam Finn finally took the stage to a full house. He and his band did their own set up and sound check, due to a presence of instruments and sound systems that looked as though he and his band had invented them specifically for the show. Among piano, bass, 2 drum kits (one played by "[my] steed, Elroy" and the other played by Liam himself) and an electric harp, there was also what appeared to be an uncoiled symbol that later, percussionist and vocalist EJ, would play with a drum stick to make a truly haunting sound. Liam pumped up the audience while tuning with an air guitar rendition of Inside-Looking Out by The Animals as it played over the sound system. He opened the show with a very heavy, very rock and roll guitar riff as the band took the stage and joined in, setting the stage for the tone of the show and leading into I'll Be Lightning as the crowd cheered raucously. He played another old song before switching to Cold Feet, from his new recently released album entitled FOMO, and a clear crowd favorite. The new songs had a less heavy handed sound, an evolution from his earlier work and definitely a good direction to be moving toward. Switching to the piano for his next two songs, he played Neurotic World and Real Late, both new songs as well. He stayed with material from FOMO for a good part of the concert, but was still able to sneak in old favorites like Lead Balloon towards the end of the show. His performance style is that of a true rockstar, gyrating and jumping around the stage, sweat pouring off of him in buckets. It is refreshing and entertaining to see an artist really get into the music, and he had the audience captivated from the very first note. He and the band left the stage, before coming out to do a truly stunning encore, playing Jump Your Bones, This Place is Killing Me, and Gather to an awed audience who didn't want the night to end, so much so that they stood motionless, waiting for more, long after Liam and his band left the stage - truly rock and roll.