The first annual Winterfest on the Mountain happened in Nederland at the new Community Center. The gold LEED certified venue was reminiscent of a school function with comparisons to elementary school, a high school dance, and what I remembered as youth group lock-ins. The three day festival featured organic Americana music from Adam Aijala and Ben Kaufmann, Bill Nershi, Drew Emmitt, The Motet, Todd Sheaffer, Tony Trischka, Greensky Bluegrass, Split Lip Rayfield, Great American Taxi, Euforquestra, Whitewater Ramble, Boulder Acoustic Society, Elephant Revival, Pete Kartsounes, Mountain Standard Time, Riverbend, Smooth Money Gesture, York Tide, and 2 set reunion from Phix.
The venue was perfect for a winters' day. There was a bit of confusion getting up and down the stairwells to the Party and the Theatre stages, but where else could you overhear a conversation over a banjo strumming in the stairwell that included, "yeah, we just couldn't get organized enough to be productive."
There was such a strong theme of community running through the entire weekend. Strangers were stopping strangers, just to shake their hands. Everybody was playing in the heart of gold band. The Nederland area has such a strong musical pool to draw on. These musicians have the unique position to be uniting forces in a dark day. I sometimes think of them as the "Boulder Council of Elders" because so many come to their shows to dance, to release, to laugh, and to cry. The community center provided just that space. Downstairs in the Theatre Stage, there was seating that could hone a sweet hand holding session with your lover. Upstairs at the Party Stage the auditorium was filled with dancers, prancers and hula hoopers alike.
I had a chance to talk with some of what I consider the Boulder Council. When I asked them how they negotiate this type of power, Paul Murin of Phix responded, "it's not a power. It's a privilege." These musicians bring people together and lay down beats as a trail for folks to follow. What about the chaos of a festival within what could be considered a small space? There were 500 attending Saturday, bringing the house to capacity. I have heard performers say that the performance is a cycle; what the audience puts into the performance, the performers turn back to them. What about that in such a setting as this? How do you feel when the energy shifts and crowds come and go in and out of your performance? Chris Sheldon of Great American Taxi & Phix responded by saying, "awesome. I don't expect people to stick around the entire time if there are other things going on. It is definitely cyclical. But it is more than simply us and the audience, it us and the audience and the other bands and the vendors and us and the audience and the other bands… It's all compounded into a cyclical intertwining of everyone there."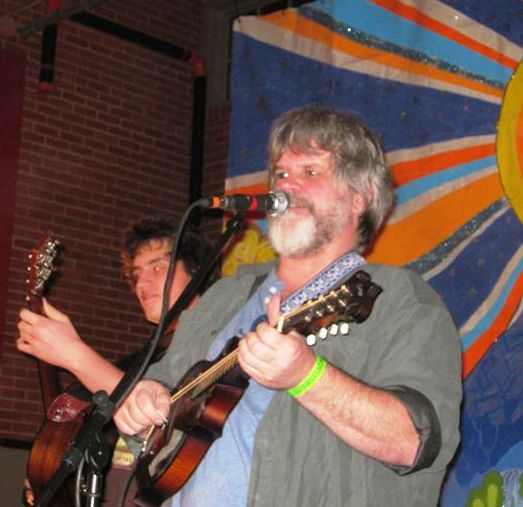 Great American Taxi was playing Saturday night at the same time as Elephant Revival on the Theatre Stage. It was amazing how spiritual, solemn, and soft Elephant Revival was while upstairs Vince Herman and the boys sang about crazy hippy girls and everyone was sweating and singing along. After Elephant Revival finished up, an all star jam broke out on the Party Stage with Women are Smarter and truly exemplified this example of cyclicity.
After Great American Taxi was the rare Phix show. I had to get my Phix. You may not like me for saying this, but as a somewhat veteran of the scene, I'll be damned if one more dime of my money goes to Phish. I spent a lot of time, energy, and obviously money on that band. Now after the "hiatus" and the "break up" only to reunite, my poor heart (forgive the pun!) just can't take it anymore. When I sit back and think about it there was plenty I didn't like anyway, for instance, Trey. I am a Page girl myself. I always stand on the side of the keyboards because he is so polite. He is the last one off the stage every show, waving and making that connection to the audience. Trey, well… Let's just say I am never a fan of his guitarsturbating point with the guitar. He holds it up like some golden cow we are all to bow to. No, I am here to be a part of the cycle.
Paul Murin is so the opposite of Trey. When I got a chance to pick his brain on the occasion of the festival, he and the rest of the band happily obliged. When I asked if we could step away from the crowd they all modestly checked the room that said DO NOT ENTER- Bands Only. Paul looked left, looked right, and shyly tapped on the door. When he saw no one in there he looked as though he had just gotten away with something! Not to mention I got to hear a flawless 2001, Hood, Divided Sky, and Roses are Free. While playing Paul does not emulate Trey in any means other than the music. Matter of fact, his toes are pointed crow-footed as he plays a sure sign of humility and grace.
I vote with my dollars and this girls' dollars will be going toward Phix when I need a Phix. Unfortunately, that will not be very often. Phix wrapped up with their 500th show about 2 years ago and since then Brian and Chris have been touring with Great American Taxi. When I asked what relentless touring was like, Brian responded "Waffle House. It's a way of life." Paul, recently married, (congrats!) responded that he would like to put those days behind him. Currently, he is playing with 3 other bands in the north range of Colorado, Ethereal Plane, Mason's Children, and Magnolia Row. "As far as I'm concerned, I believe we should all add as many skills or gadgets to the utility belt as we can."
Community concerns include the wide range of emotions. This festival addressed a wide range of needs. There was something for everyone in every state of affairs. I think Vince Herman said it best when he told me, "True friendships and values, that's what we aim for."
Check out some more great photos from the 1st Annual Winterfest up in Nederland, Colorado.