I started off my musical day with two exceptional bands that weren't on the program. Enchanted Ape and Mountain Standard Time played acoustic sets in the VIP Chill Tent. Enchanted Ape had a guest guitarist join them, a performer who had played with frontman Chris Obrien years before and who added some really nice vocal backups. The regular guitarist will come in Friday just before Enchanted Ape's slot that day. Chris also added a tenor sax player to this acoustic set. Enchanted Ape did a very delightful set that helped us all start our days in a great mood.
Mountain Standard Time, from Colorado, just nailed their lunch time set. Combining horns with bluegrass instrumentation, we were all mesmerized.  They play tomorrow.
Up on the Vitamin Water Sync Saloon Stage, Elf Lettuce did some great jam noodling to a fair sized crowd, while Akron/Family, at the Barn Stage, offered a mix of some exotic, but quiet material before jumping into their brand of rock and space stuff. I can see why their European and Japanese fans love these guys and this Minnesota crowd really took to them, too.
Pete Francis and Barefoot Truth were drawing a big audience at the Field Stage.  My husband really liked these guys. The vocals by the Pete Francis were good, but the vocals done by the drummer for Barefoot Truth were outstanding, very gutsy. They offered up a variety of reggae, funk, and something somewhere between mountain and rock with all sorts of different tempos. They were very strong players, especially the drums, guitar, and a kickbutt keys player.
Harper followed Elf Lettuce up at the Saloon. Of course, his didgeridoos drew a big crowd, but his spot-on blues harmonica riffs kept the crowd for the whole set. He brought a really tight band from Michigan with him and they just nailed it!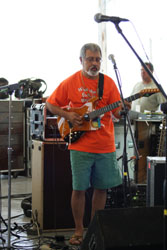 Garaj Mahal took the Barn Stage at 4 pm, starting out mellow, but soon got really intense.  There was some nice solo work by Eric Levy, the keyboard player. But, for the most part, this set was very much, drum, guitar, and bass driven.  The bass and guitar not only played off each other, but off the drums, with different time signatures, even within a single song.
Railroad Earth's set on the Field stage was refreshing. It's always good to see them, much like seeing old friends.  But it was very evident as John Skehan, the band's mandolin player, told me recently that the band has been turning some of their material inside out. I think in two hours, they only did maybe four songs with vocals, and the ones they did were so different from the originals. For example, they did "Seven Story Mountain," and you could barely find the original melody in there, even with Todd Shaeffer's vocals.  Bassist Johnny Grub sang a song, also. But even the vocal harmonies that were so much a part of Railroad Earth's journey were very different now.
This band is more jam than lyric driven. They played their first 45 minutes and only did three songs—and only one was a vocal. But these extremely talented musicians pulled out every instrumental trick in their kit. Andy Goessling, who plays every stringed instrument you can imagine, even brought out a regular flute and a Native flute as well. John Skehan was smoking like I've never seen him, and Tim Carbone was twisting notes out that fiddle of his that were pure ecstasy. But it was Dave Harmon's drum work that blew me away. I've never seen this guy so creative, sometimes sounding like a Celtic bhodron, sometimes driving like a train, sometimes adding a bluesy beat.
Mifune, a rock/world band, was up in the Saloon and just about blew the walls of the room off. They were good, but much too big, with all their horns, for a stage that size.
Mason Jennings drew a huge crowd of local fans on the Main Stage, and Wilco just packed them in with their unique sound.  One fan said of Wilco and all their guitars, "They're like Drive By Truckers on Speed."  But what I heard was just a good mix of rock and more. Their set went long  so the Barn Stage and Field Stage acts started later than the 11:30 scheduled time.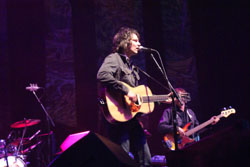 Minneapolis's hip-hop duo Atmosphere, on the Field Stage, pumped out their constant motherf….-laced tunes to a very obliging audience. Sometimes, they would start a groove going and the audience would chant the vocals long after the song ended.
Up on the Barn Stage, Junior Brown turned on a whole new fanbase as musicians in the audience, including my husband, all crowded the stage or stood to see how Junior Brown picked his famous electric guit-steel. His drummer (just a trap drum and cymbals) and bass played a little run to bring Junior on stage and to send him off, something that country or jazz performers do but isn't seen much on the jam scene. Also unique was the stage attire of the three performers. They all work suits and ties, and Junior had his signature cowboy hat. The bass player and drummer wore 60s-style side burns.
It was lightening by the time Junior Brown took the stage so I don't know if he just decided to pack his entire set into as few minutes as possible or he just is a man of fee words since he didn't really interact with the audience, though you could see a distinct twinkle in his eye and a shy grin. He played a lot of novelty tunes, such as "My Wife Thinks You're Dead," some country tunes, and "Highway Patrol," a song he didn't write but made very famous. All of these showed of his signature guitar noodling and some antics he'd learned like playing "whoo-hoo" on with a slide.
It was fascinating seeing him pick up that side, hidden on top of the electric neck, use it, and then tuck it back—without missing a beat.  Also, when there was a brief pause in the music, Junior would reach up and straighten his cowboy hat, making sure he didn't lose in the rising wind.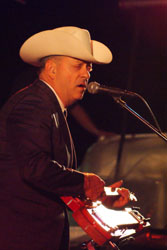 Around 12:30, about an hour into the sets at the Barn Stage and Field Stage, the concert Powers That Be pulled the plug on the show and urged festivalgoers to take shelter quickly because the approaching storm was knocking at the door. Unfortunately, Parlor Mob wasn't permitted to play their late night set because the whole festival was closed down.
The rain hit with a bit of an intensity in about two bursts, soaking festivalgoers as they made their way back to their tents. Lightening and thunder continued, but tapered off and the wind died down.
The crowds yesterday and today were the prime jam festival crowds, who really came for the music. However, festival numbers were not what you would have expected with Dave Matthews as a festival headliner. Festival promoters said the numbers were up from last year, but those were dismally down. One bright spot, however, was that folks from CBS Sunday Morning were here, interviewing Wilco and Widespread Panic and talking with festivalgoers. That piece will run Sunday so it should help put this festival on the national map.