Bragging of Friday night's extensive substance abuse while exposing their bare midriffs to the golden, mellow California sunshine, throngs of eager fans poured into Golden Gate Park for a Saturday morning encore.  Attendees threw back booze with gusto all throughout the day, padding promoters' profit margins with $7 glasses of Heineken.
San Francisco natives Vetiver provided the ideal weekend afternoon soundtrack with smooth, folksy dream pop. Easing the crowd into a hazily euphoric lull with airy vocals and soothing melodies, front man Andy Cabic impressed Saturday's early arrivals with his precise, serene acoustic guitar finger picking.  Channeling the glam rock of Georgia based band Of Montreal, "Can't You Tell" featured jaunty electric guitars and a bouncy vocal delivery.  Lyrics are obscured behind a wall of tambourines and shakers, as a repetitive drum drives the track forward.
"Right Away" has Cabic yearning for a heartland companion and pure, simple Americana.  Decrying high brow exhibitions as insignificant and claustrophobic, he longs for an erstwhile lover that's been left behind: "The gallery felt crowded, I couldn't see the work upon the wall / Your face was all I saw." Yet the singer is besieged by doubt, as it's unclear whether he actually had a real connection with this old flame. As the track fades, Cabic echoes "I wonder if we had anything at all" in trippy repetition.
Single "Wonder Why," off Vetiver's 2011 release The Errant Charm, begins with crisp snare drum and a glittering piano.  Bashing the rags-to-riches American dream as illusory, the singer complains that he just "can't live on what's given." Financial institutions have an iron grip on his meager assets, and the sweltering heat drives a crippling insomnia: "The bank has what little I'm able to keep / Sun's getting hotter, I no longer sleep." It's hard times ahead, but all we've got to traverse these roadblocks is an endless sea of questions.  Luckily, a stellar female backup vocalist helps soothe the pain.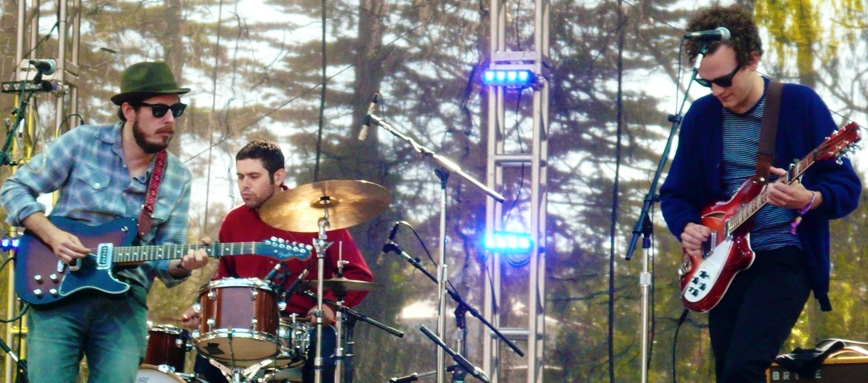 As a rare surprise, Vetiver rewarded fans braving another day of tunes and debauchery with a roots-rock cover of "Standing on the Moon" by The Grateful Dead.  Turning back to their extensive original material, the band finished off their set with a contrasting pair of their strongest live cuts.  "You May Be Blue," a brooding, sinister number off freak folk LP To Find Me Gone, featured infectious electric guitar hooks that had fans whistling the tune all through the day.  Switching gears abruptly, Vetiver tapped up-tempo pop tune "More of This," which appears on the band's Sup Pop debut Tight Knit.  Cooing into his microphone, the singer mirrored a sentiment shared by everyone basking in the plentiful Golden Gate sunshine: "I wish I had / More of this, less to miss / Now is the right time / To swing the bass and sing the praises of a love so fine."
After notching three Grammy awards for their collaboration with R&B artist John Legend on 2010's Wake Up!, the Roots sure have been keeping busy.  In addition to their regular gig as the official house band on "Late Night with Jimmy Fallon," the eclectic, jazzy hip hop artists are set to release their lucky 13th album Undun on Def Jam Records later this year.\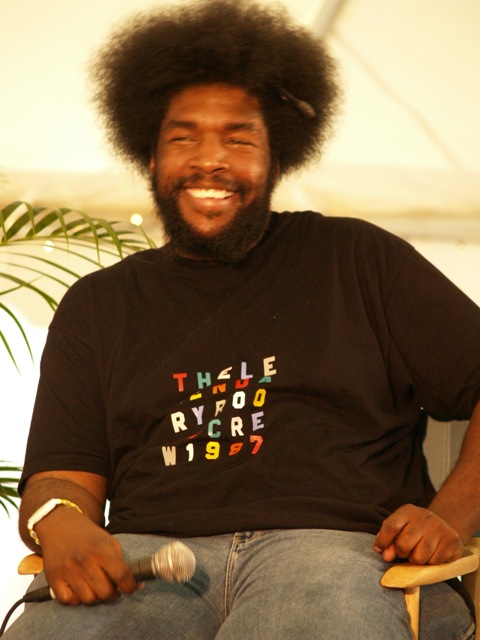 Singer and master of ceremonies Tariq "Black Thought" Trotter, storming the stage in blue jeans and a white t-shirt, immediately got down to business hyping up the crowd by jumping in the air and hollering scarcely comprehendible expletives.  But something's missing – The Roots' drummer "?uestlove" and his signature afro are nowhere in sight! Though the bulky percussionist would soon surreptitiously slide behind his drum kit, his trademark 'fro, reduced to mere cornrows, would not be making an appearance.
After meshing jazz with hip hop and rock influences on their original tracks, The Roots guitarist Cap'n Kirk shot off an urgent, visceral cover of Guns N' Roses' "Sweet Child of Mine."  Segueing into George Thorogood's "Bad to the Bone," the Philly based group channeled that soul crushing cycle of toil and unrelenting dissatisfaction inherent to Mississippi Delta Blues.  Indigo stage lights burning bright, Trotter whirled his mic in wild concentric circles as he dove headlong into Led Zeppelin's "Immigrant Song," tweaking the lyrics to elicit a deafening round of shrieking from the crowd: "We come from 'da land of the ice an' snow / From the midnight sun…to San Fran-cis-cooooo!"
On funk ditty "Jungle Boogie," originally recorded in '73 by Kool & the Gang, the entire band danced across the stage in perfect synchronization while keeping true to ?uestlove's sturdy beat, as Trotter hollered: "Get down, get down / Get down, get down!" Not missing a step, the elated audience screamed in response: "Jungle Boogieeeeeeee!"