A week removed from Outside Lands and I can still hear ringing in my ears, feel a subtle ache in my body, and play music sets over and over again in my mind. While my previous write-up mainly had commentary about the environment the festival was in, this article's focus is on the music. As a note, some performances were too big for this write-up and will be posted in a separate article at a later date.FridayJukebox the GhostThere are few better ways to start off a festival than with something legitimately happy. Jukebox the Ghost are a power-pop trio consisting of a drummer, guitarist, and keyboardist. While the setup is minimal, the group has a huge sound with their get-up-and-go drums and joyful melodies. As expected, Jukebox omitted their ballads and played exclusively their special brand of invigorating sing-along tunes about apologies and apocalypse. And as a bonus, they covered Whitney Houston's "I Wanna Dance with Somebody," which they pulled off quite nicely. They're definitely worth a look if you're hungry for some straightforward pop that's as sweet as candy.BeckI've been an avid Beck fan for almost a decade now, and I've gotten quite accustomed to his abrupt style changes. Beck's known as a pop chameleon, moving from genre to genre with each album to suit his taste at the time. His past works have included funk, hip-hop, grunge, blues, folk, dance, and even drone during his more experimental periods. So it's always interesting to see what kind of Beck you'll get live. He can be as frenetic as Prince, as somber as older Johnny Cash, or somewhere in between. This time we got gloomy Beck, still saddened by the recent passing of his good friend Adam Yauch (MCA of the Beastie Boys). He played many cuts from his two more toned-down albums, Modern Guilt and Sea Change, even dedicating "Lost Cause" to the late Yauch. Things picked up towards the end with "Where It's At" and "E-Pro" getting a charge in the crowd again, but overall Beck was very mellow. It's not something you'd expect in a festival, but Beck is one of those people who's been around for so long that he can do whatever he wants, when he wants, and that's fine.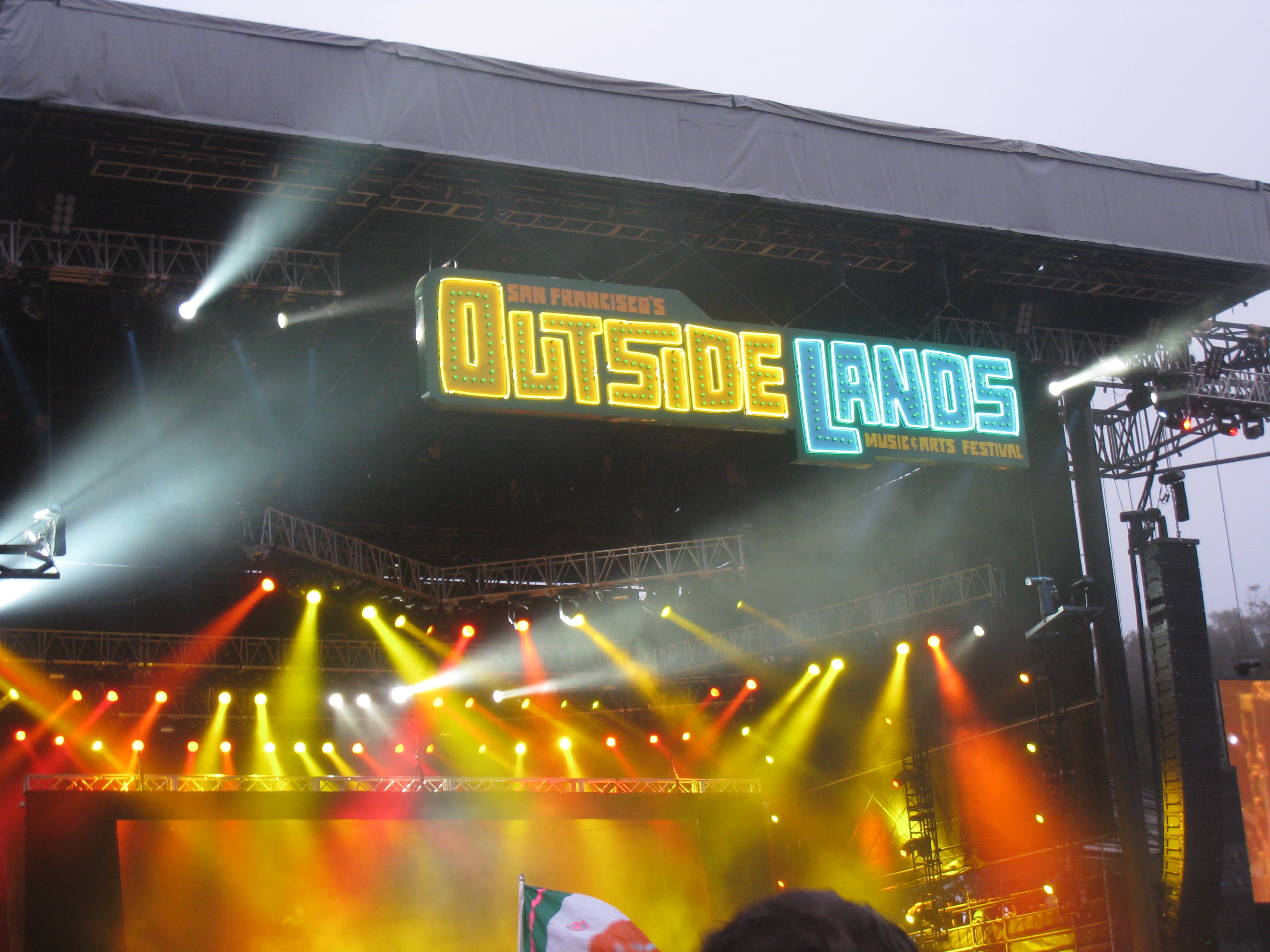 MSTRKRFTI was thinking of going to Andrew Bird, but the weather got worse as his set neared. Looking to warm up, I headed to MSTRKRFT to get my groove on and dance a bit. I'm definitely a fan of MSTRKRFT's stuff, but they didn't really deliver. The problem with electronic music played live is that it's difficult to make it all work together. Live music is all about seeing the artists do their thing onstage, but most electronic groups just twiddle some knobs and press keys on a computer. They either need an interesting light display or to shout encouraging words at the crowd to get them going. Playing during the day meant light shows were out, and they interacted minimally with the crowd. Though they played an invigorating remix of Metallica, most of the setlist was indistinguishable electronic stuff, occasionally dipping into dubstep. It didn't help that the crowd was more interested in pushing to the front than having a good time. MSTRKRFT were dealt a raw deal warming up a crowd who was more excited for the electronic juggernaut that was Justice, but they could definitely have done more.SaturdayPortugal. The ManArriving late to Saturday, I couldn't do much while getting lunch other than listen to Portugal. The Man far out on the Polo Fields grass. Sitting on a picnic blanket and eating my hot dog, Portugal. The Man played a raucous set of psych-rock, sounding surprisingly loud given that their albums take on a more relaxed atmosphere. Punctuating their stadium-filling live sound, the group covered the Beatles' "Helter Skelter," amping up even those way out by the food carts. If they sound this big at a festival, I can only imagine the power they wield in an intimate club. They could knock people down with their wall of sound. Look out for them in the future. They're going places.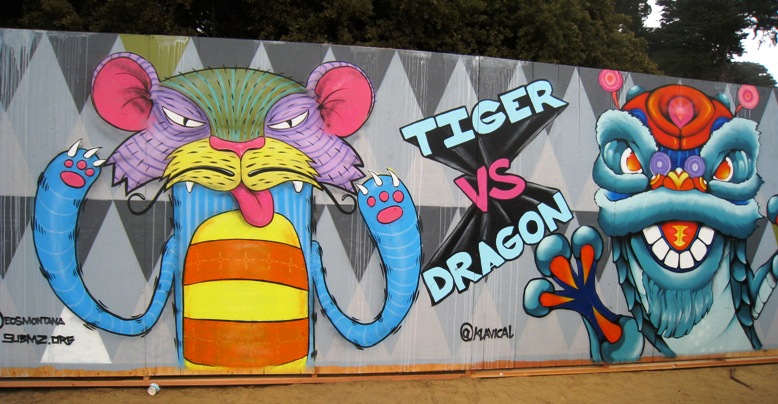 Passion PitAfter seeing Grandaddy, I rushed over to the Twin Peaks stage to get ready for Passion Pit. I saw them a long, long time ago when they were first starting out, and it's amazing to see how big their fanbase has grown since. Their second album, Gossamer, was released this year, and it was a rather dark affair, talking about failure, depression, and suicide. It's still drenched in the sugar rush that is Passion Pit's style (`80s synths and singalong choruses), but the subject matter definitely took a darker turn. I was more focused on the lyrics, but at a festival, most fans just wanted to dance and sing to their favorites. Their set was hampered by the Twin Peaks stage's sound issues, as lead singer Michael Angelakos's mic kept cutting out. To make things worse, Angelakos's voice is not one for projection. He often sings in the higher register, and he strained to hit the high notes from Passion Pit's first album, Manners. Bad sound mixing and weak vocals did make the performance a bit of a letdown, but people left satisfied nonetheless.

Sigur RósAfter a tiring day, and not feeling up to facing the sonic onslaught that was Metallica, I settled down on a hill to watch Icelandic drone experts Sigur Rós. To be fair, they're not exactly drone, but it's probably the closest thing people can equate their music to next to the vague term "post-rock." Their music is slow and deliberate, but beautiful all the same. Vocals are sung in a gorgeous falsetto, as the band adds sparse, yet varied instrumentation via strings, brass, and percussion. Few people can understand what they're saying, as many of their songs are actually written in their made up language, "Hopelandic," but most fans don't care about the lyrics. Sigur Rós are a band heavy on texture and atmosphere, and they were happy to oblige festival-goers looking for a nice way to bliss out at the end of a long, tiring day.SundayTom Morello: The NightwatchmanTucked in the Sutro Stage was a celebrity, Tom Morello, guitarist for lauded bands such as Rage Against the Machine and Audioslave. Today he was peddling his solo act, heavy with protest songs about social issues in America. While in Rage, he mainly showed off his guitar prowess via modulation and distortion using effects pedals and kill switches, but his recent solo album focused more on his folk heroes of decades past. Still, he couldn't pass up being a showman, breaking out his electric guitar for the end and shredding like a virtuoso, even playing a few solos with his teeth. And in keeping with his folk idolatry, Morello paid tribute to Woody Guthrie by performing "This Land Is Your Land," really getting the crowd into it. It was probably the only time I'll ever see people mosh to "This Land Is Your Land," which was, if anything, quite an amusing sight. Morello then invited as many fans onstage as possible and had them sing "World Wide Rebel Songs" together. It was a messy thing, with dangerous crowding and security intervening, but it felt appropriate for a set about protests and rebellion to end in near chaos.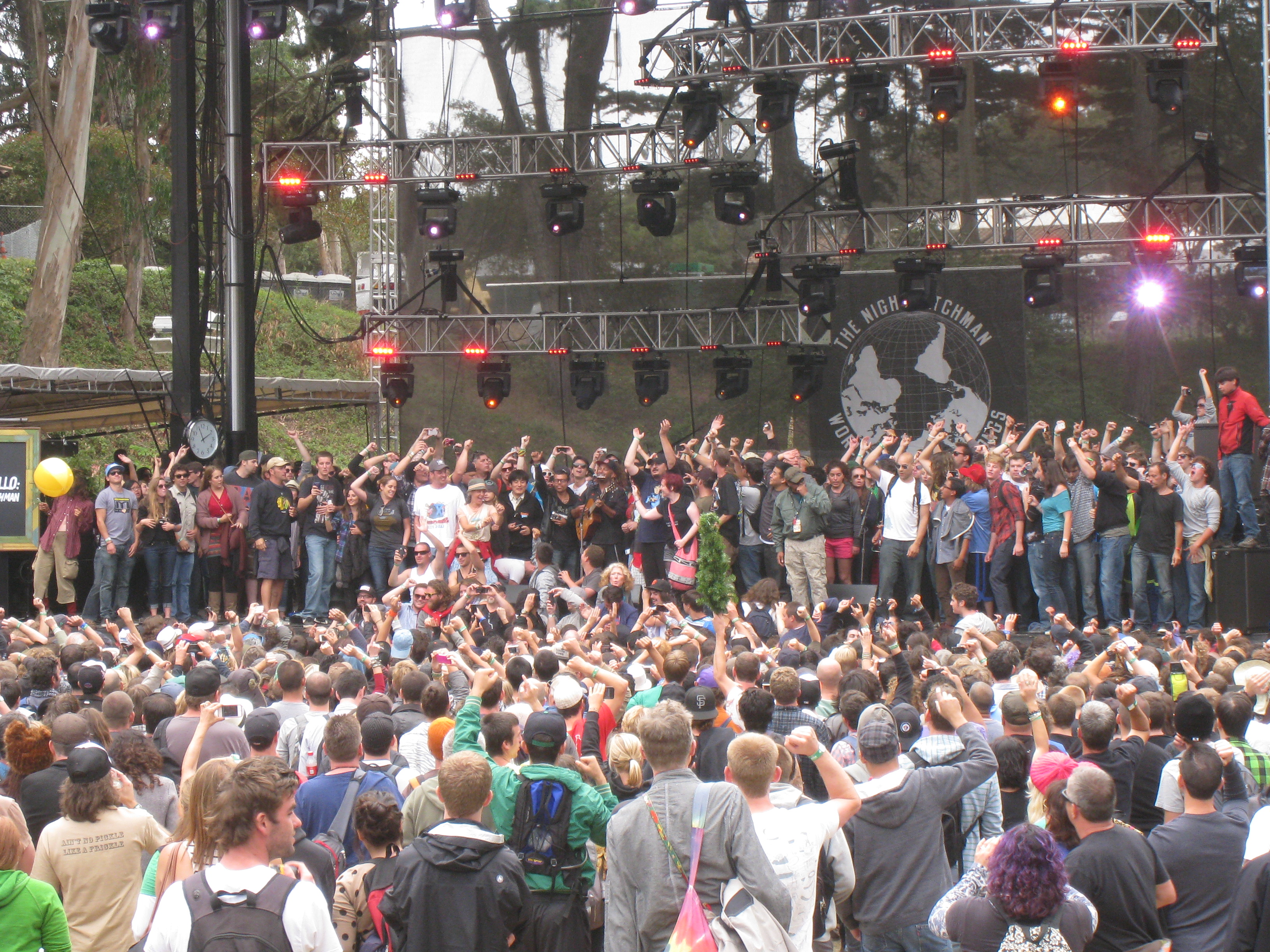 Franz FerdinandAfter sitting through the last songs by fun., I squeezed past the crowds and got as close to Franz Ferdinand as I could. From the moment they took the stage, they commanded the crowd. Franz put on a great show, getting people excited with their upbeat tunes and Scottish accents. Their music has so much swagger to it, and they sounded as stylish as they looked. With collared shirts and bad haircuts, they had all the signs of people who were too cool for us fans. Or at least, that's probably what they thought. And yet, for 50 minutes, they were that cool. One festival-goer before the set asked, "Don't they have that one song 'Take Her Out' or some shit?" By the end, he was jumping and shouting along with the diehards. Franz Ferdinand injected a ton of energy into the festival crowd, and they had what was possibly my favorite set of the entire festival.Amadou and MariamOnce Franz was done, I rushed over to the Twin Peaks stage to watch the famed blind Mali duo Amadou and Mariam (there seemed to be a running theme with blind performers that day, with Stevie Wonder performing later). I didn't know any of their songs, but I doubt most people did. Instead many were just grooving to their fine African rhythms and cheering with every impressive guitar solo Amadou pulled off. The crowd here was arguably the tamest of the festival, with most spreading out enough to allow each person some dancing space. There was no pushing, shoving, or claustrophobia. It was just a bunch of people looking to have a good time with one another.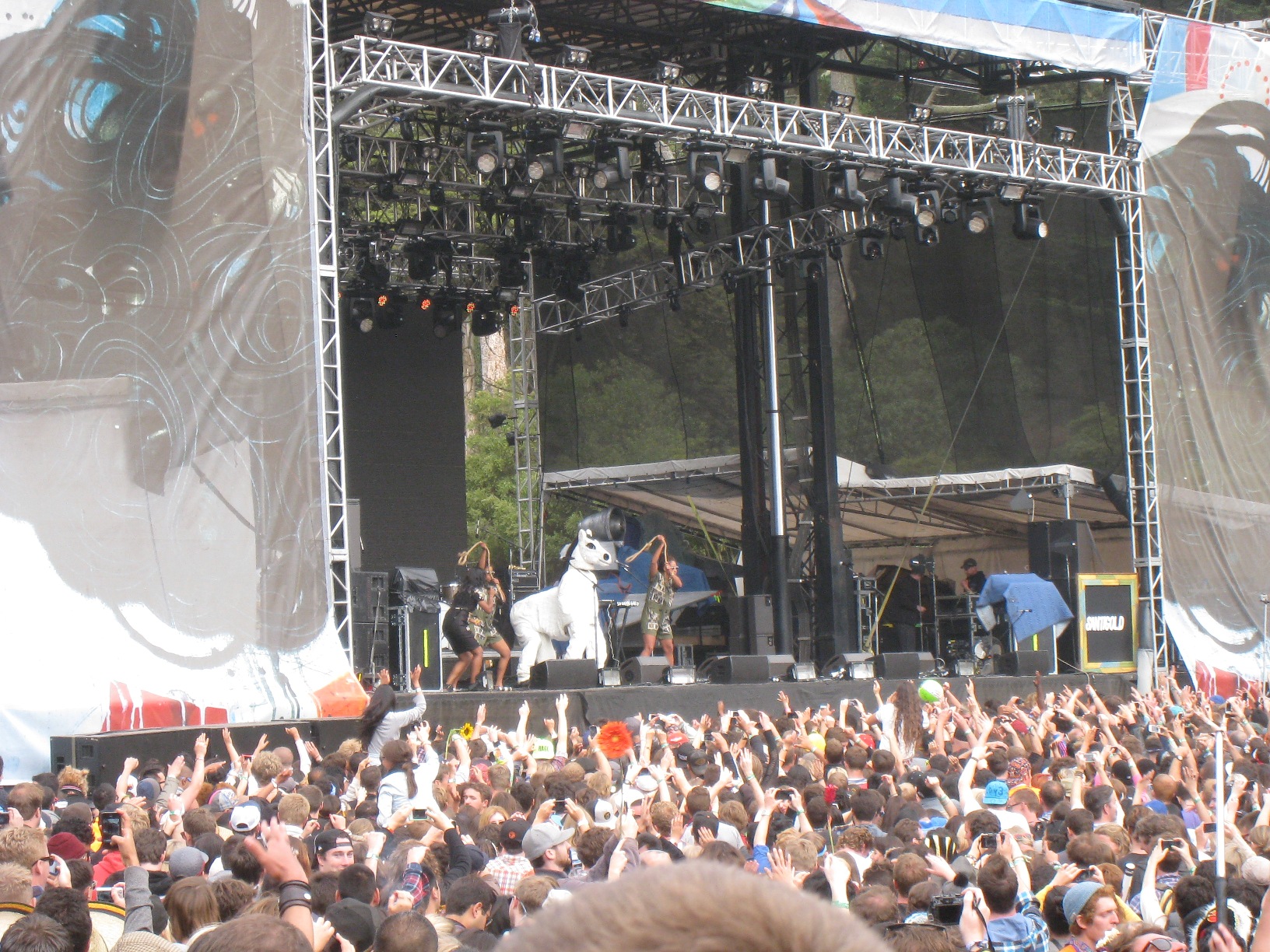 SantigoldAfter Amadou and Mariam was Santigold, a middle-aged producer-turned-singer who exudes pure confidence. Her afro-inspired beats got the crowd going, and she rarely let her foot off the pedal. Many songs eventually turned into a rave up, climaxing in her final song "Big Mouth." She also had a rather elaborate stage show, including a few costume changes, two people in a horse costume, and what she referred to as "her girls," two dancers with impressive, military-like synchronization. They were a bit of eye candy, but more often they'd be dancing to the side of Santigold, never changing expression, showing their fancy footwork. It was fun for a middle of the day act, but many people were looking forward to the headliners of the night, Stevie Wonder and Skrillex.