On September 29th, a man once lost to obscurity in the `70s and rumored to be dead played to a sold-out crowd at Bimbo's 365 Club, performing those same songs that were forgotten decades ago. There are a few thing wrong with this picture.
Firstly, dead men don't tour. Secondly, those who play the same music they wrote decades ago don't play in small clubs. Those mainstays from decades ago play sold out stadiums of adoring fans, because their music lasts. And thirdly, obscure folk musicians from the `70s don't sell out shows in the 2010s. Yet this happened, and it was wonderful.
The man in question, Sixto Rodriguez, is now on tour, capitalizing on the recent documentary Searching for Sugar Man that was previously covered here. While tickets for some other performances are still available, the show at Bimbo's was sold out within the week of its announcement. Some scalpers were charging over $250 for a ticket. People wanted to see this man, because they knew this show would be special. These stories don't come around often.
The opener, Michael Chapman, warmed up the crowd with his understated guitar mastery. Dressed in worn jeans, an oversized tee, and a baseball cap, Chapman plucked his guitar, squeezing out every sound he could from his instrument. While his setup was minimalistic, Chapman was able to evoke imagery of infinite forests and endless mountain ranges with his skilled playing. His lyrics were forgettable, but his creaky, aged voice made his music sound all the more ethereal. Chapman looked somewhat feeble, but his hands were very active, playing multiple melodic lines at once. At times he was reminiscent of Jimmy Page during his days with The Yardbirds. Chapman's work is a style that never gets old, something that's perfect for a laid back gig like this one.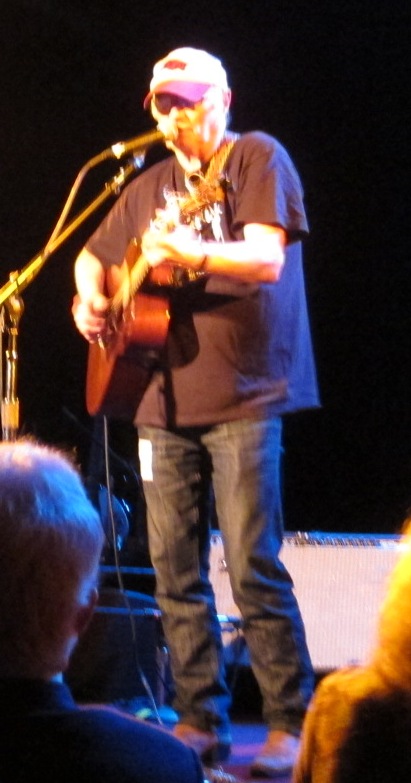 The crowd, however, was less than receptive. Many were packed into the back of Bimbo's, chatting at the bar and eating food. They looked and sounded like a crowd that didn't attend concerts often. Many were talking so loud that they drowned out the music. Some booed Chapman, saying they wanted Rodriguez, not this guy. It was pretty disheartening to hear a guy as skilled as Chapman denied of the respect he deserved.
As Chapman exited, the crowd packed closer. People talked less, eyes fixed on the stage, eagerly awaiting the arrival of Rodriguez. The DJ played an oldies-laden mix as sound check went by. The band took the stage, and finally, he arrived.
At age 70, Rodriguez looked weak, needing to be helped onstage by his daughter. I heard later that he was nearly blind. Many were afraid he wouldn't be able to play his tracks well; that it would be a down performance. Judging from how he weakly played "This Is Not A Song, It's An Outburst: Or, The Establishment Blues," it looked like our fears were confirmed. He strummed on his guitar, neither his voice nor his instrument audible over his backing band. It took a surprisingly long time to tune for the next song, and people weren't really cheering as they tuned. The venue was dead quiet.
Then he played "Crucify Your Mind," and the crowd got into it. Then the band got into it. Then we heard him singing loud and clear. At that point we all knew that he was in the zone, and he wasn't as old as he looked.
From then on, he did his best to entertain the crowd, telling stories as everyone got in tune for the next song. He even told a surprisingly vulgar joke about Mickey and Minnie Mouse, taking advantage of the fact that the show was 18+. The breaks between songs were never as long as the first one, and the setlist was full of the songs listeners had learned to love. Pieces like "I Wonder," "Sugar Man," and "I Think of You" were huge crowd-pleasers. Rodriguez snuck in some covers, performing a solo version of the Flamingos hit "I Only Have Eyes for You" and the Cole Porter classic "Just One of Those Things." He even came out and did a rockin' version of "Blue Suede Shoes/Shake, Rattle, and Roll" for the encore.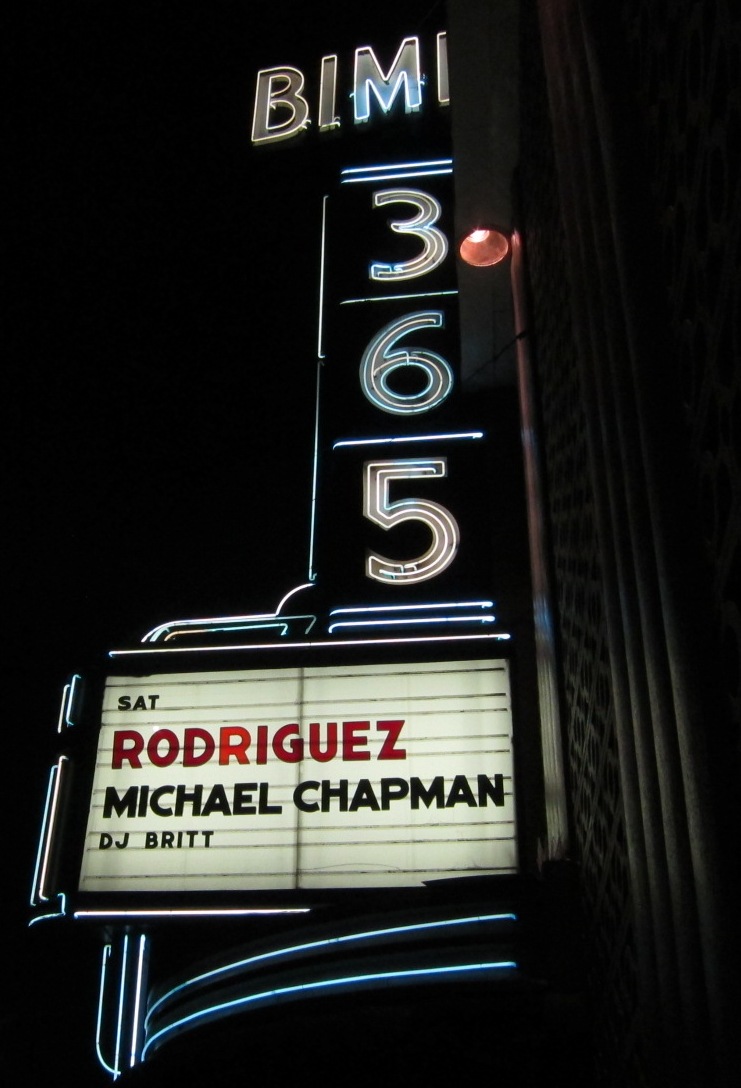 It was a great concert overall, even though it had its hang-ups. The awkward silence at the beginning still hangs in my head, because the crowd was chillingly silent in that moment. No one was talking. It's like they were looking at a ghost, and for all intents and purposes, they probably were.
There is this kind of mystique about Rodriguez. The story could arguably be more interesting than the person. When he took the stage, it was less about the show and more the fact that the show was happening in the first place. He is one of the least probable success stories in the history of music, and it's only getting better. Rodriguez is selling out shows, but only in smaller clubs where you can see him up close. His music is old, and honestly, doesn't push too many boundaries, but it doesn't have to. The mystique around the man is all that is needed. The documentary was undoubtedly in many concertgoers' minds, and it led to Rodriguez having a huge stage presence, even though he barely moved. The concert was about Rodriguez the man, not Rodriguez the musician.
That's fine, though. His tour isn't meant to break new ground, find a new audience, or make money. The ever-humble Rodriguez never does things for his own gain. He's touring to make the many newly-minted fans happy. That's always what he's wanted. It was not a performance for him. It was a performance for those who like him.