"All I need is music; I'm gonna make it through," Jonny "Mojo" Flores sings on "Live on Wesley's Road," a massive, new live-performance project by northern California's renowned song-and-jam-makers, Achilles Wheel. The three-CD package, which fiercely delivers the jamming juke-joint dance party vibe that the band gives off on the concert circuit, is a collective humdinger.
Achilles Wheel, now with almost 10 years under its belt, is among California's most well-known improvisational rock 'n' blues bands north of San Francisco. The album, which provides excellent medicine during these times of Covid-19, is available in digital and CD formats at www.achilleswheel.com. While Achilles Wheel's four studio albums, all of which are represented here, have inspired praise and rightly so, the band and its fans have been anxious for a new live project, such as those performed at regional festivals, nightclubs, and listening rooms.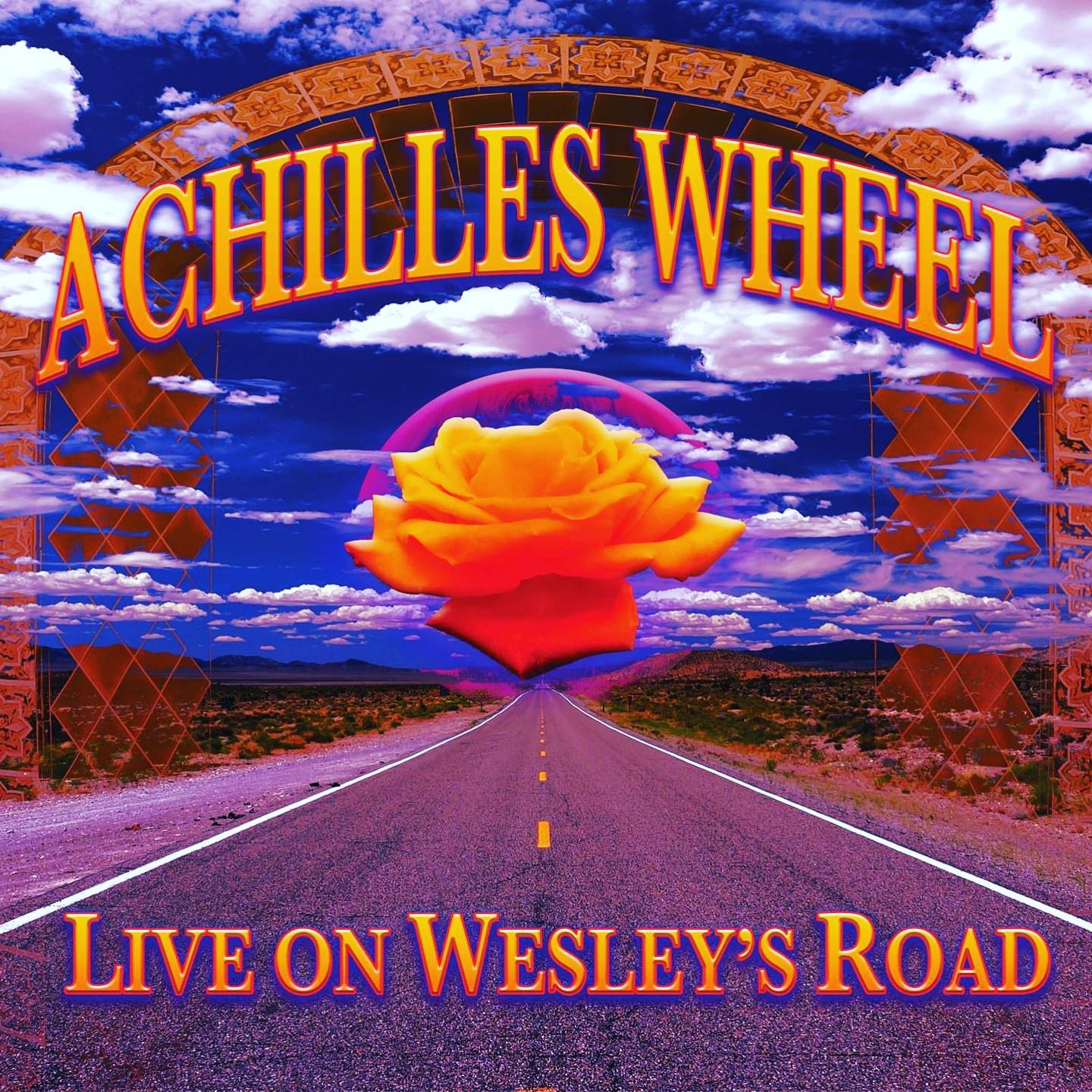 Captured in superb sound, and crackling with energy, virtually every song on "Wesley's Road," crafty in verses and arrangements, takes off onto its own unique and energy-generating psychedelic-tinged jam of rock and joy, with, as the good ones do, each player melding his own singular input toward an interesting, productive collaborative of sound. The album was assembled from live-concert recordings made in mid-late 2019 at four venues – three in their Gold Country hometown of Nevada City (Nevada Theatre, Miners Foundry, and Crazy Horse Saloon & Grill), and one in Fairfax (19 Broadway), California.
All the Achilles Wheel comrades are tremendously talent players, with the knack of knowing how they can best contribute to a song's overall effectiveness, especially on the live stage. The quintet is led by harmonious front men/songwriters Paul Kamm and Flores, well-known regional performers both, who build on the solid foundation of Shelby Snow's intricate, bold, and melodic bass runs that are always on the mark, and Mark McCartney's strident drum attack. Ben Jacobs throughout delivers just-right piano and organ textures and flourishes, as well as a couple of accordion passages.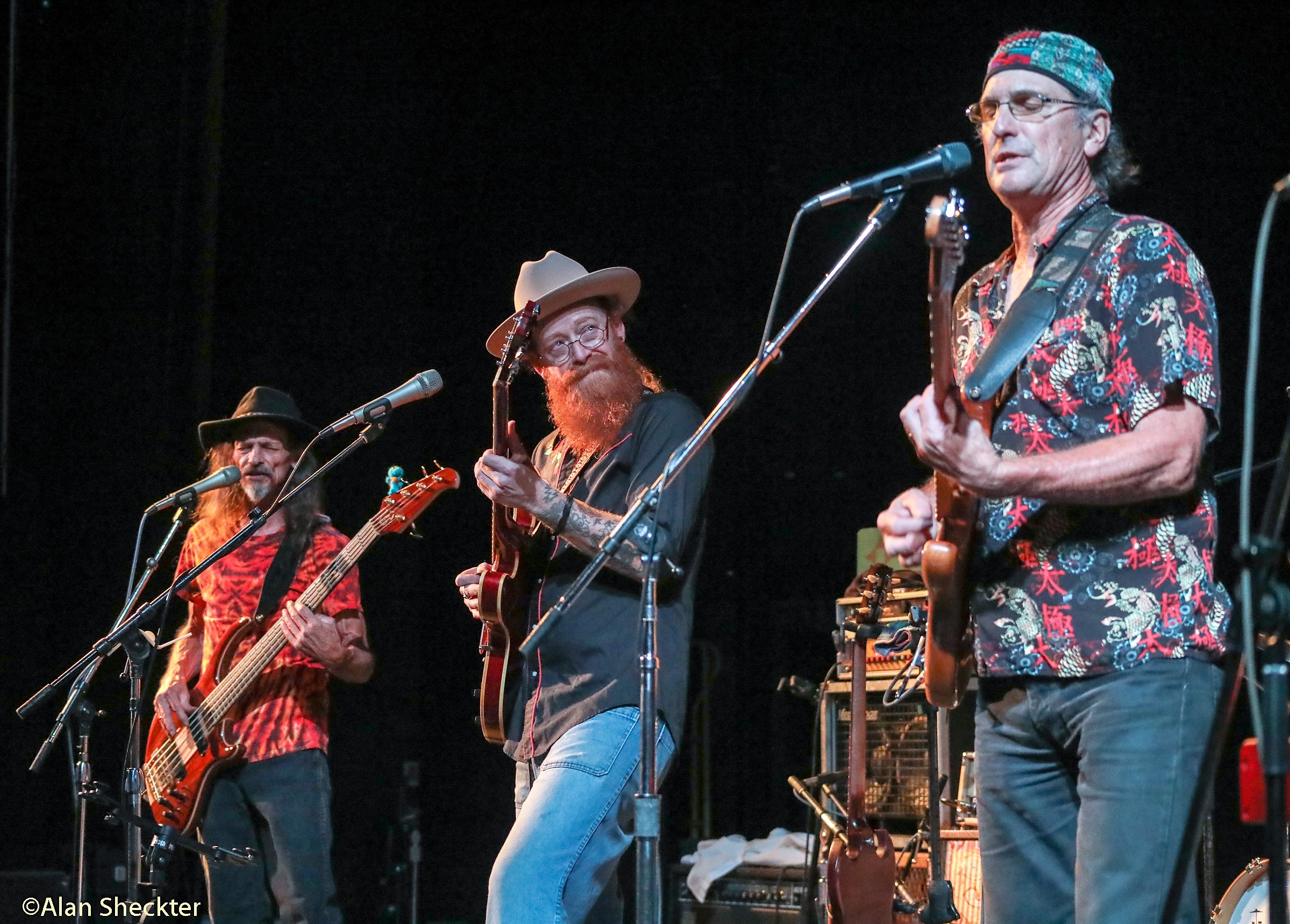 One of the band's qualities that keep things refreshing for the listeners is its dual lead singer/songwriters. The variances between Kamm's and Flores's songs provide refreshing trade-offs and help keep the album interesting throughout. One example is Kamm's "Shadow of a Doubt," a smart, sensitive song with the comforting lyric, "There was something in the way that you came in tonight, and you kissed me on the mouth and you turned out the light." It is immediately followed by, and nicely contrasted by, Flores's "Sweet Bye & Bye," a feel-good, pickin' and grinnin' foot-stomping number.
And make no mistake, though the band can be tagged into the too-widely used jam band category, with passages of both tack-sharp precision followed by frenzied improvisations like on "Feelin' Alright" and "Slow Train," it's the songs that make the difference. Each piece of music begins with a thoughtful, clever song that eventually escalates into different sorts of freeform jamming. So, like the Grateful Dead had "Garcia songs" and "Weir songs," here we have Paul Kamm songs and Jonny Flores songs that generally tradeoff back and forth. Each of which are unique in their own ways but take us to the same place of musical enlightenment. There are hints – just hints – of heavy hitters like the Allman Brothers Band, Derek Trucks, and Carlos Santana, and the bass-driven lightning-quick jams in "Slow Train," are akin to a coherent version of the Grateful Dead's "Caution (Do Not Stop on Tracks)," but Achilles Wheel's collective DNA is its own, molded through their lifetimes of soaking up such sounds. And while in concert they used to play a lot of cover songs, including several by the Grateful Dead, their own music is what defines and brings them distinction.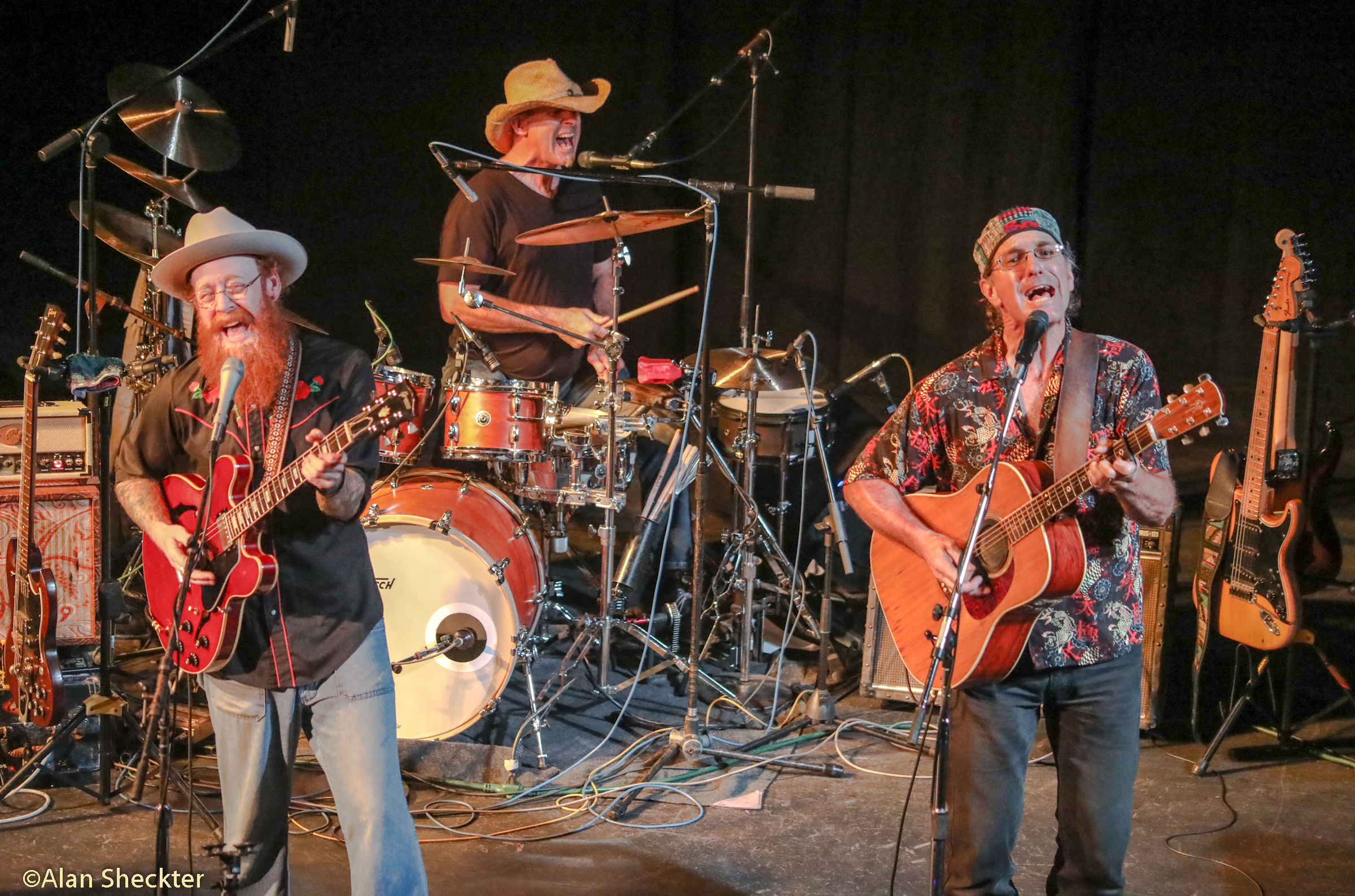 Kamm's diverse musical background includes songwriting, recording, and touring over the past 35-plus years with Eleanore McDonald as half of an engaging contemporary-folk music duo, and performing for many years in Grateful Dead tribute band The Deadbeats (for which McCartney has performed as well). Both of these prolific pieces of Kamm's pedigree serve well as Achilles Wheel's more traditional singer/songwriting contributor, providing a perfect balance to Flores's and Snow's more unbridled, cowboy-psychedelia presence. Flores, with his trademark long red hair and beard and cowboy hat, is perhaps the band's most defining player not-so-secret weapon. He is a guitar prodigy, loaded with twang in his toolbox and an engaging countrified voice that can be likened to an amalgamation of Arlo Guthrie and Railroad Earth's Todd Sheaffer. In addition to his work with Achilles Wheel, Mojo also leads A Band Beyond Description and often plays as a solo act or along with other notable northern California musicians such as Stu Allen and Scott Guberman, and groups like the Rusty Buckets and Old Mule.
Snow's long musical timeline includes sharing a stage with an illustrious cast of characters including John Lee Hooker, Bill Kreutzmann, Carlos Santana, John Cipollina, Steve Kimock, Lacy J. Dalton, Johnny Otis, and John Dawson. And Snow's studio work has been captured at such famed venues as Fantasy Studios, Prairie Sun Studios, and Hun Sound. Jacobs also performs with noteworthy bands Poor Man's Whiskey and the Grateful Bluegrass Boys.

"This recording is dedicated to the memory of Wesley Robertson," the liner notes proclaim. "Live music was his life's passion and he also loved this band." So who is Wesley, in addition to a former KVMR-FM on-air personality? Many regions have one person that is bigger than their radio role, and whose presence at arts events amplifies its collective pride. Musician Joe Craven said, in part, of Robertson, who passed in March 2018, "He was a cheerleader, matchmaker, mischief maker, educator, enthusiast, entertainer... and humanitarian with a microphone.."
The band's ode to Robertson, "Wesley's Road," appears at the end of disc 2. "Just up ahead on the next horizon, not too far from a place you know; there'll be good times and if you're askin', they'll be music down on Wesley's road."