Another decade another night at Red Rocks for Bob Weir.  Joined by RatDog for the current lineup's first appearance and co-headlining with Colorado native sons String Cheese Incident, Bobby celebrated his 34th personal appearance at Red Rocks with a set of classics, Grateful Dead standards and covers mostly, that resonated throughout all of the phases of his own career, as he pushes the Grateful Dead legacy further into the 21st century.
Beginning with The Music Never Stopped and culminating with a Black Muddy encore, Weir and RatDog showered the crowd with as pleasing a set of classics as possible during their one long set.  In this phase of his career, Weir seems to be unapologetic about pushing no new ground.  The band performed Music Never Stopped with enough enthusiasm to make it seem like 1978 and the audience responded in equal measure.  Moving into a mini Dylan set of Maggie's Farm and Senor, Weir showcased yet again his masterful interpretation of the Dylan canon.  In particular, Senor, with its haunting anti-war overtones, brought an edge to the beautiful Colorado night.
After Loose Lucy, the performance of Blackbird highlighted Bobby's equal skill with Beatles covers.  Victim, the difficult late Dead-era anthem segued seamlessly into the iconic and ageless tale of Jack Straw which in turn flowed right into Dark Star, giving me the pleasure of relating the significance of my first Dark Star experience in Hampton, VA to my friend, herself seeing Bobby for the first time.  The next song allowed me to tell the story of Neal Cassidy and how his legacy inspired the name of a little girl.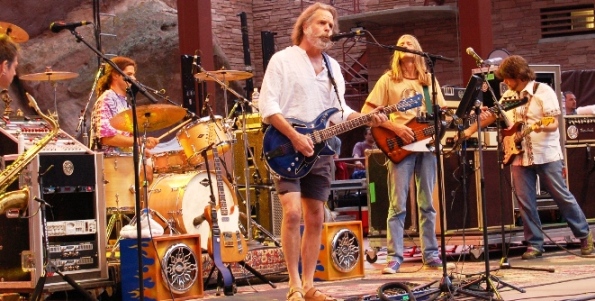 After each of the band members got some time to solo, Sugaree and One More Saturday closed the show with the Black Muddy encore.  As I have mentioned before, Bobby's interpretation of Sugaree, although strong, tends to incite division among Deadheads about the sacrilege of Weir performing such a Garcia original.  On a night like this one, though, as RatDog settled into a flawless as possible performance of the songs that everyone wanted to hear, it doesn't seem to matter so much any more.  Bobby and the band are playing music beloved as much by themselves as the fans and it shows in their playing each and every night they take the stage.