From July 31st to August 2nd, Liberty State Park saw some amazing music from a stellar lineup of acts, annoying bad weather and mud. Lots and lots of mud. Yes, while the 2009 All Points West Music & Arts Festival was much better received than it's inaugural year... it was still not without it's problems.
Day One
According to the website, getting to the park is supposed to be an easy affair and states that "a quick ride on NJ Transit's light rail will bring you to the festival!" This is wrong. The light rail lets you off over a mile and a half from the entrance. They neglect to tell you that you have to take a bus from the Light Rail station. Not a free shuttle bus mind you, as the bus costs $1.75. Which wouldn't be so bad if the bus actually took you to the entrance of the concert. It drops you off a half mile from the main entrance. Even if you wanted to walk, it's unclear which way to head. There are no signs, no security telling you where to go. Just a lot of guess work.
Once a bus pulls up it's taking forever because people are asking the driver where the bus is going, having to dig for change, etc. It's 11:30 and if it's this confusing now I can just imagine what it will be like when it gets busier as the day progresses. This is not a good sign, to be sure.
Suddenly, a school bus pulls up to pick up employees of the festival. Ben Hider, (a photographer for a wire service) and Jamie Schuh (a reporter for the Jersey Journal) successfully board the school bus and I decide to make a run for it and hop on as well. This bus will eventually bring us to the employee entrance near the main stage. After a 15 minute walk, signing in, and getting our media and photo credentials we began to make our way to the media tent. Staff and security aren't quite sure where the tent is... and we end up hanging around for 20 minutes on the side of the main stage twiddling our thumbs.
Once at the media tent, I plop my MacBook on a table next to Ben and a full staff from Getty Images, including my friend Bridget, a photo editor at Getty (who took some great pictures at Bonnaroo, which you should check out).
Before I get to the bands, I'll quickly talk about the layout of the three stages. There's Blue Comet, which is the main stage, complete with bleachers on the side for VIPs. Then there's Bullet, the smaller more intimate second stage. And lastly, Queen of the Valley, the smallest stage but the only one enclosed in a large tent, (which will prove very popular when the rain hits). Most festival goers will refer to them as 'The Main Stage', "the Second Stage' and 'The Third Stage' respectively. FYI, it's easily a 12 to 15 minute walk from the Blue Comet stage to Queen of the Valley.
One advantage to a festival is that you have access to a boatload of bands that you've never heard of. Heartless Bastards definitely falls into that category. They are the first band to play and they instantly win me over as a new fan. The lead singer, Erika Wennerstrom is a force to be reckoned with powerful vocals and some mean guitar. She reminds me of a blusier Polly Jean Harvey. Erika's songs are kinda catchy and very hooky. They were really great and are my favorite new band. What a terrific start to the Festival.
Since I had initially intended to take photos and catch at least a few songs from as many bands as possible I leave Heartless Bastards and head to the main stage to check out The Knux just in time to take some pictures and listen to their most well-known song, Cappuccino. Not really my type of music, but they crowd of about 200 people in front of the main stage seemed to be enjoying themselves. Okay, I'm done with The Knux. Time to head back to the media tent and upload my pictures to the my computer and head to Shearwater, yet another band I've never heard of, playing on Bullet.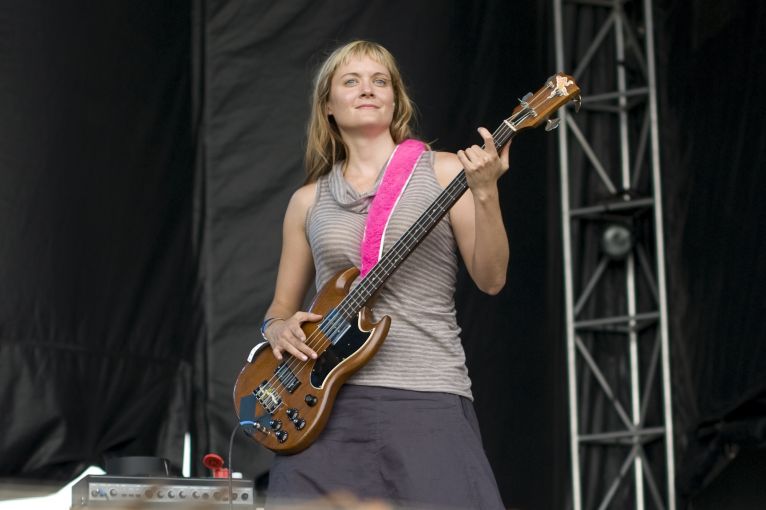 Shearwater's Vocalist Jonathan Meiburg reminds me of the late Jeff Buckley. Truly a gorgeous voice, However, the real crowd pleaser was their drummer, Thor Harris, who hasn't shown up yet. Jonathan warns the audience that if they see a guy running on to the stage that it's okay and not a "Dimebag Darrell" situation. When Thor steps out on the stage playing a hand built wooden stringed instrument being played by two wooden sticks, the small crowd cheers.
I'm convinced that Seasick Steve's manager cashed in a lot of favors to get his client an appearance on the main stage. It's just Steve and his band... when I say band, I mean "the Mississippi Drum machine", which is his foot tapping on a crate with a license plate on it. The crowd is indifferent to Steve's three-string guitar gimmick and I am bored enough to want to head back to the media tent and enjoy a free soda. I had promised his manager that I was going to check him out and interview him after the show. He won't answer his phone and I don't care anymore.
Next is Telepathe who is having technical problems on Bullet. Their set time is 3:10. It's 3:30 and they haven't started yet. It's two girls with a couple of drum machines, mics, and a Macbook. How hard can this be to set up? I sat through one "song" (basically both girls singing at the same time and occasionally drumming). I've seen enough and head to Fleet Foxes on the main stage. When asking fest attendees what bands were on their list to see, Fleet Foxes came up more often than not. They sound like a mellower My Morning Jacket with wordless harmonies that instantly remind me of Crosby Stills and Nash and even the Alllman Brothers. It's kind of a mellow set, an interesting mix of Folk and Rock. It starts to drizzle, so I head to the media tent to don my rain poncho.
While I had grabbed a poncho ahead of time, the festival was selling them for 5 dollars each, which I found to be pretty reasonable. Most of the t-shirts are normally priced for a concert at $25. Food prices go from reasonable ($2 for a bottle of water) to slightly annoying (Pizza $6 for a small slice), to outrageous ($4 for a bottle of soda). Speaking of hydration, there is a lack of a water refill station at All Points West outside of a few water fountains. As for the Beer Gardens, they seem to be a little too separated from the rest of the fest. There is a beer limit. Raised from paltry 5 last year to 8 per day. There seem to be a decent amount of bathrooms with lines not longer than your average outdoor event.
Back to Bullet to see Ra Ra Riot. A band that I've previously seen live at an in-store appearance at the now defunct Virgin Megastore in Union Square. I probably take 3 times as many pictures of Alexandra Lawn, the super hot cellist, than I probably should be. The violinist isn't too bad looking either. However, they aren't there for show. The cello and violin give the band a more dynamic sound. Yes, it's easy to compare them to the Arcade Fire, but Ra Ra Riot's music is bit more pleasant to listen to. Jamie Schuh from the Jersey Journal says "musically they are like a warm blanket." And, these days, there's nothing wrong with that.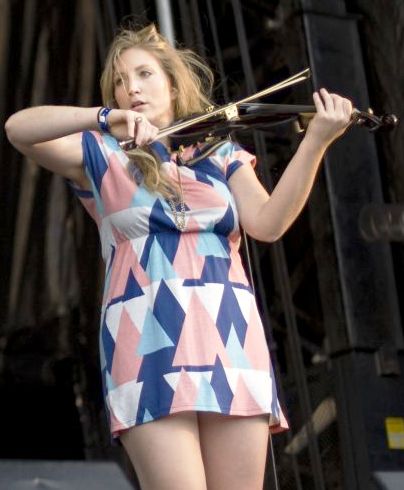 As I head back to the main stage. The rain starts to come down. It's been drizzling off and on for the past hour, but now it's just pouring. To make matters worse, there's rain coming off from the roof of the stage and right into the photo pit area. Not making the job any easier for photogs with thousands of dollars of equipment. It doesn't help that I think that The Nationals are too low-key for me right now and overall their set seems a little too mellow for the main stage. The crowd likes them though. I will say that the rain was putting me in a crappy mood so maybe I'll give them another chance sometime.
The rain quickly brings lots and lots of mud to Liberty State Park. Damn, I knew wearing my Converse All-Star low tops was going to be a problem. I figured they get wet, but muddy? Dang. Mud is everywhere. And it smells. A mix of rotting plant life, geese feces and fertilizer. My sneakers are pretty much destroyed. I knew they were going to get wet, but I didn't anticipate so much mud and not so quickly after the rain started.
Bullet has 3 hip-hop groups playing for the rest of the night and quite frankly, I'm not that interested. Besides, I need a break. There are no signs of the rain letting up so I decide to chill out in the media tent which has quickly become a squishy smelly mess. It's not the most comfortable place to hang, but it gives me time to prepare for the 3 biggest acts of the day. Vampire Weekend, Yeah Yeah Yeahs, and Jay-Z.
Vampire Weekend start their set with a brand new song called 'White Sky', presumably from their upcoming September release of their second album. They played a crowd-pleasing 50 minute set during which it's announced that those holding a Friday ticket will be able to reuse it for entry into the festival on Saturday or Sunday. Presumably because of the rain. Despite the weather, the main stage sees the most attendance so far. There is dancing in the mud and the first 30 or so rows of people are hopping and bopping to 'A-Punk' and 'M79'.
This announcement divides the attendees. The website states that All Points West is 'Rain or Shine'. As far as an outdoor festival is concerned, the weather is bearable. Yes, it's raining, but it's hardly a torrential downpour worthy of an apology. So, while 1 day ticket holders get an extra free day, 3 day pass holders get nothing. So you can probably tell who was happy about the announcement and who was annoyed. In reality, I think was less about compensation for ticket holders and more about getting extra bodies into the festival to boost attendance numbers. Besides, it's not the rain that's the problem it's the mud.
Speaking of the rain, people have umbrellas at the festival. One attendee complains that earlier in the day, when it wasn't raining, her umbrella was confiscated at the door by security claiming a no umbrella rule. The website states that umbrellas cannot be used to 'Block the sun' because they get in the way of people viewing the performances. However, it was very clear that it was going to rain. While some umbrellas were confiscated at the door others were not. Here's a tip to All Points organizers. State that umbrellas can't be used whatsoever instead of making an ambiguous rule and selectively enforcing it. Umbrellas block views regardless of the weather.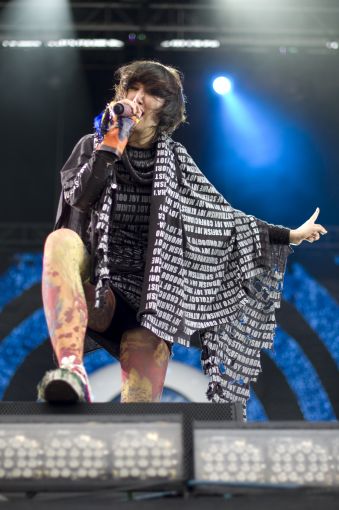 It's 7:30 which means, it's finally time for Yeah Yeah Yeahs to perform. Thankfully, the rain has slowed to a very light drizzle and the crowd goes crazy when Karen O takes the stage. Karen is wearing some weird ass burka-like head gear that she slowly removes during the first 2 songs ('Heads Will Roll' & 'Cheated Hearts').  Giant inflatable eyeballs appear from the stage float into the crowd. Yeah Yeah Yeahs are easily the best performance of the fest so far. Karen O is wearing an armband stating "Get well MCA", a tribute to The Beastie Boys who have dropped out due to Adam Yauch's health issues. The Beasties are on many a performer's mind. And Miss O's tribute will not be the last.
As with many a headlining act, Jay-Z's 9:10 set time has come and gone. At 9:30 a 10 minute countdown appears on the video screens. Not surprisingly, there is a loud cheer when the countdown hits 4:20. During the last minute, the crowd is going ballistic with anticipation. Jay-Z bursts on to the stage with an electrifying cover of the Beastie Boys "No Sleep till Brooklyn". It's a great tribute to the band that Jay-Z replaced at the last minute. While no one can truly replace the Beasties, Jay-Z wins the crowd over immediately. He'd go on to play Run This Town and D.O.A. but without live appearances from Kayne West or Rihanna. As it turns out, there was no need for special guests or crazy stunts. Seriously, what more do you need than HOV himself? Jigga ends the set with Encore and it's the perfect bookend to a great day of great music.
DAY TWO
I get to the Festival earlier than yesterday. It's Sunny out. The sky is blue. But, the mud is still there. Unfortunately for me K-Mart is out of rain boots for men. So, I'm stuck wearing plastic bags inside a second pair of Converse All Stars. There is one word that I would suggest to the festival organizers. That word is mulch.
The first band I see on Blue Comet are White Rabbits. The bass player has a hofner violin bass which I think it pretty cool. But it also reminds me that Coachella gets Paul McCartney, I am jealous. At any given time, there are 3 band members using percussion instruments. They sound great. I'm always impressed when a band has so much energy so early in the day.
I head back to the media tent. Ben Hider, the photographer from the wire service, sees some guys who look like musicians and asks 'Are you a band?' they are in fact The Postelles. Ben asks, "Have you played yet?"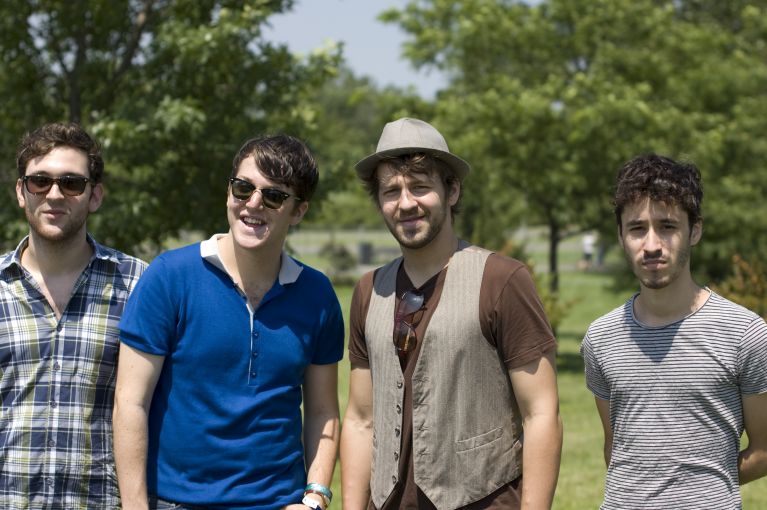 "We're playing Queen of the Valley at 4:30."
"Oh, fuck me." referring to the long walk from the media tent to the 3rd stage. Ben and I get some portrait shots of the band, (Ben's are much nicer of course). Later, I ask Ben if he's going to see their show. He laughs and says 'Fuck no!', again referring to the 15 minute trek to Queen of the Valley. But, he's joking and will actually catch their set.
... And You Will Know Us by the Trail of the Dead are having sound issues. Then there is more drama when the Clay Morris, the band's keyboardist, survives a fall off the stage. There are 2 drummers, 3 Guitarists and fuck me, they are super loud. It's the first time I've actually needed to use earplugs. When they finally start playing, it's just lots of noise. The crowd is into them, but I just can't deal. Since they started pretty late, I skip the rest of their set to see Cage the Elephant on the main stage.
Matt Shultz from Cage the Elephant is a weird dude. The band starts and Matt's microphone isn't working... but, he doesn't miss a beat and just keeps on singing. Halfway through the song a stage tech hands him a new microphone and he keeps on going as if nothing was amiss. Their set is pretty solid and the band has a lot of energy. Matt Shultz looks like he's fucking high, but that's his thing. For their last song, Shultz jumps into the crowd and eventually guitarist Lincoln Parish jumps off the stage and runs into the very empty 'Platinum VIP' area to greet fans and do some crowd surfing. "It was nice to meet you all..." Matt proclaims, and the crowd returns the sentiment.
After CtE's blazing performance, I head to see Electric Touch playing on Bullet. Some guys I met on the train on Friday are excited to see Electric Touch. But after their first few songs they start to complain that "they're playing all new songs and they suck!" Well, I've never heard these guys before and they aren't blowing me away. We all decide to get to Queen of the Valley to see Tim Heidecker and Eric Wareheim from 'Tim and Eric Awesome Show, Great Job!', the best TV show on Cartoon Network's Adult Swim.
Since we're there early, we catch the last 10 minutes of Judah Friedlander's set. You'll know him as the trucker hat wearing, big butt loving, writer of the show within a show on 30 Rock. It's a very casual set but very funny. Judah isn't isolated from the audience and is walking amongst the audience taking questions. "What's your favorite drink?" one man asks. "I told you already, shark tears." The crowd's enthusiastic and really like this guy. After his set, he's meeting fans. I ask him if he's going to the media tent to meet press. He has no idea that a press tent existed. I tell him where it is and he promises to go there eventually.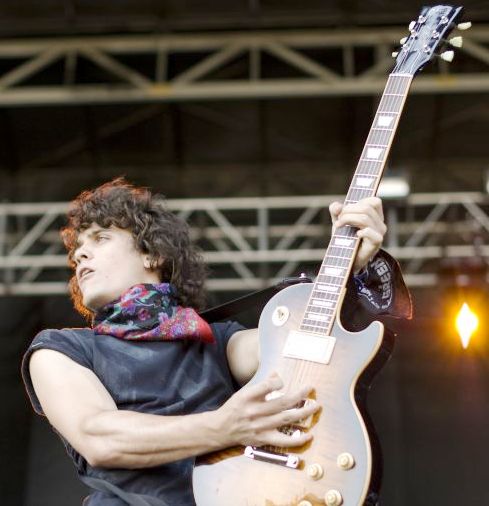 Some comedian from Best Week Ever takes the stage and he's totally not funny. After watching Judah work the crowd it seems odd to see a comedian on the stage so isolated from everyone which is about 40 feet from where the audience is seated.
After a funny performance from DJ Douggpound, Tim and Eric finally take to the stage. The crowd jumps from their seats and rushes to the stage barrier. Everyone is going nuts to their performance of 'Diarrhea'. Tim and Eric are wearing nude body suits with complete with gigantic testicles. During their performance they show a couple videos (including a hilarious clip of Dr. Steve Brule) from the upcoming season five.
I'm torn about having comedy at All Points West. Outside of Judah and Tim and Eric, I had no interest in sitting in a tent watching dreadfully unfunny comics like Eugene Mirman or videos by College Humor that I could easily watch on the internet. While Bonnaroo has a separate tent for comedy, Coachella has none. Personally, I could live without comedy at the fest. But if it's that important, there is plenty of room on the grounds of Liberty State Park to prop up a 4th tent dedicated to comedy.
Next, the Postelles are up. Sound-wise they're a mix of Elvis Costello, Lou Reed and the Strokes. They seemed quite at home on the 3rd stage. I stuck around for 5 songs and head to the main stage to catch the Arctic Monkeys who among fest attendees had some of the biggest buzz.
During their set, lead singer Alex Turner of the Arctic Monkeys asked the crowd if they were looking forward to Tool and got a huge positive reaction and went on to debut a new song called 'The Cornerstone'. 'Brianstorm' and 'Fluorescent Adolescent' were crowd favorites, but 'I Bet You look Good On the Dancefloor' is what threw the audience into a frenzy. Crowd is going crazy over these guys. But it's about to get even crazier.
One way to describe Gogol Bordello is that they sound like an anarchist Bar Mitzvah band. The band is arguably, the most energetic act of the day, if not the entire fest. Bandleader Eugene Hutz holds the crowd in the palm of his hand. The crowd, half of which are at the festival specifically to see Tool, have never seen Gogol Bordello and it doesn't matter. It's the only band that inspired a mosh pit and crowd surfing among the audience.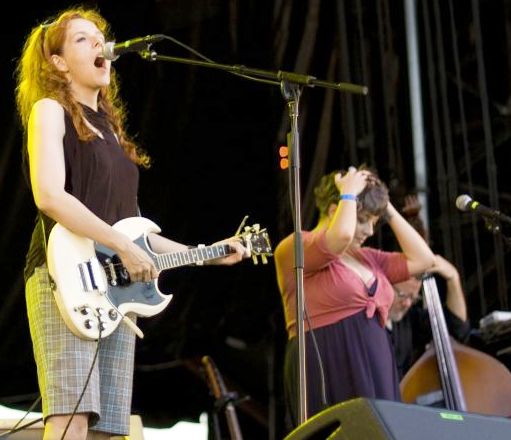 My heart is pounding after Gogol's set. So what better way to wind down then to check out Neko Case at Bullet. Her twangy vocals and alt-country stylings are much appreciated by the older skewing audience. For whatever reason, the scheduling between the Blue Comet and Bullet work best on Saturday. Neko will be the last to play Bullet, giving the last two acts on Blue Comet zero competition. Then again It's probably best that an act on Bullet doesn't have to compete with the sonic holocaust that is My Bloody Valentine.
The crowd has a big problem with My Bloody Valentine. Is it Kevin Shield's insistence on bringing additional amps that make them louder than every other band at the fest? Maybe it's that the band's music sounds more like noise than melody? One attendee described that it sounded like they were farting in a microphone for an hour. But that's exactly how My Bloody Valentine is supposed to sound, kids. Well, the predominately Tool T-Shirt wearing crowd HATES them. Middle fingers are raised and ultimately, I'm surprised that there is no mudslinging towards the band. Their set can only be loved by the most hardcore of MBV fans. This is not a happy crowd or an enjoyable performance.
The headliner of the night is Tool. As with many a Tool show fans have been hanging around the main stage since at least 5PM just to get a prime view of the band. I'm sure there isn't a Tool fan out there that didn't love everything about the set. Tool opened up with 'Jambi' to huge roars. Maynard appears on stage wearing aviator sunglasses and a State Trooper outfit, while the rest of the band wears white. After Jambi, Maynard tells the crowd that "New York City is a pretty cool place. But all joking aside, you just can't fuck with Jersey…unless you want your ass kicked." He then thanked the crowd for coming out and staying late. Tool fans would have waited in that muddy swamp for another 24 hours just to see Maynard Keenan do his thing... even if his thing is to hang way in the back of the stage next to the drummer. 'Aenema' and a guest drummer during 'Lateralus' were especially memorable. Tool finishes up with 'Vicarious'. Maynard walks off while the band stays on the stage and enjoys a curtain call of sorts.
DAY THREE
The forecast calls for rain throughout the day. I don't feel like waiting to get on a bus from the light rail and decide to take the ferry from Battery Park in Manhattan to the fest. I meet two women on the ferry from East Hampton who have VIP tickets. When we dock, and start making our way down the path to the entrance, the majority of the riders are pointed towards a muddy path while our East Hampton friends are pointed to the paved path along the water. Have you ever heard of such a thing? I understand that being a VIP brings it's perks but I find this incredibly elitist. Having air conditioned bathrooms, free food and drinks isn't enough for the organizers to offer the well-to-do. It seems very excessive.
Anyway, when I finally make my way to the entrance, I see Jamie Schuh from the Jersey Journal and Mike from Getty Images waiting at the gate. While the festival is rain or shine, the organizers aren't letting anyone in (unless they have an artist armband). Organizers are claiming safety issues and are waiting for the bad weather to pass. It's just started to rain and there is thunder and lightning in the distance. The last time I checked, it was supposed to rain all day. At 1PM we are told to head back to the ferry terminal and await instructions. There are rumors of cancellation.
The ferry terminal was formerly a train terminal until the late 60's. There I learn that the names of the stages are taken from old train lines. Yes, the names are kind of stupid, but at least they aren't as confusing as the stage names at Bonnarro (What Stage, Which Stage, This Tent, That Tent, etc.)
For some reason, the Department of Homeland security is there complete with MP5 submachine guns. Occasionally someone gets on a megaphone and makes an announcement that no one can actually understand unless that are positioned within 10 feet of the megaphone. Festival organizers are tweeting that the days events are not cancelled. Too bad that most people in the terminal don't have internet access and probably not following @allpointswest on Twitter. I sure as hell wasn't.
I wander around the terminal taking pictures and after some time, I'm starving. There is one concession stand in the entire terminal and a huge line to go with it. My ancestors were processed faster at Ellis Island faster than it took to get a luke warm hot dog and soggy pretzel.
At 4:10 we are told to leave the terminal and head back to the entrance. A line quickly forms but doesn't move for nearly a half-hour. The sun is out, with a vengence and thousands of attendees are quickly baking. In the mud. When I finally get into the festival it's 4:45. As I pass the 3rd stage I hear Janeane Garofalo doing some crazy topical humor. Check it out...
"You know, back in my day Zombies are slower than they are today..."
Ugh.
Garofalo still gets to 'perform' while 4 bands have their sets cancelled. This aggravates the shit out of me as well as the fact that there's still mud everywhere... with more sludge than ever. There doesn't seem to have been any attempt to lay down mulch or hay or at least make the conditions slightly more bareable. One positive thing that can be attributed to the organizers as well as the attendees, is that there very little garbage to be found on the grounds... well, outside of the occasional abandoned pair of flip-flops that is.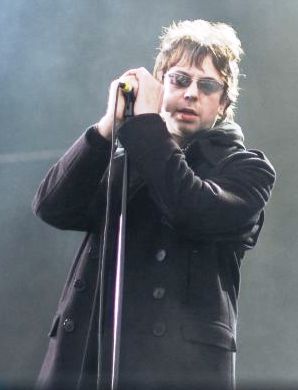 As I slog my way through the garbage-less mud towards the media tent, the Silversun Pickups begin their set on the main stage. They remind me of Smashing Pumpkins. It's a great set to watch. But sadly, the majority of the attendees are stuck outside the entrance and won't be able to see them.
After I drop off my gear, I shoot some pictures of Kitty, Daisy & Lewis who are dressed to the fucking nines... as usual. It's a shame they didn't get to perform because Kitty Durham, the youngest of the three band member siblings, has a killer voice and the band's 50's swing influenced performances are usually a crowd pleaser. Then I meet a publicist for Lykke Li who is literally begging everyone in the press tent to come see Lykke play. I ask if I can take a couple portraits of Lykke before her performance and she blows me off. No matter... because there's no fucking way that I'm going to miss Echo and the Bunnymen perform on the main stage.
Then, I meet Marc, the manager for Steel Train. As I mentioned previously, several bands, including Steel Train were bumped due to the rain. So as a joke I say, "Well, you could have played in the ferry terminal." I'm shocked to hear that they actually made an attempt. "We tried to secure a golf cart to fill with our equipment and head out and win some fans." However, this was not to be the case. The organizers kept putting them on hold and ultimately wouldn't let them play out there. The fact that they wanted to perform for the stranded at the terminal earns them major points with me. Justin Huey from the band seems a little bummed when I speak with him. "...it's ironic that the two Jersey bands were bumped." So, Steel Train hang around the media tent, pose for pictures, give couple of interviews and state that they're excited to see Elbow perform. Me too. It's the band that I'm most excited about seeing here at All Points on this soggy Sunday.
There are a few kids mud wrestling. Elbow's lead singer Guy Garvey acknowledges them and warns of typhoid. He's also chats with the slightly less muddy audience. Guy Garvey is charming frontman. Chatting up the crowd and even attempting to arrange a seemingly complicated crowd sing-along during 'Grounds for Divorce'. As large as the main stage is, make no mistake... an Elbow show is an intimate affair. I believe that Elbow is a band on the verge of greatness here in the states. These guys deserve a bigger audience. Hopefully touring with Coldplay will give them the attention that they richly deserve.
Next up is Mogwai on the second stage. They start late. I take a few pictures and run back to the main stage just in time to see Echo and the Bunnymen. Their set started off slow but picked up momentum after a few songs. Ian McCullouch was distracted by a stage tech running out on stage a few times to position a fan. "What's this doing here?" No offense to Echo and the Bunnymen, but their performance seemed dull compared to The Black Keys set. These guys are nothing short of electrifying. Unfortunately, I didn't get any pictures because the fest organizers they were more concerned about letting VIPs into the photo pit. As much I'm bitter about it, the Black Keys were terrific and it's the biggest audience turnout for Bullet for the entire festival.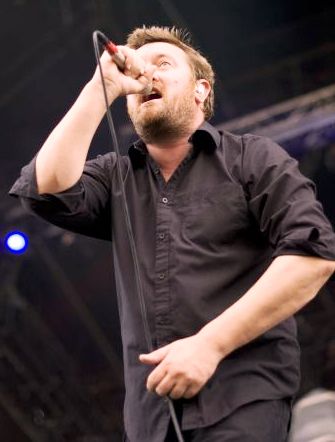 Coldplay's performance at All Points West will best be remembered for Chris Martin's homage to the Beasties by playing 'Fight for your Right' on the piano and the band performing an acoustic version of 'Billie Jean'. However, I missed all this and decided to gain some indie cred by skipping their performance and heading Bullet for MGMT... which were scheduled to play at the same time. MGMT debuted a new song called 'It's Working' and played 'Dan Treacy' and 'Congratulations' from their upcoming album and played 'Electric Feel' and 'Time to Pretend'. MGMT would end their set early to rush off to catch the end of Coldplay's set, which was a little disappointing. And on that note, I decided to take the ferry back to Manhattan and bid the 2009 All Points West Music & Arts Festival farewell.
So, to wrap up, outside of the problems caused by the weather and the miscommunication that followed, All Points West in my eyes was a success. With artist lineups much stronger than they were last year, it was literally worth the price of admission. Lineup-wise, it's seriously going to be hard to top this year. But to be successful, they're going to have to. Hopefully Goldenvoice/AEG Live events will learn from their mistakes and build on their successes. In the meantime, I'm going to invest in a good pair of rain boots for next year.