Currently in its 39th year of operation, beloved non-profit the ARChive of Contemporary Music (ARC) is in great need of support as it faces an uncertain future. ARC is a trusted, one-of-a-kind institution, the largest popular music collection in the world.
Through a generous donation of facilities by André Balazs the collection has been safe and in storage for nearly three years. Collecting and cataloging has continued, but strict zoning laws prevent ARC's expansion and public access. Without a new home, more than three million recordings, as well as millions of historic materials spanning all cultures and races, could disappear forever.
ARC has already received a generous anonymous donation of one million dollars that will help move their extensive collection out of their current Hudson Valley space, but more is urgently needed. Go to our story to learn more about ARC, or visit our website arcmusic.org.
The non-profit is seeking crucial funding to continue their preservation of music history. Collections that are currently at risk include Keith Richards' Blues Collection, one of the most extensive collection of blues and R&B recordings in the world, funded by ARC board member Richards for more than 16 years, as well as their Zero Freitas Brazilian Music Collection which has made ARC home to the largest collection of Brazilian music outside of Brazil.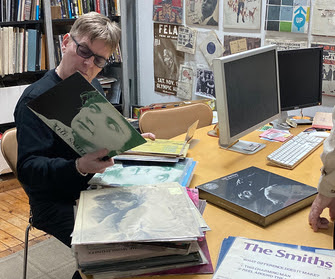 The Jeep Holland Collection is housed at ARC, which contains more than 125,000 classic rock and pop recordings and over 2500 signed albums from the likes of the Rolling Stones, Jimi Hendrix, Bob Marley and Sex Pistols, while the Jonathan Demme Haitian Music Collection contains ARC board member Jonathan Demme's personal collection of Haitian albums. ARC is also home to massive collections of mint or sealed recordings from the estates of Richard W. Zirinsky Jr., Mark Steven Jacobson, Malcom Forbes and many others. ARC maintains leading collections of Broadway, African, Punk, Jazz, C&W, Folk, Hip-Hop and Experimental recordings. Artists and music critics like John Rockwell, Jerry Bock, David Byrne and Jon Pareles have trusted ARC to preserve their recordings, books and papers.
Currently searching for a new, permanent home, ARC is opening a new chapter as an institution. The initial donations provide the first step in constructing a new facility that will allow students, educators, historians, musicians, authors, journalists as well as fans and general public access to the world's rich musical heritage.
Donations for a new building are not only essential in supporting the archives and collections themselves, but will help the expansion of educational programming, community gatherings, listening events and more towards ARC's ultimate goal of transitioning from an archive to a thriving, living public institution with the creation of The Center for Popular Music in New York.
ARC's current board of advisors includes Jellybean Benitez, Youssou N'Dour, Q-Tip, Keith Richards, Nile Rodgers, Todd Rundgren, Fred Schneider, Martin Scorsese, Paul Simon and Mike Stoller, with an emeritus board of Carl Bernstein, David Bowie, Jonathan Demme, Michael Feinstein, Ellie Greenwich, John Hammond, Jerry Leiber, Earl McGrath, Lou Reed and Jerry Wexler.
Founded by current director B. George and the late David Wheeler in 1985, the ARChive of Contemporary Music is a not-for-profit archive, music library and research center originally located in New York City. The recording industry had long neglected the preservation of its own heritage, with many historic recording and artifacts misplaced and destroyed throughout the years; ARC was established with a mission to change this trajectory and continues to grow daily as hundreds of record companies, publishers, distributors, collectors, artists and music fans continue to donate new materials to their collection.