It's a wet and cold Friday Night in Denver Colorado. Outside the sleet it turning to snow and inside Cervantes' Masterpiece Ballroom the stage is melting into the eclectic sounds and sights of Banyan. The west coast based Banyan was created by Stephen Perkins, the long-time drummer of Jane's Addiction. This ever evolving group of musicians has included at times, bass great Rob Wasserman, guitar legend Steve Kimock, members of the Red Hot Chili Peppers, and Sonic Youth's Thurston Moore to name a few.
Playing bass tonight is punk rock Godfather Mike Watt who played with the Minuteman and Firehose on the late 1980s. Watt just completed a short tour with the reformed Iggy Pop and the Stooges in Europe and is back playing a series of shows with Banyan. Willie Waldman was also on stage and has been playing trumpet with Banyan since 2000. Waldman a core player in Banyan has played and recorded with everyone from Perry Farrell to Snoop Doggy Dogg. A great guitarist and longtime friend of the Banyan crew, Clint Wagner rounded out the Friday Night line up.
The opening song 'Mad as a Hornet' was a loud cry of funk that pulled everyone in the room to the front of the stage. The hard-thumping drums of Steve Perkins dominated the night, even more so as his drum kit was front stage center and he masterfully controlled the musicians from his perch. The first few songs were all instrumental bits where Waldman and Watt blended the horn and bass into a loud thunder clap; you could almost see the ripples rolling thru the crowd. Clint Wagner took his time getting warmed up, but eventually he was bending his guitar and making it scream as he played his fast fingered guitar solos.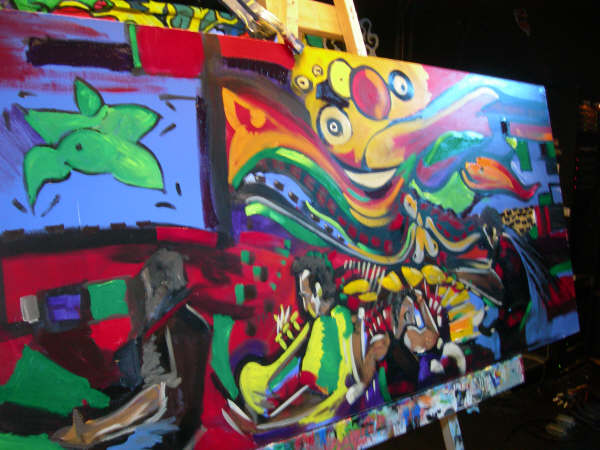 Normally Banyan is accompanied by artist Norton Wisdom. Wisdom, or Wiz as he's known, normally takes the stage as another member of the Banyan group by painting an ever changing picture on Mylar with his paints. Tonight the art is flowing thru the brush of Denver local and very talented artist, John Bukaty. Bukaty's musically inspired piece was an ever changing work that at one time looked like the American flag but evolved into an image of the musicians playing on the stage.
Banyan does not just play instrumental melodies, they tend to reach out and cover some very diverse songs. The crowd of around 200 people was treated to Mike Watt's singing Creedence Clearwater Revival's "Born On the Bayou". Watt tends to scream and moan his songs rather than try and cover them as they were written. Banyan really electrified the audience by covering not one, but two Stooges songs "Fun House" and "1969". These were followed by a cover of one of Funkadelic's most eerie songs "Maggot Brain". The highlight of the night though was a full on high-speed version of John Coltrane's "A Love Supreme" that left the crowd wide eyed and dumb founded.
I first saw Banyan in New Orleans back in 2004. Since then this band of various artists has evolved into a group of creative mad scientists. Stephen Perkins and Willie Waldman have help create a group that can never be categorized or classified as anything but the best in music, art, and expression. There is no other band that sounds or expresses what music is about in such a unique way.