Tav Falco & the Panther Burns is a legendary band who is relatively unknown outside of Memphis.  They played the first set on Saturday afternoon on the Bud Light Stage at the Beale Street Music Festival as part of their "Conamination" tour - what a treat it was, for both long-time fans who were happy to see their heroes again, and for the curious who had no knowledge about the band.
Tav Falco & the Panther Burns' set was introduced on Saturday as consisting of the two original members of the band who "are still above the ground."  Formed in 1979 in Memphis by Tav Falco and the late great Alex Chilton (lead singer of the Box Tops and Big Star), a book could be written about the Panther Burns' storied history with the Cramps and other similar acts from back in the day.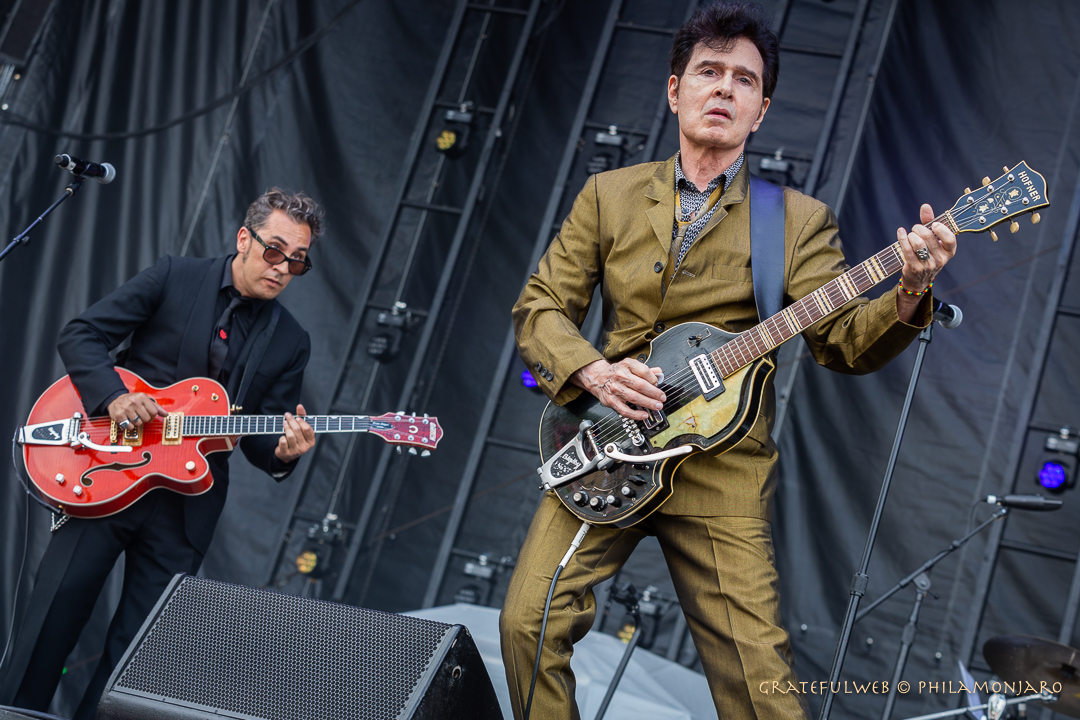 On stage, Falco was reminiscent of an early Elvis, with choreographed moves that were inspired and fresh.  Opening with a cover of "Green Onions" and on stage for over an hour, Falco and his furious band played a style of music that might be characterized as voodoo rockabilly with a Memphis/New Orleans spin, or maybe not.  
Falco was dressed impeccably, he never even unbuttoned his suit jacket, and Falco made sure to comb his pompadour before he reappeared on stage for his encore.  If there is such a thing as "beyond cool," Falco fits the bill.  He played homages to several musicians, which made sense given the long and storied history of Panther Burns.  Falco also played music from the band's latest release, which was about the fourteenth album the bank is releasing.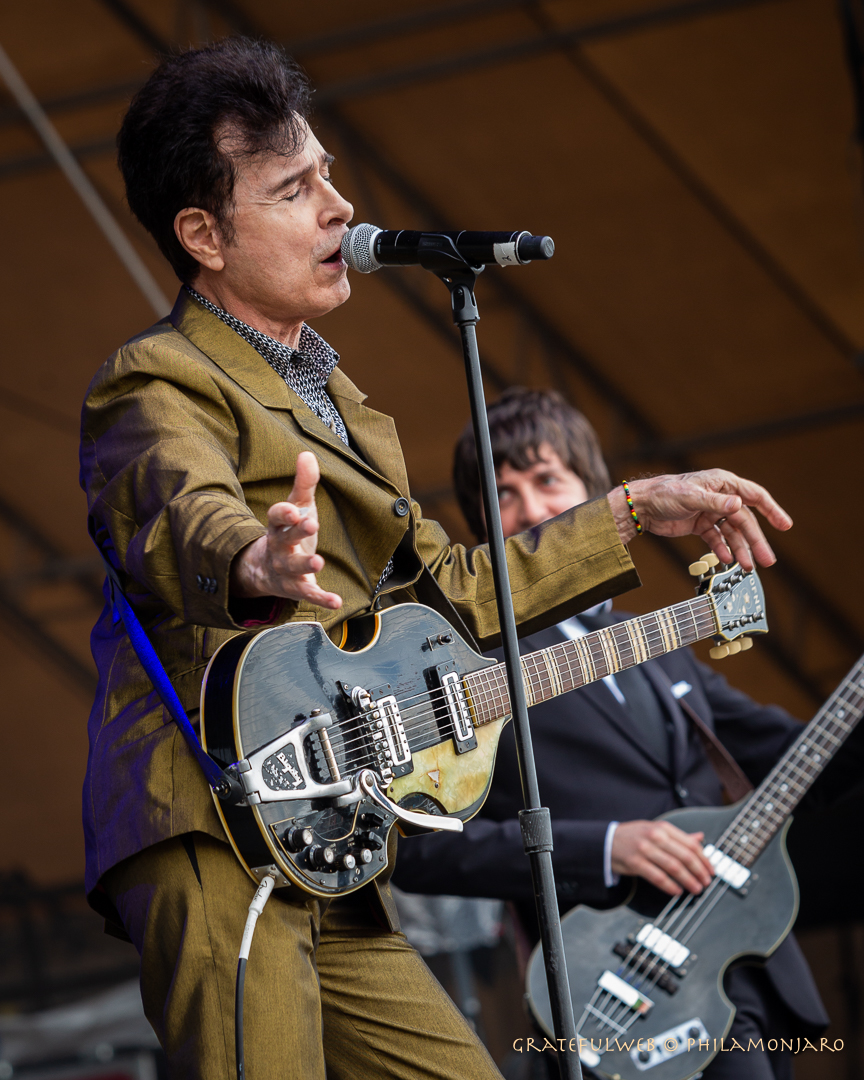 Although Falco was born in Philadelphia, grew up in rural Arkansas and was based in Memphis for a while, Falco has lived in Europe for about the last ten years, currently living in Vienna, Austria.  Because of the early set time, the crowd for Tav Falco & the Panther Burns was not as large as the band deserved, but those who were there walked away impressed. 
BLIND MISSISSIPPI MORRIS PLAYS FUNKY BLUES
Blind Mississippi Morris may have been born in Clarksdale, Mississippi in 1955, but he now considers Memphis his home.  His set at the Coca-Cola Blues Tent on Saturday in the late afternoon at the Beale Street Music Festival consisted of tastefully chosen cover versions of rock and blues classics, unfortunately, marred by technical problems with Morris' vocals for most of his set.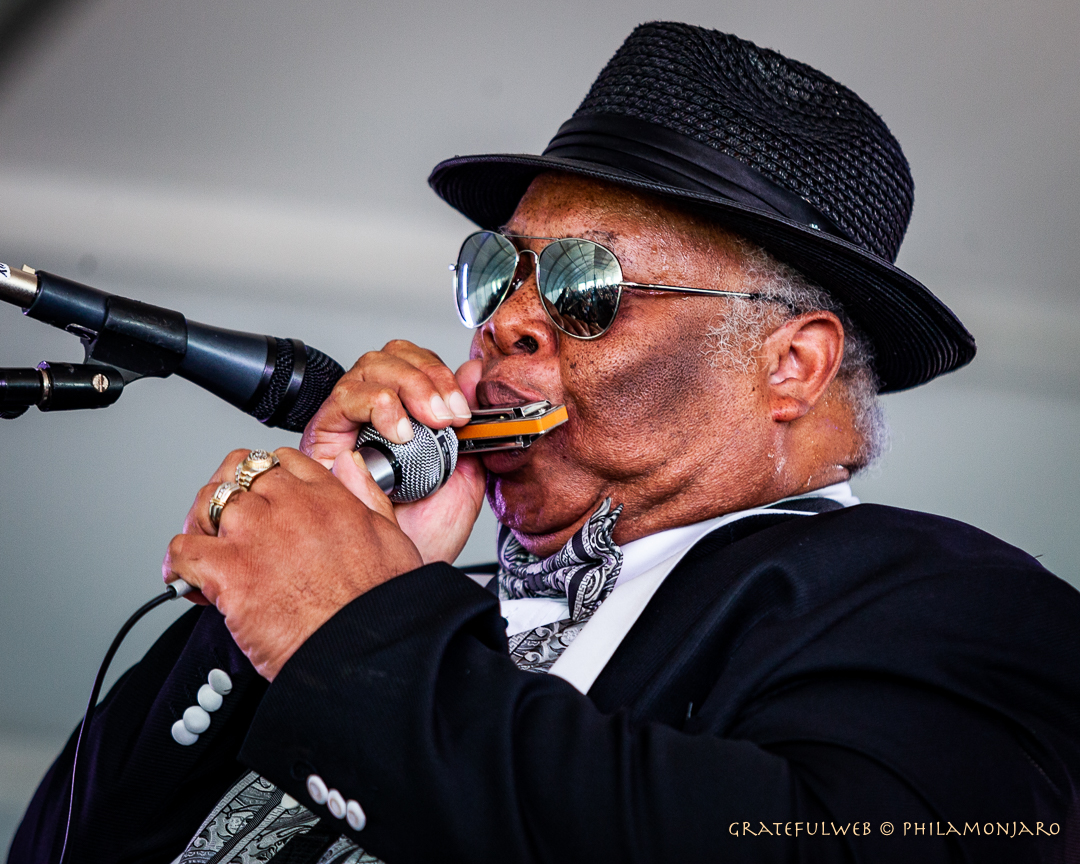 Morris sat onstage with about six harmonicas around his neck, rocking back and forth as he was playing with his solid backup band.  Among other songs featured by Morris were covers of the Allman Brothers Band "One Way Out," and the B.B. King's songs "The Thrill is Gone" and "Everyday I have the Blues."  Another highlight was, as Morris put it, 'the Eric Clapton version of the Robert Johnson song Crossroads."
One fan was heard saying that Morris was "The Real Deal," although it could be argued that everything played at the Blues tent was "The Real Deal."  Some Beale Street attendees stayed at the Blues Tent all three days from start to finish; there are worse ways to enjoy the Festival!
GOV'T MULE NEVER FAILS TO DELIVER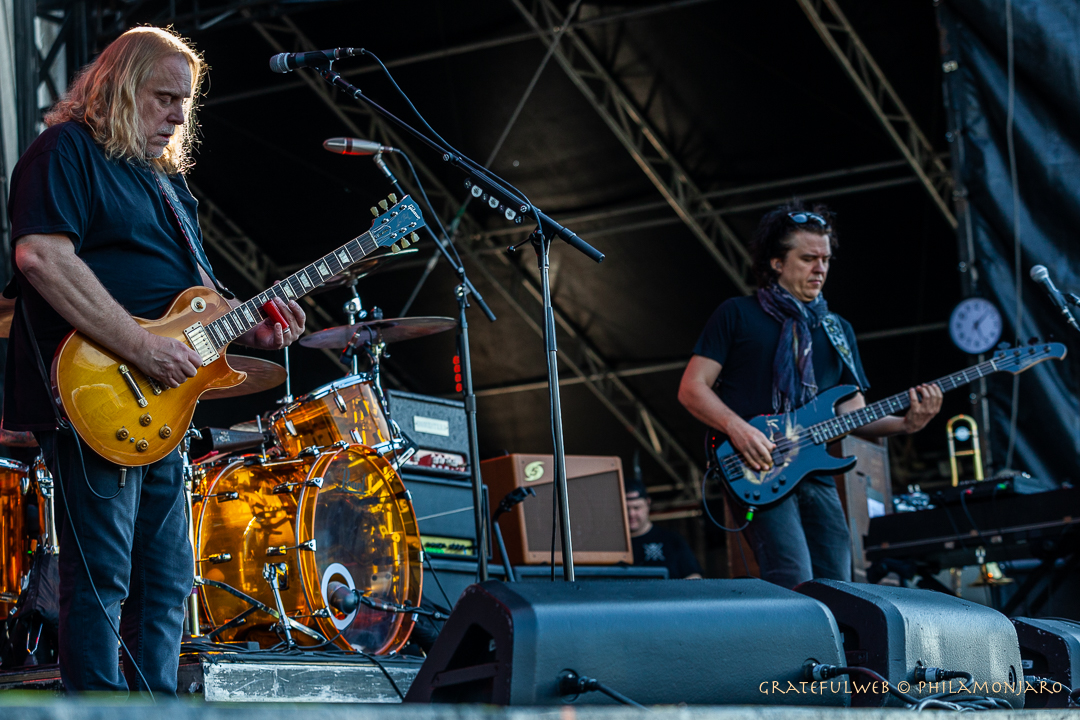 Gov't Mule, one of America's southern rock favorites have been playing out since 1994. They well represented jam band music Saturday afternoon to a loyal crowd that traveled far and wide for this set.  Featuring the legendary Warren Haynes on guitar along with bandmates, Matt Abts: drums, Danny Louis: keyboards, and Jorgen Carlsson on bass, they were on point as they rode the instrumental crescendos and worked guitar solos that are unmatched by others.
DAVID BYRNE'S CONCERT EXPERIENCE
Was it a David Byrne concert?  Was it a dance party?  Was it performance art?  Yes.  Yes.  And yes.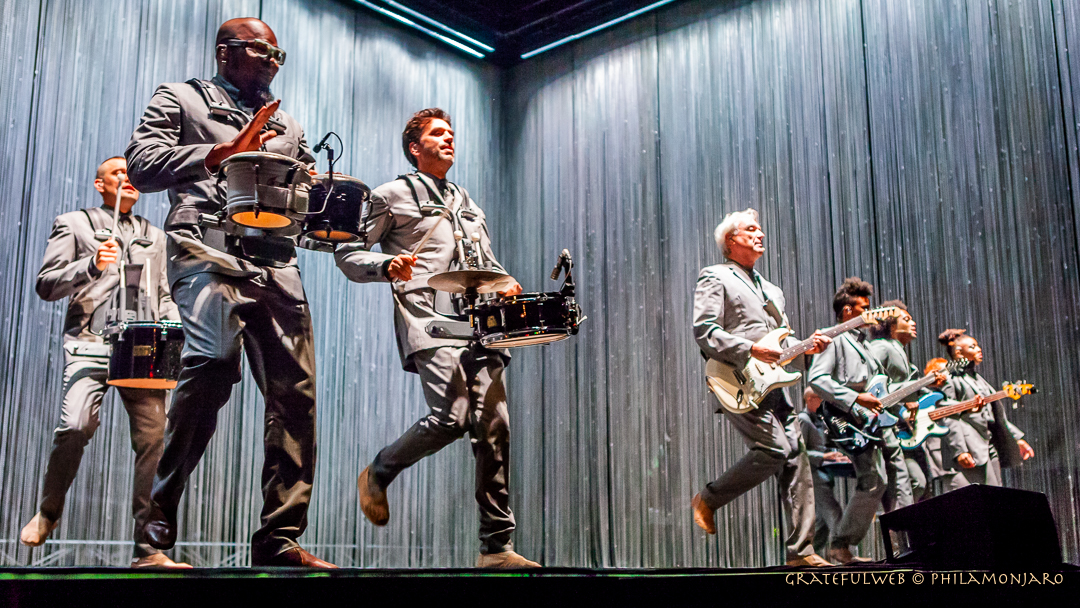 David Byrne, best known as the founder/lead singer of Talking Heads, played an evening set Saturday night at the Bud Light Stage at the Beale Street Music Festival. 
Starting the performance with Byrne sitting at a desk holding a replica over-sized human brain, there were no musical equipment or black line on stage for the entire concert.  Rather, backup singers and musicians would enter and leave the stage in a choreographed manner, with the musicians carrying their instruments on and off the stage. Sometimes the music was being made onstage, while at other times the music was coming from the side of the stage. As his style, Byrne's music was heavily percussive.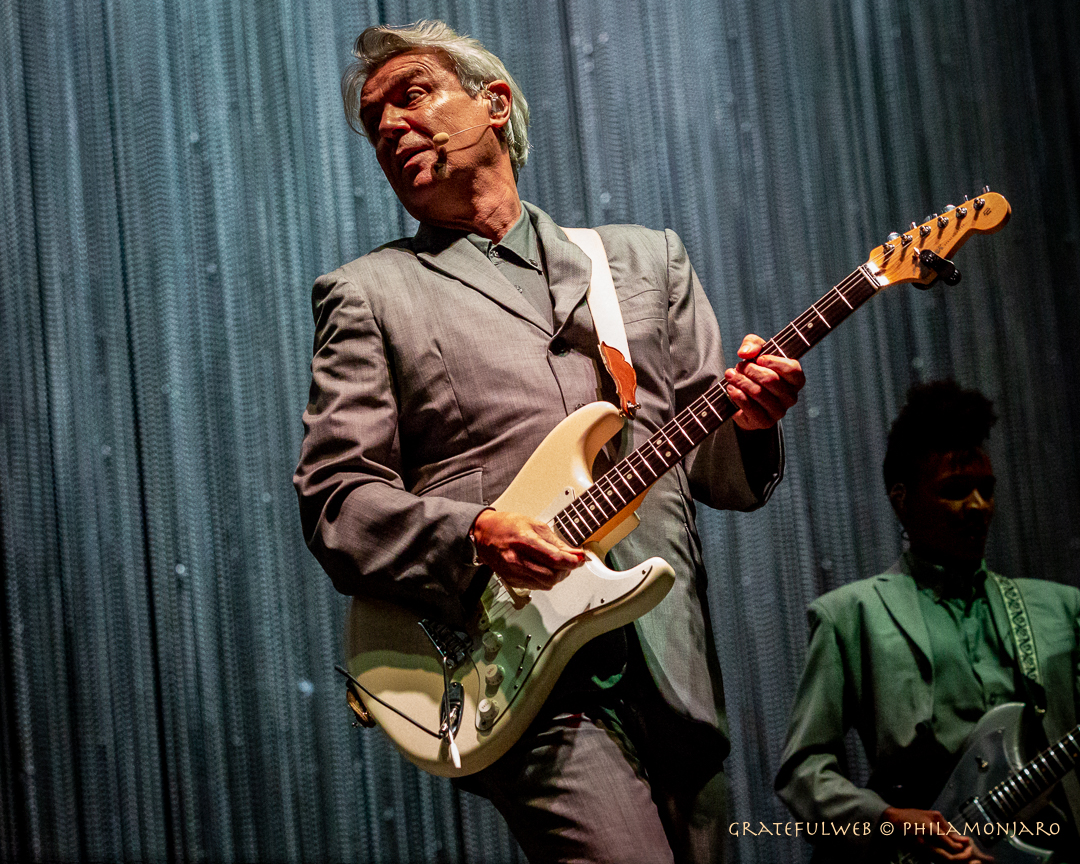 Byrne featured several songs from his new release, "American Utopia," as well as numerous Talking Heads' songs.  The crowd was most enthusiastic about the Heads' songs, of course, dancing along to "Slippery People," "This Must Be the Place," and "Once in a Lifetime," among others.  Closing his main set with the Talking Heads classic "Burning Down the House," Byrne encored with a cover song which he stated he was updating which he wished wasn't still relevant, the chilling Janelle Monae protest song "Hell You Talmbout."