Talented. Inspired. Spontaneous. Fresh. These are but a few of the descriptors being thrown around the conversation about the up-and-coming bluegrass talent the Big Richard Band. Touted as a neo-acoustic supergroup, the word on the street from the venues they have played reinforces they have all this and more. From the chops to the vocals and a camaraderie that just won't quit, it is no surprise that their phones have been ringing off the hook to get them scheduled for festival sets and headlining slots across the land.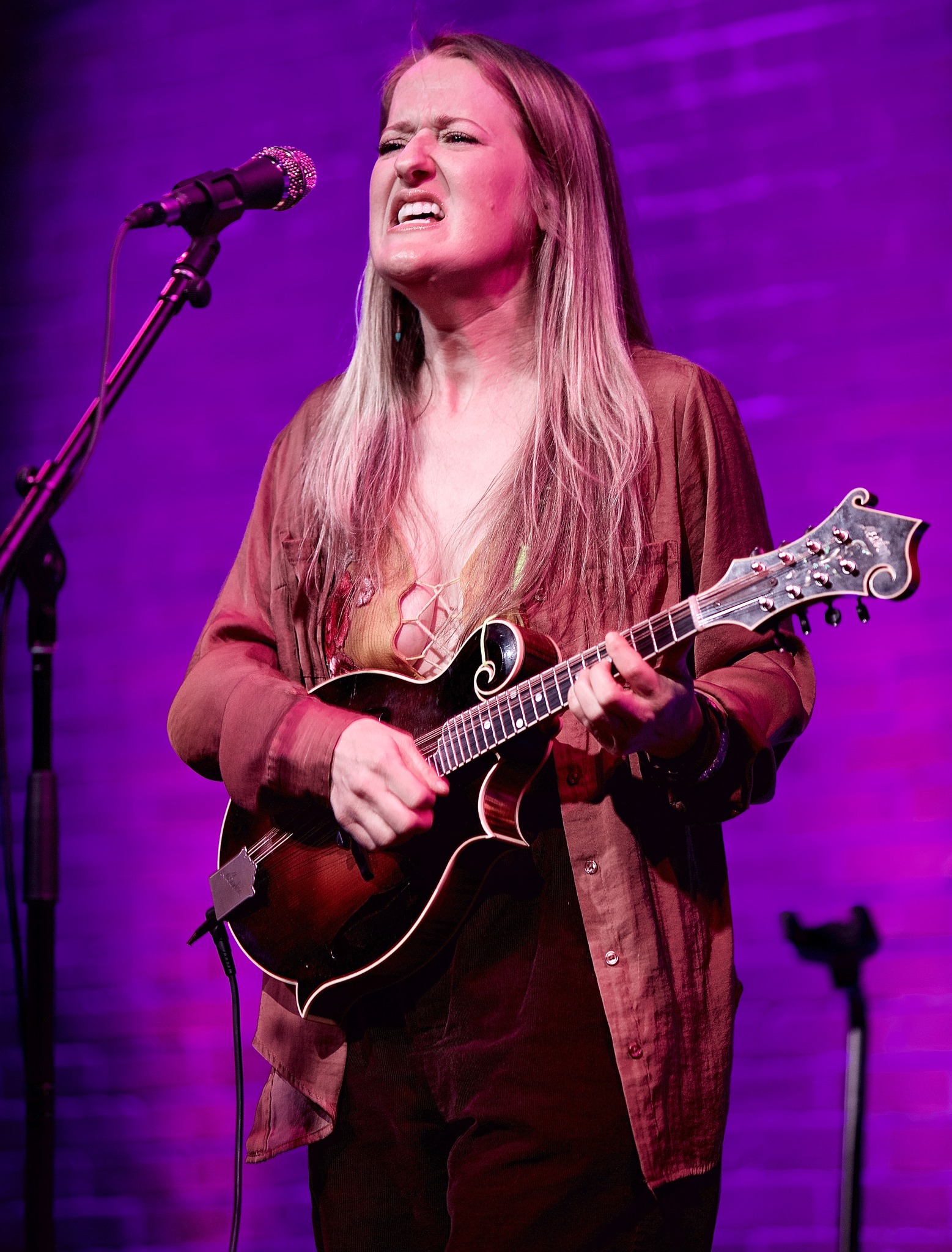 Although this formation is new to the scene, these players as individuals have been part of the Northern Colorado music collective for some time. Handling mandolin and intermittent guitar, Bonnie Sims is well known in these parts for her collaboration with her husband Taylor and their acclaimed group Bonnie and The Clydes. Cellist extraordinaire Dr. Joy Adams also shares the stage with her spouse Andy Reiner in their trio Half Pelican, while often the two also tour with bluegrass legend Darol Angor. Soulful string-stress Eve Panning has been making her fiddle sing in the successful Denver-based bluegrass quintet The Lonesome Days since 2018 and although she carries a quiet allure on stage, her instrument speaks louder than words. Working the low end for the group and often injecting her singer / songwriter self on the guitar, Emma Rose has played on the Front Range for some time and currently fronts her newest ensemble with Sound of Honey, which not only describes her band but the dynamics of her playing and voice.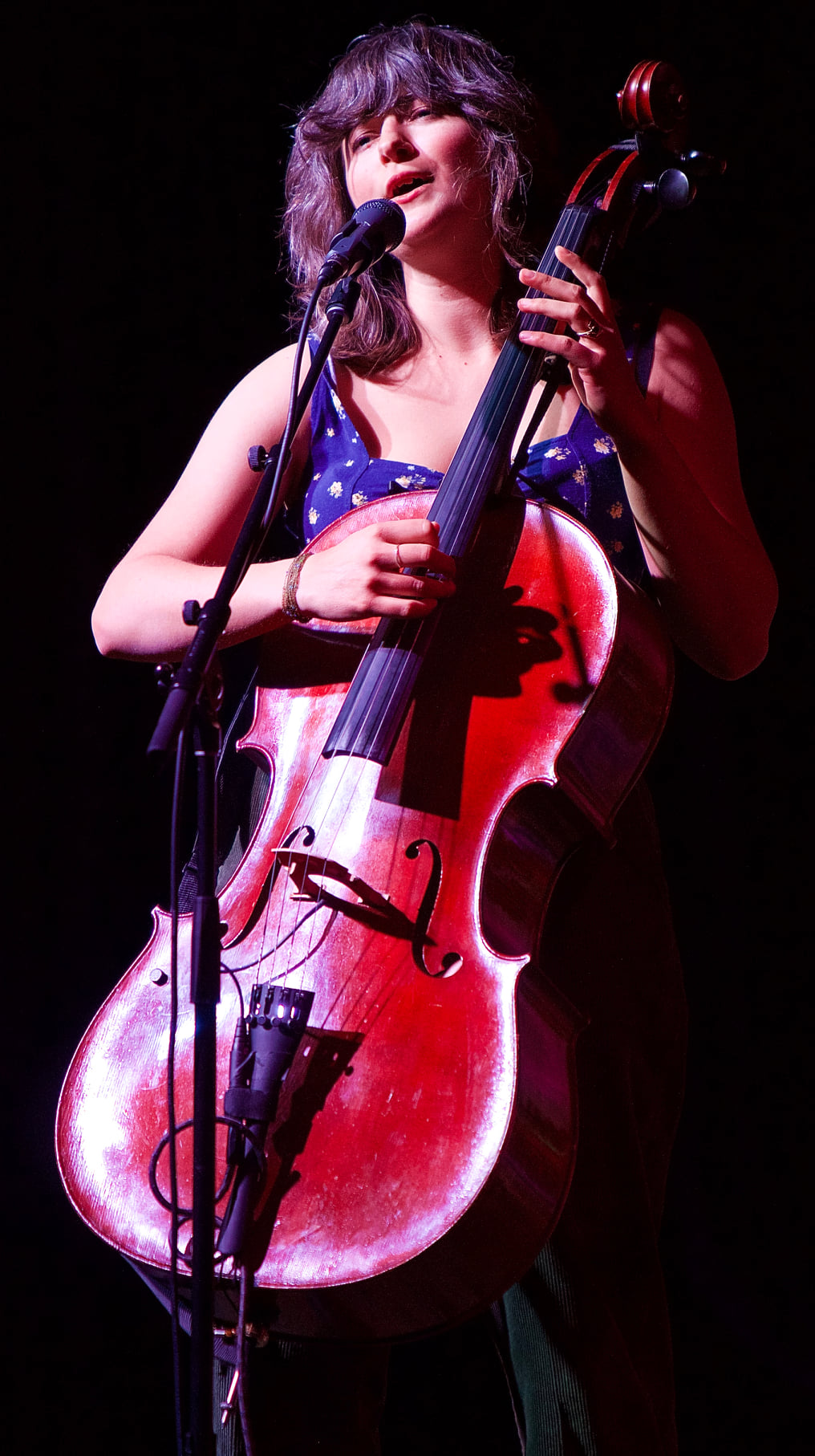 As these performers will gladly share, any Big Richard comes with a set of big balls and these ladies tout theirs without a second thought. Owning the stage and representing as confident women and individuals, these powerhouses convey who they are with a no nonsense, no excuse mentality. This aspect not only permeates their musicality, but also their wit, making statements that reflect that they are making this life their own and have no need to apologize to anyone, while at the same time coming off as vulnerable and quite human. The humor they often employ, although potentially viewed as crass at points, only proves further that what they are demonstrating is primarily for their own entertainment and creative fire on this musical journey and for everyone else, a far second. That stated, what they are fashioning on stage is unique, freeing, and an opportunity for anyone to question their own views on the taboo or reinforce the carnal we are all aware of, all the while against a great musical backdrop.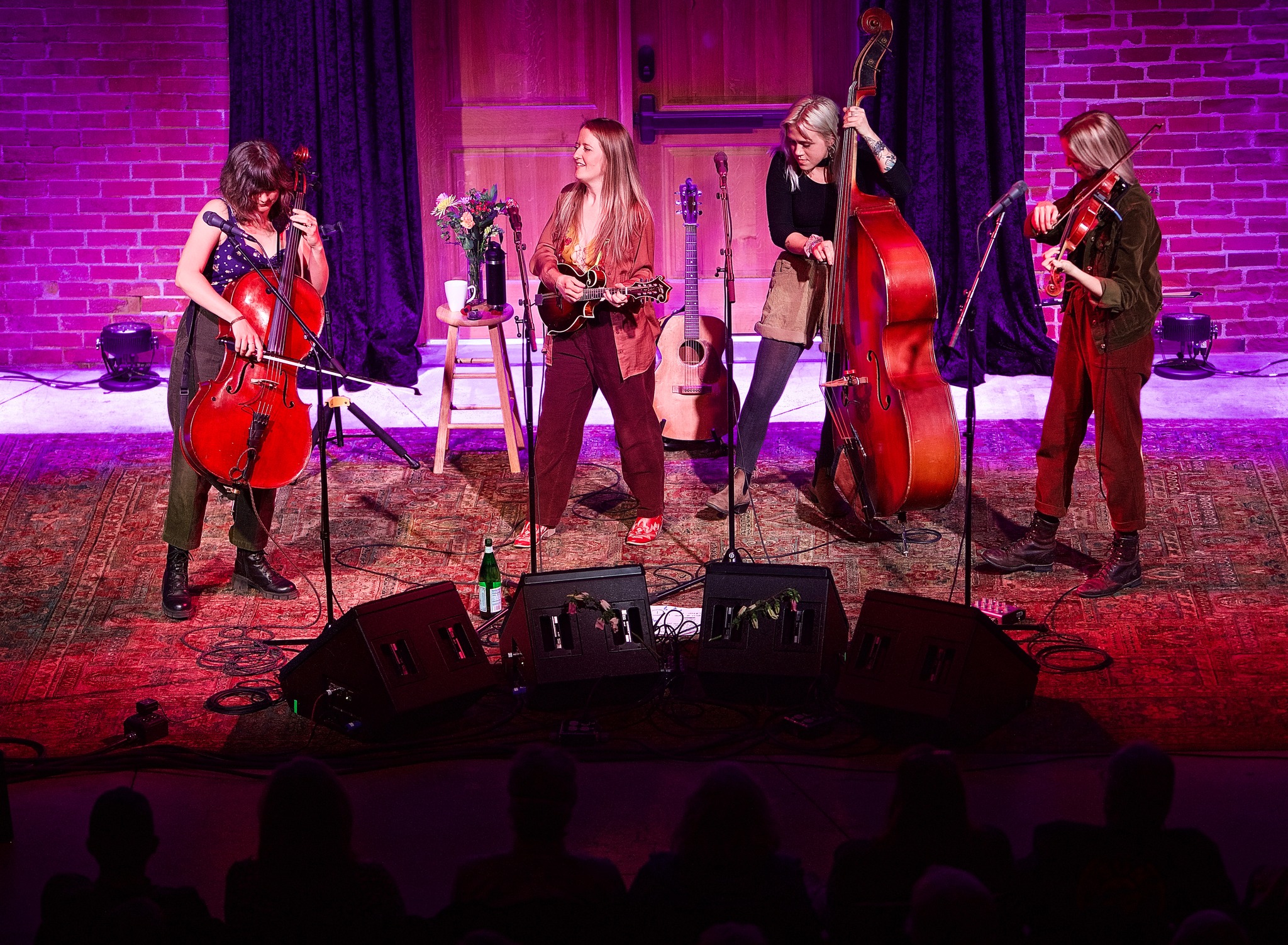 Last weekend, The Armory hosted the band's second sold out Fort Collins show in a month. Like its sister venue Washington's, The Armory is an undeniable jewel for live music lovers. With a 200-person capacity, exposed brick walls, hardwood floors, and a balcony, this listening room is state of the art, clean, and clearly executed with taste in mind. Ran by the illustrious Bohemian Foundation, whose focus is on quality with an eye towards community, The Armory restates the uniqueness and special dynamic that is the Fort Collins music scene. With the talented management of Kevin Gregory running a tight ship to a dialed in audio experience executed by Andrew and Jason, the staff, including the most gracious security and behind-the-scenes team of any venue, all of these people combined is what seals the deal for any performance at this truly perfect space. As Bonnie Sims would state later in the evening," Ain't no hospitality like Bohemian hospitality."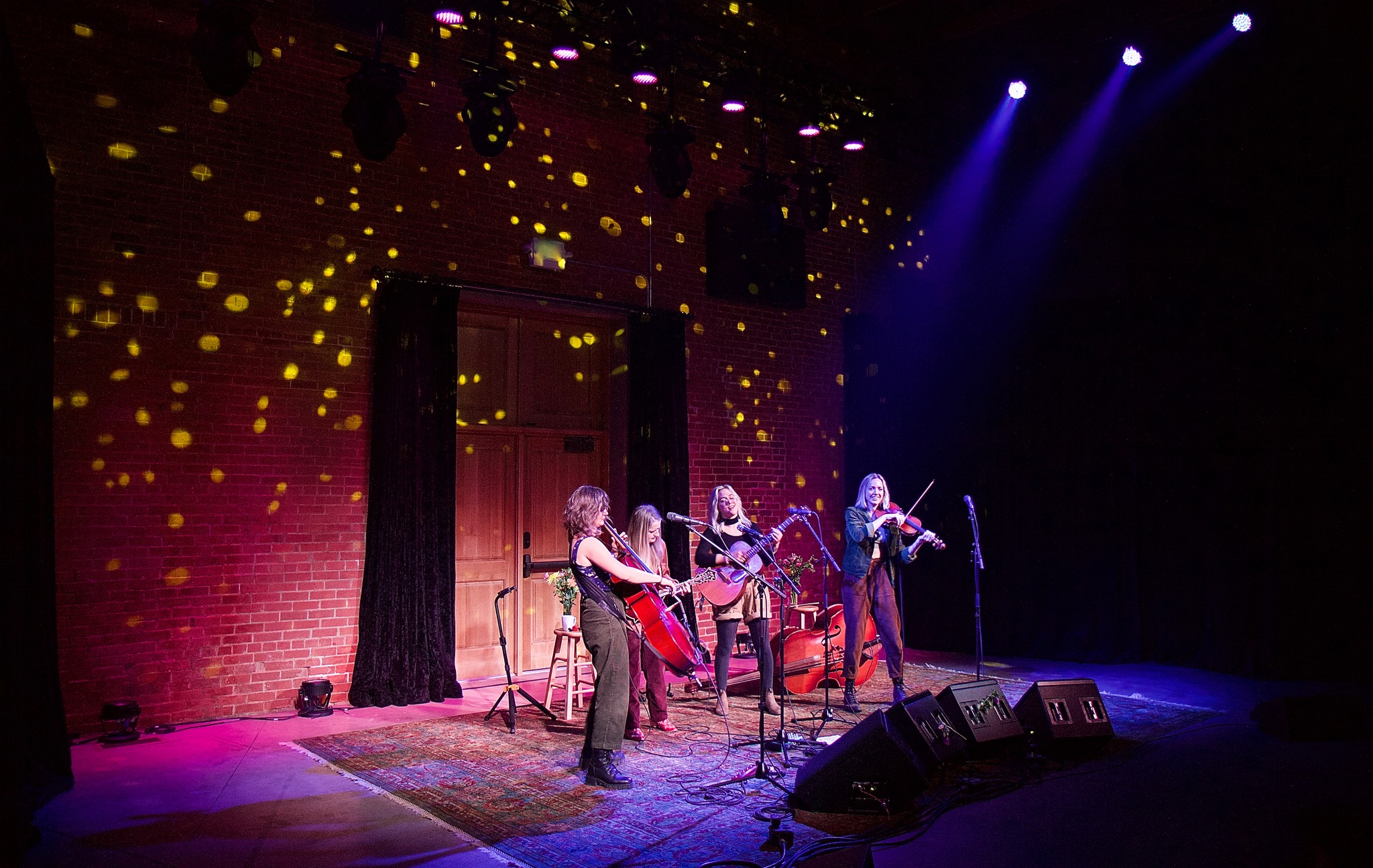 At a little past 8 o'clock, the group took to the stage with a packed house warmly greeting them to do what they do best. The group got the show started with Dr. J leading on the traditional "Greasy Coat." From the first notes through the end, it was clear what the buzz surrounding these ladies was all about. Tight, well-rehearsed, and on point, 4 minutes in, it was easy to hear it was going to be a great night.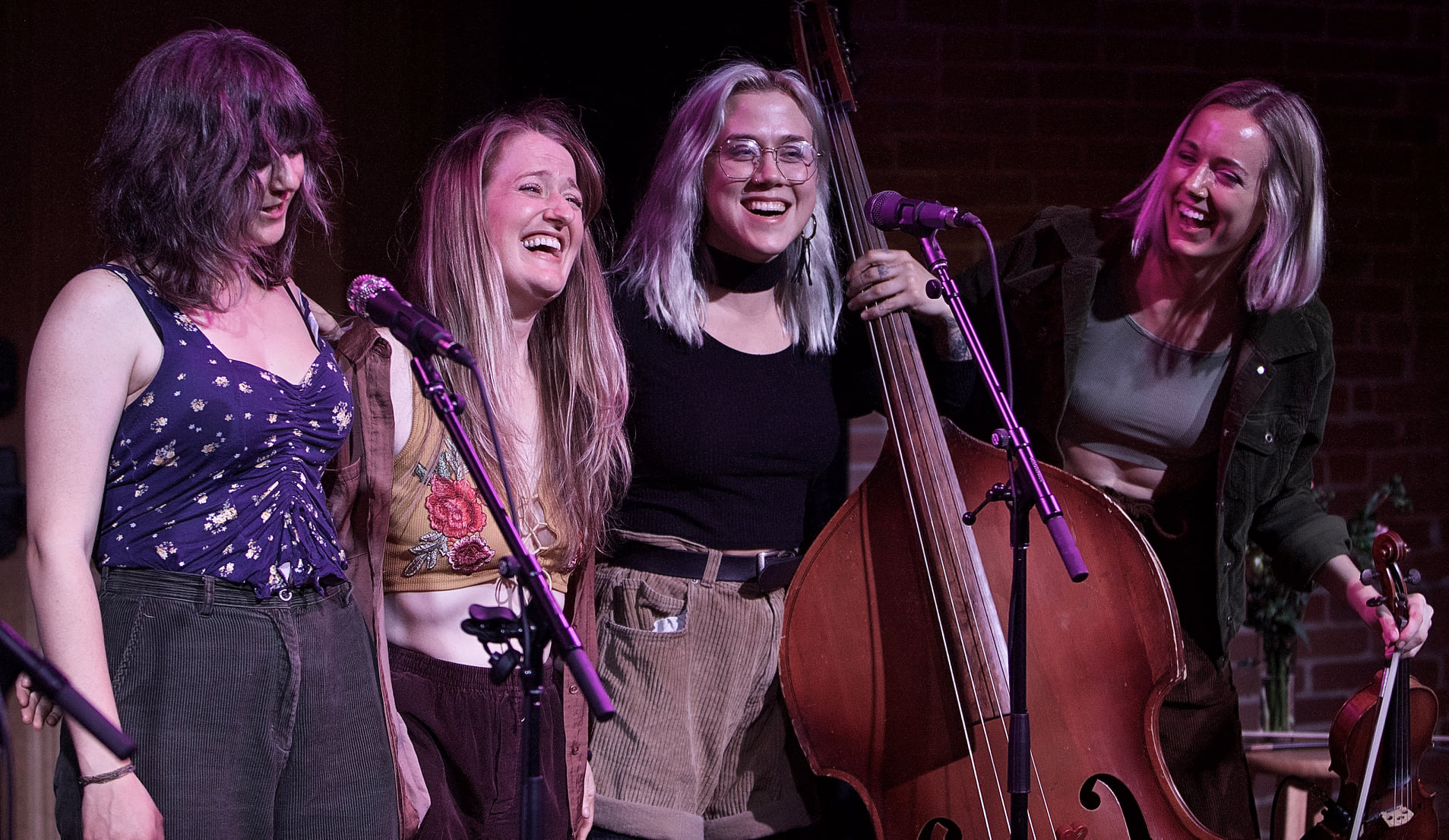 At the close of the number, Adams shared that "Greasy Coat" was "an old-time song about condoms. Greasy Coat? C'mon? They still make those out of sheepskin," the crowd laughing along on the song history. "You too can wear a greasy coat," Adams using her best sales pitch voice and eliciting even more joy from the concertgoers. With the crowd still giggling, Bonnie Sims chimed in with the disclaimer," Y'all knew what you were getting into when you came to see Big Richard, okay?"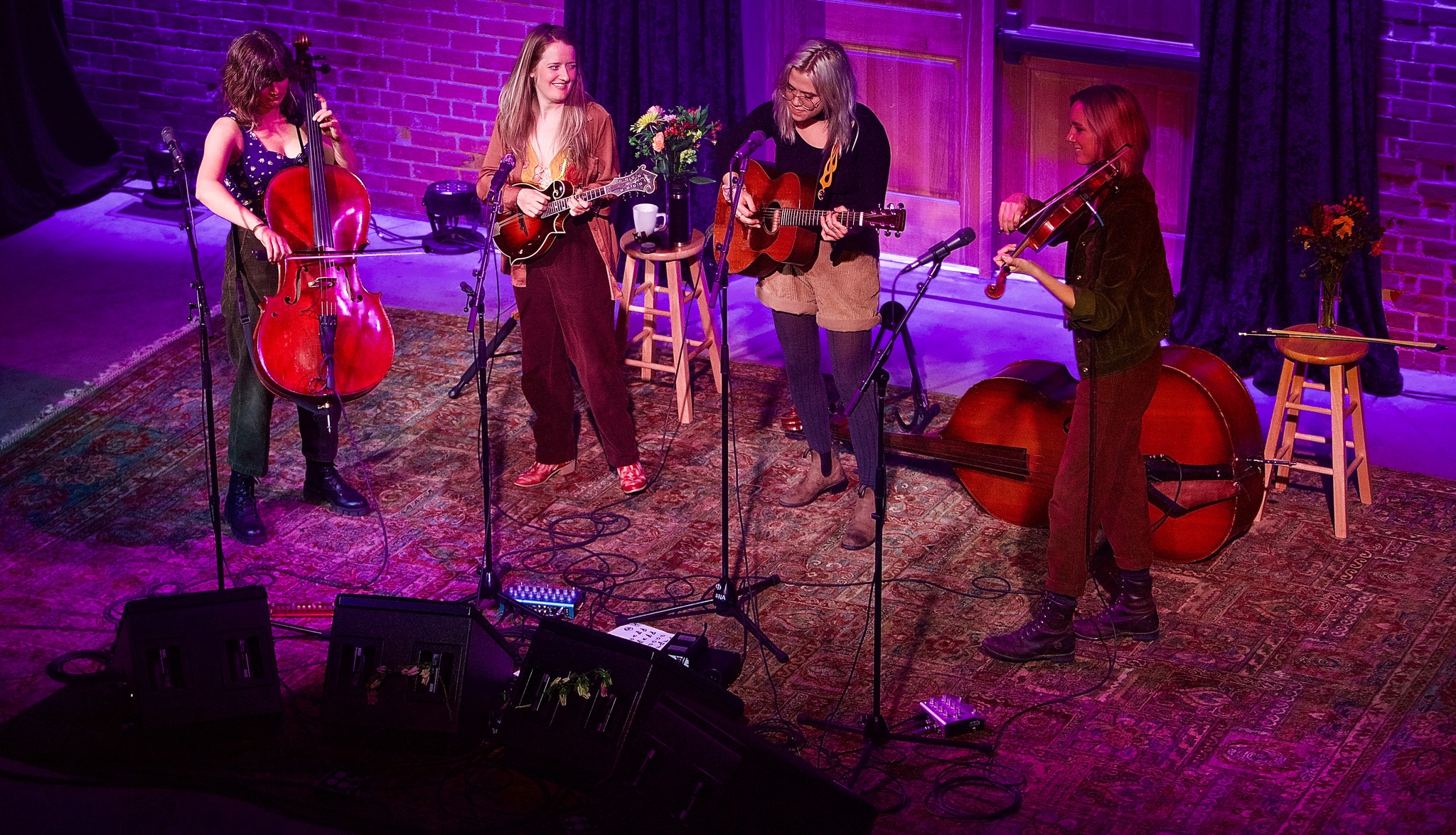 Next up was another traditional in "The Ghost of Caleb Meyer." With a perfectly harmonized title line, every seat settled back in silence. This one spotlighted Sims throaty and emotional vocal work that sent goosebumps throughout the room. The beginning chugged along and built steam with every stanza, finishing big and moving many attendees out of their seats to get down at the back of the hall. Showing again their love to engage with their audience, Adams took to the microphone, "That's a song from our top girl Gillian Welch. If you know who that is, you probably also have a shrine built to her in your bedroom too. Top girl, Gillian Welch."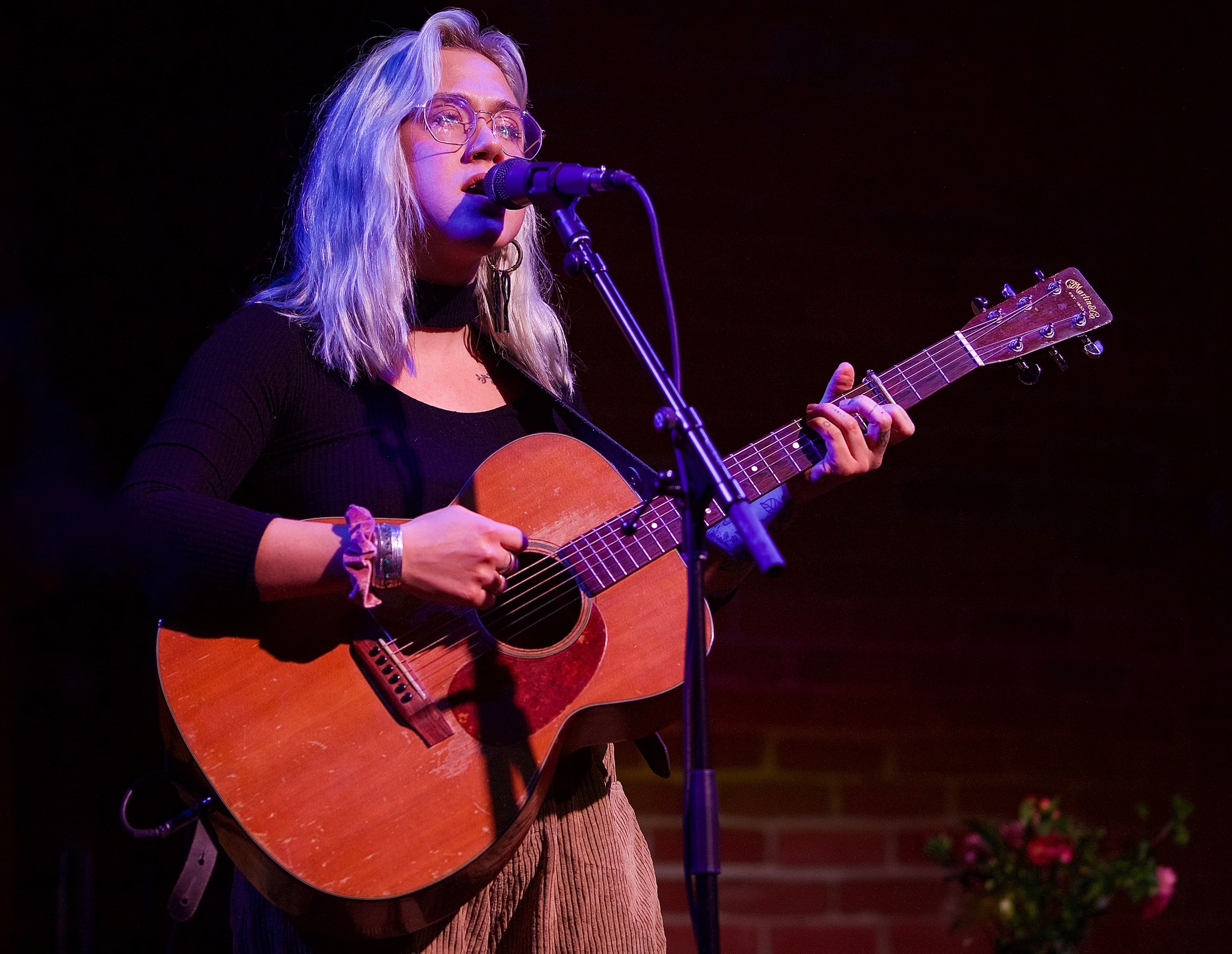 Adams continued: "We're gonna get Emma to break your heart here." Laying down the upright bass, Emma Rose strapped on the guitar and laid out a beautiful version of "The Blackest Crow" and unleashed her soft, sultry voice on the onlookers. At its close, the four left many wiping their eyes and their heartstrings strummed.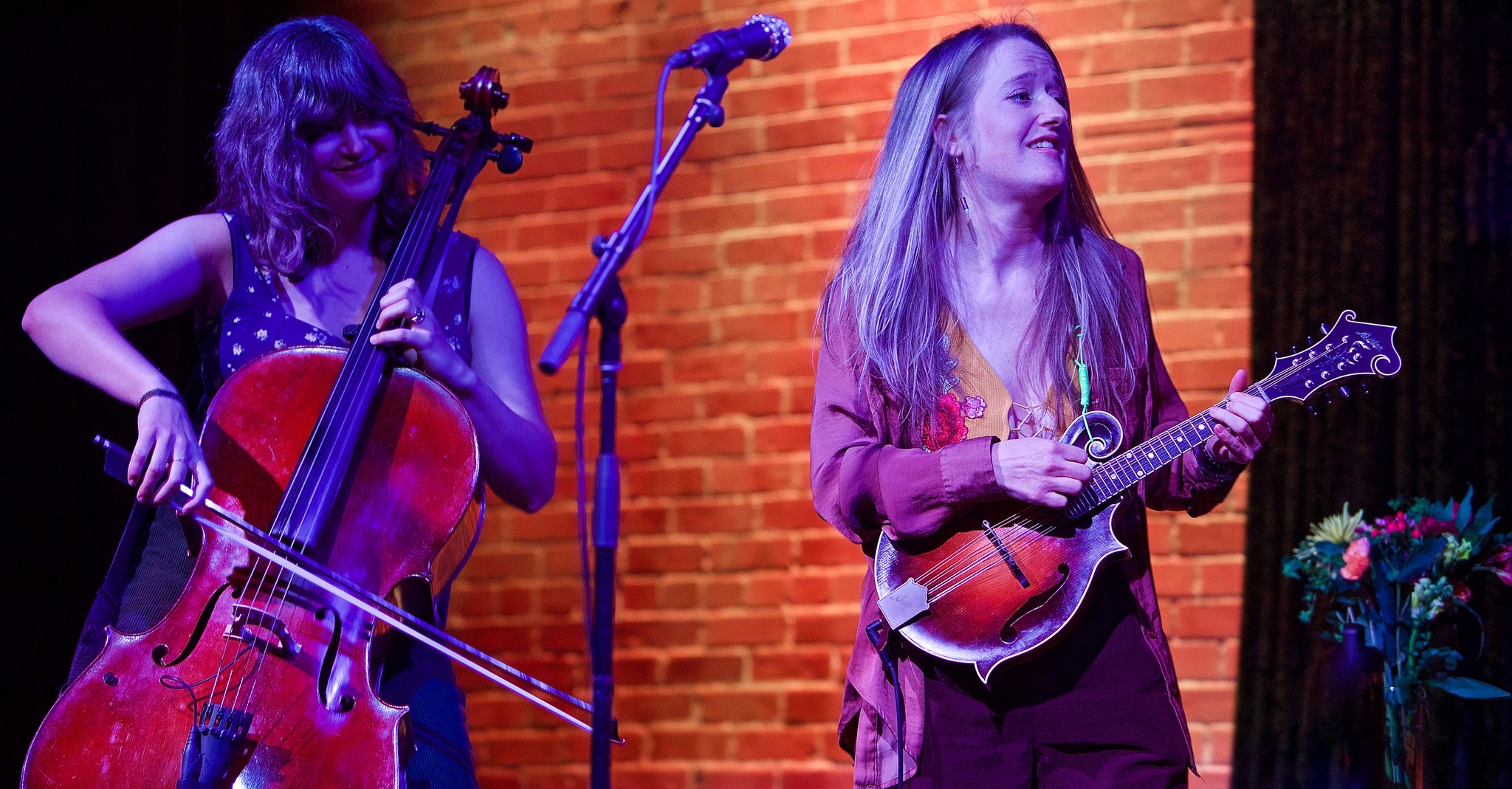 Making time for more banter, Sims and Adams volleyed back and forth.
BS: "We are going to feature our mysterious….," gazing down the end of the row at violinist Eve Panning.
JE: "We are just moving down the line. Did you think about that?" noting that each of the prior tunes' leaders followed the positioning of the members of the band on stage.
BS: "I didn't. We are. Lots of serendipity in this band. Just like weird synchronicity. But we are going to keep moving down the line here as Joy astutely pointed out. Dr Joy. You can call her Dr. Joy Adams."
JE: "Please don't."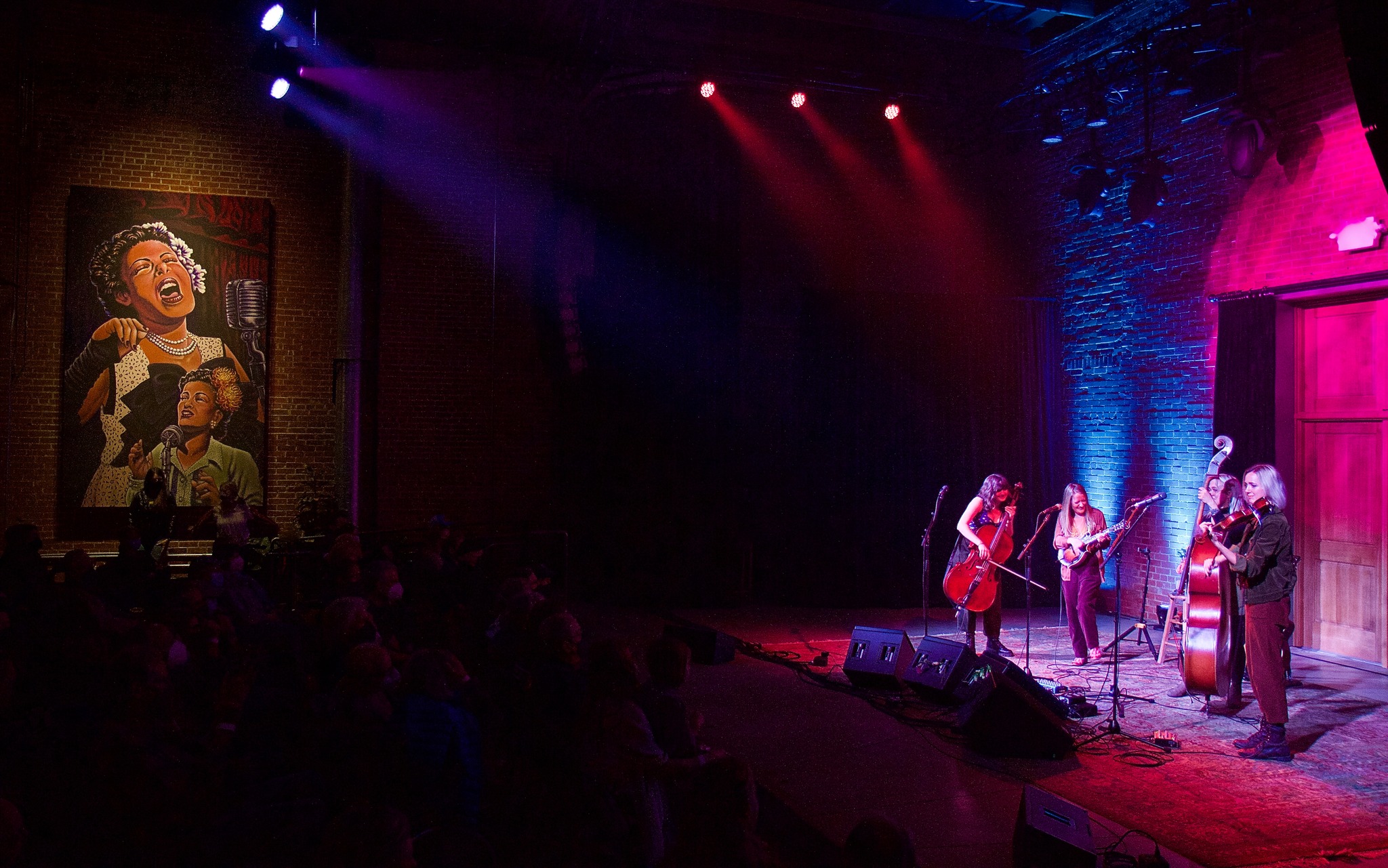 BS: "But You can. She doesn't want you to, but you can. Technically you would be correct if you did."
JE: "Correct, but I only pull it out when I need to. You know, when some middle-aged…. uh, I'm just not going to go there. Well, you know, when someone is trying to show me a chord…."
BS: "They're like "did you bring a DI?"", Sims imitating a middle-aged music head.
JE: Continuing with the Sims emulation, "So if there's a C there, it's a C chord. You can put anything from a C major arpeggio there. I'm like "I have a Doctorate in Music. F&ck you." That's what all that was worth. Ten years of college so I could say that."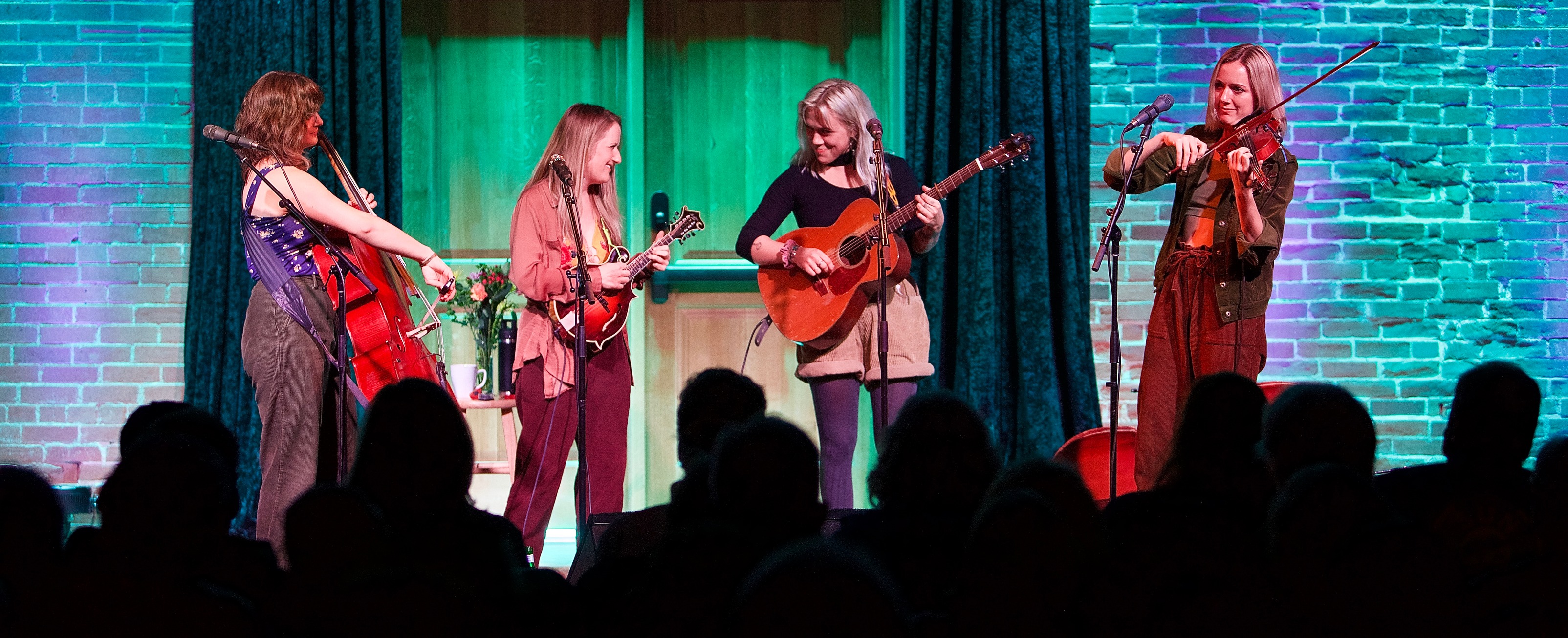 BS: "So you could just burn people when they try to school you. She carries a mighty weight."
JE: "This is what you have to do to be taken seriously sometimes. Ten years of school."
BS: "The other end of the spectrum, I have an Associate's," Sims proudly stated. "That's only two years. It was a long time for me. It's like a doctorate in Bonnie land."
Leaving the crowd laughing once again, Panning shouldered her fiddle and continued the uplifting feel of the room with an instrumental that put her center stage to show her more than capable talent.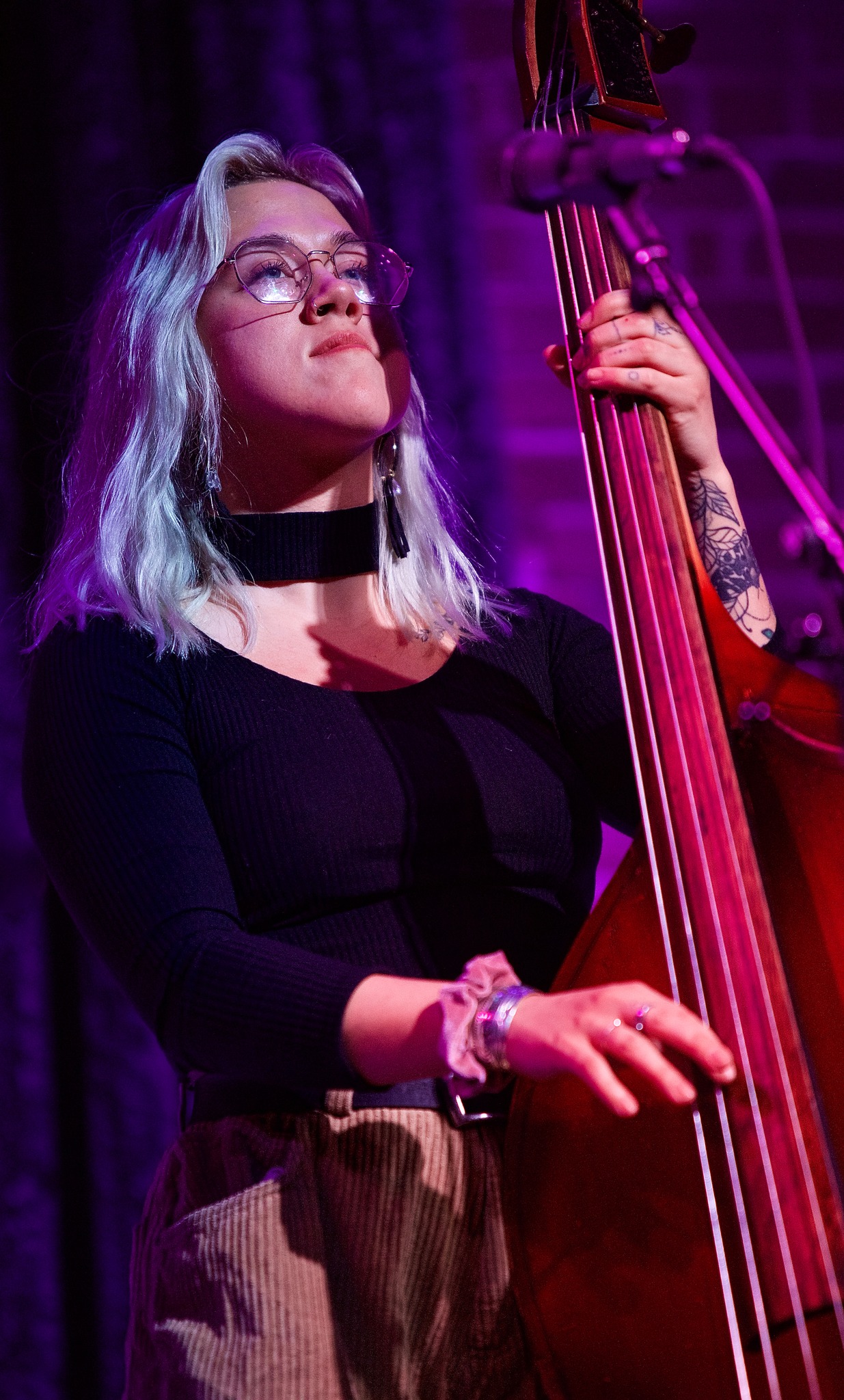 Taking her turn at the schtick, Emma chimed in, "We like to do a variety of things here at Big Richard Incorporated, musically and all other genres of things. We are going to play an old traditional song you might recognize now. It's by Britany Spears."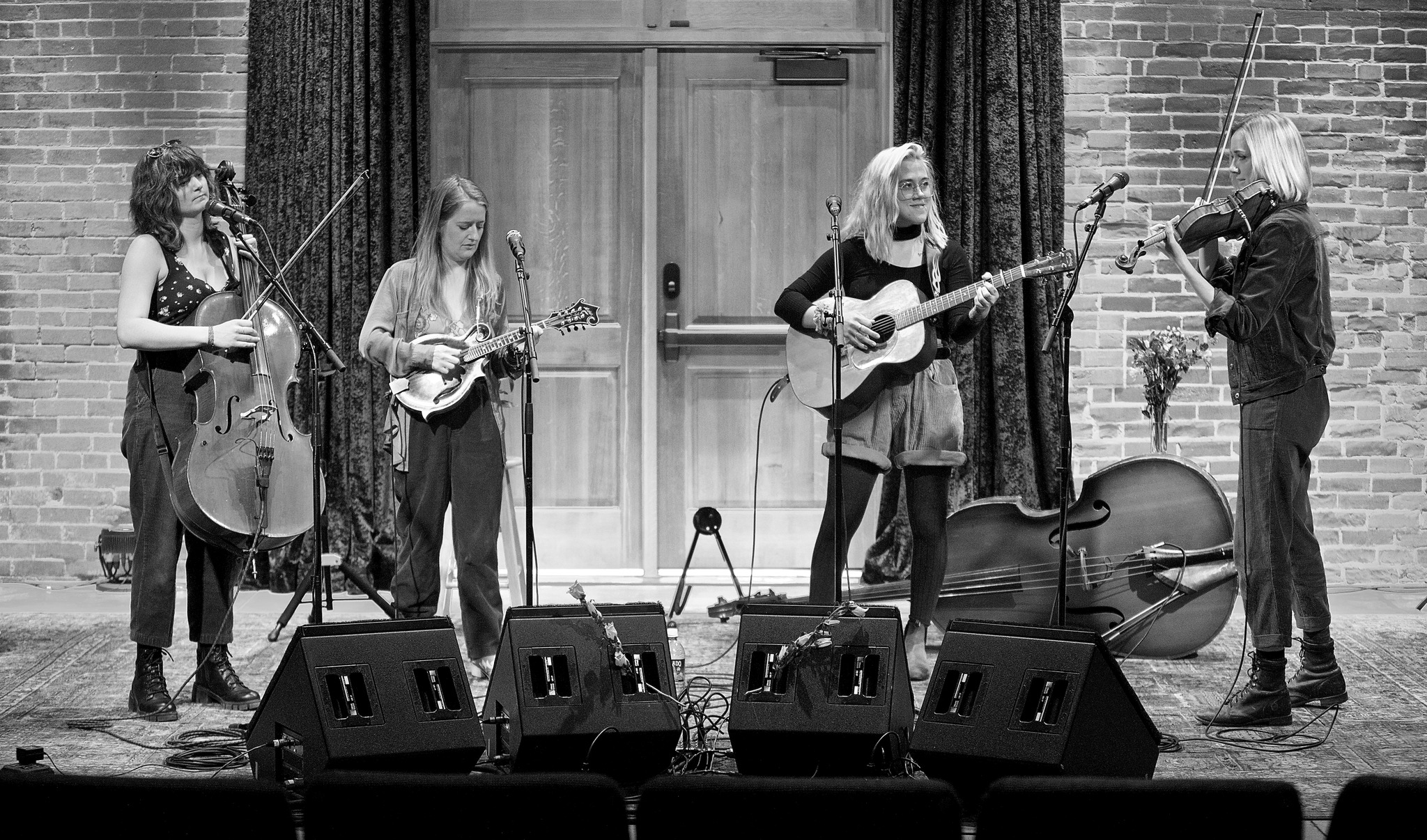 With that, Emma took the reins on "Toxic," which might have been the first time the tune had been performed in the bluegrass world. As with all things Richard, the quality was of the highest degree and had anyone who was once anti-Brittany rethinking their stance on the pop star.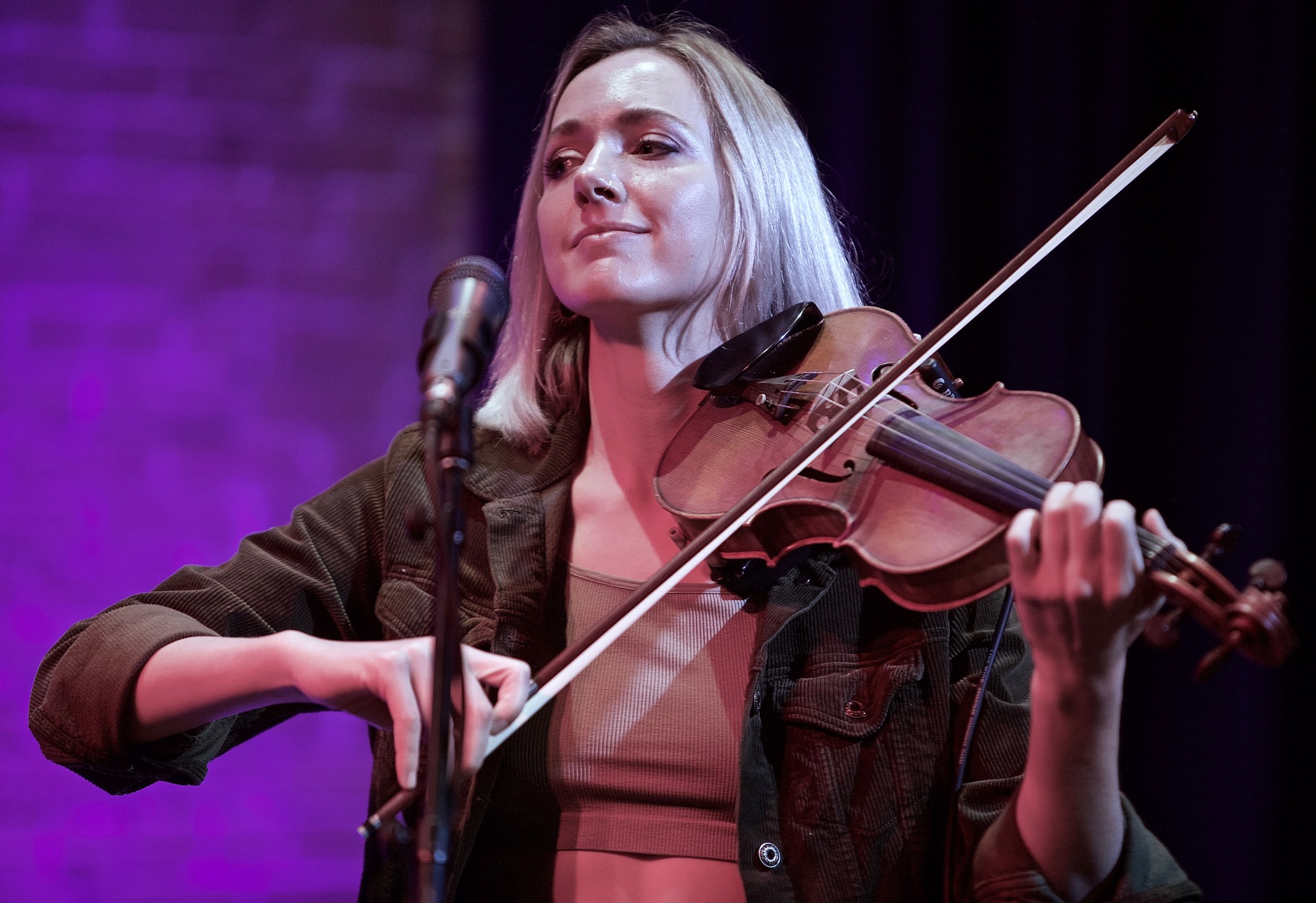 "Oh, The Dreadful Wind and Rain" was the next choice. Panning alone provided the structure, while the other three focused on vocals. The product: a chilling presentation of the traditional number.
In perfect juxtaposition, the Jimmy Martin classic "Hold Watcha Got" shifted the feeling in The Armory from morose to upbeat and infused the room with cheer, getting many listeners back up and dancing once again.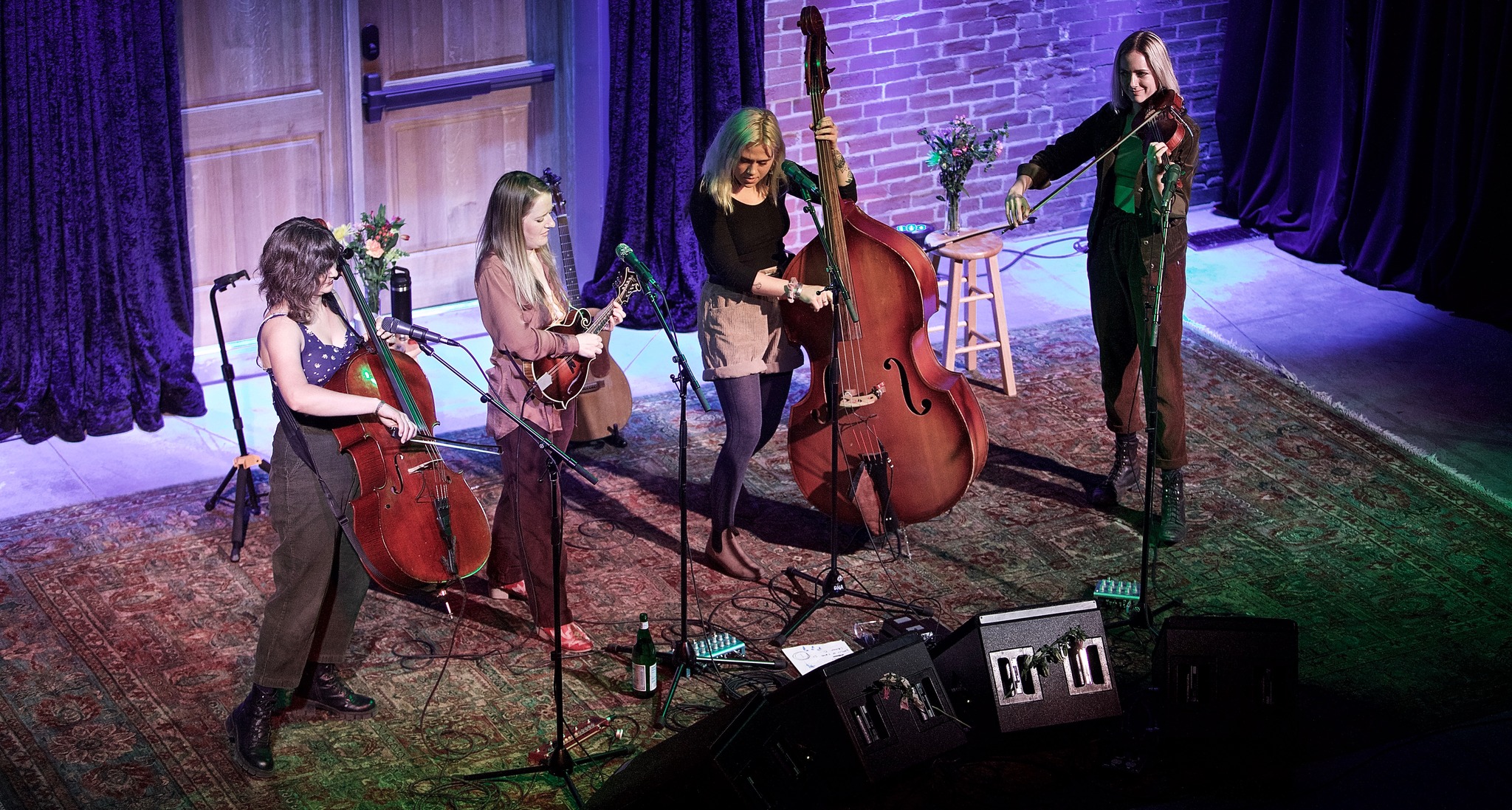 At the close of the song, Sims returned to the microphone to introduce the next segment of the evening:
"This band is a relatively new band. We are almost one year old. In May, we will be one year old."
"Happy Birthday!" shouted a voice from the crowd.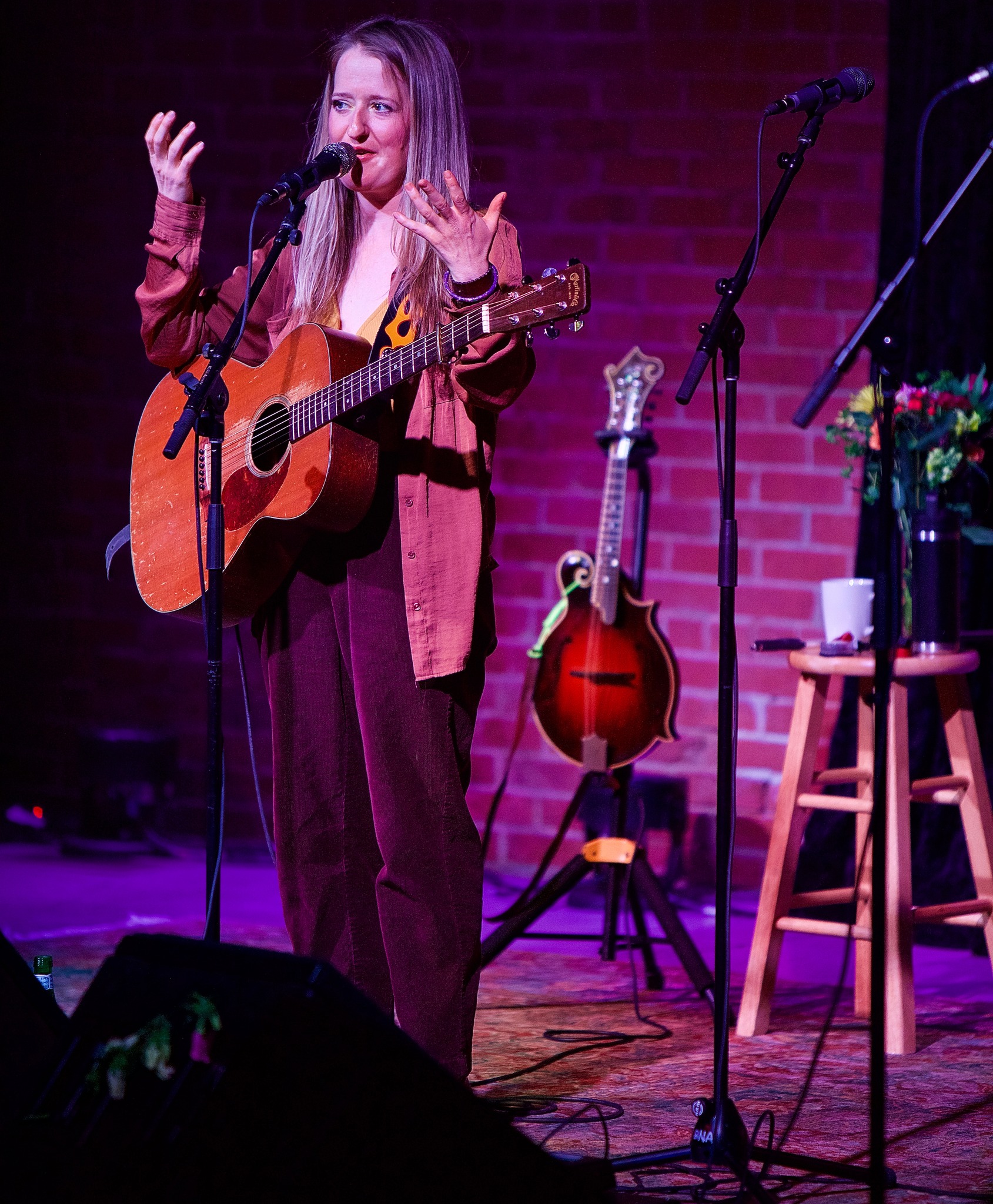 Sims addressed the well-wisher, "Thank you. Thank you so much. Part of the allure I guess or the motivation of us to play together is that we each have a really strong leadership and solo ability and so we wanted to showcase that in these more listening room type shows. We are going to feature Joy Adams on this first piece."
With that introduction, Sims, Rose, and Panning left the stage, leaving Adams and her cello to it.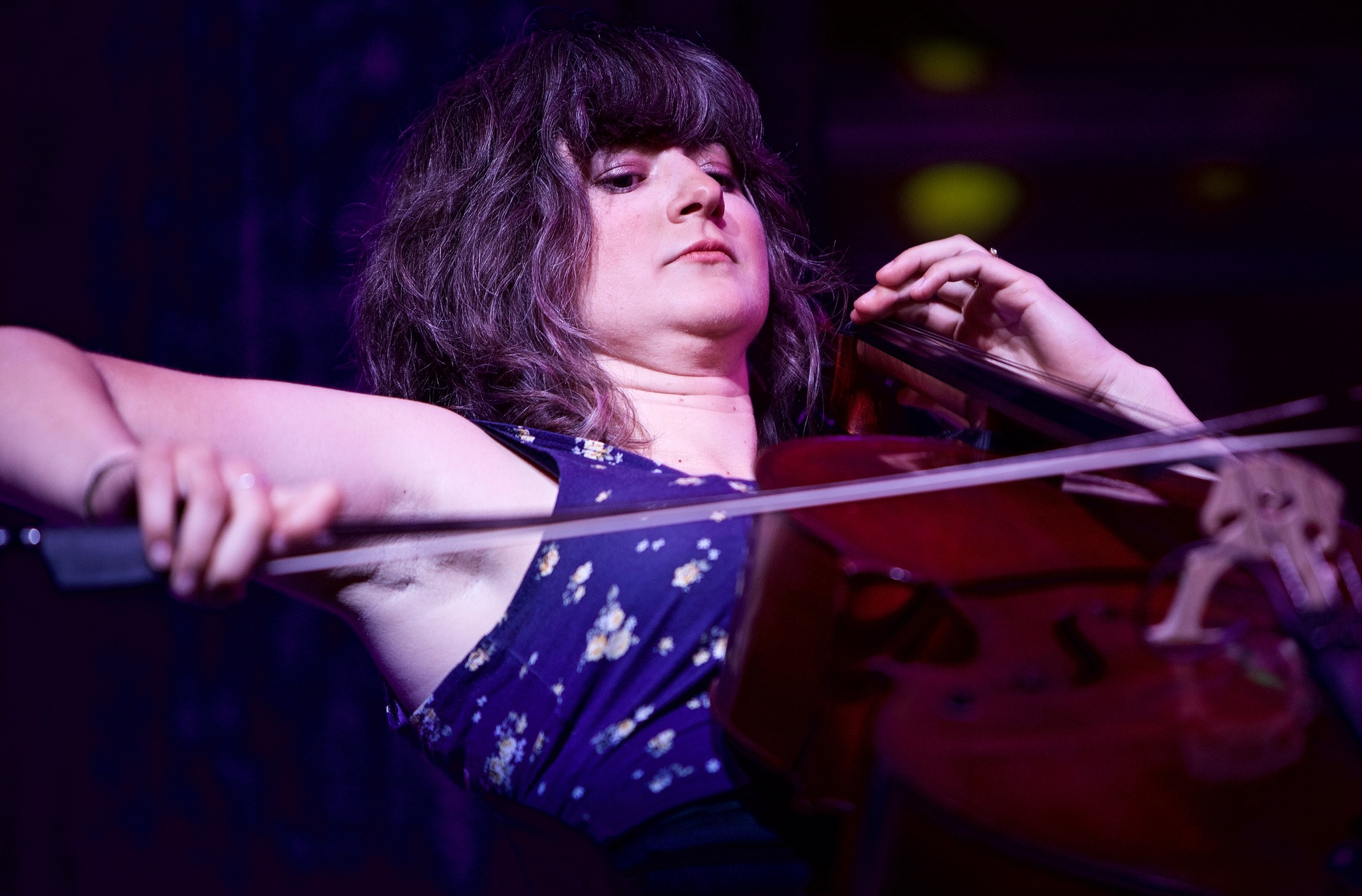 Adams introduced her tune: "I'm going to sing a song that was hard to write and I got really stuck on it. A very close friend, Ariele Macadangdang, who not only has a great last name, but is also a great songwriter. She helped me finish this one. I once made the mistake of singing it at a fiddle camp in Montana and totally got fired. I don't think it is that bad. "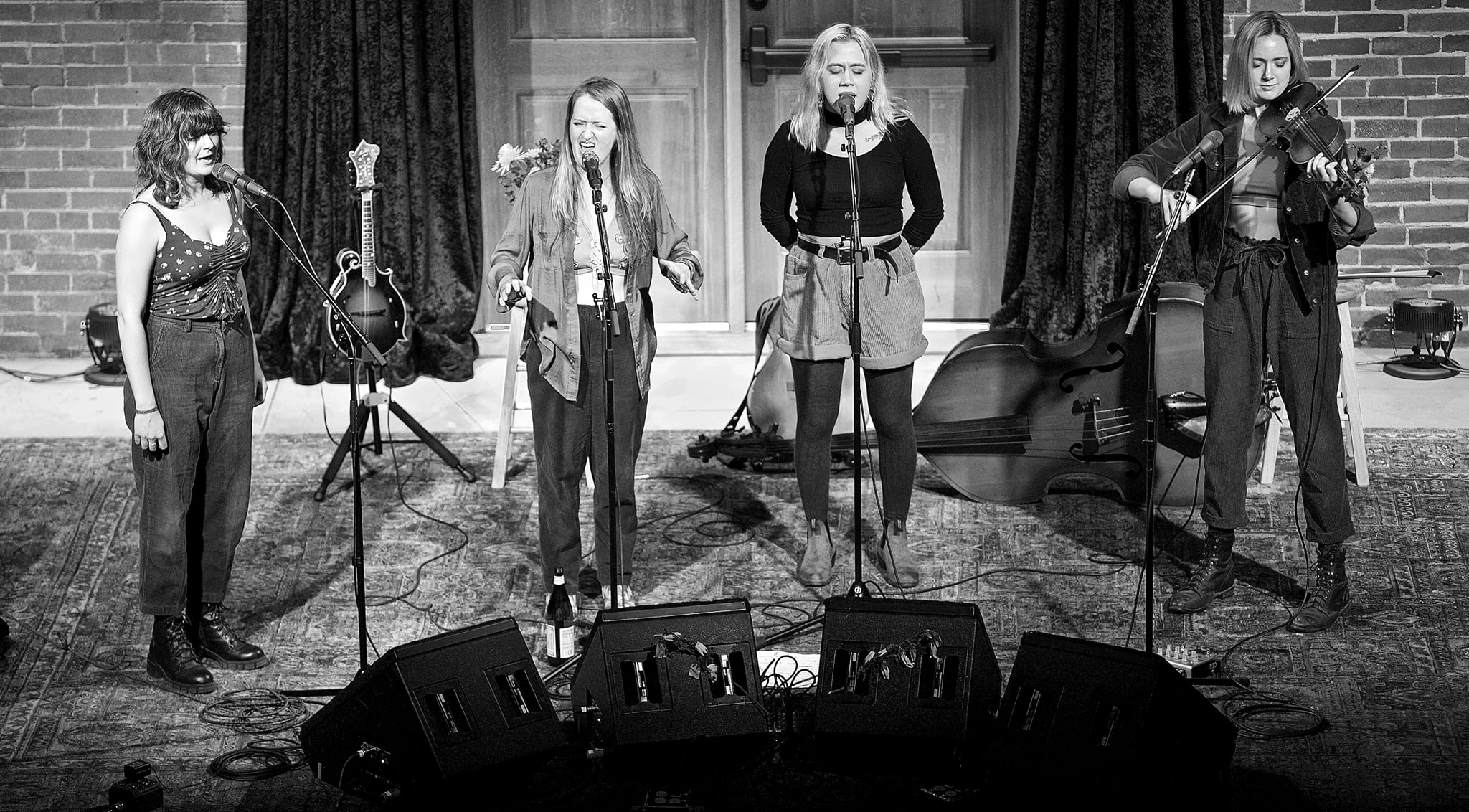 Although the name of the song was not shared, this piece was enchanting and haunting (according to Bonnie Sims) and Adams' vibrato vocals and masterful playing alone in the spotlight truly revealed her standalone talent. Receiving a warm applause for the "fireable" offense, Adams left the stage with a wide smile as Sims took her spot center stage.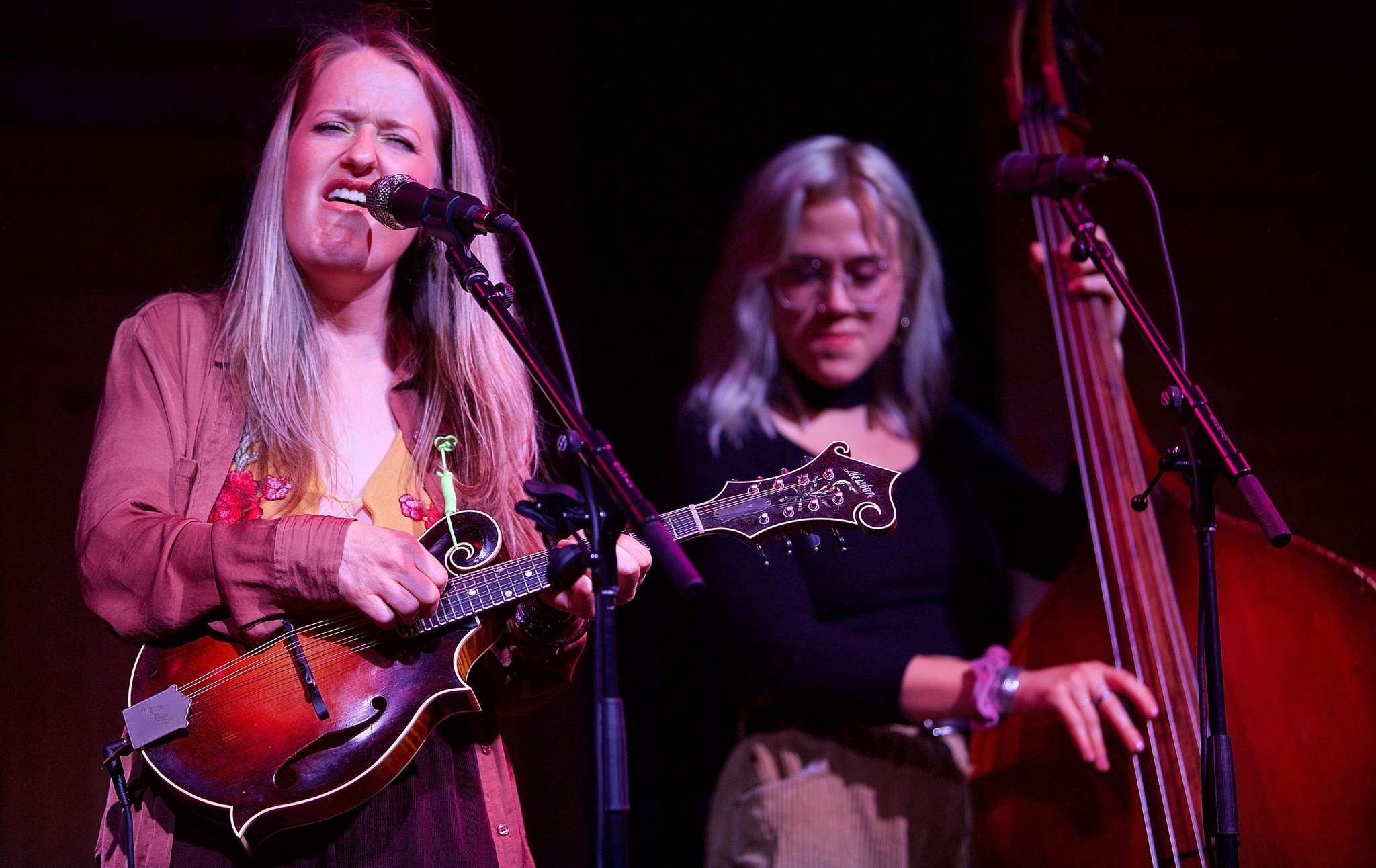 Never short on wit, Sims gave a little insight into her creative process: "Alright, well. This is my favorite part of the show because I get to see these gals do it. I am going to sing a song I wrote about myself because that's what I usually I do. I'm just a self-involved artist, trying to talk about my feelings. I can't afford therapy. I'm trying to sort through sh!t up here with a microphone. So here is a little therapy sesh just between us."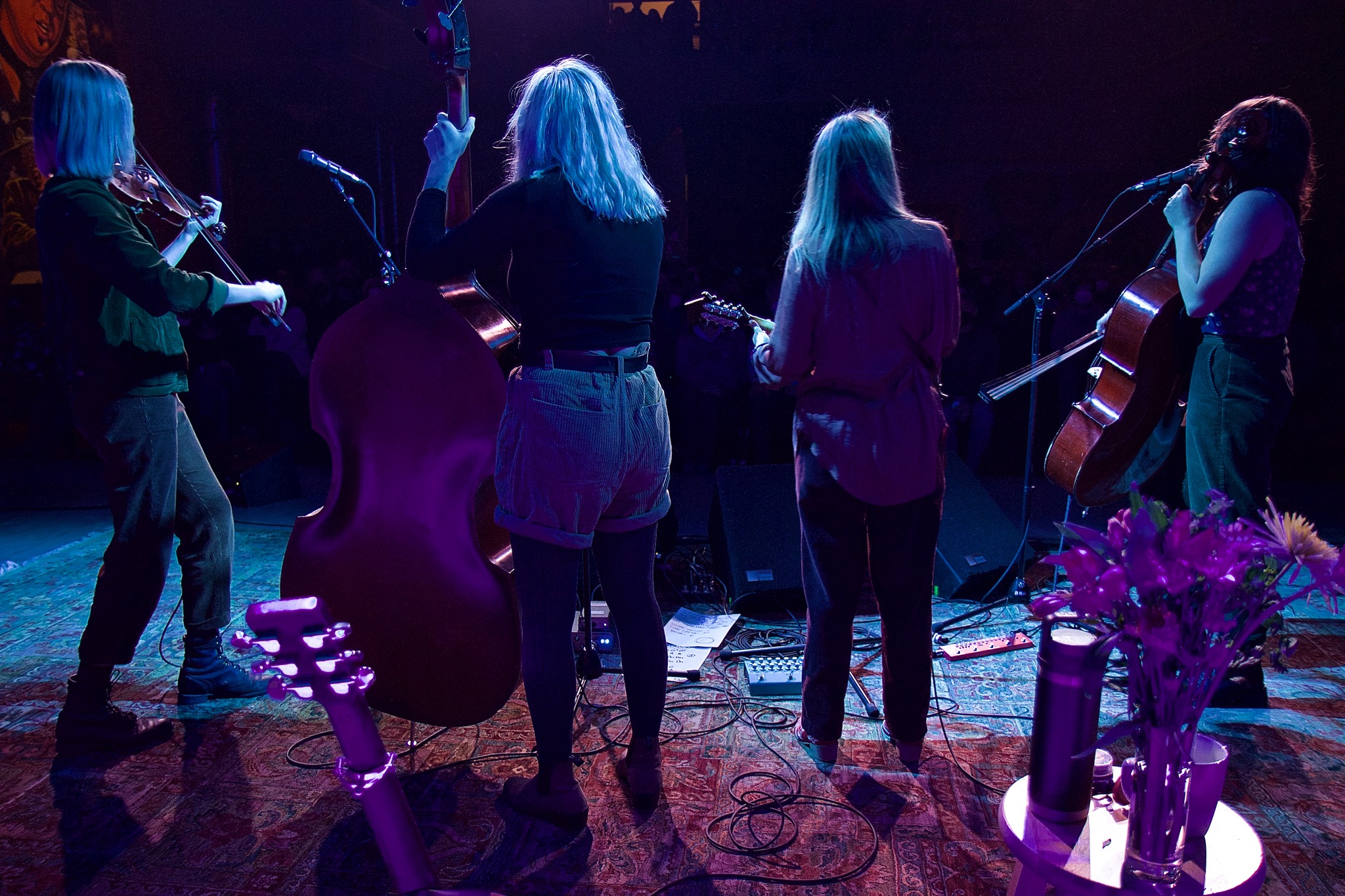 Taking her turn at the helm, Sims reached for the guitar and gave up "I'm Not Enough" from her catalog of originals. This one spoke to the insecurity in all of us amid change and growth in the face of future uncertainty. For all of her boisterousness, this one humanized Sims in the best of ways. Sims thanked listeners and welcomed Emma Rose.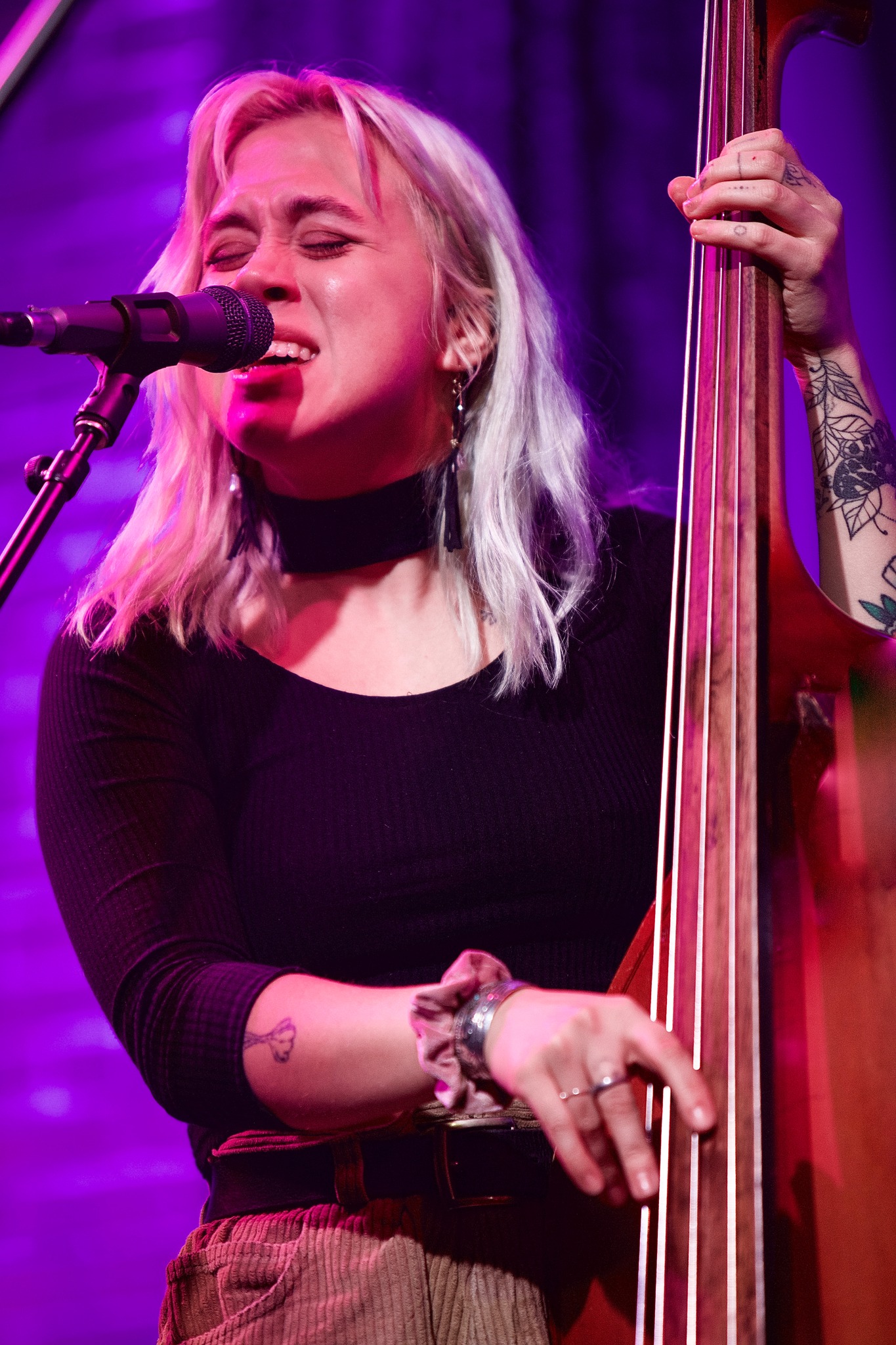 "I would tell you what this song is about, but I don't really know," was Emma Rose's only quip before starting her selection. Carrying hints of Joni, Rose gave up a great piece of artistry to the silently seated as everyone absorbed every note of her siren love song.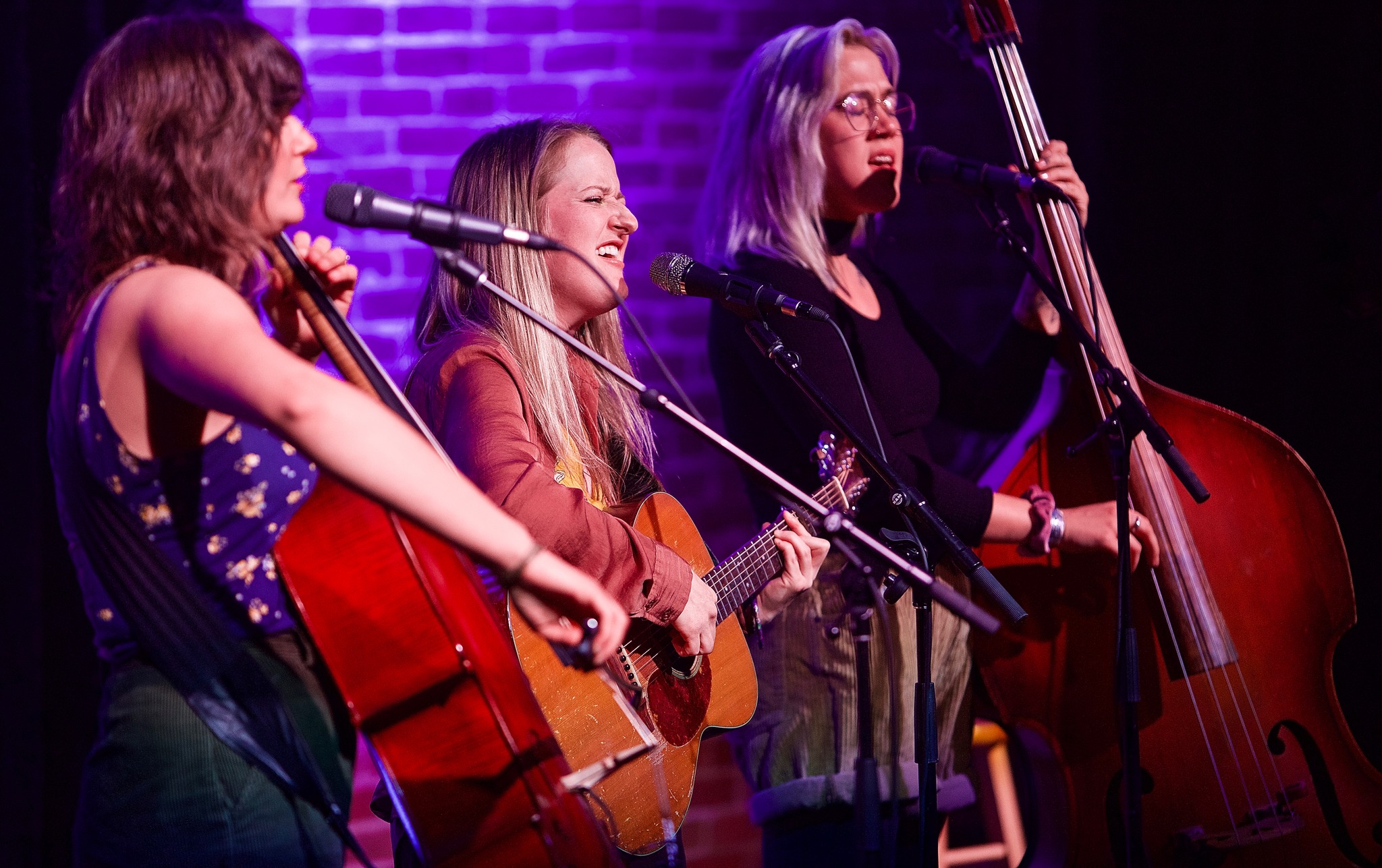 Closing out the showcase, Sims once again addressed the hall. "We are going to do a couple more songs and then take a really short break and then come back and do a whole other set. You guys ready for set number two after this, right? You are in for the LONG haul with Big Richard. It's going to be LONG. It's going to be HARD. It's going to be BIG."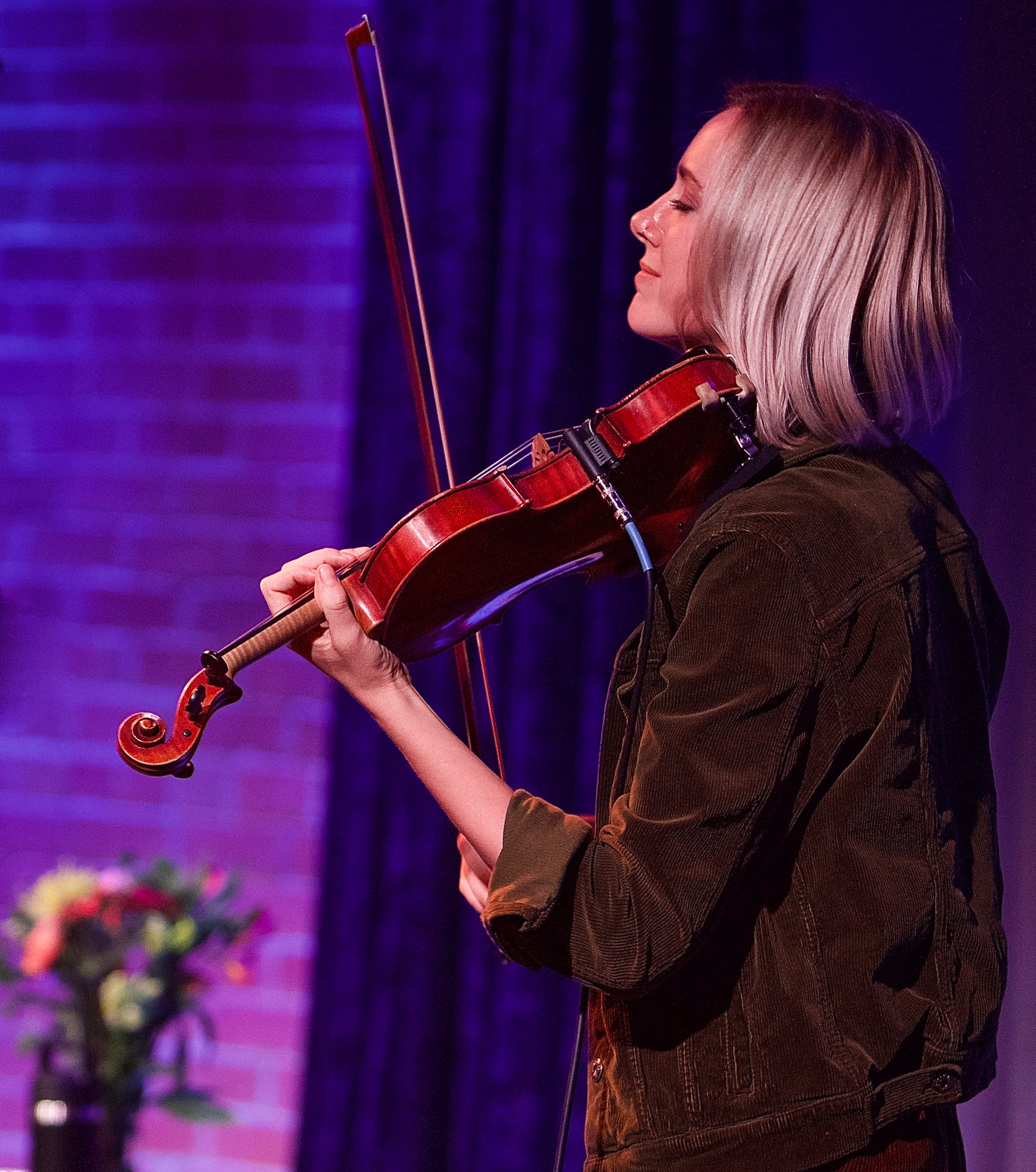 Pulling from the Godfather of commercial bluegrass, the foursome whipped out the Bill Monroe / Peter Rowan classic "Walls of Time." Offering up a solid version of the recognized piece, it was great to see four ladies legitimately represent a song by an artist who was known for not wanting to collaborate with women during his time. This unspoken aspect once again reinforced that these femmes fatales take the backseat to no one.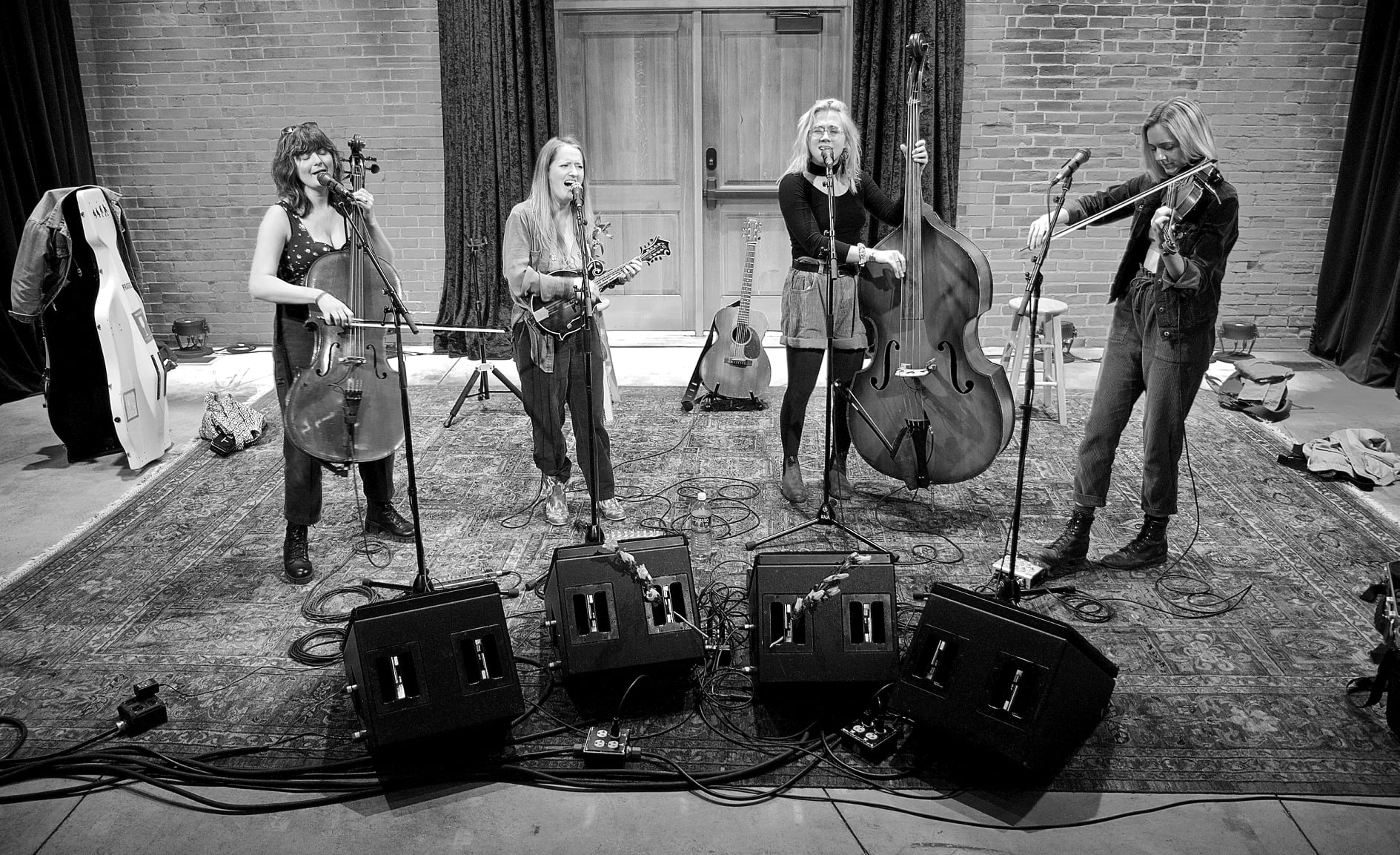 Before cutting to the set break, Sims took one more opportunity to laugh along with the crowd: "We get all kinds of questions being an all-female band called Big Richard. We try to answer them the best we can with the least amount of curse words. I think this final song explains it best personally so we are going to sing it for you."
Keeping to the traditional theme, the set closed with another bluegrass classic in Radiohead's "Creep."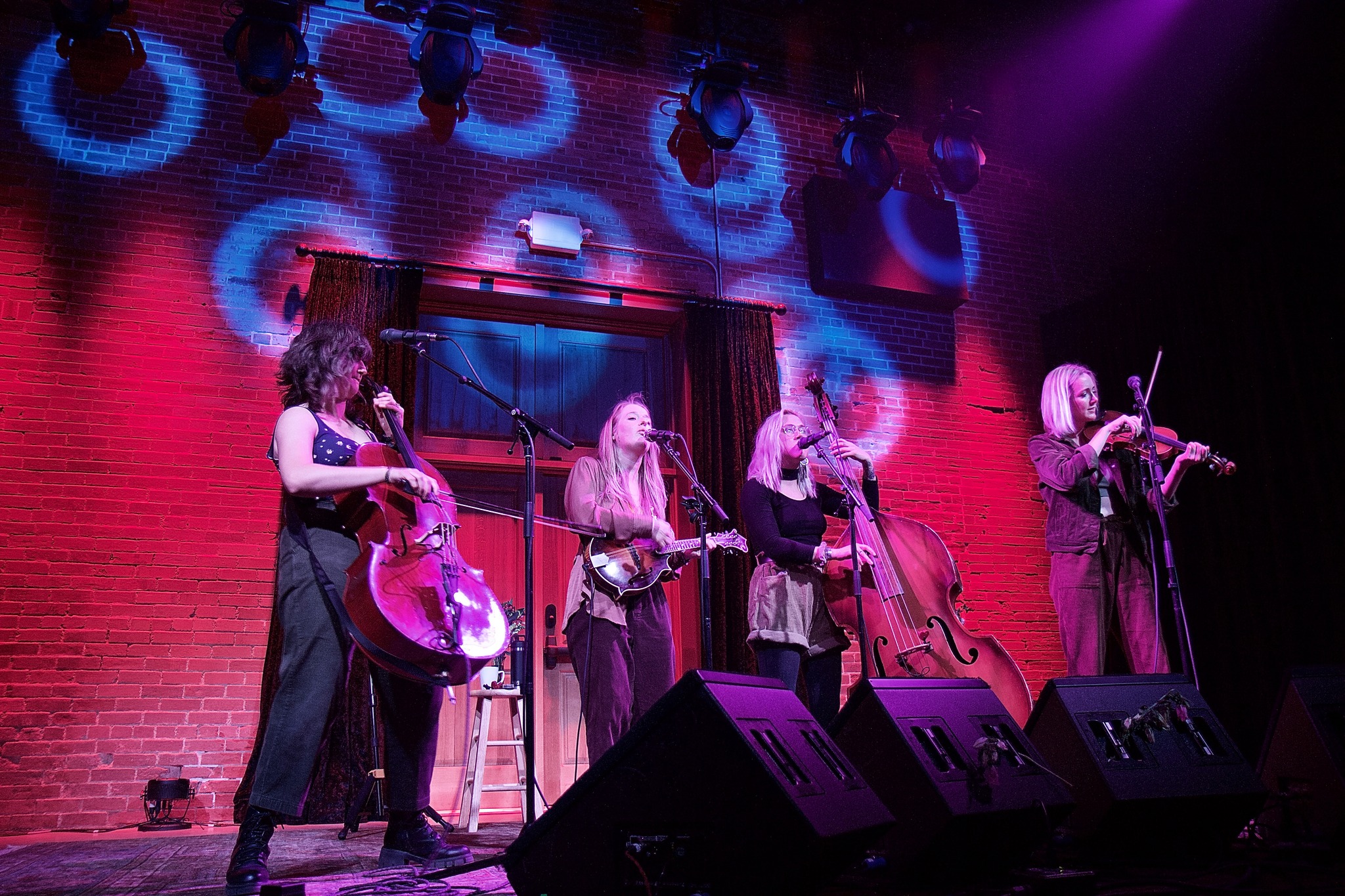 Several points can be taken away from seeing these proficient individuals. Their intoxicating chemistry, accentuated by a palpable kindred dynamic of balanced seriousness and triviality is a breath of fresh air. The delivery is authentic, and they easily pull their audience into their world, where they are celebrating life itself, their accomplishments, and enjoying the ride all the way through. They honor the good names that have influenced them and bring enough unique style to their readings that even if the tune is a common cover, anyone paying attention can easily recognize their sincere infusion of creativity and a drive to make it their own. Although some might consider their banter crass, referencing the obvious connection between their name and genitalia, these amorphous angels aren't trying to sell anything but rather ascending themselves and the audience to a place free from conformity and expectation. Instead, the goal is a good time shared and to leave the venue, whether listener or performer with a soul full of laughter and a little more joy in the heart.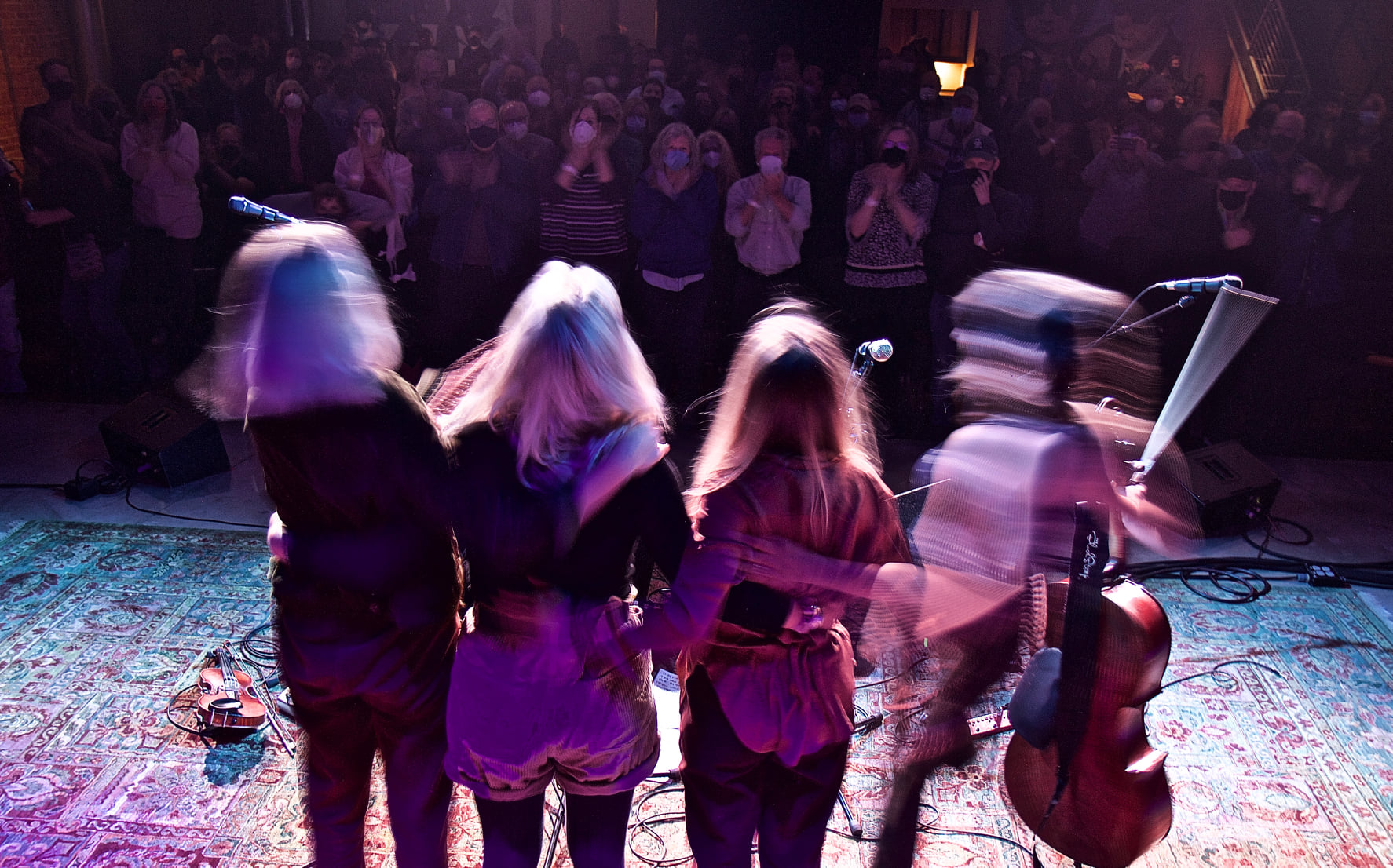 In creating this review, the intent here is to give a glimpse into this new experience that has graced the music scene. Set two carried more great music and comedic eloquence, and although writing about it would shine more light on the creativity of this fierce some foursome, seeing it firsthand is a must.