Beatnik poets gave way to Merry Pranksters gave way to a Long Strange Trip that we are still on right now today. The wheel is turning, it can't slow down… In homage to Yonkers born almost 102 years old Beatnik publisher, Lawrence Ferlinghetti, I give you my stream of consciousness notes to the best show I have seen all year long. Billy Strings Deja Vu Experiment at the Capitol Theatre in Port Chester, NY on 2/20/21 was one of a series of six shows that was truly unlike any show I've ever experienced.  Things are changing so here is a review like I've never written:
We acknowledge the Munsee, Lenape, and Wappinger peoples and thank them for the energy of the Capitol theatre once before 50 years ago the Grateful Dead did their shows and now again Billy Strings does his shows. Are you experienced? It crunches like a chee toe.
GD XM dude presents the qualifier introthe senseless decisions of somebody's wasted desire… PLEASE PLAY AWAY FROM THE MIRE
I must say I've worked my ass off to get front-row seats where I can actually sit down and enjoy myself. SO there is that. Opened with a Billy Strings original Running, yaaaaas. Makes me want to build up my home theatre system a little better. I need it louder!
The dead silence between songs is so weird you better applaud to fill the dead air. And so it begins, I am hootin and hollering in my living room like I thought only weirdos did. 3rd song in, his fingers are warmed up
Always analyzing that setlist and why - It has got to be more than this song is in the key of G.
Love that old theatre - so strange seeing it empty
"A little grass for that ass" on that carpet. Is there carpet at the Capitol Theatre? Is that a lighting effect? Never cared much about the appearance of the floor. Come to think of it, I miss the crunch of the floor. The bounce and sway. The inevitable grime on my shoes. hyperfixation on dance floors right now. 
Royal on vocals Mr. Charlie - the hip shake the consenting groove thru the crowd...
The bounce and sway as one people, the sticky floor, the ebb and flow...
The smell of beer the loud talker, the photographer, the crew, the fam, the love...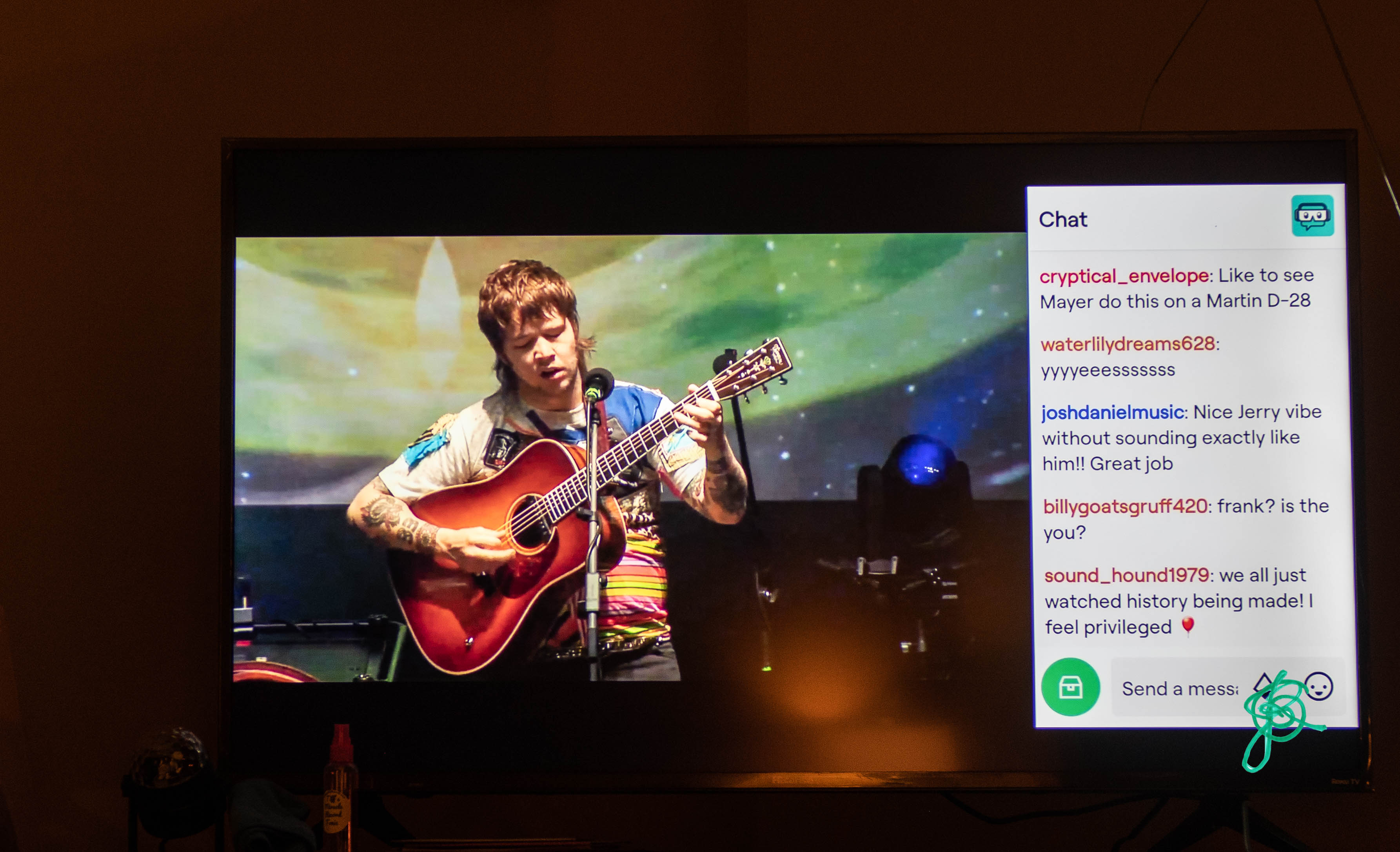 Then again, cheap beer and my dog! Cleanest bathrooms I've ever experienced at a show!
I'm easily pleased and the quality is improving - so is my carbon footprint, I guess.
Mr. Charlie is a boogie. Emoji emoji emoji!
Fans.com zoom dance party - Mandolin's emoji options for those that don't move around too much but still want to boogie. It is 2021 man. Woah.
Run Down THANK YOU JEFF - last year Billy wore his custom design jean jacket bearing an amazing portrait of Jeff Austin as he handed out hot chocolate to the crowd waiting in line. Seems he will take any opportunity he can to speak his name and keep Jeff Austin's light warm and bright. So much pain, I wish it could have been any other way
Washed ashore
"Make sure we're in tune for that guy on the internet" - Billy Strings
Accapella. This boy has pipes. Deep good true singing pipes. 
Riding with the wind she's come & gone again
Cat Stevens cover? Chat and dance is blowing up, yup. Cat fucking Stevens!
Blue Mule - Old & In The Way showing off his vocal chops. Pick one, sing one pick one, sing one…the games his poppa taught him have served him so well in this life.
45 minutes into the show and they are more than warmed up. Its starting to get trippy.
Thank you Billy Strings
I think I have worked my ass off for a front-row seat I could sit down and enjoy.
Thank you Billy Strings You took it next level. Everyone wants to be shoulder to shoulder with you at a Greensky Bluegrass show but until then lead us to your fox den.
I remember when I had the chance to sit next to you at City Winery when you opened for David Grisman. It was a fancy place with fancy wine but you ordered a tall boy PBR. I have seen you at John Hartford Memorial Festival, all sweaty in your vest. This ain't the same but it'll do son, it will do just fine. For a Saturday night in February, the commute was enjoyable and the parking was swell. Withers! Bring the car arround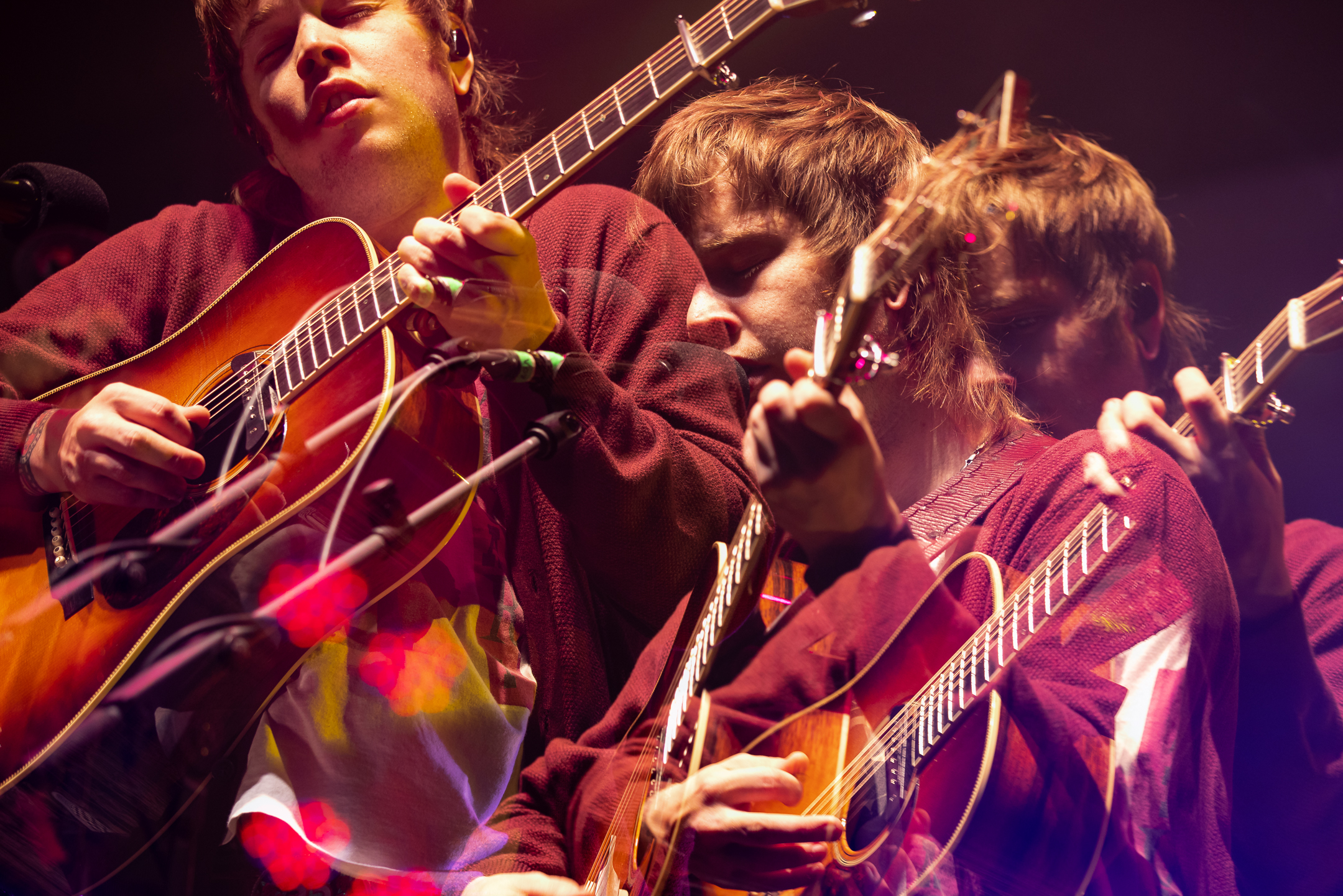 Thank you Billy Strings
We all know the twang> the whomp and the thump is the lump in our throat when the lights go down for the show to begin. Don't give up on us!
Thank you Billy Strings It may be like watching a show strictly on the jumbotron but the bathrooms have no lines and they smell pretty great comparatively. 
I'm really hoping to hear Billy's song Away from the Mire tonight. This extended jam has me forgetting what he was playing and hoping to pick up the minor key of that song. Just give me one note of Away From the Mire and I will launch a full-fledged freak fest in my living room. It sounds grungy and heavy and then Billy belts out a Ralph Stanely call that lasts throughout the echoes of the universe world wide web bounces back. I hope he can feel the funky party happening all around the world with and for him.
Set Break****
Finally figured out our preferred lights and living room mood.  The cats on the zoom dance party are dancing with brooms, decked out in costumes. To the folks in the hot tub, you are doing it right! Hi! My name is June.
Does the set break have a timer?! If this was a true Grateful Dead recreation, there would be no such clocks for a 20 minute set break.  Ha ha ha
Live streaming means art comes from where it lives. It's kinda nice to see musicians that have been home recently. It's nice to see them decently fed and looking mentally healthy. I hate thinking artists have to be starving artists to be any good. I am all about artists as the foundation to a well fed society. Shout out to Bread not Bombs, love you guys. 
Mickey Hart & Stanley Krippner pop on the feed to explain the ESP experiments well well well! I like this online business!
The Grateful Dead would send thoughts to a group of 5 sleeping people in a dream lab - one of which was Richie Havens - they would all transmit their thoughts of an image - a woman with water from a well and send it to the sleeping people in proper REM from dark star land. Music creates a virtual space - even before a virtual concert such as this. Music has plenty of power plus a lil psychoactive drugs… What a playground! Man, I love Dark Star Land.
In transcendental dreamscapes the power of unconsciousness was conscious.
Mickey telling stories of how it used to be - making complex rhythms at the apartment and how those moments came to be- I also, hang out in apartments.
Dennis McNally interviewing Mickey - he asked, "How did you know you had what it takes to be a band? When did you realize you had something special?"
We were just a unit with no blame. Expose yourself! do you want to do this? We had synergy - sharing a brain wave function
We believe in frequency and content of sound - ya know, MUSIC. What are you sending? Beta waves? Theta waves? Gamma waves? We and the audience became one an organism - a living breathing thing
Stanley like some musical guru of Steven Hawkins status explaining Grateful Dead science - he has a website called Grateful Dead Sceintissts that includes scholarly articles about these experiments and the power of music - telepathy experiments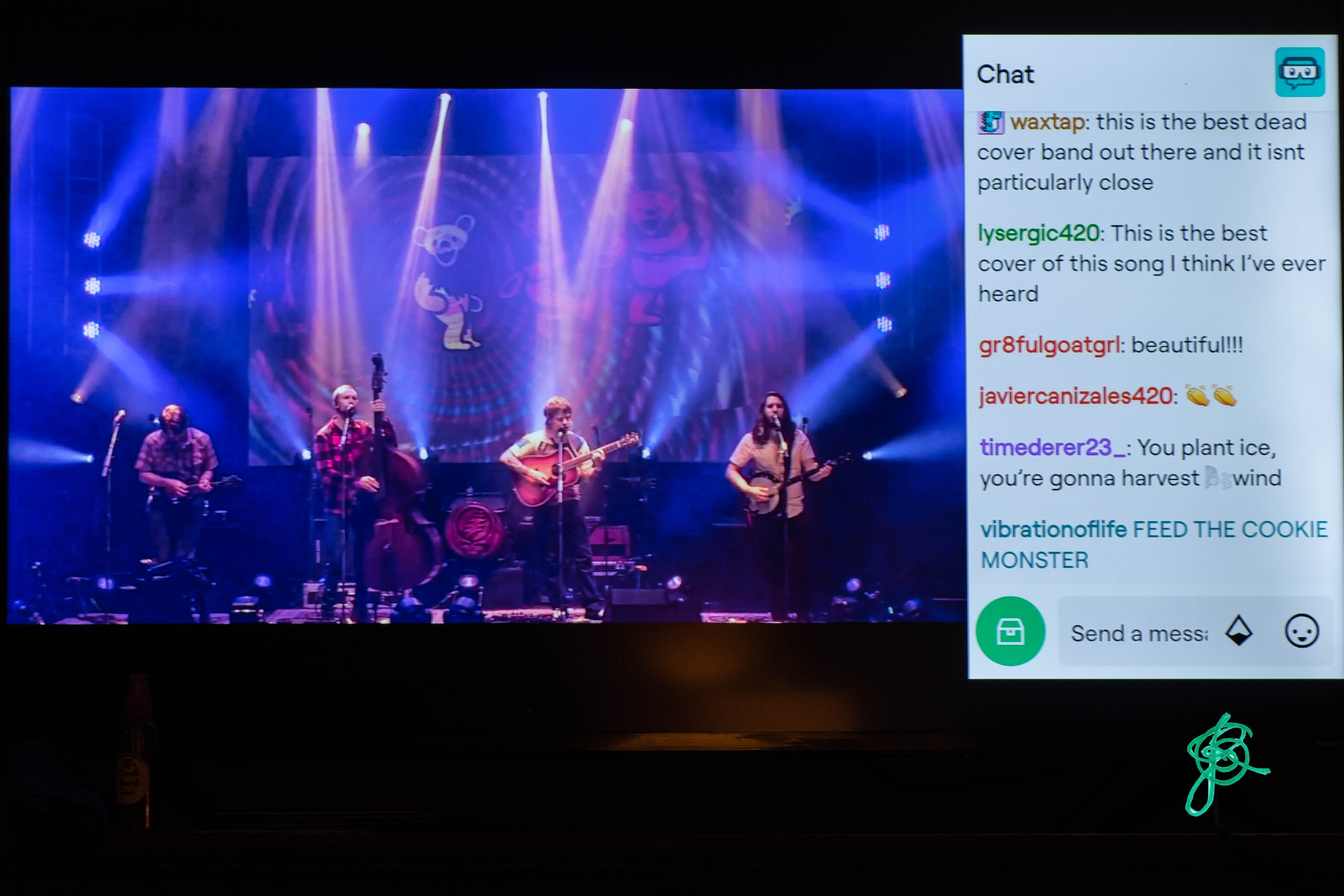 "The work endures" OMG the work absolutely ENDURES
ESP image of a brain to Billy & Jillian Nershi in Hawaii
Now at this point I have 2 devices all synced up to the strings experience (autocorrect wants this to say the experience of the strings. That is hilarious) - it feels like the fairy pond refilling me - like a power ranger suited up and recharged. I may be connected but I am not mindlessly scrolling. That feels good. When they speak to us and ask us to send this image to Billy Nershi, I have seen Bill Nershi play many times, I can picture him, picture Hawaii, picture this image and I give it a good think along with everyone else on this massive zoom dance party. Total Pooh Bear moment. Think think think. Back to the honey...
I can remember just under a year ago when the pandemic first broke out. I tried desperately to connect with other music lovers online. It was fun but it also felt like too much time online. It was disorganized. Sometimes I would dominate a chat, trying to egg the others online to type something, say something, are you there?! My hilarious banter was an echo chamber for the same 3 people. Shoutout to you guys for putting up with me but I did end up feeling socially awkward after a couple of weekends of that as my social life. This new format is better. New people! Beautiful people! Hi people!! The camera angles give me that "got lost going to the bathroom" view. I got that going for me, which is nice. Also, I doubt you could hit the bong at the Capitol Theatre, heh. They zoom in on Billy's checkered vans and away we go. Billy Strings has come a long way since the vest. His lil proper outfit served him well but daaaaang that mullet is everything
Thank you Billy Strings
You showed me that it's okay to order a PBR at a fancy wine place
Man! You KNOW that song would end in uproarious applause if there was a crowd there. It's nice seeing everybody and it's nice to be seen.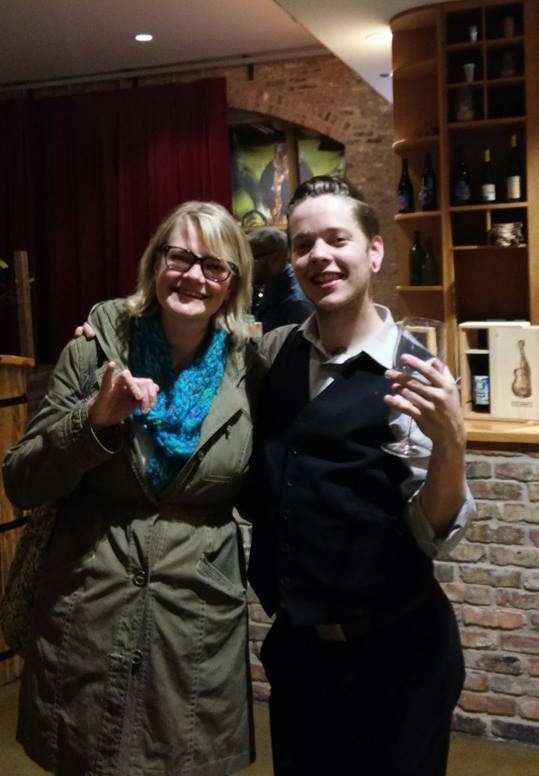 setlist: 
Running
Lonesome L.A. Cowboy 
Big Mon
I'll Remember You Love in my Prayers
Mr. Charlie
Run Down
Leaders
Blue Mule
Ernest T. Grass>
Little Maggie
set break ESP experiement
Black Clouds
Slipstream>
Dreadful Wind and Rain
I've Been All Around This World
Show Me the Door
Hobo Song
Train Train
All Fall Down
Late night with the Kitchen Dwellers
Can't beat the parking or the cheap and easy commute home
Wind and rain dreadful calm - lonesome prophecy - Ginsburg Grisman
"I don't know how songs can be so creepy and beautiful but it's definitely a vibe." Billy Strings
Young Drew Emmitt on mando Git it Jarrod
I went to the bar for shots - no line!
Old & in the way - like an old friend Saturday night and the Pizza Tapes
You can hear Billy's lyrics clear and crisp - did he change the lyrics from injuns to what? Robins? It's crazy I can hear this well! I could see him being intentional like that. Gawd bless the intentional consensual reciprocal men. Namaste.
"There is a lot of magic in the walls here. I go to take a piss like, damn! I bet Janis Joplin pissed here too." - Billy Strings

Train. Stop motion video effects are cool. Glitches are not.
Gawddamn that kid plays fast
There are a lot of us fearful that caring and kind memories like this may not survive. We are still here.
Thank you Billy Strings
You play superhero to those of us who need a scapegoat, some symbol of happiness to pin our weird shit on as we work this shit out. Keep it funky.
Crazy trippy skatin grinds at the bank parking lot vibe
Every theatre in the USA has to be so clean right now. I've never seen the floor so clean - never really seen the floor. What a crazy way to see a show.

Music is experiential
It's so kewl how Billy can take us backstage. Up the stairs, you see the framed photographs of performers that have been there in the past.

Bill & Jillian Nershi on zoom with Billy & the boys - what did they see?
They thought they saw a ghost. Bill Nershi had a strong memory of skiing in Alta UT coming up the lift and seeing a sundog in the sky - the ring around the sun that bounces light off particles in the air. Jillian saw a waterfall with straight lines and wavy curvy images surrounding it. Very close to the image of a brain that Billy had us send them. Different in the matter (huh uh huh huh I said brain matter) but not different in design. She drew a sand dollar - a circle with lines zig zag inside it. I sweartagawd Jill saw it. She said "Well, he and I share a brain. We say that all the time." Billy gestures what he saw more than says it
A really fun experiment indeed. My curiosity is piqued
We are not playing to a live crowd but we are all together, a live organism
"They all need to be inside, that's the infinite." -Bill Nershi
Dude. wish we were all inside in Hawaii but some of us live in our mom's basement. Jus sayin.
Bruzza drew a mushroom on the bottom left corner of the page. The image was a mushroom. Oteil drew an owl when the image was an eye.
"You can connect the dots. We are getting stronger!" -Billy Strings
"People ask us the time, it's aloha time." -Bill Nershi
"It's cold as shit up here." -Billy Strings
"Good food, fresh fish, play music all day but I sure do wish we could have seen the music." -Bill Nershi
"Yeah, we played Black Clouds!"
Watching this video chat proved to me that all video chats are awkward as shit. Saying goodbye is hard when you can see each other NOT go anywhere. Bye? Buh Bye. talk to you later! Ok. Ok. Ok then. Bye.
Music is what we need. The healing power of music. 10:40 that is it? Bye Bye Billy. We miss you already. And it's kinda over but we have Kitchen Dwellers up next. Thank Gawd. If this was a show I would have Irish goodbye'd ya and not said shit as I headed to the bathroom then out to my uber. if only we all came with chat boxes. Second thought, not yet.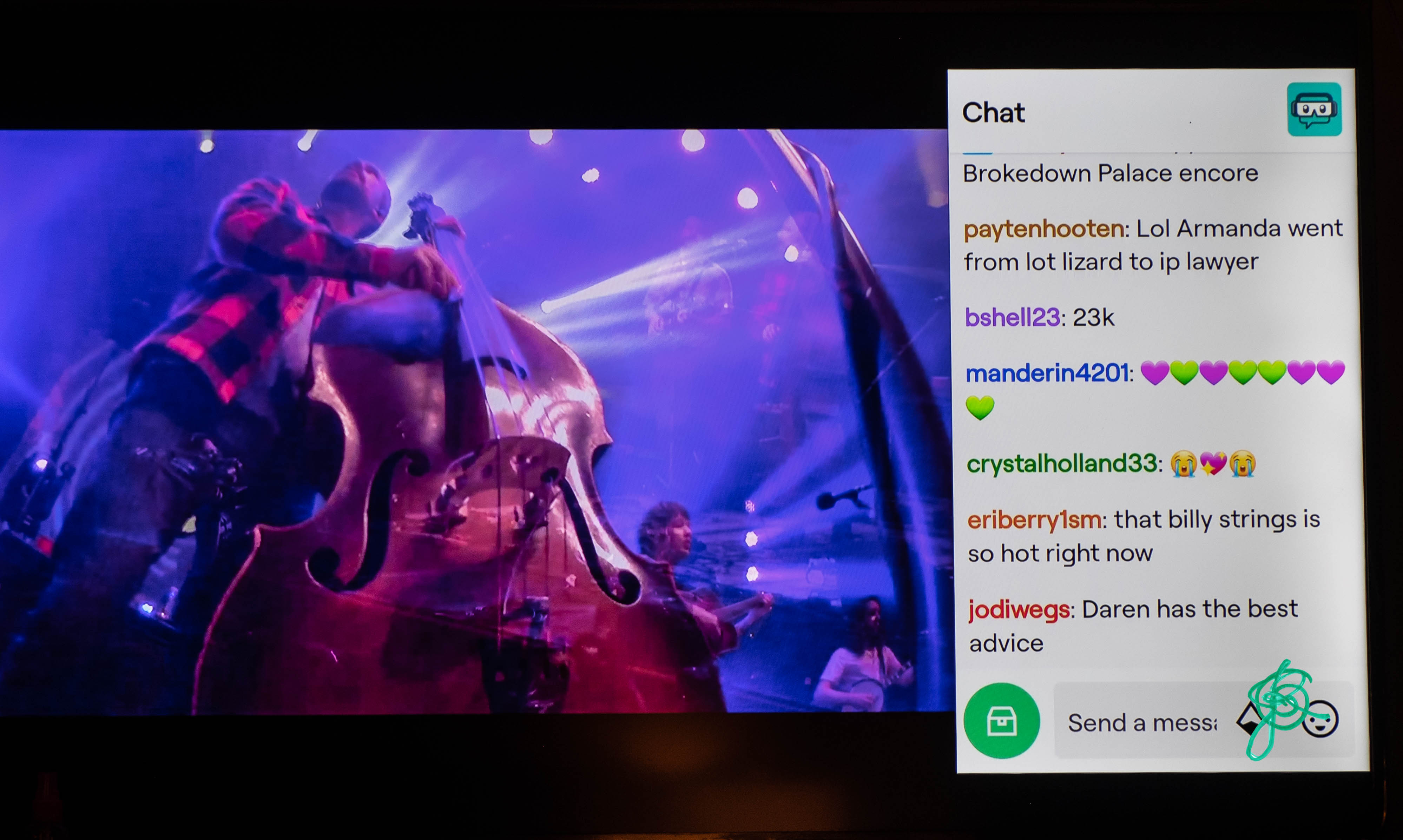 "I'm just trying to learn to adapt and still exist in the weird… world that we're living in. It's been tough for many I'm sure; I've got to give props to my manager and my team. I mean, I can sit here and play guitar at my house and that's ok, but I love picking with other people. That's how I get off - the interaction between other musicians and the audience is such a conversation. It's almost like a spiritual necessity for a lot of people - it is for me I know." -Billy Strings