From outstanding original material to a tremendous array of covers by diverse greats from Bill Monroe to Jimi Hendrix, Billy Strings' scintillating two-set, 28-song performance hit all the right notes on September 28 in Sacramento, Calif. And while legends like Sam Bush and Béla Fleck morphed traditional Appalachian bluegrass into "newgrass" some 50 years ago, and Leftover Salmon, Greensky Bluegrass, and others have adapted old-style bluegrass into bohemian, festival-friendly "slamgrass" and "jamgrass," Strings and his band have gone further, limitlessly advancing the bluegrass genre three dimensionally into the great beyond. He's also been a part of stage-performance collaborations with too many stars of too many genres to mention.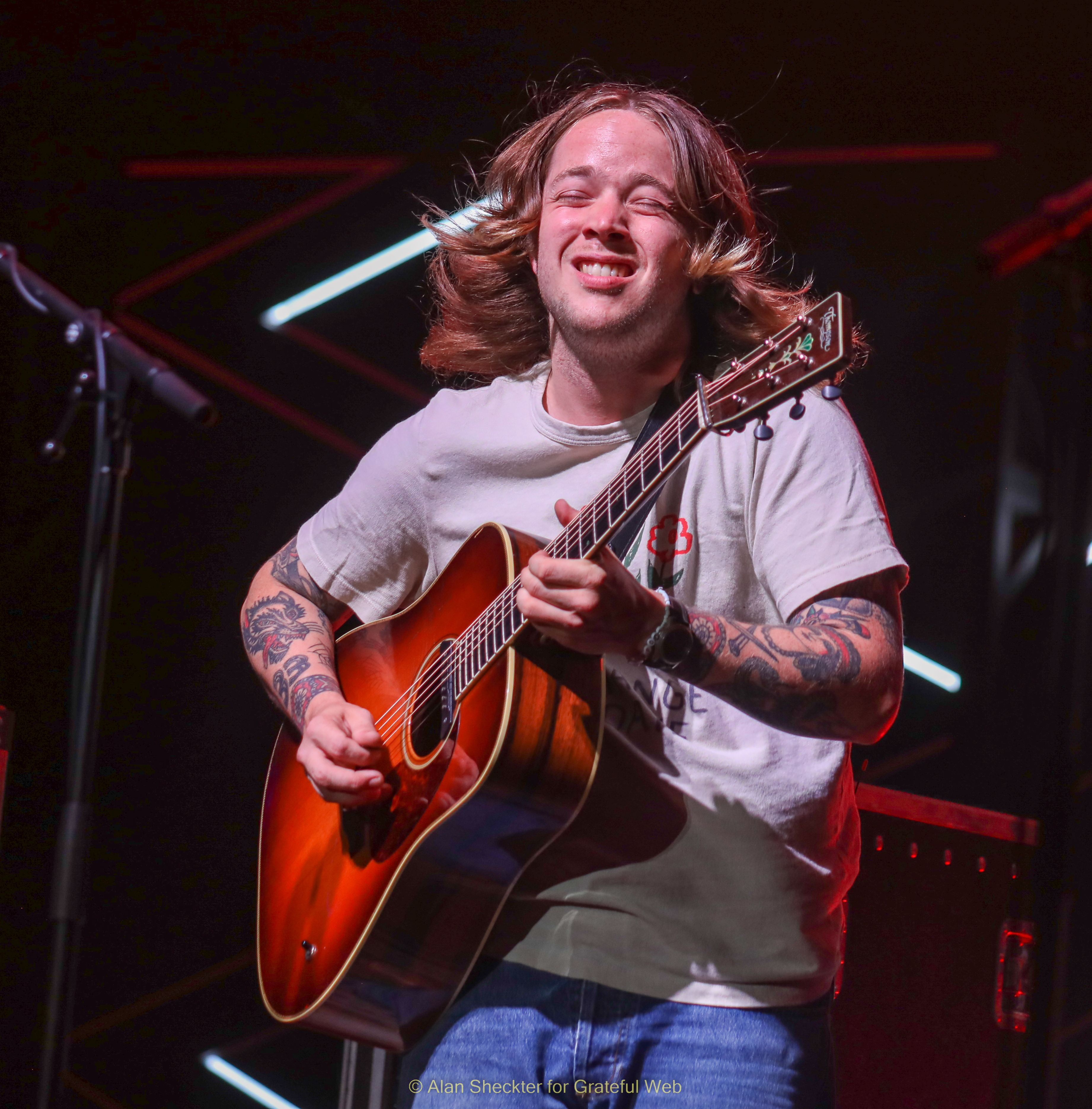 Strings is to many admirers, "No. 1 with a bullet," to coin an old Billboard magazine phrase about being at the top with momentum to spare. He has also been unabashedly embraced by the Grateful Dead-related music scene, including concertgoers' clothing, cannabis consumption, and free-spirit vibe. Sacramento's visibly elated crowd – Strings newcomers dancing shoulder-to-shoulder with those singing along with the band – moved and grooved and ebbed and flowed with the players all night. Offerings ranged from folksy bluegrass ballads to such pieces of music as "Pyramid Country," a 15-minute instrumental that ran the gamut from rapid, traditional fingerpicking to a series of frenetic, otherworldly "how do they do that?" passages.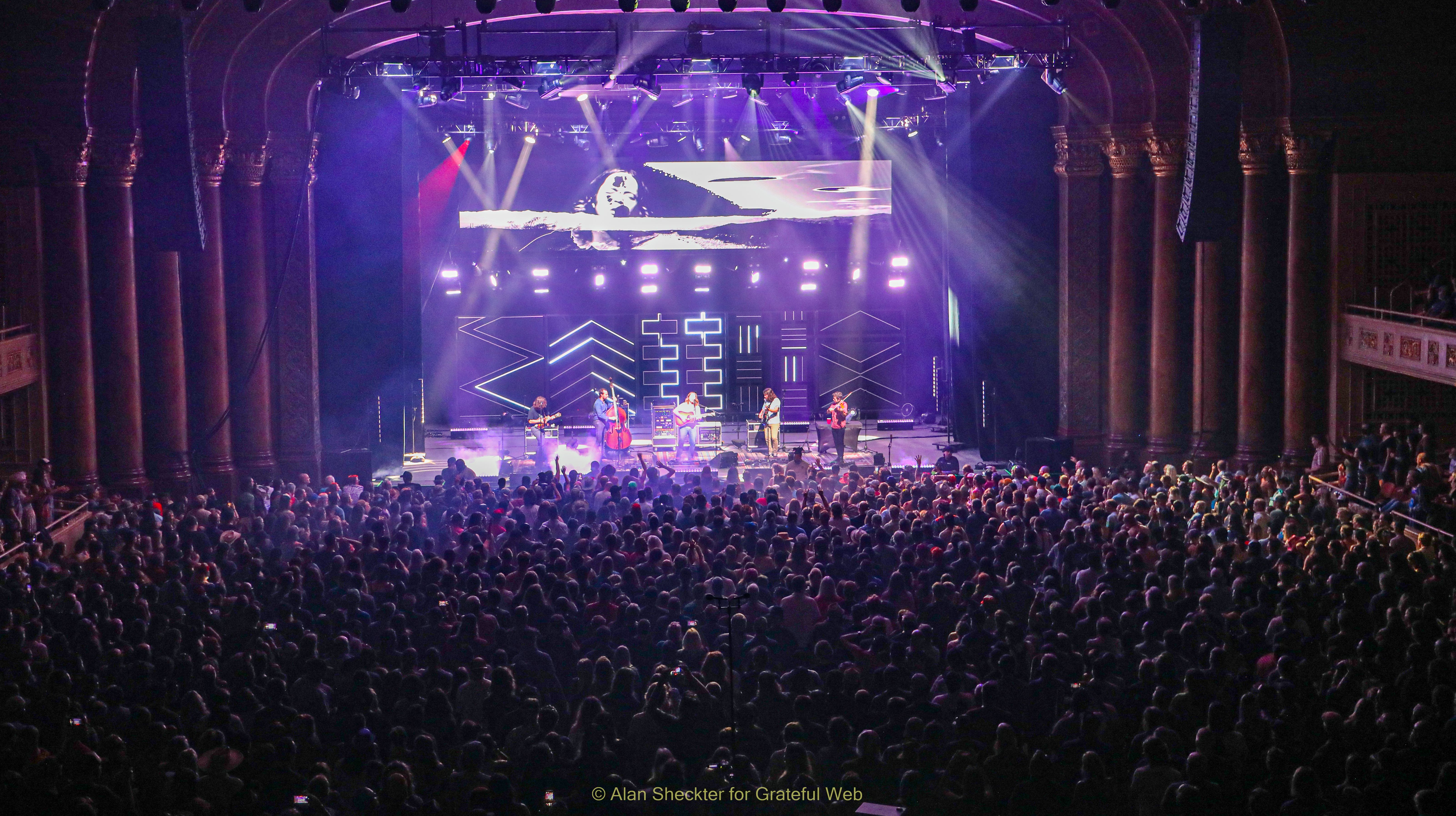 Such improvisational performances delivered by Strings and his all-string quintet have quickly launched him from moderate fame to ever-larger, sold-out concert venues, and comparisons to the greatest bluegrass artists, past, and present. The Sacramento show was a sell-out, with a crowd that was likely 4,500, given that the Memorial Auditorium on this night featured a general-admission floor, and the official capacity is 3,867 when it has rows of seats.
Certainly, the boundary-breaking Strings possesses exquisite bluegrass chops. His own penned songs, such as "Hellbender" or brand-new ballad, "My Alice," sound like they could've been performed by Ralph Stanley himself (Strings performed several songs from his 2019 album, "Home," as well as from his latest, "Renewal").

Naturally, for a quintet to be held in such high esteem by stodgy bluegrass purists/critics as well as the baseball-cap-on-backwards, chest bumping beer guzzlers, Strings supporting cast needs to also be top notch. And indeed the four other players are wonderful Scottie Pippins to Strings' Michael Jordan-like presence, marvelously trading musical phrasings and rhythmic passages. The supporting players include Jarrod Walker (mandolin, formerly with Claire Lynch, Ricky Skaggs, and Missy Raines & the New Hip), Royal Masat (double bass, recorded with Fleck and John Mailander) Billy Failing (banjo, Billy Failing Band), and new guy Alex Hargreaves (fiddle, formerly with Sarah Jarosz, The Big Trio).
During the course of the night, the band delivered several traditional bluegrass tunes, including "Little Maggie" (recorded by the Stanley Brothers in 1946), a very rare "Back Up and Push" (recorded by The Georgia Organ Grinders in 1929, and Bill Monroe and his Blue Grass Boys in 1942) in the first set, and "John Hardy" (recorded by The Carter Family in 1929 and Leadbelly in 1939), and "Red Rocking Chair" (recorded by the New Lost City Ramblers in 1961 and Doc and Merle Watson in 1981) in the second half of the show.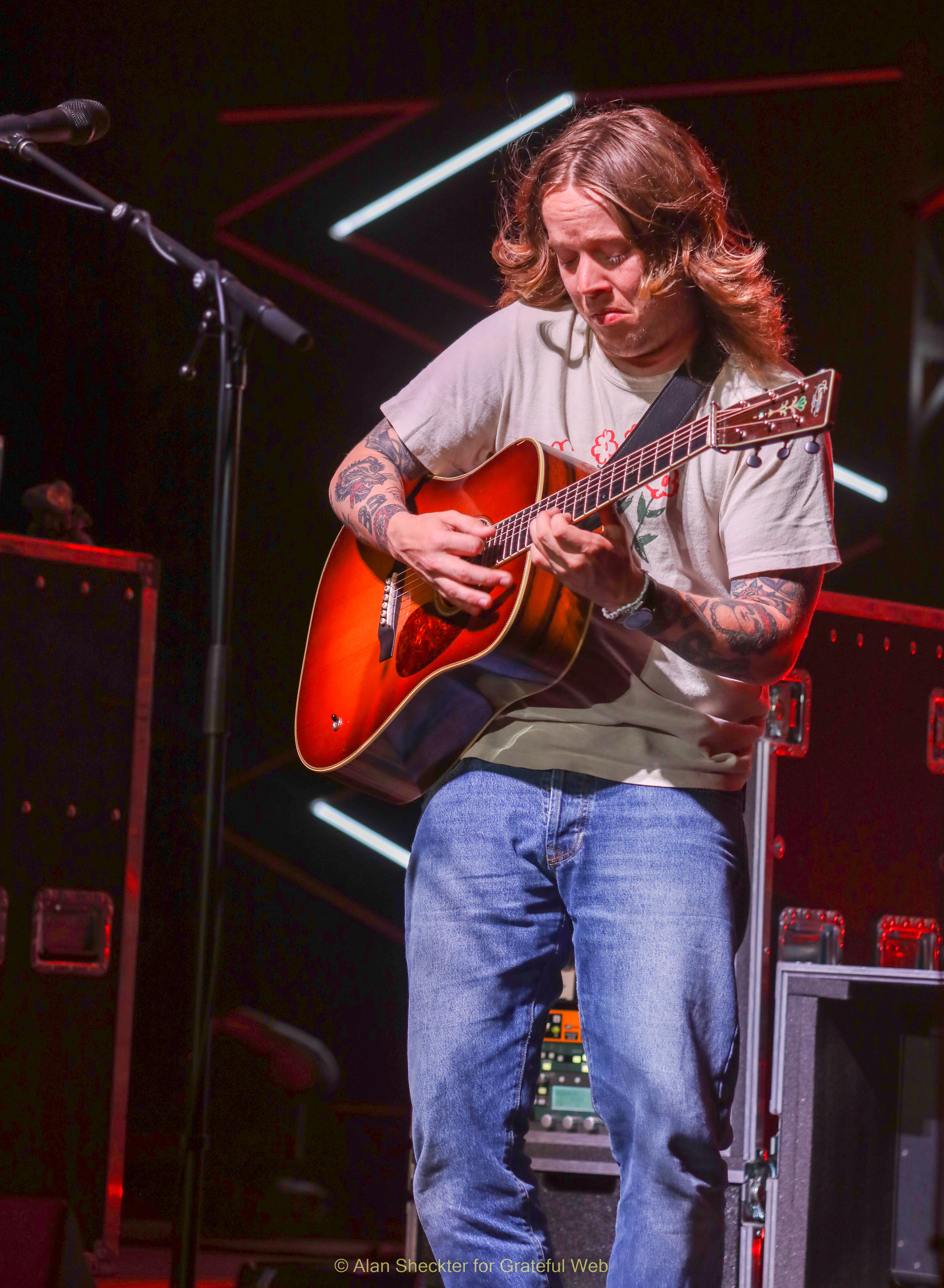 Heritage artist cover songs Strings performed include the rare, show opener, "You Don't Know My Mind" (Jimmy Martin), "Tentacle Dragon" (Béla Fleck), and "The Likes of Me" (Jerry Reed) in the opening set, as well as "All Time Low" (Widespread Panic), "Running on Empty" (Jackson Browne), "Home of the Red Fox" (Bill Emerson), "Southern Flavor" (Bill Monroe), and "Love or Confusion" (Jimi Hendrix) in the second set, and Pink Floyd's "Fearless," a ballad from that band's 1971 "Meddle" record, as one of the encores.
Strings, who turns 30 on October 3, is unquestionable a prodigy, reminiscent of one of those young people you hear about that graduates from an Ivy League University at, say, 14. Suitably, the day after the Sacramento show, the guitar-playing, singer/songwriting whiz won the Entertainer of the Year Award for the second year in a row, and also received Song of the Year honors for "Red Daisy," which was co-written by Strings' bandmate Jarrod Walker, at the 33rd Annual IBMA Bluegrass Music Awards.
Strings was not present at the IBMA Bluegrass Music awards. Instead, he was busy at an intimate, troubadour-style benefit at the 916-capacity Herbst Theatre in San Francisco. There, he was seated in a chair alongside legends Emmylou Harris, Jackson Browne, Steve Earle, and Elvis Costello, all of whom gathered for Camp Winnarainbow, a northern California performance arts/circus camp for children that's been operated by Wavy Gravy and his wife, Jahanara Romney, since the 1970s. Suitably, with Strings seated directly next to Browne, the pair performed a brilliant version of Browne's classic "Running on Empty," which Strings had performed in Sacramento the night before. Strings also performed "My Alice," "Love and Regret," and "While I'm Waiting Here" at Thursday's benefit.
Sacramento, Sept. 28 – Set 1: You Don't Know My Mind, Bronzeback, Wargasm, Tentacle Dragon, Must Be Seven, The Likes of Me, Pyramid Country, Little Maggie, My Alice, Love Like Me, Highway Hypnosis, Back Up and Push
Set 2: Taking Water, Ice Bridges, In the Morning Light, All Time Low, So Many Miles, Running the Route, So Many Miles (reprise), Running on Empty, Hellbender, Home of the Red Fox, John Hardy, Doin' Things Right, Southern Flavor, Red Rocking Chair, Love or Confusion. Encores: Guitar Peace, Fearless. (Set list courtesy of Billy Base)