"There is no decoder ring or secret handshakes required." -Mike Bloger
Blottopia is the Midwest local band festival of longtime loyalists. The heartland paints a portrait of the Fox River, fine accommodations, and family reunions for all ages. This year being the 11th annual, boasts the biggest Blottopia ever. While they did not release official attendance numbers, estimates range from 1500 to 2000 people with weekend passes.
The family reunion spills from onstage to the dance floor made of some of the softest grass available. The lush Fox River valley provides a forgiving floor inside Vasa Park, otherwise known as Scandinavian Park. The quaint camping ground comes complete with empty barns, very nice restrooms, playgrounds, and 25 acres of open space and oak trees' shade. The line-up this year included: Hoss, Robert James & the Cough, Green Sugar, Little Chris, Wyatt, Barefoot Fred, Snuckafoo, Ekoostic Hookah, and of course the notorious Mr. Blotto.
The Saturday lineup was sounding like Widespread Panic, a little like Phish, some southern rock, orchestral philharmonic white striped fun. Little Chris can't be more than 15 years old and he wailed out some bass plucking finger strumming guitar. His version of "circles" was in the stylings of Keller Williams. I look forward to seeing him progress. After the live music ended Saturday night, Little Chris set up shop to keep on playing acoustic with a drum circle. He's got a lot of material waiting to be transformed.
Green Sugar was pure rock and roll. Just short of an hour long set, they started and finished with a drummer that was high energy the entire time. Does Pat, the drummer for Green Sugar consume nothing but pure sugar? He's a live wire that connected with the audience bolstering the back row to the front man that clearly feels comfortable on stage.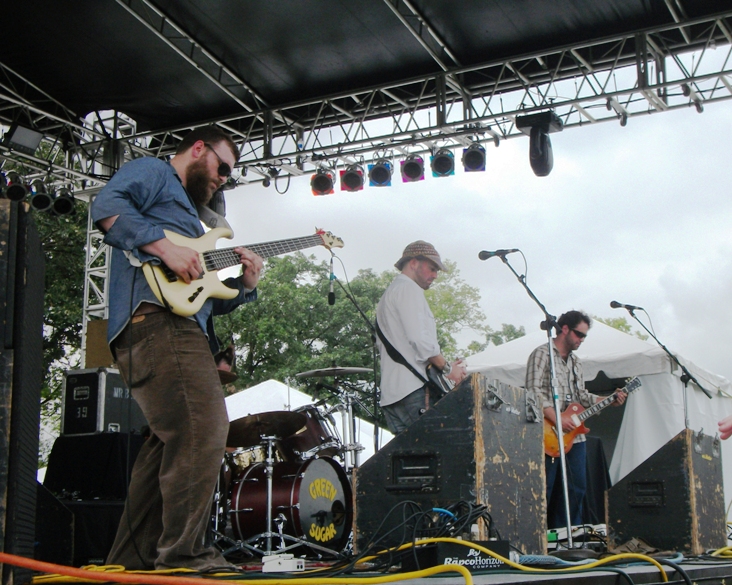 Wholesome traditional Ekoostic Hookah took the stage just before the big Blotto show commenced. It was a different әkoostic Hookah from what I had seen in the past, no dreadlocks, no percussion guy smiling so hard I thought his face would cramp afterwards, but still a solid set. The players may have changed, but the game is still the same for this Midwest best longtime playing band.
Mr. Blotto Sets:
Friday, 7/30
Set I
Intro Jam>That's What I Said
Almost Anywhere
Deal
Southern Woman
Rastaman Vibrations
Same Old Blues Again
Peggy-O
Raining in My Room
Triolet
Set II
Cabbages & Kings>Already Gone
Solomon's Gold
Shakedown Street>Samson & Delilah
Mama Grady
Dirty Woman Blooze
Sail Away, Virginia
Encore
Echoes (Side 2 of Meddle by Pink Floyd)
--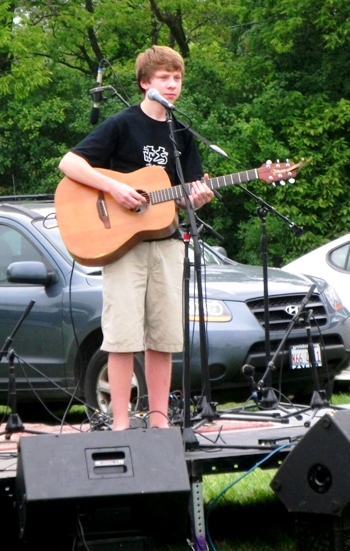 Saturday, July 31
Set I
Can't Go Back Anymore
I Don't Work on Sunday
After It Rains
Keeping It Up
Quinn the Eskimo > Rap
Clampdown World
The Wedge> Scarlet Begonias>Fire on the Mountain>Dancehall Toasting
Set II
Long Way to the Bottom>
>Meddle's* Spoken Word.
Time in Texas
Sister Rosie>Jam
Movie Star
Encore
Sgt. Pepper's Lonely Hearts Club Band
With a Little Help From My Friends
Lucy in the Sky with Diamonds
Getting Better
Fixing a Hole
She's Leaving Home
Being for the Benefit of Mr. Kite!
Within You Without You
When I'm Sixty-Four
Lovely Rita
Good Morning, Good Morning
Sgt. Pepper's Lonely Hearts Club Band (Reprise)
A Day in the Life
Vitamins, Scotch, & Cigarettes (a Capella vocal trio)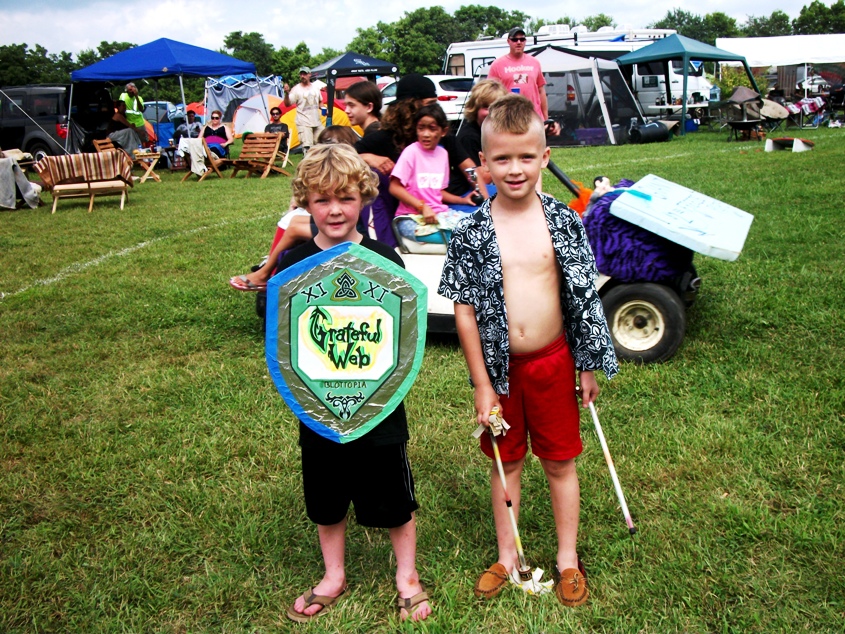 Friday night only Blotto took the stage for 2 full sets and a fantastic Echoes (Pink Floyd) encore. Saturday night began about 6:30 pm and raged on until midnight when it was all said and done. The extensive versatility of this band was clearly demonstrated with guest spots from Meddle Bloger doing spoken word in the second set to the infamous 3rd set. Blottopia's tradition is do an entire album as the 3rd and final set. This year was a spot-on Sgt. Pepper's Lonely Hearts Club Band. Paul Bolger showcased his sitar skills and the crowd returned the love exponentially. Who doesn't love the Beatles?
In response to the crowd's demands for more, Mr. Blotto couldn't deny. They have a strict noise policy they respect inside Scandinavian Park, but still managed to bend the rules for one more tune. They did a cappella trio entitled, Vitamins, Scotch and Cigarettes. When asked about this little ditty, bassist Mike Bolger responded, "Vitamins, Scotch, and Cigarettes is an a cappella thing that Paul, Dave Allen (our former keyboard player-who is an avid Beatle Freak who we brought back for Saturday only) and I came up with a while ago. It's an original based on our drummer Alan's statement on the bus one day when asked if he needed to eat. He said that he didn't need food. Just vitamins. And scotch. And cigarettes. We used to encore with it from time to time, but haven't done it recently. It seemed appropriate to close the weekend with it."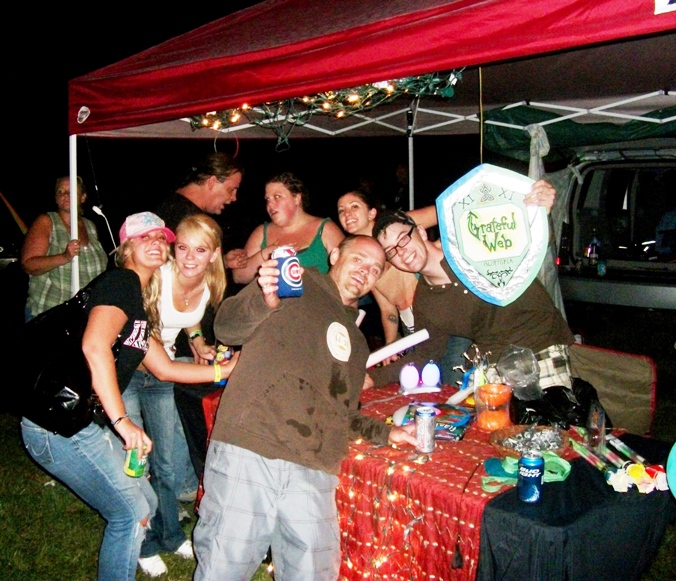 While considering how to describe this band - Mr. Blotto - words escape me. It's that band that everyone knows. It's that band that everyone from just about a 200 miles radius from Chicagoland area has a story about. They have had all sorts of collaborations and musical masterpieces from the past 20 years and yet, are virtually unknown on the national scene. Mr. Blotto is their own band. They put on their own UNsponsored music fests 3 times a year, Blottopia, Blottumnal Equinox Fest in the fall, and Hotel Blotto in the winter. They take over an entire hotel for a weekend. They associate with the "Industry of Cool" without falling down the black hole. Is that what makes Blottopia so special? The secret is that there is no secret, just a deceivingly good time filled with the usual suspects and the family you have come to count on. I will be back again to investigate further.
Check out more of June's photos from Blottopia 2010!