Most frequently overheard at festivals like Blottopia XII that took place at Vasa Park in South Elgin, Illinois on 7/22-24 2011 is the phrase "I'm with the band." The Chicagoland superheroes Mr. Blotto headline as they have for the past twelve years. Camping at the main stage, the great vending, clean bathrooms, and even the Blotto brothers' Bolger personally delivering ice to campers can be counted on at this giving-back-to-the-fans-kind of festival. Bigger festivals mean more walking for fans to the bands.  Smaller fests are weekend warrior retreats that mean more bands go to the fans.
Blottopia XII's lineup included guitarist legend Fareed Haque and Math Games.  Their set blew the crowd away. They didn't need to leave the comfort of their shaded areas and their seats, literally kept the crowd at arms' length because most of the crowd had camped right on the concert grounds.  It's so nice to have a low pressure concert to sooth the ears mid-summer as opposed to riding the rail and pressed up against the steel toe-to-toe just to bellow out the lyrics that deafen the ear from nearby wattage anyway.  To be sure, that is an experience that is necessary but I find myself mellowing out in terms of how often that is a desired experience. Growth is mandatory, growing up is optional.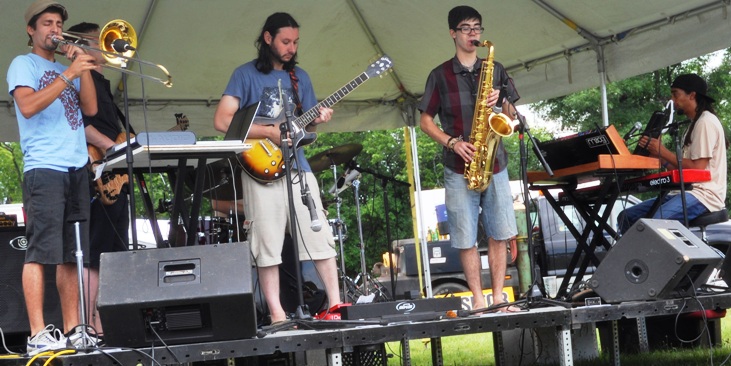 Speaking of growing up, back then one of my favorite things to do was check out my buddy's band.  If you are a music lover you know you did it at one time or another.  This is one of the reasons Blottopia is so dear to me.  Saturday afternoon is filled with budding bands that need an ear: musicians hungry for an appreciative audience.  My favorites this summer were definitely Genome.  Drew Littell plays for AfroZep, one of my favorite Chicago acts to shake a booty to, and this is another one of his projects.  He played kit drums while the tenor sax, flute, trombone, moog, and other electronic niceties played on.  This is a sound I will follow as they have plenty of room to grow with the innovation they have already cultivated as a young band.
The growing popularity of small fests can continue to conglomerate with Blottopia.  The success of the all kid friendly, not far from Chicagoland area, Whippersnapper Festival and the upcoming inaugural Old Shoe Fest will no doubt continue the momentum for these kinds of shows.  Shoe fest will unite the local superheroes Mr. Blotto with big headlining names such as Great American Taxi, Kyle Hollingsworth Band, Family Groove Company, and my favs Strange Arrangement at Shoe Festival in Earlsville, IL over the weekend of September 9/10, 2011.  The local rock stars have the simple life of rocking the suburbs and keeping it simple.  They don't state their opinions as fact, they just lay the facts down in their funk.  There is no taking over the world; there is just one night to make the people dance.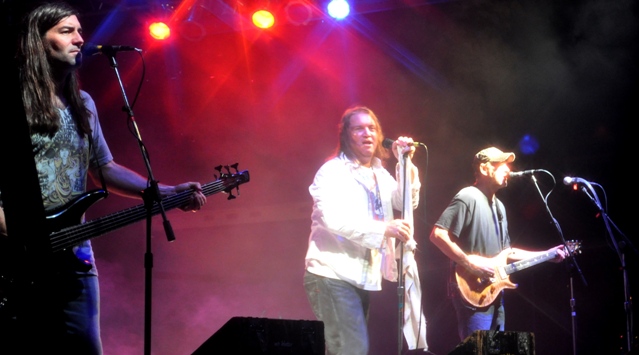 The one night to make the people dance is always Blottopia's Saturday night 3rd set special. This year was Toys in the Attic by Aerosmith.  Past years have included Sgt Pepper's Lonely Hearts Club Band, Dark Side of the Moon, and Stop Making Sense.  Known for their amazing Grateful Dead covers, Mr. Blotto did all original material for a Friday night set including a 'Terrapin Station' cover and 2 all original sets of Saturday before performing their full album third set. Blottopia is as simple as a swing set, as essential as a 4th of July BBQ, and as memorable as the endless summer star filled nights.