Bob Minkin is as big of a Deadhead as they come. When he discovered the Grateful Dead amongst other revolutionary rock bands hailing from the San Francisco Bay, it changed his life forever. By the time he made the Bay Area his home, he'd been photographing rock icons for decades. He was welcomed in the Grateful Dead's inner circles in the mid-1970s and captured the iconic band in its true element. Bob takes much more than striking performance photographs, as he captures surroundings and the crowd like none other. Minkin sat down with Grateful Web to discuss his massive latest achievement, The Music Never Stopped, a photo book of Marin County's music scene.
GW: You grew up in Brooklyn. What was your impression of San Francisco and Marin County during your years of musical discovery? What formed those impressions?
BM: What formed those impressions was reading Jack Kerouac's On The Road and reading about all the Grateful Dead mythology that's out here, with Marin County and San Rafael. As a kid opening up the Skull & Roses album, for some reason we all used to call it the "Bertha" album, right inside the album: "Who are you? Where are you? Dead Freaks! Get in touch…" And the address to send was San Rafael. I said to myself, "San Rafael?! Oh, it's in a place, called Marin County. That's a place I want to see!" In the summer of 77', there was this Rolling Stone article honoring the tenth anniversary of the Summer of Love. Right in the centerfold, there was this pullout drawn map of Haight/Ashbury and all the highlights of places to visit. For me, that was it!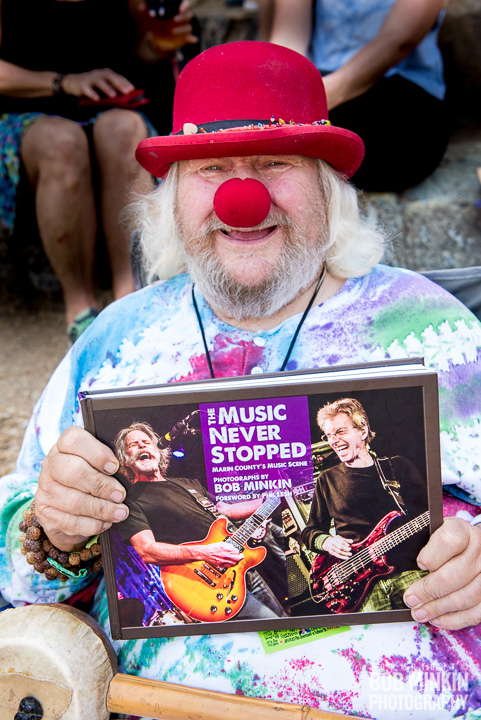 My father worked for the airline, and he managed to get me a cheap flight. I was eighteen years old and went by myself, for the first time I traveled from New York to San Francisco. I landed at night and had no hotel reservations. This taxi driver was really patient and drove me around the city until I found a room in the Marina. It was August of 1977, and it was beautiful. I walked all over the city. I went straight to 710 Asbury Street and took a picture of the famous entranceway. Actually, that became my first published picture in Relix Magazine. I had met the publisher months earlier. Anyways, while wandering around the city by coincidence, I ran into somebody I knew from my street in New York who was also visiting. He was older than me and a little more connected. He took me under his wing, and we took a ferry to Marin County to his friend's place in San Anselmo. This guy in a Voltzwagon came to pick us up, and he was playing a Dead tape.
All these little things started connecting, and I was blown away. Then we went to Mill Valley and thought it was the center of the universe. I didn't know places as nice as that even existed. With Mount Tam in the background and also knowing Bob Weir lived in that town.
GW: It was a different time. Marin was discrete and affordable. The members of the Grateful Dead migrated there one-by-one in the late 1960s until they all lived there.
Your new photo book, The Music Never Stopped is thru your lens, the music that's happened in Marin ever since. Its table of contents isn't organized chronologically, but rather by the venue or area of Marin where the music happened. Of course, so much has happened since the passing of Jerry Garcia in 1995. The music continues, and new generations of fans come to love it, fans that never saw Grateful Dead in person.
BM: It overlaps with Live Dead (2014) [Bob's first photo book] a little bit. It ends in 1995 with Jerry's passing with a few following pages of what's happened since. This book overlaps that and brings it to the present. What drove that was over the last five years since Terrapin Crossroads, and Sweetwater Music Hall opened in San Rafael and Mill Valley; there's been an amazing onslaught of music occurring. Interactions between all of these musicians that are always changing and it occurred to me that the music never stopped, of course, that's a Grateful Dead tune.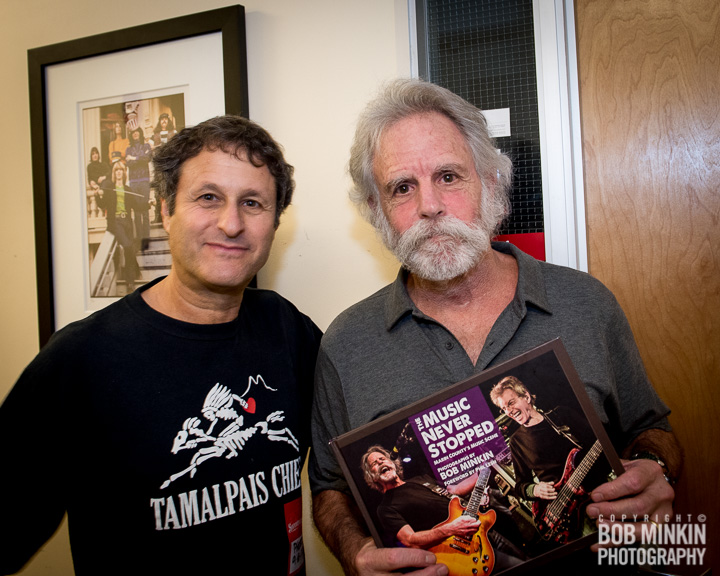 I have thousands and thousands of photos. At first, I wanted to put together a book of everything that's happened in the Grateful Dead world [since 1995.] I decided that would have been too gargantuan. There have been half-a-dozen iterations off the Grateful Dead since Furthur, The Dead, The Other Ones and of course presently Dead & Company. It was too vast. I wanted to rein it in. I decided to do it just on what's happening now in Marin County and what has gone on since I moved here. I was thinking about how the venues and cities are so important. In subcategories would be the venues. So, for example, a band like the David Nelson Band could appear at four different times across the book depending on the different venues. Also, aside from it being a photo book, I wanted to get the musicians to contribute some words on why they love living here or if they don't live here why they like playing here.  I was able to get a number of them including Jorma Kaukonen, Steve Kimock, Phil Lesh who wrote the forward, Pete Sears who wrote the introduction, Barry Sless and Jason Crosby. This place is individually special to all of them.
GW: It's somewhere that musicians and fans love to live. Since 2012 it's been especially active since the rebuilding of the Sweetwater in Mill Valley, and of course, Jill and Phil Lesh's vision came when Terrapin Crossroads opened its doors in the Canal District of San Rafael.
Grateful Dead played nothing but large arenas and sport stadiums for their last eight years. Despite the gargantuan venues, the fans still kept that connection to the band. Flash forward to now with The Sweetwater and Terrapin, it's become intimate confines every time. Does it feel strange to be photographing these guys in small clubs? How has the scene changed?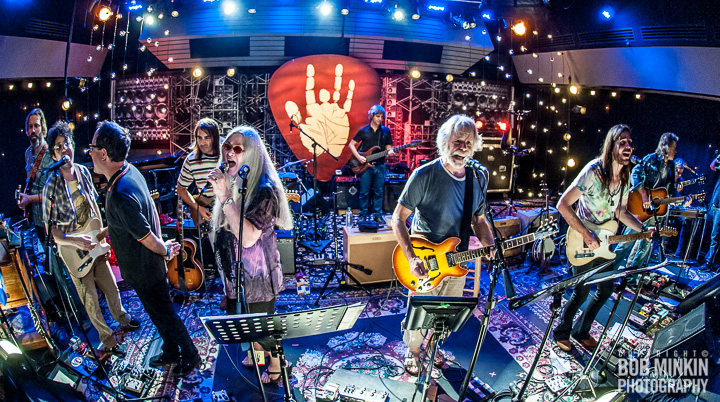 BM: I read that when the Grateful Dead started getting big, they lamented the fact that it was hard to play small places where they had the more intimate band/audience connection. So, for Phil Lesh and Bob Weir to be able to regularly play a place the size of Terrapin is wild, because the Grate Room only holds around three hundred people. So imagine back in the day, seeing the Dead at Madison Square Garden, and now to see Phil Lesh and the key members playing a small club regularly, would have been a fantasy back when.  Phil Lesh doesn't want to be on the road that much and Terrapin is close enough to home for him to make it possible.
Shooting at Terrapin and the Sweetwater is great. The lighting is great; the stage isn't that high so you can get really close, the audience is ten feet away from the band. That brings out electricity that you can't get the same in a stadium setting. I think that the bands love it. It's a welcomed thing for them. Bob Weir goes on the road with Dead & Company, and they're going to play all large places because of their greatness and fame and how many people want to see them. When it comes to Mill Valley, he'll just pop into the Sweetwater and play there whenever. These people can't stop playing, and that's good! [Laughs]
GW: The guys in the Dead aren't rock stars in the sense that they need a barrier between them and their audience. Some of the biggest fans there became part of the bands. Of course, Phil and Bob enlist the likes of jam veteran icons like Barry Sless, Pete Sears, or even Jason Crosby. But then there are these players that are young and super talented and came up with Terrapin … Like Ezra Lipp and Alex Koford.
BM: … Or Ross James and Elliot Peck. Terrapin is really minor/major league collaboration. Some of them might not have been into the Dead when they were teenagers. However, they got connected with Phil & Terrapin they started playing there. It's a whole other generation of musicians. There's going to be a whole other wave of musicians building their own followings, and they're going to spawn more musicians. It makes me so happy to think that the original music has such legs and substance. It will outlive its creators in multi-generations. You've got Phil's son Grahame with his band Midnight North, along with Elliot, Alex Jordan, and Connor O'Sullivan. They're out touring the country on their own. And Phil has a grandson, little Levon, who comes onstage. It's spawning future generations, while this music isn't necessarily Grateful Dead, the vibe will continue. It's fantastic that these people have entered the community and are forming communities of their own.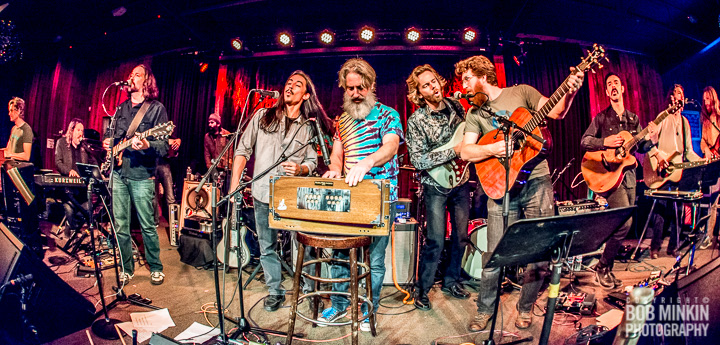 GW: Couldn't agree more. What I noticed is that there are all these artists that cut their chops in the 1990s/2000s jam scene like Stu Allen, Scott Law, Animal Liberation Orchestra, Dark Star Orchestra, and they're all part of the Terrapin Community in a big way.
And there are these young guys who play with these vets; they intermingle, there's no hierarchy of who contributes more or less.
BM: It's incredible how they've intermingled. And they talk about it in [The Music Never Stopped], Scott Law and Grahame both. I made sure to ask the younger/newer generation of musicians to talk about their experiences. That's exactly what they talk about, the fertile creativity. In the old days, people had their band, and that was it. It was rare to see these jam-session style collaborations. This is the norm here. It's incredible what's going on seven days a week, there's something good to see and hear, in Marin, especially at Terrapin or the Sweetwater.
GW: The crazy part is that it's not exclusive or at all secret. There's a calendar up with all the shows, but I don't think most people realize the level of which it's going on. As Phil put it, The Music Never Stopped.
BM: No it didn't. I think in Terrapin's case it keeps getting better and better. They opened up the Backyard; there are so many activities there now. People that aren't even into the Dead still go there for dinner. It's a good restaurant. They go there and catch some of this stuff, and it makes them curious about it. They come back another night to see what the hubbub is all about. And they pull some pretty big names there. I saw Gregg Allman for free in the bar, Bob Weir played with Phil for free, the word got out, and it got crowded. They balance it out in the Grate Room, which is paid shows, with national touring acts coming through. These days they've had afternoon shows with Phil and friends, for free also.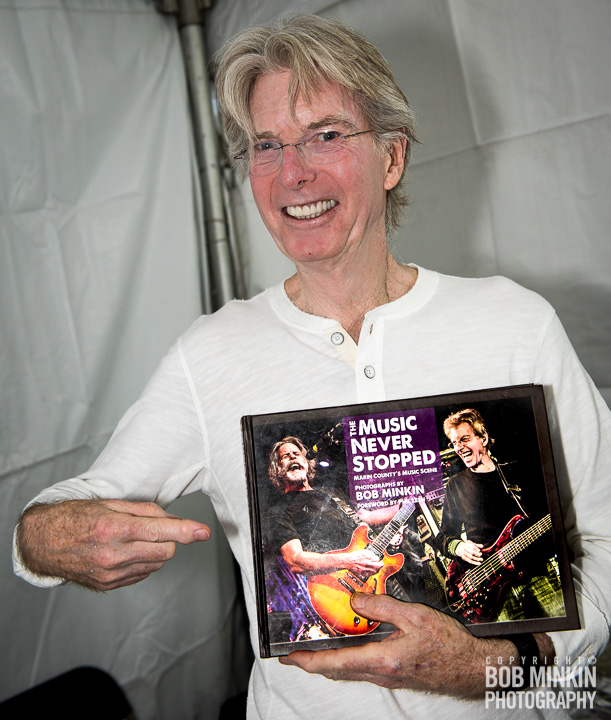 GW: Yea. Another great part about Marin's scene is its people of all ages. Some were on tour with the Dead and had lived in Marin forever. Others are younger and came up in the jam scene with bands like New Monsoon. It all coexists in this one place.
BM: All three Rowan brothers played together in the bar at Terrapin for free the other night.
GW: Another band that came up in Marin's scene in the seventies.
Exploring the book I couldn't help but get a little emotional a handful of these artists pictured in the book have passed since. Merl Saunders, Bernie Worrell, Paul Kantner, Martin Fierro, and John Cippollina. What did these artists individually and collectively bring to Marin's music scene? Any stories come to mind about any of the aforementioned artists you'd care to share?
BM: So many memories and stories. Putting this book together and my previous book Live Dead was very emotional. As I went thru, it brought back the memories of being there at the time that I photographed them. I got to know these people. I got to be friends with many of these people. Like Merl and Martin. Looking back I catch myself staring at those shots wishing I could take them again today. Martin Fierro was the kind of guy who made you feel when he talked to you likes he'd known you for years. He was so funny, you couldn't help but smile, and I first saw him when I was fifteen with Jerry Garcia and Merl Saunders in New Jersey at the Capitol Theatre. I got to know him because he lived in Marin and played with Zero and I got to photograph Zero a lot.
I started to become a familiar face and the band relaxed around me because they knew I was okay [laughs]. I take it as a huge honor to be let into these band's inner sanctums. They didn't mind my presence behind the scenes, like a fly on the wall. Those are the best shots backstage when the bands aren't paying any attention, and I was able to get those shots. I always wondered before I was a photographer what these musicians would do before the show. And I got to see it and present it to other people, fans like me. I got to know Merl Saunders, he was the sweetest guy, and I got to tell him, "Jerry never played as well as he did with you." And he just chuckled. Same thing with Cippollina, who I met in New York. He had his own style of playing and was also just the sweetest guy.
GW: So we've got this scene in Marin that really isn't the typical "rock star" set-up. All these artists come to interact in public close to the fans within their reach. What do you think big "A-list" rock stars could take away from this? That is this vulnerable approachability.
BM: Normally, you can't get to the rock star. You can't just hang out with Eric Clapton. But then again, a big rock star like Santana, when he was living in Marin, you could bump into him when he was out. I guess wherever these people live in their communities they might be more approachable. The difference here in Marin is that these musicians are making themselves approachable. When Phil was in the Grateful Dead, it wasn't just like you could meet him just because you really wanted to [laughs]. With Terrapin he's really made himself approachable to people. I think as the musician's age they might appreciate having that interaction with fans.
I think musicians could take away from a lot of the interactions that happen here in Marin. Imagine if you could walk up to Ian Anderson from Jethro Tull or even Keith Richards! Now I'm pushing it [laughs]! When I had a friend visit from Israel, he knew he needed to come to Terrapin Crossroads. And he was blown away that we ran into Phil and he was cool about taking a picture with him and his wife. It was so special to them, and to me, it's special but also living here it's run-of-the-mill.
GW: It's cool because Bob Weir will play at Terrapin here and there with Phil, and it's still possible to keep it small.
BM: Bob Weir and Phil Lesh are playing together on October 6th as a fundraiser for the region affected by the hurricanes. I looked it up, and they're only charging 20 bucks a ticket. They just played at Sound Summit together and at Lockn'. I managed to take an amazing picture at Sound Summit at Mount Tam. Bob and Phil were chatting, and it looked like Bob gave Phil a gift. And Phil spontaneously gave Bob a hug. I just happened to be standing there with my camera ready. The brotherly love from decades gone by is strong.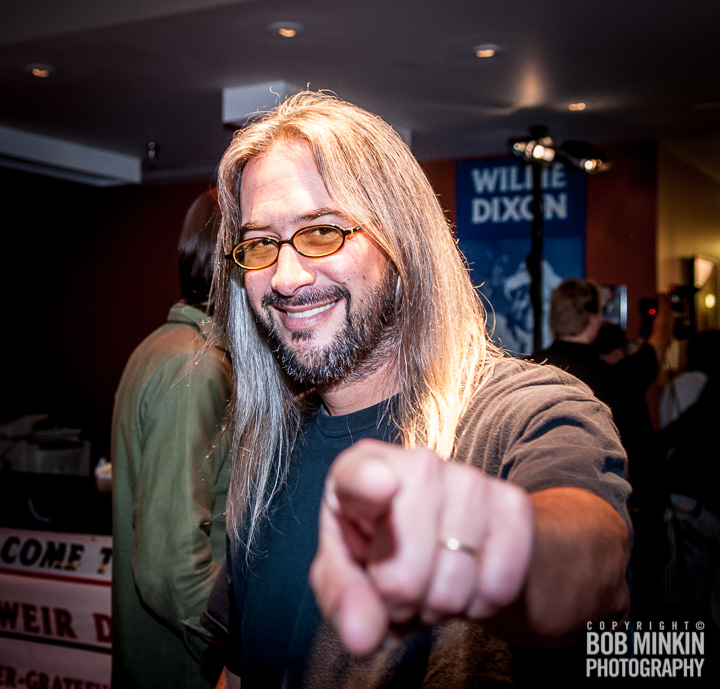 GW: The due diligence that The Music Never Stopped has done for this community and music is incredible, all of these beloved artists.
BM: In the book, it was important to recognize the big guys like Bob, Phil, Bill Kreutzmann, and Mickey Hart. But I really wanted to give representation to the younger guys coming up in the scene. I wanted to make sure they were represented, and I captioned everybody's name. They're all recognized. They're going to be extending our music scene far into the future.
Bob Minkin is a San Francisco Bay Area based photographer. His photographs have been featured in many books and publications such as Rolling Stone, Time Magazine, Relix Magazine, Marin Magazine, Entertainment Weekly, Guitar World, and many others. You can purchase his gorgeous brand new photo-book The Music Never Stopped from his website.