When small coffee house performances come to memory, a picture develops within the mind's a eye that often seems to call up images of a simple set with acoustic guitar, wooden bar stools, a soft pool of light, and the gentle murmuring of an audience.
Such a setting would fit well the music of English musician Bobby Long, and indeed is where he started as a musician performing his material. The crowd he played before on Wednesday night at the Fox Theater however was one that, though responsive to Long's ragged voice and powerful acoustics, did not share the emotion emitted from the stage.
Atmosphere lacked for Long's full one hour set opening for New York band Matt Pond PA as a small gaggle gathered around the front of the stage, drawing in the greater part of the crowd that the theatre would see for the night. All applauded and younger females yelped for the English musician, but the audience present was one too astoundingly small and ill-appreciative of Long's simple yet forceful and well bridled set.
Colorado last saw Long in August 2009 when he played at the Hi-Dive in Denver, a venue presumably more attuned to his music and a stronger atmosphere. Before he started The Dangerous Summer Tour in the U.S. last year however, Long was developing a name for himself among London's open mic night scene.
Long's prominence within this circuit grew, and to support his shows both live and online, he put together a collection of 10 song recorded in his bedroom. What Long refers to as "the big EP," this compilation titled Dirty Pond Songs is a bootleg-like record sold only at Long's live performances.
Up until now these shows have been solo acts for Long, and indeed the remainder of his 2010 summer should be in the same manner as he continues to travel across the country. With the release of his first full length CD though, recorded with an entire band rather than just Long and his guitar, he said he hopes to change this up and bring that band on the road with him.
"As soon as my album comes out this summer, like probably in August or September, I want, because I record a lot of songs with the band, I want that to be represented in the live show," said Long in a telephone interview a month prior to his Boulder show. "I'm just kind of going through the process of putting the band together and yeah, definitely in the future would love to play on tour with the band."
Adding musicians to the setting means for a more full, thick sound, both in recording and performance. Long's solo show on Wednesday however proved him to be a musician both loud and powerful enough to support himself on stage.
Songs off of both Dirty Pond Songs and Dangerous Summer Tour, a an 11 song collection of live recordings from that tour, made up Long's pleasantly unexpected 60 minute set. "Penance Fire Blues," opened with a brief interlude and a slower tempo than the recording, showed Long at one of his best moments, starting the song slow with a more bluesy vocal style and rapidly gaining strength as it built up with hard, rapid strumming with subtle buzzing and whining bent strings.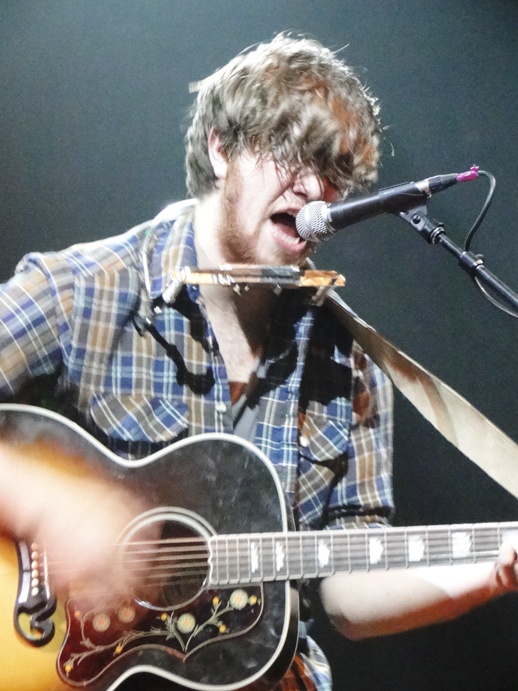 Ending on a slower note at the avid request of a fan from the audience, Long closed his set with the simple but easily lilting "Two Tone Lover," keeping the atmosphere quiet but for those moments of depth in vocals paired with more dynamics in the acoustics. In between were similar performances of "The Borough Mill," "Who Have You Been Loving," and "Into The Frost," which Long dedicated to his audience on behalf of the wet, snowy night.
The slightest hint of roughed up vocals and the obvious setting of only Long and his guitar make his influences from blues and folk musicians clear, especially on "Dead And Done," for which Long pulled out the harmonica. While Long has been lumped into this category of musicians, in a time where music can be enhanced or even fully created by the use of technology, Long said this is just the route he has chosen to take.
"I think it's each to their own, you know...it's nice it's all varied in that, you know, whatever works for different people," Long said. "That's just who I chose to be...In the future it's going to be me with a band and several musicians as well. It's going to be nice to just shake it up a little bit. I'm not against anything,  you know, whatever works is whatever works for different people."
Long's approach and control of his live performance made him at home with the folk genre he has fallen into at present. Kicking back his leg and clenching his jaw as he let himself go, Long appeared uninhibited on stage as he varied his songs, speeding them up and slowing them down, but always with the control to reel them back in.
Not only an aspect of being a good musician, Long's freedom with awareness for restraint could also have been reflective of his options as an opening act. "When you're not the main band people are coming to see there is more of an opportunity to do what you want," said Long.
"When you headline the show you've got a lot more pressure with you and you've got to kind of give the crowd what they want," said Long, who until now has never gone on tour as a support artist. "With being a support artist I think you're kind of free to muck around a little bit and the main purpose is to pick up fans...It's a different kind of show and I'm really looking forward to it cause it's just going to be a new experience for me. I'm looking forward to playing in front of new people and playing in front of a bigger crowd."
For Boulder that audience may well not have been a bigger one, making for a bizarre atmosphere that lacked in the excitement and emotion that Long showed through his music. Whatever force it was that kept people away, the biggest let down of the night was how few people were there to see Long's set and the void their absence left in the collective body, often a well of emotions and responses to feed off of.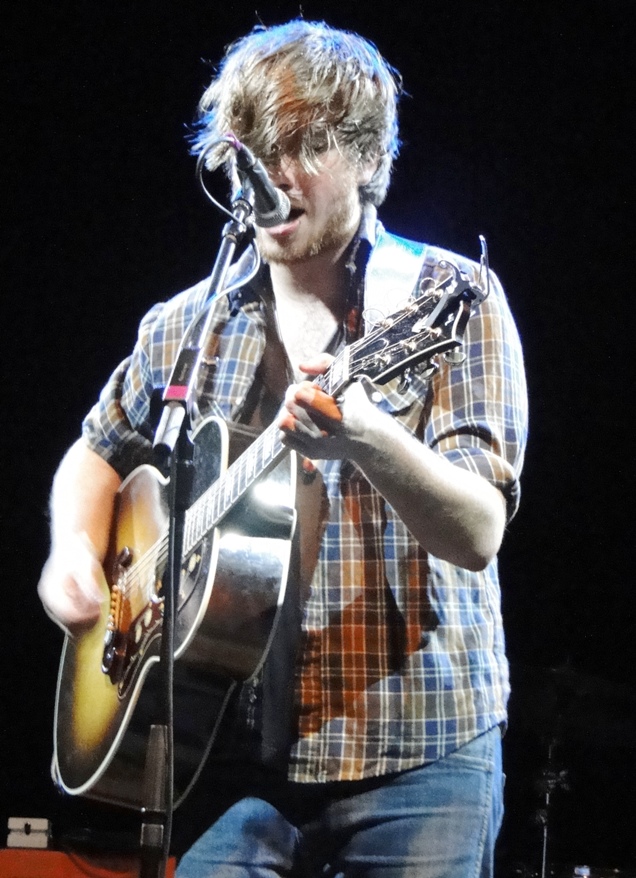 Long seemed ill-affected by the quiet audience before him though and gave a performance that highlighted the night greater than the first opening act, Denver based Hello Kavita, and Matt Pond himself.
Fans of Long and the folk realm of music to which he is a part of should be happy to hear that, in Long's point of view, it is a blooming style that both in England and America has really started to gain popularity within only the last five years.
"It's never going to go away, that kind of music," Long said, noting Johnny Flynn and Mumford and Sons in England and Bright Eyes here in America. "I think it's really kind of flourishing at the moment."
And, with Long's steady set of unhampered songs, each exploring it's outer limit with deep ardent vocals and cresting guitar, to be carried back in to a softer but still coarse vocal and more dulcet instrumental lines, it is certainly in good hope that Long continues to write and perform his music across the country well into the future as this style should prosper.