"Tennessee, Tennessee, there ain't no place I'd rather be, Baby, won't you carry me back to Tennessee."  As I packed up the car and prepared for my road trip, I couldn't shake the lyrics of 'Tennessee Jed' off my mind.  Chicago, IL to Manchester, TN – 534 miles.  This was going to be my triumphant return to the festival I had grown to love in its first three years, but hadn't been able to get back to since 2004.  Bonnaroo, for some, is the pinnacle of music festivals across the nation and even the world.  For me it's an escape from reality where my love for music, art, and camping meld together on a brilliant 700-acre farm.
Thursday, June 12th
The plan was to drive through the night and make it into Manchester, TN by sunrise so that I could obtain my press pass and squeak into the festival gates early enough to beat the massive lines.  Tack on a few pit stops for last-minute supplies and that put us in town right as everyone and their brother decided to arrive.  After meeting up with the rest of our camping group, my wingman Anthony and I hopped in line and started the lovely 3-hour wait to get through the festival gates.  I'm no stranger to traffic jams so this was like another day on Interstate 90/94 during rush hour, but only this "rush-hour" was filled with random people walking the road, guys selling bootleg t-shirts, and local families pushing popsicles and bottled water to help Bonnaroo-goers beat the heat.  As we snaked our way down Route 55 there was an overwhelming sense of welcoming by the locals.  Many businesses had signs up and people sat in their yards with lawn chairs waving to us as we drove past, it was comforting and gave me a warm fuzzy feeling that wasn't induced by the temperature outside.  As the line of vehicles slowly inched forward my sleep-deprived self began to anticipate what the weekend was going to bring.  I was armed with an iPod chocked full of songs by artists playing this year and it seemed I wasn't the only one.  As a single line became two, you could hear sounds drifting from each different caravan… everything from Metallica to The Swell Season and whatever else was left in between.  After several hours we finally arrived at a checkpoint.  Our tickets were exchanged for wristbands, vehicles were searched, and then we were promptly directed to line up again to start edging our way towards the actual campsites.  The first three years I had always been directed through the woods past the giant disco ball to an area with four sections for camping.  It was a little further away than some of the other camping but felt like it's own little world within the superior universe that is Bonnaroo.  This year was different.  We got sent to a site that was actually closer, but significantly larger.  The car was parked and the race to set up camp was on.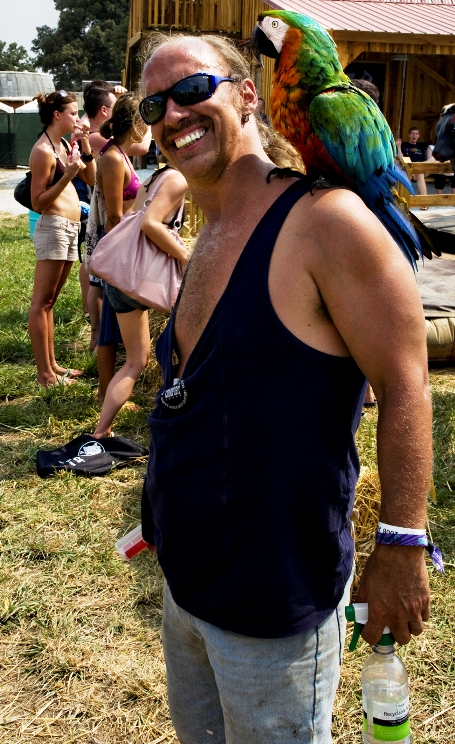 The sun beat down and it was more than evident that I needed to apply sunblock.  The summer sun is quite harsh on a rather pasty Irish-Italian gal, especially when sweating my bum off trying to put tent poles together and help erect a shaded pavilion.  It was late afternoon by the time everything was finished and you'd think after being awake for nearly 24 hours it would be time to take a nap.  Not the case, so much to do, so much to see.  Drum circles and jam sessions at nearby camps had started to form so I took that as a sign to start exploring.  Packed up my camera and headed towards Centeroo.  For those who have never been to Bonnaroo, Centeroo is basically like the town square.  Vendors, artists, musicians, and random happenings take place around the coveted mushroom fountain just beyond the iconic bobbleheads.  As I made my way through the crowds of people, my first stop was the Fuse Barn.  An air-conditioned barn with Internet access and an area to charge cell phones was sure to prove beneficial throughout the weekend.  There was a viewing deck from the top of the barn that overlooked a mechanical bull and a slough of hammocks.  I exited the barn to join the spectators watching random people riding the mechanical bull.  This is where I encountered a gentleman with a rather large Macaw parrot named Valentine on his shoulder.  This was also the start of seeing things that were a bit out of the ordinary, allowing me to reminisce about the experiences and things I saw the first time I came to the 'Roo.  As I continued to wander around, I made a pass through the Bonnaroo Market, which was laced with vendors and artists.  Items for sale ranged from fairy wings to hippie threads to custom hammocks.  I then went on to scope out the overall layout of Bonnaroo and everything was pretty similar to how it was the first couple years, minus the addition of a couple more tents and the art of Such n' Such and Bring It.  After aimless wandering, I decided to head back to camp to grab dinner and get ready for night one of music and mayhem.
The Thursday night line-up was pretty solid.  I ended doing a bit of wandering before I settled in at This Tent.  First on my list to see was Battles.  A New York-based group who's sound has been described as "controlled chaos".  From start to finish I was completely mesmerized.  Solid bass lines accompanied by trance-like drumming, keys, and guitar riffs.  'Atlas' (from their 2007 debut album Mirrored) performed live sounds almost as if Marilyn Manson and Trent Reznor had hopped in an ice cream truck and went for a joy ride.  Each sound uncharacteristically complemented the other.  All in all it was a fantastic start to the evening.  After Battles finished, I decided to go in search of refreshments and came across an impromptu accordion and acoustic guitar jam session.  Nothing like a bluegrass hybrid duo with a couple of guys beatboxing in the distance.  Next on the schedule for the evening was Vampire Weekend.  I made my way back to This Tent where the crowd had grown immensely.  The Brooklyn-based foursome took the stage and played what was a rather predictable set of catchy east coast themed songs.  Granted they only have one full album under their belt, I would have much preferred to hear a random cover thrown into their set only to break up the monotony.  To my amazement, I didn't leave disappointed though.  How could I not enjoy hearing my name sung live on stage?  Ok, well my name is Brynn and their song is 'Bryn', close enough, right?  I ended up leaving early, but with pure intentions.  Lez Zeppelin had already started at That Tent and I'd be damned if I was going to miss a lesbian Zeppelin cover band.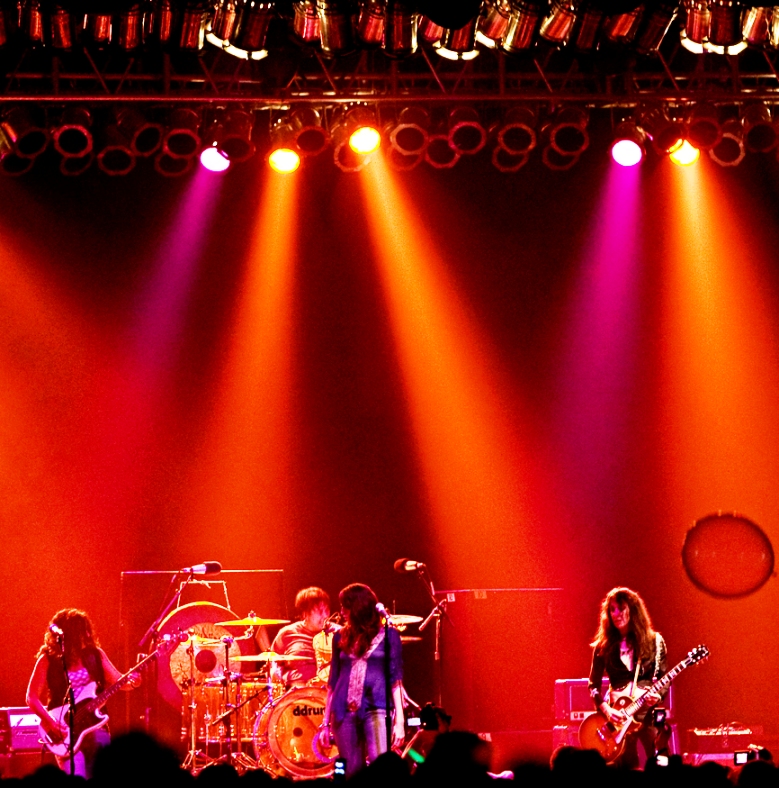 As I made my way through Planet Roo I was halted by thunderous applause.  Just as I suspected, NYC based Lez Zeppelin was of to a rockin' start.  I approached just as they started into 'Immigrant Song' and was in awe.  I was born a Zeppelin fan and forever will remain one, but seeing as I wasn't even on my parent's minds by the time Led Zeppelin broke up, this was going to be the closest I had ever come to seeing the actual band (or at least until that rumored US Tour happens).  Lead singer Sarah McLellan poured her heart and soul in a cup and offered it to the crowd.  The energy was indescribable and for the most part, Lez Zeppelin delivered a flawless performance.  It's hard to compare McLellan to Robert Plant vocally, but I was truly impressed with her stage presence and poise.  As for the rest of the band, Steph Paynes on the guitar, Lisa Brigantino on bass, and Helen Destroy on drums all held us in the palm of their hands.  Overall the only small criticism I could make of the group is that a couple songs were a smidge off tempo, but other than that I can say with all honesty I will be seeing this group again… got to feed that Zeppelin addiction somehow!
After Lez Zeppelin was finished I started to make my way back to camp.  This is much easier to do when one is equipped with a flashlight.  I trudged and stumbled, but after 30 minutes of walking I finally arrived at my tent.  Awake for nearly 40 hours, it was time to pass out.
Friday, June 13th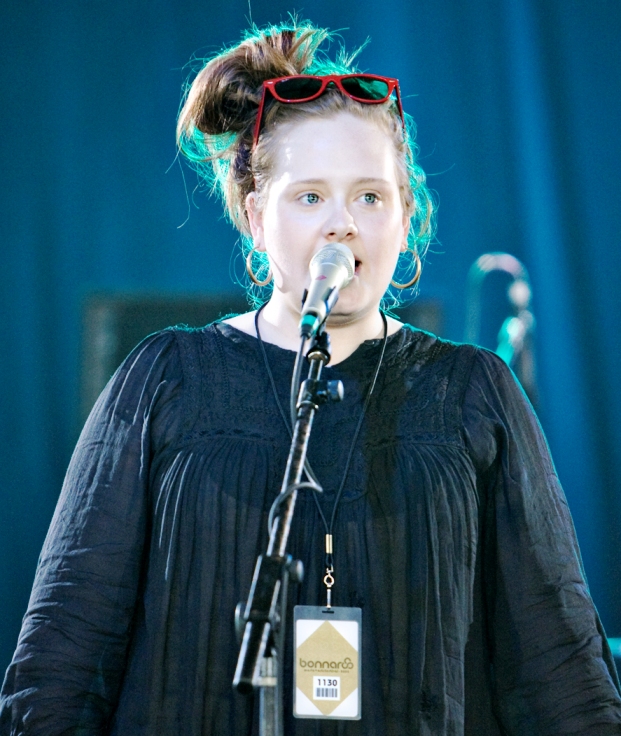 It's always hard getting any sleep at festivals, especially ones of the camping nature.  Sun hits the tent early and is relentless from that point on.  I forgot how brutally hot it can be in Tennessee, but then again this is coming from someone who actually enjoys frigid Chicago winters.  The official Day One of Bonnaroo was finally upon us, so my fellow comrades and I sun blocked up and headed towards Centeroo.  I decided I would make it a daily ritual to wander around Centeroo before the music started and plan my day out from there.  I sat under a tree and opened the schedule.  Just as I suspected, many of the bands I wanted to see were going to be playing at the same time.  With festivals of this size it's not uncommon to be put between a rock and a hard place when it comes to picking what bands you want to see live.  I decided that with the exception of Yonder Mountain String Band and Widespread Panic, I would spend the weekend seeing bands that I've never gotten the chance to see live.  I made a brief stop at Which Stage to catch part of the Drive-by Truckers an alt-country group from Athens, GA.  Easily distracted by hoopers in the distance, I basically passed on through and headed to This Tent for Jose Gonzalez.
A chair was placed in the middle of the stage and Mr. Gonzalez sat down and started playing.  I immediately got chills.  Even though the tent was jam-packed and the crowd spilled out onto the surrounding grass, the performance was very intimate.  Best known for his covers of Massive Attack's 'Teardrop' and Joy Division's 'Love Will Tear Us Apart' it was great to hear the Argentinean-Swedish gentleman strum a few of his originals from albums Veneer and In Our Nature.  I left his set a smidge early to start heading towards the Other Tent in order to catch British soul-sensation, Adele.  The sky became overcast and the breeze turned cooler which undoubtedly was welcomed.  Adele began singing the ideal soundtrack for the cool breeze that crept in under the tent.  Her sound is a perfect combination of blues and soul and blows the likes of Amy Winehouse out of the water (or rehab).  It was a fresh performance and the power behind her voice when she sang 'Hometown Glory' off of her debut album 19 left me wanting more.
Heading back towards This Tent, Tegan and Sara were wrapping up their set.  I have seen them previously and was left rather unimpressed so I was more concerned with getting in close for The Swell Season who were scheduled to play next.  Fronted by Irish singer Glen Hansard (from the Frames) and Czech piano prodigy, Marketa Irglova, The Swell Season rose to fame thanks to a little indie film Once.  As expected the tent was completely packed as the group came out from backstage.  As they played, Glen danced around the stage as Marketa watched.  Her shyness definitely compliments Glen's loveable personality to a T.  Between dancing and singing his heart out, Glen commented that he was having a "fucking amazing time at Bonnaroo".  Seeing as this was the first 'Roo performance by the duo and band, I'm sure it won't be the last.  The Swell Season has a charm about them as if they have been staples on the music scene for years and years.  There was even a moment when Glen opted to share the stage with a couple fans allowing for an impromptu poetry session.  Overall I was blown away by the raw vocals and pure passion behind both Hansard and Irglova's performances.  Their set ended and it was time for me to wander back to camp to recharge for the rest of the evening's line-up.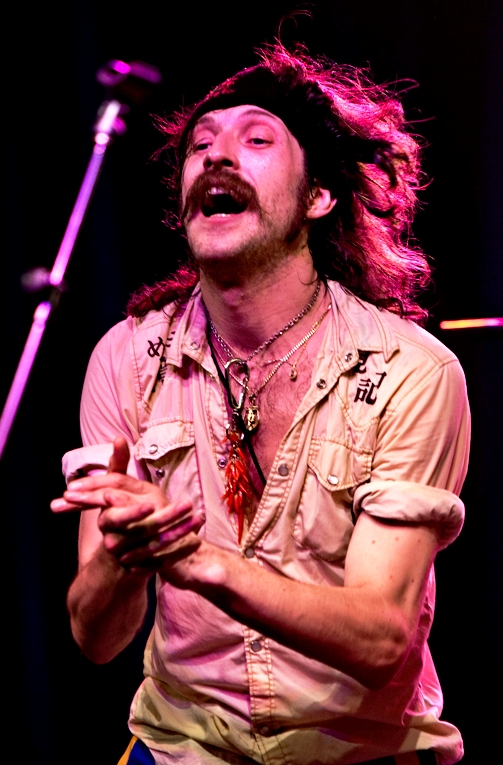 Sticking to my decision to only see bands that I hadn't seen previously, I was getting pretty excited to find out who was going to be playing the Super Jam this year.  Rumors had ranged from it possibly being a duet of Robert Plant and Jack White to Willie Nelson and Stephen Marley.  After some much-needed downtime at the campsite, I headed towards the Other Tent.  At this point it had started to rain and thanks to a nice couple from Des Moines, IA, I was able to shimmy my way through the crowd and right up towards the front.  The Super Jam was scheduled to start at 1:00am, but due to weather tainted travel plans of the "special guests" it started almost an hour late.  To my surprise, it was a mash-up of Gogol Bordello and Les Claypool playing all Tom Waits covers.  Genius. Eugene Hutz's raspy voice and gypsy-punk style made for an almost authentic Tom Wait's experience.  The collaboration was phenomenal and they played the best cover I have ever heard of 'Cold Cold Ground'.  Later in the set, Metallica's Kirk Hammett joined the jam and the most memorable song was Tom Wait's 'Big In Japan'.  I've never really been into Metallica, but it was nice getting to see a different side of Hammett… especially after playing with Metallica on stage just a few hours before.  After 'Big In Japan' I determined that it was time to call it a night and attempt to get some rest for the next day.  It was an extremely muddy walk back to camp as the rain continued to steadily come down.  Thank goodness I remembered a poncho.
Saturday, June 14th
I awoke to the sound of intense laughter coming from the camp next to mine… no doubt there were magical mushrooms involved.  The day started off a little cooler thanks to the rain the night before, but was quite the mud pit.  I decided that after a couple days of baby wipes and water that I would actually break down and pay for a hot shower.  I swear it was probably the best seven dollars I have ever spent in my life.  Granted the line was quite long, especially for the girls, but well worth it.  I emerged nice and clean and ready to sweat out another day at the 'Roo.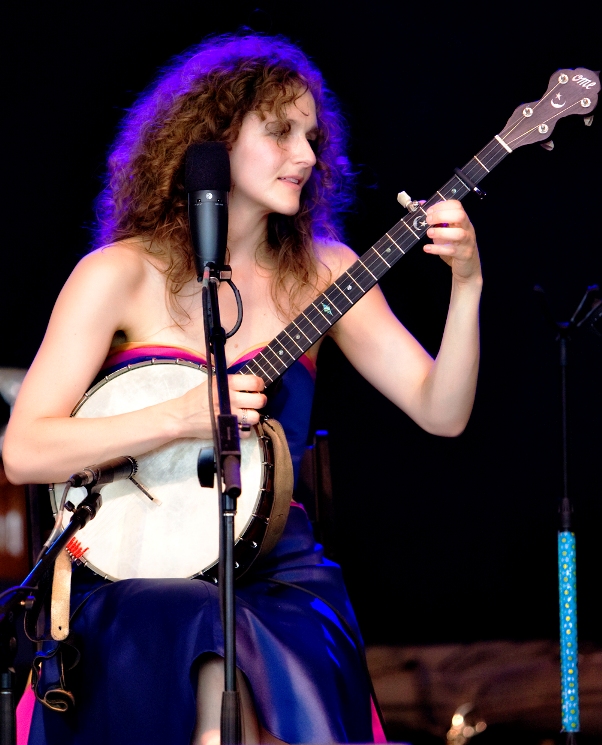 It just so happened that all of the bands I wanted to see on Saturday were all playing right in a row at the same tent.  Score.  I showed up early in order to attempt to ease my way to the front of the crowd by the time Cat Power was to take the stage.  First up was Mason Jennings.  It started off lackluster and climaxed early.  The crowd wasn't really into it, nor was I.  The highlight of the entire set was when he played 'Your New Man'.  It's a rather hokey and catchy tune about a jealous guy trying to get his "girl" back.  Bored, I decided to befriend a guy standing near me.  We both had the same plan for the day, stay at the same stage and wiggle towards the front gate.  Jennings ended and then it was time for Abigail Washburn and the Sparrow Quartet.  The Sparrow Quartet is comprised of acclaimed singer Abigail Washburn on banjo, Bela Fleck on banjo, Casey Driessen on fiddle, and Ben Sollee on cello.  The group became the first to tour both China and Tibet on a government-backed cultural mission.  Playing a mixture of Appalachian Bluegrass and traditional Chinese Folk music, this group was one of the highly anticipated acts to be seen at Bonnaroo.  They took the stage and it was evident that the crowd was hyped.  It was promised to be an amazing show and the Sparrow Quartet more than delivered.  The combination of Bela's pickin' and Abigail's vocals was a pleasant harmony.  All artists brought strong solo acts to the table and blended together for an outstanding sound.  When something works well, you recognize it. A fine mix of traditional and new songs I truly wish that their set could have lasted longer.
Next up was Cat Power.  I hadn't yet had the chance to see her live and after coming off such a natural high from the previous set; I was beyond pumped for Chan Marshall's performance.  I've heard the stories as to how erratic and animated she can be on stage and couldn't wait to witness it myself.  I have long been a fan of Cat Power since her first full-length album Dear Sir dropped in 1995.  Her music has kept me captivated and her performance at Bonnaroo did the same.  She took the stage and started right into it playing mostly her jazzier cuts from her 2006 album The Greatest and also delivered a fine rendition of 'Fortunate Son' by Creedence Clearwater Revival.  In between songs Chan was rather fidgety, moving monitors, pacing back and forth, but she channeled what issues she was having into putting forth an amazing performance.  At the end of the show she came back out on stage to shower her fans with flowers, which I thought was a gracious and nice touch.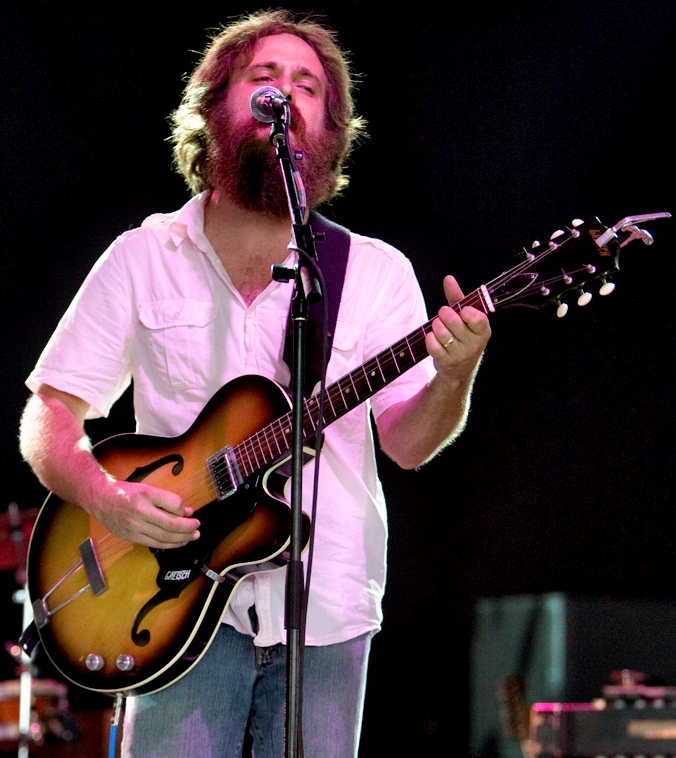 Rounding out my Saturday was South Carolina's Iron & Wine.  I've seen them live before but decided to stick around since I was already right upfront.  Sam Beam's vocals were spot on and Sarah Beam supported as they worked their way from song to song.  His voice wraps around you like a warm blanket while being read a perpetual lullaby and hers lingers in the background rather harmoniously.  Nothing terribly up-tempo was played and Mr. Beam made the comment that the last time he had played everyone danced for fast songs and shut the hell up when they played a quiet one.  Regardless, those around me were transfixed.  I was really hoping to hear some of their older stuff, but they mainly played selections from their newest album The Shepherd's Dog.  All in all I was glad I hung around to hear them live again.  After their set was over it was definitely time to get some grub and sit down, I had been on my feet for over 8 hours straight.
Back amongst the tents, I made a sandwich and found myself a nice chair to lounge in.  The rest of my group was off at other shows and throughout the weekend we didn't really run into each other all that much.  With a full belly and the sun completely set I figured a nap wouldn't hurt so that I would be refreshed for the upcoming late-night sets.  I set my alarm on my phone and crawled into my tent.  I sat up what seemed like maybe an hour later tops to find out that my cell phone was dead and I had overslept.  I could hear Phil Lesh & Friends off in the distance and I figured it was pretty late.  All of a sudden things got pretty quiet.  I figured Kanye West would have taken the stage by now, but there was nothing.  Mr. West has never really rubbed me the right way.  I'm pretty sure his overly cocky attitude mostly had to do with it, but I really had no interest in seeing him.  When we first arrived at Bonnaroo we learned that his 8:15pm set was being changed to 2:45am to accommodate his glow in the dark elaborate stage set up.  Rumors were being spread around the press tent that Kanye was upset that he wasn't originally playing on the main stage and that he felt if B.B. King could play the main stage, why couldn't he?  Well, he got his wish.  More rumors were floating around that other acts were going to be cut early because Mr. West didn't want anyone else performing while he was.  Can we say bogus?  Well as I sat in my tent and pondered what was said and wondered why Kanye hadn't taken the stage yet, I chose to go investigate.  As I'm reluctantly shuffling my way to the What Stage I all of the sudden hear something.  It was the crowd booing followed by:  "Wake up Mr. West." "Computer, where am I?"  I was puzzled.  Turns out that Kanye was over 2 hours late in taking the stage, the crowd was beyond agitated and appalled at the fact that he didn't even acknowledge he was at Bonnaroo, let alone apologize for being so late.  He ended his set early and upset many people.  People were chanting "Fuck Kanye" and I figured it would be a good time to head back to my tent before an all-out riot broke loose.
Sunday, June 15th
After what was being dubbed a hip-hop debacle the night before, I was ready for Sunday to be the highlight of my entire Bonnaroo experience.  As mentioned before I'm a huge fan of Led Zeppelin and as one would assume a huge fan of Robert Plant as well.  Missing John Paul Jones at Bonnaroo 2007 was still on my mind and I had established early on that I would be front row to see Mr. Robert Plant in the flesh at this year's Bonnaroo.  The plan was to get to What Stage early for Israel Vibration, but when I arrived all entrances to the field were blocked off and security guards were posted.  Apparently the aftermath of litter from the crowd at Kanye West's show was brutal.  They had people working overtime to get the field cleaned up, but weren't able to do so by the time Israel Vibration was supposed to take the stage.  They ended up changing stages last minute so we were directed to either head back towards Centeroo or wait in line to get to the main stage.  Well seeing as I only had one goal for the day I waited it out in the harsh sun and passed the time talking to a couple of the security guards.  While standing there a gentleman stopped and asked me how to get to the Sonic Stage.  I directed him towards Centeroo and asked whom he was going to see.  He mentioned his friend was playing with Abigail Washburn and he didn't want to miss the set.  The guy introduced himself as "Dennis" and I realized he had an artist's pass on him.  Well, I put two and two together and I was talking to Dennis Crouch, the bassist from Alison Krauss's band.  I told him of my goal to be upfront and he promised to wave if he saw me.  I wished him luck on getting to the Sonic Stage on time and continued to wait for the What Stage to open.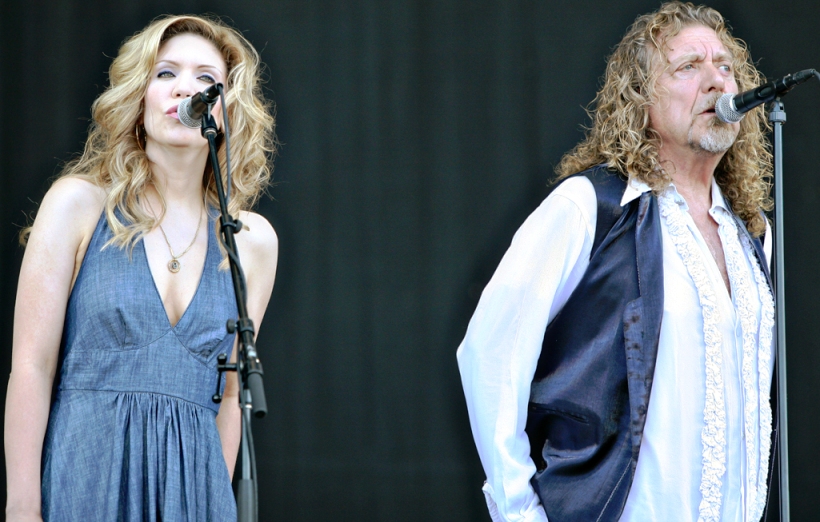 Finally, around 3:30pm they started letting people onto the field and the mad dash to get right up front was on.  Since I hadn't been super close to the main stage yet, I didn't know that they had a "pit".  I hopped in the pit but then realized that as soon as one show was done you had to exit the pit and re-line back up with no guarantee that you would get upfront for the pit again.  I devised a plan that I would stay for half of Yonder's set and then exit the pit and try and hop back up in line to get front row in the pit for Robert Plant and Alison Krauss.  Yonder Mountain String Band took the stage around 3:45pm.  Luckily the pit was shaded by the monstrous stage in front of me so my skin got a rest from being sunburned.  Colorado formed; Yonder Mountain String Band has quite the dedicated following and a strong fan base.  Their sound resonates with flare from both rock and bluegrass genres.  Addressing the crowd, mandolinist Jeff Austin referred to their set as a "brown trouser set" since they were opening for Robert Plant.  Lucky for us they brought a change of pants.  The interaction between the band and crowd was playful and very upbeat.  You can't help but tap your toes when seeing these guys live.  They blew me away with their original stuff and even more so with their cover of 'Crazy Train' by Ozzy Osbourne.  I was almost for certain that their fingers must have been bleeding after that one.  I ducked out of the pit and quickly got back in line.  The pit being emptied confused many, but I suppose it was a good idea and gave different people the chance to be close for at least one set.  I remember my experience the first three years.  If you were upfront and on the gate at the main stage, you didn't leave all day… no matter what.  This was a little more laid-back than days of yore.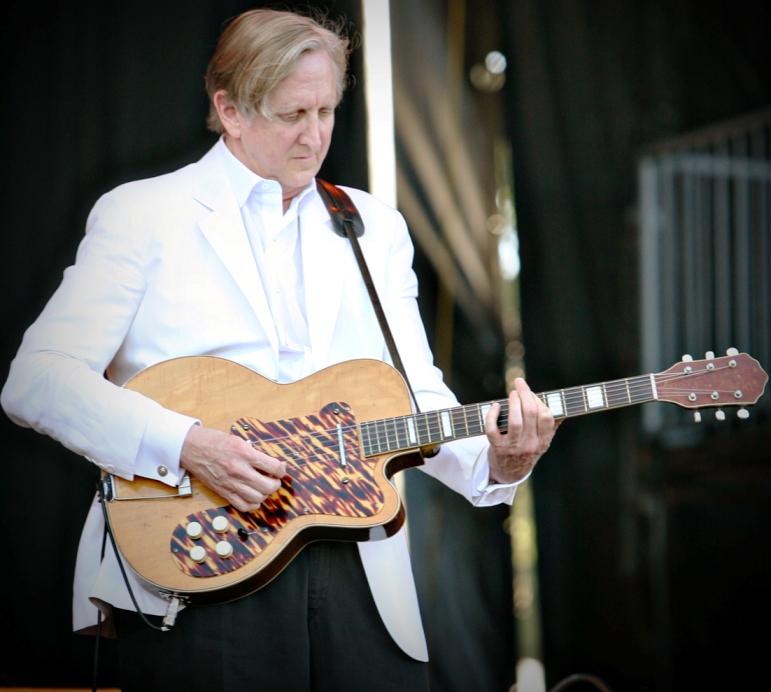 The pit was re-filled again and sure enough, I met my goal.  Front and center!  Next to me was a kid that couldn't have been more than sixteen years of age who was about as giddy as I was to see Robert Plant.  I was definitely in good company which was bound to make the experience all that much more amazing.  When they took the stage the band had started the intro to 'Rich Woman' off of their debut album Raising Sand. Alison Krauss looked absolutely flawless and Robert was much taller in person than I had perceived him to be.  Legendary T-Bone Burnett was also on hand for what turned out to be an exceptional show.  Both Krauss and Plant played songs from their own solo endeavors and even played a couple folksy-bluegrass renditions of Led Zeppelin songs 'Black Dog' and 'The Battle of Evermore' (which left me covered in goosebumps).  Granted I was a little biased since I'm such a huge fan of Robert Plant and well I'm pretty sure that Alison is an angel on earth, but this was by far my favorite performance at Bonnaroo.  It met all of my expectations and then some.  Before the band took their bows, T-Bone Burnett grabbed the mic and said, "Robert Plant!  It's his world and you're welcome to it!"  I'm still holding out hope for that Led Zeppelin reunion tour!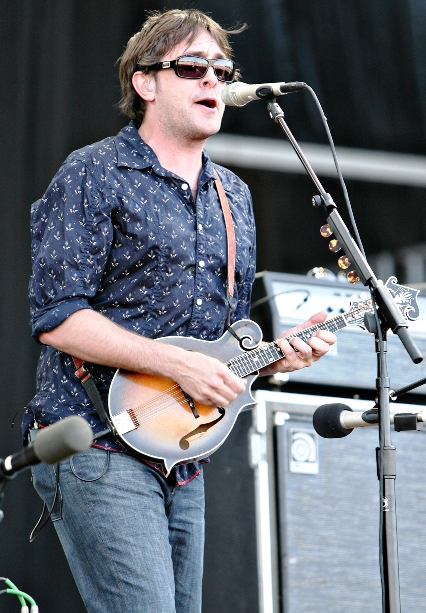 I exited the pit and made my way towards the press tent as I was in desperate need of water.  Mulled around with a few of the other writers and photographers and then walked over to catch the last couple songs of Death Cab for Cutie's set.  I made my way back to the main stage and decided I was going to sit out in the middle of the field for Widespread Panic.  To my surprise I ended up parking my rear about 10 feet from the rest of my friends, talk about random.  So we all hung out for the remainder of the night.  Widespread was ok at best.  Not as good as they were when I had seen them in 2003.  I think the glow sticks and laser pens caught my attention more than the music actually did.  While lying in the grass I was approached by a guy selling bootleg tye-dye shirts and seeing as I had purchased one the first three years I thought it wouldn't hurt to keep the tradition alive.  After Widespread ended we all made our way back to camp to start getting stuff packed up so that tear down in the morning wouldn't be a pain.  It was a nice night and the realization that I was going to have to leave Bonnaroo and head back to reality had started to sink in.
Monday, June 16th
Tear down began nice and early.  By the time we had finished, there were only 20% of tents actually still standing.  Everything looked really empty.  As we started pulling out and heading for the main road is was apparent what the mantra of the weekend was Fuck Kanye!  It was spray-painted everywhere.  We got on the road and the drive back to Chicago was a long, hot one.  As drove on down the interstate, we looked into passing cars and people still wearing their wristbands.  It was like a badge of honor.  I looked down at my wrist, I had survived yet another Bonnaroo and I can't wait till I get to survive the next one!