When you think of Brazil, what comes to mind???  I'd say Carnaval, Rio de Janeiro, samba…right? Yeah, there is a lot more to Brazil than just that, but honestly, those are all some pretty awesome things that my Country is known for.. I wanted to tell you guys a little bit about the Carnaval, since I was just there for that, this past Feb.
It's really hard to try and describe something so indescribable, so unbelievably out of control as Brazilian Carnaval…Just try to imagine yourself experiencing the ultimate feeling of exhilaration, freedom, fun, excitement, enthusiasm, happiness…!!!! I'm sure that the thought of hundreds of people dancing, singing, sweating, moving, smiling, laughing, drinking, flirting, feeling joy, all cramped up against each other in the middle of the street in Rio somewhere at 04:30 am, to the blasting sound of a live samba band embedded in the middle of the crowd, might not be that hard to envision. However, the electrifying energy that takes over, that seems to contaminate everyone there, is something I believe I can't transport to a piece of paper…
This is the street Carnaval, which spreads around scattered streets and blocks, in different cities throughout Brazil, during those 4 days a year when the whole Country seems to set it's timer to a different pace, to function and operate on a festive and laid back mode…where almost every other matter gets postponed 'til "after Carnaval…"because the overall mood in the Country becomes that of "there's nothing that can't wait 'til past ash Wednesday…."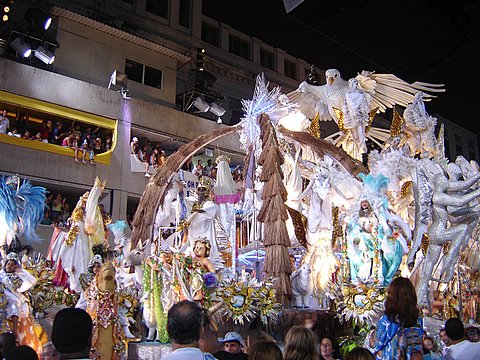 And that's how it goes during those crazy few days most Brazilian wait the whole year for…lots of booze, lots of women (and cute guys too), lots of music, lots of dancing….'til the sun comes up, so you can go get a few hours of sleep to try and get rid of you hangover, and to get ready to do it all over again….
There are also other ways to experience the Carnaval in Brazil..there's the big parade of the "Samba Schools" in Rio, which is a real competition, with judges, classifications, ranks and all…  I had the privilege to be a part of this huge and incredible event this year, as a member of "Grande Rio", one of the participating "schools", which I'm proud to say, came out in 3rd place.
There are a lot of tourists from all over the world  that come to be in the parade every year, as this is something that anyone can be a part of, as long as you purchase the costume of the one particular "school" you want to go out in, and learn how to sing that school's samba lyrics, so you can sing along (not mandatory, but recommended..!)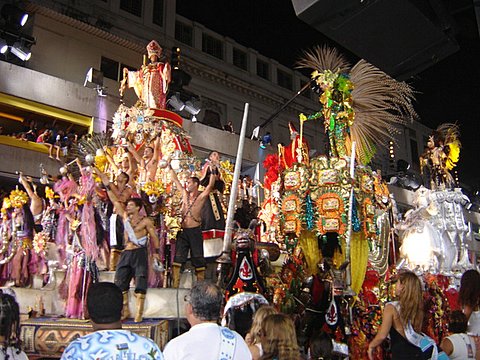 Brazilians are indeed very happy and friendly people, who like to party like there's no tomorrow, and who, for the most part, have a very positive and spontaneous way about them, finding pleasure in simple things, and enjoying life regardless of what their social and financial situation might be…Therefore, If you ever feel like experiencing Brazil and getting to understand a little bit about its people, I recommend you drop by for Carnaval sometime. You can be a participant, or just choose to watch as a spectator..either way I'm sure the contagious energy of those passionate and exciting people will blow you away, and make you want to go back again…
For more info about Carnaval in Brazil, you can check this website:
www.ipanema.com  and/or if you want to see more pictures from my trip, click here.