Halcyon Days, Bruce Hornsby's ninth full-length album and first for Columbia Records, evoke hopes for the future and memories of the past while appreciating, according to the artist, "Great days, beautiful peaceful days when they happenin these times."
Hornsby, a three-time Grammy winner who's sold more than 10 million records since his multi-platinum debut in 1986, draws from a wide array of influences - among them jazz, pop, classical, bluegrass, rock, vaudeville and sounds both swinging and downright uncategorizable - to create his most sublime and elegant collection to-date, all the while bringing his patented blend of playful lyrical whimsy and formidably refined musicality to the table. "There's a variety of musical materials," he admits before adding, "there's some funny words in there too."
Produced by Wayne Pooley (who first worked with Hornsby on 1993's Harbor Lights) and Bruce Hornsby, Halcyon Days debuts 11 new songs written by Hornsby: "Gonna Be Some Changes Made" (the album's first single), "Candy Mountain Run," "Dreamland," "Circus On The Moon," "Halcyon Days," "What The Hell Happened," "Hooray For Tom," "Heir Gordon," "Mirror On The Wall," "Song F," and "Lost In The Snow."
"Most of this record is really influenced by me being a parent," Hornsby offers. "So much of it was written based on my experiences as a parent, worrying about my kids. It's inspired by trying to put myself in their shoes. It's tough to be a kid."
"Dreamland," one of the key tracks on Halcyon Days, "is a song for one of my sons who was struggling with his self-esteem and having a tough time in his life as a little kid. The only way I could get him to really calm down was trying to get him to fall asleep."  The song, a 21st century lullaby, features the familiar soothing vocal timbres of Elton John, who alternates solo verses with Hornsby before the pair join in becalming dusky harmonies with gospel singer Lloyd Jones.
Eric Clapton (guitar) and Sting (vocals) perform with Hornsby and his band on "Gonna Be Some Changes Made," the album's first single, and "Halcyon Days," the haunting and plaintive title track written for his wife. "I'd love to bring you, on a silver tray," Hornsby sings, "some halcyon days." Clapton also plays guitar and sings on the rollicking "Candy Mountain Run." "'Changes Made,'" Hornsby confesses, "is about any bumbling idiot who can't seem to get his s*** together."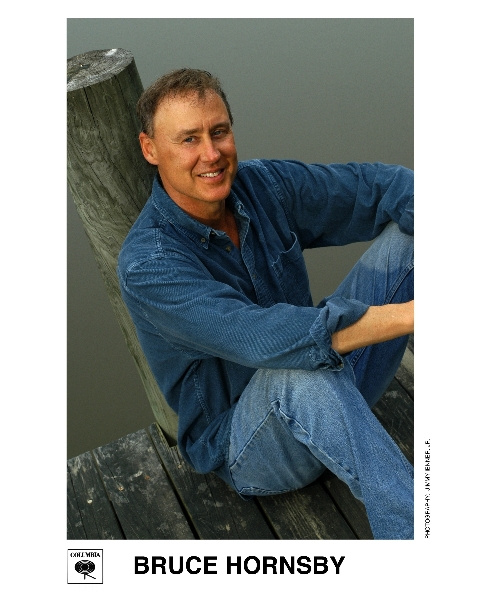 "I always wanted my music to have a real strong sense of place," Hornsby says. "And I've always wanted to find a place in my music to express good playing also. I'm someone for whom playing the instrument well is really important." Both concerns - sense of place and musical virtuosity - find full expression on Halcyon Days tracks like "Circus On the Moon," with its "good bit of two-handed solo piano playing in the middle," "What The Hell Happened," a "self-flogging sort of song" inspired by "great old family pictures of my parents from the 40s, where they look like movie stars," and the punning "Heir Gordon," "which is a play on Air Jordan." According to Hornsby, both "What the Hell Happened" and "Heir Gordon" are "musically coming from a ragtime stride piano place."
Bruce Hornsby struck RIAA gold - and triple platinum! - with his debut album, The Way It Is, recorded with his band, the Range. His debut generated three Top 20 hits, including its #1 title track, and earned Bruce Hornsby & the Range the Best New Artist Grammy for 1986. Hornsby took home his second Grammy in 1989 for Best Bluegrass Recording for Monterey Peninsula Artists - Bruce Hornsby Biography Page 2 "Valley Road" (from the Nitty Gritty Dirt Band's Will The Circle Be Unbroken, Volume II) and his third Grammy in 1993 for Best Pop Instrumental for "Barcelona Mona" (created with Branford Marsalis for the Barcelona Olympics). His eight previous albums - The Way It Is (1986), Scenes From The Southside (1988), A Night On The Town (1990), Harbor Lights (1993), Hot House (1995), 1998's double CD Spirit Trail, his double live collection Here Come The Noisemakers (2000), and Big Swing Face (2002) - have sold more than 10 million copies worldwide. One of pop music's most in-demand "side" men, Bruce Hornsby has played on more than 100 records with artists ranging from Bob Dylan, Don Henley, and the Grateful Dead to Bob Seger, Bonnie Raitt, Béla Fleck, and Willie Nelson, among many others. His songs have been performed and/or recorded by a variety of artists including Willie Nelson, Don Henley, Tupac Shakur, Bob Dylan, Chaka Khan, Robbie Robertson, Huey Lewis, Sara Evans, and Leon Russell. Bruce Hornsby became a part-time member of the Grateful Dead and, from September 1990 to March 1992, performed with the group on more than 100 concerts in America and Europe. "I've always liked the group of fans that we've drawn from the Grateful Dead time, because those fans are often adventurous music listeners," Hornsby admits. "To be creative, spontaneous in the moment and make music in the present tense, that's what we're all about live. I write the songs, we make the records and then the records become a departure point, the basic blueprint, the basic arrangement. I'm fairly restless creatively. I was never a very good Top 40 band guy because I never liked to play the same thing every time. Too often songwriters approach their songs like museum pieces. I don't subscribe to that. I think of my songs as living beings that evolve and change and grow through the years." For once and future Bruce Hornsby fans, these Halcyon Days are just beginning.
Click here to check out upcoming Bruce dates.