Craft Recordings is pleased to announce two special reissues from celebrated blues icons Buddy Guy and Junior Wells. Both legends in their own right, their synergistic musical partnership prompted Rolling Stone to dub the duo "the Original Blues Brothers." Throughout the '60s and '70s, they were frequent studio and stage collaborators, and together produced stunning live performances and some of their finest recorded work.
2018 marks the 50th anniversary for both Buddy Guy's A Man and the Blues and Junior Well's Coming at You, seminal albums originally released on Vanguard Records that were among the first to capture the dynamic sound of Chicago's electric blues scene. To celebrate these classic blues titles, both are being reissued on audiophile-quality, 180-gram vinyl cut from the original analog masters.
Both LP are available for pre-order now.
Click here for Buddy Guy A Man and the Blues
Click here for Junior Wells Coming at You
A special bundle package is available via the Craft Recordings store: http://found.ee/buddyjunior-lpbundle-craft-b
About Buddy Guy's A Man and the Blues:
One of the great living musical legends, blues guitarist and singer Buddy Guy has had a fundamental influence on modern music. Born in Louisiana, Guy relocated to Chicago in his early 20s, where he would collaborate with the likes of Muddy Waters, Howlin' Wolf and Junior Wells. Bridging traditional blues with a modern, sometimes avant-garde style, Guy's flashy stage presence and pioneering electric guitar techniques would make him a star in his own right, and by the late '60s, with the release of his second album, A Man and the Blues, Guy was influencing the likes of Eric Clapton, Jimi Hendrix, Jimmy Page, Keith Richards and Stevie Ray Vaughan. Throughout the '70s, and '80s, Guy spent much of his time on the road, performing in Europe as well as the US, and opening a Chicago nightclub, Buddy Guy's Legends, in 1989. The '90s and '00s found Guy enjoying renewed success as a recording artist, earning several gold records and multiple GRAMMY® Awards. Guy was inducted into the Rock and Roll Hall of Fame in 2005, received the National Medal of the Arts in 2003 and was awarded with Kennedy Center Honors in 2012. Having released over 20 studio and live albums, Buddy Guy continues to record and tour, always delivering a masterful show, ever-evolving in his style and sound.
Buddy Guy's legendary electric guitar licks and passionate vocals are on display in A Man and His Blues, with an adept backing band that includes the great Otis Spann on piano and a snappy sax trio. Featuring a handful of original tracks, a surprising and highly original rendition of "Mary Had a Little Lamb," plus classics like "Money (That's What I Want)," Guy's influential second album bridges Chicago blues with R&B. This 50th anniversary reissue was cut from the original analog master by Capitol Mastering's Ron McMaster.
Buddy Guy will be touring in the U.S. throughout the summer in 2018 and will be a part of the Rock Legends Cruise VII in February 2019. Guy also recently appeared on David Letterman's series My Next Guest Needs No Introduction, available now on Netflix.
A full list of Buddy Guy's live dates can be found here: http://www.buddyguy.net/tour
About Junior Wells' Coming at You: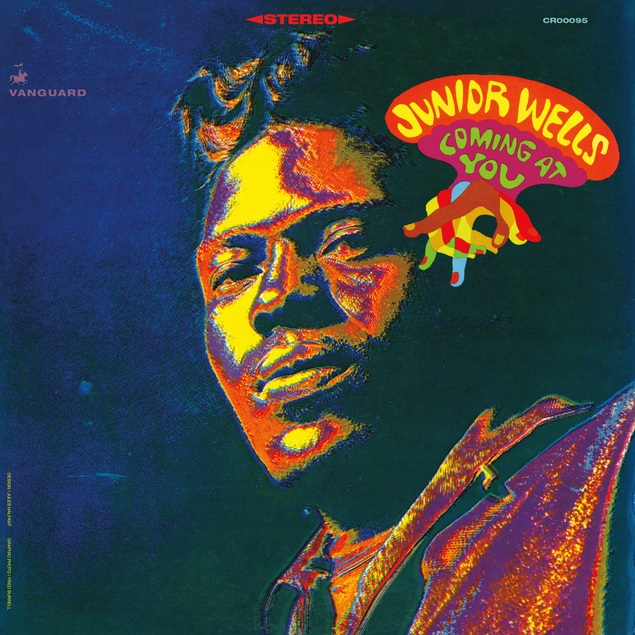 Known as the "Godfather of the Blues," Junior Wells (1934-1998) was one of the preeminent Chicago bluesmen, known best for his impressive amplified harmonica stylings and fervent vocals. As a teenager in the early '50s, Wells began his career with the Muddy Waters Band, replacing Little Walter on the harmonica. By the end of the decade, Wells was successfully leading his own groups, often teaming up with fellow Chicago bluesman Buddy Guy. Infusing his blues with the sounds of contemporary rock, funk and soul, Wells was easily embraced by a rock audience, and by 1970, he was playing the Fillmore West and touring with the likes of the Rolling Stones and Canned Heat. Known for commanding the stage with his impassioned live performances, Wells would continue to perform (often with Guy) and record throughout the blues resurgence of the '80s and '90s. Even now-two decades after his death-he remains a revered and influential musical icon.
An iconic electric blues album of the '60s, Coming at You features harmonica player and singer Junior Wells at his finest. With fellow Chicago musician Buddy Guy on lead guitar, Coming at You showcases the two fiery musicians' talents in the studio as they play a selection of blues standards, backed by a tight band including Lefty Dizz on guitar, Douglas Fagan on sax and Clark Terry on trumpet. Back on vinyl for the first time in over 40 years, this 50th anniversary reissue was also cut from the original analog master by Ron McMaster at Capitol Mastering.
BUDDY GUY A MAN AND THE BLUES - TRACK LISTING:
A1. A Man and the Blues
A2. I Can't Quit the Blues
A3. Money (That's What I Want)
A4. One Room Country Shack
A5. Mary Had a Little Lamb
B1. Just Playing My Axe
B2. Sweet Little Angel
B3. Worry, Worry
B4. Jam on a Monday Morning
JUNIOR WELLS COMING AT YOU - TRACK LISTING:
A1. Stop Breakin' Down
A2. Somebody's Tippin' In
A3. Five Long Years
A4. Mystery Train
A5. So Sad This Morning
A6. When My Baby Left Me
B1. Little by Little
B2. Tobacco Road
B3. Worried Life Blues
B4. I'm Your Hoochie Coochie Man
B5. You Don't Love Me