Carole King will release reissues of four classic albums — Pearls: Songs of Goffin and King (1980), Touch the Sky (1979), Welcome Home (1978), and Simple Things (1977) — on February 28 via her own Rockingale Records label and Concord Music Group. Each includes the original photography and album notes and, aside from Pearls, has never been previously released on CD in the United States.
Carole King is one of the primary architects of the singer-songwriter movement of the early 1970s, thanks in large part to the hugely influential body of work she had already established by the time she released her first solo album. King wrote hit songs for other artists for nearly a decade before stepping into the spotlight with her landmark 1971 release Tapestry, which received a Diamond Award from the RIAA for sales of more than 10 million units in the U.S., with more than 25 million units sold worldwide.
These subsequent releases brim with the unprecedented honesty and intimacy of the singer-songwriter era and helped solidify her status as one of the most successful and revered female songwriter in pop music history.
Pearls: Songs of Goffin and King (1980)
Next to Tapestry, which was released nearly a decade earlier, Pearls is considered one of King's finest recordings. Just as the title suggests, it's a retrospective of classic songs written by the powerhouse creative team of King and former husband Gerry Goffin. Included among the ten tracks are many of the songs that put other artists on the map before King launched her solo career: "The Loco-Motion" (Little Eva, Grand Funk Railroad), "One Fine Day" (The Chiffons, Rita Coolidge), "Chains" (The Beatles), "Hey Girl" (Bobby Vee, The Righteous Brothers, Donnie Osmond, George Benson), and more.
Simple Things (1977)
Simple Things marked King's transition from Epic Records to the Capitol label, and also introduced songwriter/husband Rick Evers as her collaborative partner (the marital and creative partnership was short lived, as Evers died within a year after the release of the ten-song set). The King-Evers songwriting is fleshed out by King's six-piece band, Navarro: guitarists Rob McEntee and Mark Hallman, bassist Rob Galloway, drummer Michael Wooten, percussionist Miguel Rivera, and flutist/saxophonist/clarinetist Richard Hardy.
Welcome Home (1978)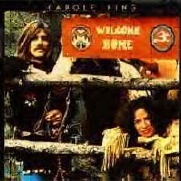 Welcome Home is an eclectic and exploratory outing, with songs ranging from the Beatle-esque ("Venusian Diamond") to the dance beat ("Disco Tech"). But the album is also marked by tragedy. It's King's second recording to showcase the collaborative songwriting partnership with her husband Rick Evers, who died in the months between the completion of the recording sessions in January 1978 and the release in May (Evers appears prominently in the album photos). Welcome Home — with backing by her band Navarro — provides a snapshot of an artist willing to take risks by stepping beyond preconceptions to embrace a range of styles.
Touch the Sky (1979)
Touch the Sky was recorded in Austin, Texas, with a team of musicians that included some members of Navarro — Hallman, Hardy, and Rivera — along with musicians from Jerry Jeff Walker's band. King plays acoustic guitar on "Walk With Me" and "Passing of the Days," and acoustic piano on "Time Gone By," "Crazy," and "You Still Want Her." The result of this diverse collection of musicianship is a unique blend of folk and country, all of which is held together by King's deft songcraft.