Upon arriving at the Cascade Equinox grounds in Redmond, Oregon, just outside of Bend, attendees were welcomed by an atmosphere pulsating with anticipation. Festival-goers filled the air with tunes from the featured artists on the lineup, soaking in the majestic mountainous surroundings, and forming caravans as they made their way into the fairgrounds for a weekend brimming with live music, autumnal festivities, and communal camping.
A stroll through the festival grounds revealed a diverse array of attractions. Tiny corners hosted captivating art installations and altars, while dedicated spaces beckoned attendees to engage in learning and playful activities. An epic ferris wheel dominated the center of the venue, and six stages were strategically scattered throughout the festival experience. Among them, the epic main stage stood tall with its mountain-inspired abstract tapestry. Multiple outdoor side stages curated live music spanning various genres and tastes, housed in barn-like structures adorned with captivating LED lighting. The venue struck a harmonious balance between simplicity and vibrancy, promising a rich experiential journey filled with play, unforgettable moments, and artistic marvels around every corner.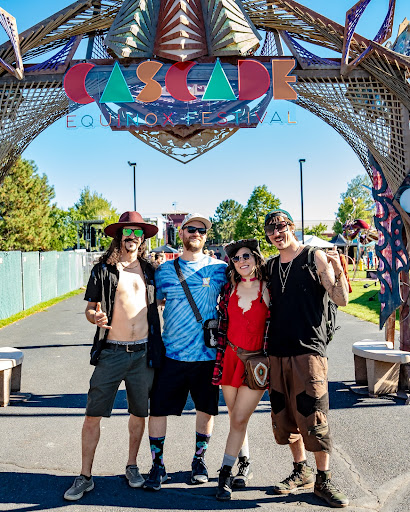 Friday marked the commencement of the festival, with the gates swinging open to the sound of the Grateful Dead resonating from the Harvest Stage. The "Watkins Glen" band graced the stage as one of the weekend's inaugural live acts, invoking the timeless lyrics, "Roll away... The dew..."
Following their performance, Yak Attack took command of the Harvest Stage, drawing a diverse crowd of attendees spanning all age groups to the dance floor. Despite the festival's multi-genre lineup, the spirit of jam music prevailed, captivating enthusiastic crowds. Yak Attack delivered a high-energy performance, with a focus on their signature synthesis that never failed to resonate with jamtronica aficionados. Special guest Kellen (Keyboardist/Vocalist) of Fruition joined them for a memorable collaboration on an original called "Don't Give Up Before Your Time."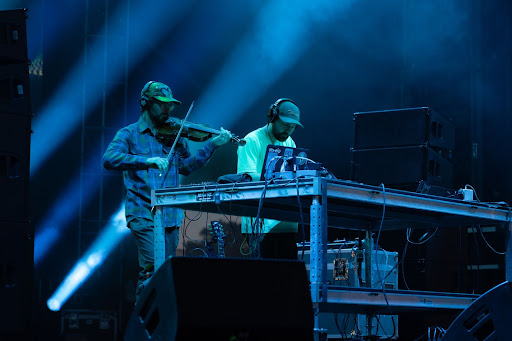 Emancipator stepped into the spotlight shortly thereafter, claiming the opening headliner slot on the Equinox Stage. A sense of utter relaxation washed over the crowd as these beloved producers took the stage, enveloping attendees in their harmonious, violin-infused melodies. Fan-favorite tracks like "Land and Sea" and "Greenland" graced the setlist, characterized by a slightly more electronic undertone and punctuated by deep bass drops, adding a spirited twist to their eclectic sound.
The Main Squeeze took the festival stage with a setlist that was bound to make you move and a vibe that made for an unforgettable musical journey. They kicked things off with the high-energy "Sweat," setting the tone for a night of non-stop groove. "WWC" kept the momentum going, followed by the infectious rhythm of "Little Bit." The band took the audience on a sonic adventure with "When I See Darkness," seamlessly transitioning into the captivating "WDWG."
As the night unfolded, be prepared to feel the love with "Love Yourself" and let loose as "Sun Goes Down" filled the air. The Main Squeeze showcased their musical prowess with "Dr. Funk," a song that's sure to get the crowd moving, and then they wrapped up the setlist with "I'll Take Another," leaving the audience wanting more.
Grateful Web sat down with The Main Squeeze and talked about their upcoming new music and special projects they are curating. Rob "Skywalker" Walker (Bass, Keys, Vocals) said, "I feel like the most passionate we're at right now is just, like, creating a bunch of new music, trying to get to a place and elevate our sound. We've been doing that for about the last six months pretty nonstop, so we're really finding that niche right now, and it's really hitting. So it's been great."
In the spirit of those unforgettable jam sessions known as The Squeeze House (mentioned in the full interview below), The Main Squeeze is now venturing into new sonic territories with the same spirit of collaboration. They are thrilled to introduce "The Vibetape," a full-length collaborative mixtape featuring the talents of fifteen other artists (Full Interview with The Main Squeeze below!)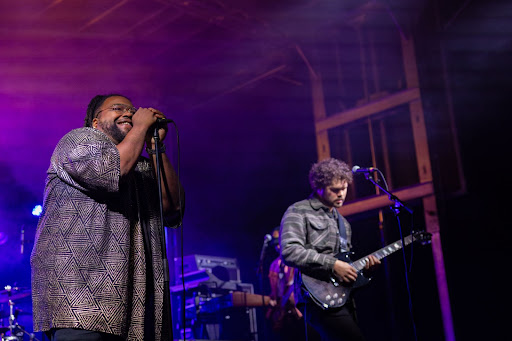 Grateful Web also sat down with Fruition and had a stellar conversation on the evolution of the band's identity and also gained anticipation for their upcoming album. Kellen Asebroek on vocals, rhythm guitar and piano said, " I want to emphasize that I think this batch of tunes is, and of course, artists tend to say this, but it truly represents some of the most mature work we've ever created. This art is a genuine reflection of our souls, and the people who have heard it so far agree that it captures our essence. It's like we've finally cracked the code." (See Full Interview Below!)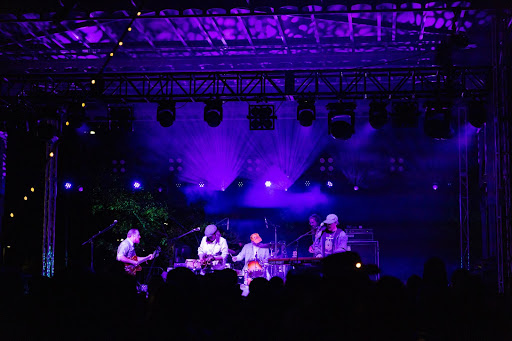 Fruition took the next headlining slot on the Harvest Stage, the beloved band known for their captivating live performances, graced us with a setlist that left the audience spellbound. Highlights from their performance included "Labor of Love," a soulful rendition of "I Lost It" (originally by Lucinda Williams), and the crowd-favorite encore, "Mountain Anne" and "The Meaning." Fruition's seamless blend of musical prowess and heartfelt lyrics created an enchanting atmosphere that resonated with fans, making their performance a standout moment at the festival.
Bild Wild, Manic Focus and Opiuo delivered electrifying nighttime performances to conclude Friday night's festivities.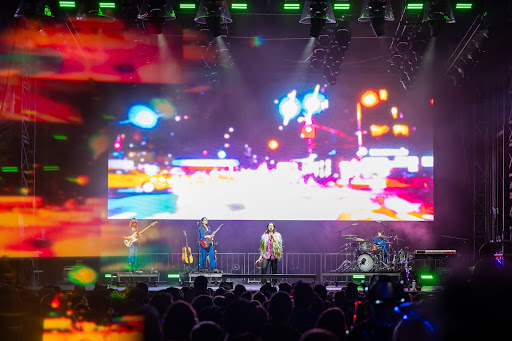 Amidst Oregon's typical damp and smokey afternoon, festival attendees had the opportunity to recharge for a vibrant Saturday night. They could leisurely explore the festival grounds, whether by immersing themselves in the serene atmosphere of the Healing Village—an oasis for relaxation and self-care—or by starting the day with a visit to the Culinary Commons, boasting an exceptional array of food vendors. Additionally, the culturally rich Nomadic Market offered unique fashion, one-of-a-kind artwork, and earth-conscious crafts that echoed the essence of Oregon's landscape.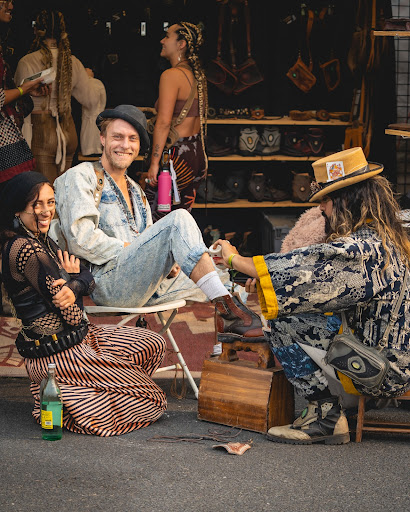 The festival saw a significant presence of families, creating a wholesome and well-rounded atmosphere. Cascade facilitated two different forms of day camp experiences in collaboration with Wildheart Nature School and Waldorf School of Bend, catering to various age groups and affording parents the opportunity to partake in the festivities.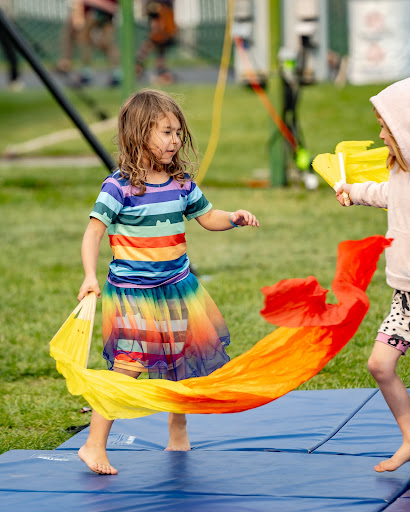 Diggin' Dirt, the epitome of west funk and soul, ignited the Harvest Stage on Saturday afternoon, playing to a full crowd of engaged attendees and flaunting songs "Mac N Cheese," "Superstar," and ending with a big "Mississippi Queen," that were coupled with full-band huddled jam sessions on stage, cheering each other on musically and perfectly engaging reaction with the crowd, who were specifically enticed by the dramatic horns on stage.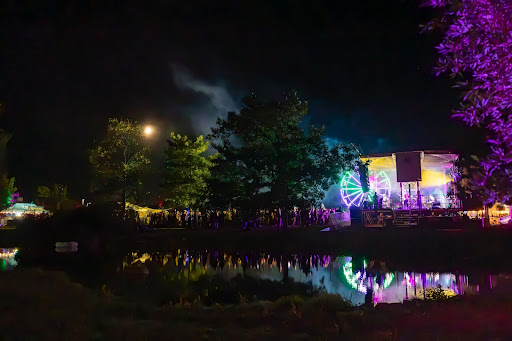 On the Equinox Main Stage, Moontricks captivated the crowd with a memorable performance. They paid homage to the energetic audience with a nod to the "boot stompin'" vibe, featuring their beloved collaboration "Coast" with Gone Gone Beyond and showcasing their harmonica skills during their collaborative track Dirtwire while playing "Alone." Their set included a soulful rendition of Bill Withers' "Ain't No Sunshine When She's Gone," and Nathan Gurley (Moontricks) stepped to the front of the stage to deliver a rap performance over their live production and banjo. They closed their set with the crowd-pleasing classic, "Home," leaving the audience excited and united.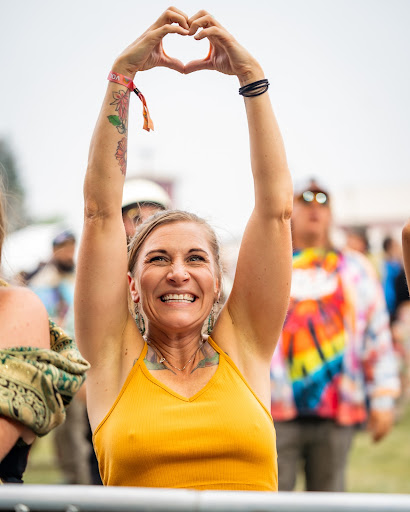 Dirtwire's recent performances have embraced the realm of electronic music, weaving a captivating tapestry that seamlessly merges the live and electronic realms. Their shows consistently pay homage to the indigenous heritage of the land they perform on, inviting the first peoples of the land to perform on-stage mesmerizing choreography that harmonizes with their music and eludes rich cultural representation. Their set exuded a potent and profound energy, infusing cherished classics with a rich, electronic allure, leaving the audience spellbound by the deeper dimensions of their sound.
Pretty Lights unquestionably stole the spotlight, evoking profound emotions and indelible memories. It's challenging to encapsulate the transformative experience that Derek and his ensemble offer. A wave of nostalgia washed over the crowd as he skillfully interwove cherished classics from our collective past with his signature new-age power and crystalline sound.
The performance started with such intensity that it tripped the stage's power breakers within the first minute, a moment that signaled something extraordinary was unfolding. Tracks like "Finally Moving" and "Still Night," Steve Miller Band "Fly Like An Eagle" Remix and so much more, left the audience in awe, marking Pretty Lights' triumphant return to the festival stage after nearly five years. The evening was a testament to the enduring impact of his music and the profound connection it forges with the hearts of listeners.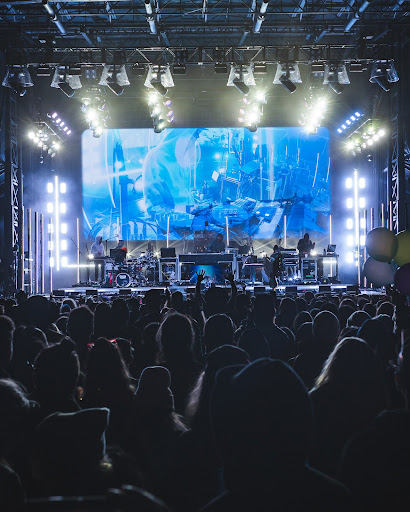 Saturday evening and Sunday afternoon, offering welcome coverage from the rain, provided an excellent opportunity to explore the Cosmic Drip—an enchanting realm of artistic wonder. This immersive space showcased interactive installations, live painters, and a diverse fusion of creative brilliance that left attendees feeling inspired and awe-struck. It served as a delightful setting for art exploration with friends and featured a thoughtfully designed stage for sound healing, elevating the overall experience.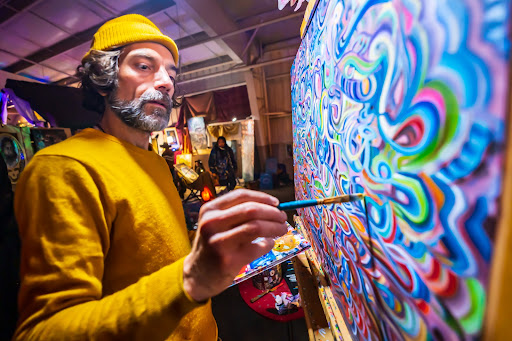 Sunday's schedule was thoughtfully curated, placing a renewed emphasis on acoustic headlining acts. Gone Gone Beyond graced the Equinox Stage with their soul-stirring vocals and unwavering passion, treating the audience to beloved classics like "By the Sea," "Riptide," and "Coast."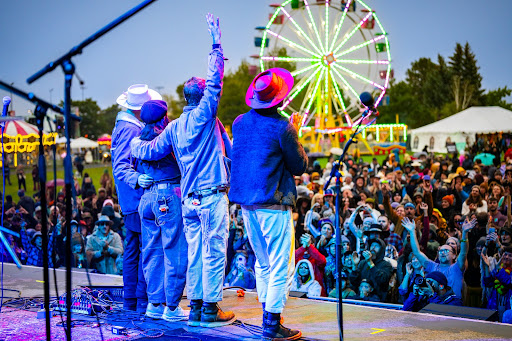 Trevor Hall's performance was a heartwarming family affair, with attendees of all ages coming together under the gentle drizzle just after sunset. He delivered fan favorites such as "Lime Tree," a tribute to the Hawaiian people of Maui with his song "O Haleakala," and another hidden gem, "All of My Lessons." It was a moment of pure musical enchantment as the raindrops glistened like stars overhead.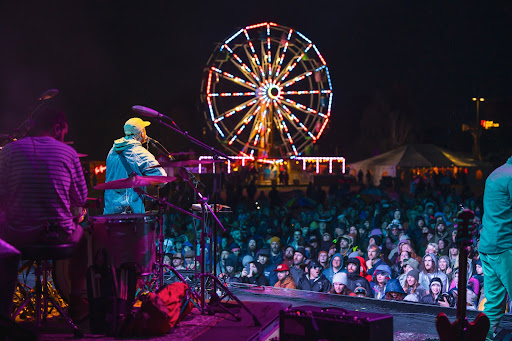 Goose kicked off their performance with a commanding 20+ minute rendition of "Tea in the Kitchen," instantly establishing themselves as a formidable presence in the jam world. As festival headliners, they showcased their profound musical prowess to the audience. From the very start, the crowd enthusiastically sang along and swayed in harmony to the extensive jam that launched their set. They seamlessly transitioned into the fervent and emotive tracks "Silver Rising" and "Arrow," treating the audience to intricate solos by their lead guitarist and captivating instrument exchanges among the band members.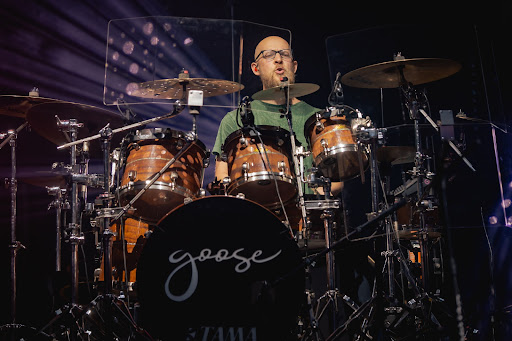 Throughout their set, Goose skillfully blended funky jams with emotionally resonant vocals, capturing the undivided attention of a rain-soaked crowd that joyfully danced to their headlining performance. A highlight was their electrifying cover of "Can't Get You Out of My Head" by Kylie Minogue, a crowd-pleaser that invited spirited sing-alongs and featured the lead's captivating synthesized vocals in the midst of the rain-soaked revelry.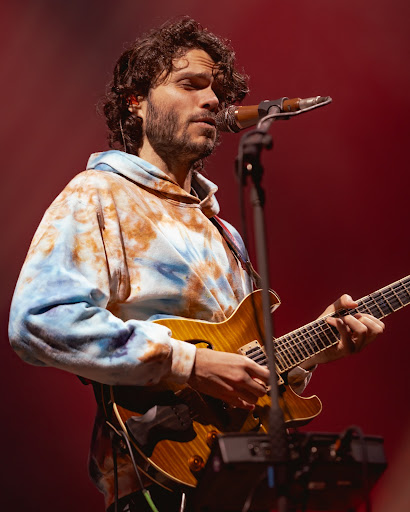 Acknowledging the crowd's relentless energy on the festival's third day, Goose expressed their appreciation and launched into the energetic "726." They concluded their epic Sunday night set with a stellar rendition of the fan-favorite "Arcadia," sealing the deal for an unforgettable musical experience under the rain-soaked festival skies.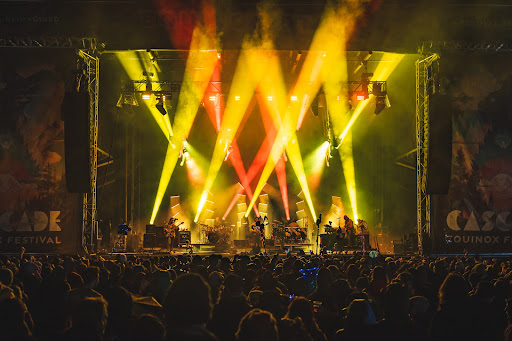 On the closing night of Cascade Equinox, festival-goers were treated to a truly exceptional musical experience at the Tilt Stage. LP Giobbi, renowned for her eclectic style and innovative electronic beats, brought an unexpected and delightful twist to the festival with their "Dead House" set. The result was an extraordinary fusion of house music and the iconic jams of the Grateful Dead.
Some of the standout tracks featured during LP Giobbi's performance included "Fire on the Mountain," "Sugaree," "Friend of the Devil," and "Deal." Each song was reimagined with a contemporary electronic twist, breathing new life into these beloved classics.
As the curtains gracefully descended on Cascade Equinox, an enchanting and unforgettable performance unfolded, providing festival-goers with a truly romantic and formal musical experience. "The Talking Dead," a collaboration featuring LDW and Garcia Birthday Band, held the privilege of closing this exceptional festival with a flourish. The stage came alive with an exquisite fusion of acoustic melodies and rock-solid shredding solos, creating an atmosphere charged with the highest of energies. The artists delved deep into their catalogs, treating the audience to a mesmerizing journey through the realms of Phish, The Talking Dead, and the Grateful Dead. Every note played was a cherished favorite, evoking a sense of nostalgia that left hearts aflutter.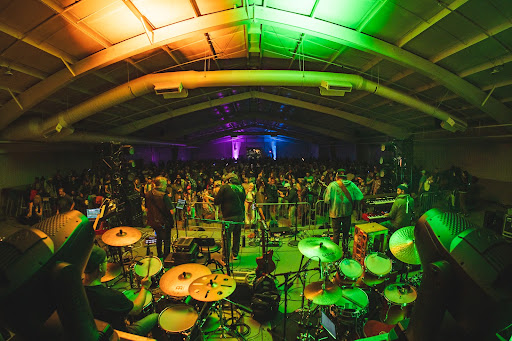 Adding a layer of sheer elegance to the performance were the radiant female vocals that graced the stage. In the late-night barn, where history met harmony, the echoes of the Grateful Dead's enduring legacy reverberated throughout the crowd. It was as if time had stood still, and the spirit of community and togetherness, synonymous with the Grateful Dead's music, enveloped every soul present.
The festival reached its crescendo, and the memory of this closing performance would forever be etched in the hearts of all in attendance. Cascade Equinox, for those embarking on their first journey into its magical realm, proved to be an all-encompassing experience.
It effortlessly covered every aspect of what a festival should be, from captivating performances to a sense of enduring camaraderie that transcended the ordinary. For those fortunate enough to partake in this celebration of music and unity, it was clear that returning to this festival would become an annual tradition—a testament to its undeniable allure.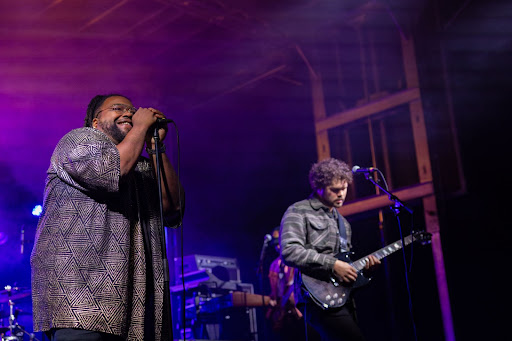 Grateful Web: Tell me about your Summer Tour in Europe - let's start there. Any favorite cities?
Smiley (Keyboardist): "We were in Barcelona, just outside the city, for a festival earlier in the year. A month later, we returned for a two-week tour in London and various cities across Spain, which included a few festivals and several club dates. This marked our fourth time playing in Europe and our second full tour in Spain, and the experience was truly amazing.
The London show was a sold-out event at the legendary Jazz Cafe, and it was a special experience to perform in that iconic venue. The Spain tour was equally incredible, being so far from home yet receiving such overwhelming love and support from the audience."
GW: Why was Spain such a destined spot on your tour?
Smiley (Keyboardist): "We got lucky. This guy found us on YouTube, and honestly, we didn't know if it was real when we received the email at first. We had no idea until we got there. It was our first time there, and we had no clue what to expect. We found ourselves in front of around 7000 new people at these festivals where he had us headlining. He had discovered us on YouTube and was a promoter who organized this entire tour for us in Spain. Without hesitation, we said, 'Yes, of course.'"
GW: Good thing the guy showed up at the airport!
Smiley (Keyboardist): "Yes, we were hoping that it was real. And then, it was real. (laughs*)"
GW: And you have a Fall Tour around the corner - in the Midwest?
Maximillian Newman (Guitar): "Yes! We're starting on October 12th in Las Vegas, which also happens to be Corey's birthday. Then, we'll be touring through the Southwest, followed by the Midwest, and finishing up in the Mid-South. It's a relatively shorter tour for us, spanning three weeks, but we're incredibly excited. Next year, we're planning to embark on a much larger tour in support of our new album."
Corey Frye (Lead Vocalist) "Chicago, October 20th at Thalia Hall – it should be a great one. We've also got a big date scheduled for December 16th in Denver at The Ogden. We're planning something special for that particular show, a version of our "Squeeze House" collaborative super jams where we'll have a bunch of artists and surprise guests join us on our original songs, bringing our house party jams to the stage for a unique two-set show. We're especially excited about our Halloween show in Nashville. We've always loved performing there, and though the venue we used to play at, called the Exit/In, is no longer open, we're going to make it a fun one.  
And of course, we have our annual 'Squeezegiving' show in Indianapolis, IN my hometown. It's a tradition that takes place on the Wednesday night before Thanksgiving at The Vogue, and these are some of our bigger shows.
Additionally, we're heading to Reuben's hometown in Goshen, IN for two nights – it's going to be amazing. This year marks the ten-year anniversary of our very first full-length album "The Main Squeeze LP", which we'll be performing live in its entirety for the second show. It'll be the only date on the entire tour where we do this."
GW: Give us the in. Squeeze House vs. Squeeze Vault?
Corey Frye (Lead Vocalist) "The Squeeze Vault, okay, so there have been a couple of incarnations… The original Squeeze Vault was essentially a collection of content from our YouTube videos. We created various videos on YouTube, including covers and original songs, and we wanted to make the audio from those videos available on Spotify. That was the concept behind the original vault.
However, what you probably saw is the version of the vault we created with Volume. Volume is a music-focused streaming platform, somewhat akin to Twitch but exclusively for music. We partnered with them to film and record our live shows during our tours, and then we release these recordings through the Volume platform within the vault. They are there to capture the live experience, streaming it, and making it available afterward.
And then there's the Squeeze House. That's kind of a whole saga in itself because it originally started as what we simply called 'our crib.' We've had a Squeeze House since our college days in Bloomington, Indiana."
GW: Who was the most studious at college?
*Everyone looks at smiley and laughs.*
GW: How has the Squeeze House transcended since college?
Corey Frye (Lead Vocalist): "Back then 'Squeeze House' became the name of the live stream shows that we did from our house during COVID. Yeah.
So, we always created those YouTube videos from the beginning. It was something we did when we started out, filming our journeys on the road and weekends with friends, and some of those videos gained popularity during that time. When COVID hit, it presented an opportunity for us to reconnect with the audience we had already built. Reuben spent about three and a half weeks fine-tuning the sound to make the transition seamless. Once we got it right, it turned out to be a blessing in disguise because we already had a dedicated following, and a lot of people had free time due to the pandemic. The algorithm really pushed our content, which was a big help. When we eventually returned to touring, we found that people had discovered us during COVID and had been following us for years. It was a fortunate turn of events, perfectly timed, and we're excited to build on it with new music and continued growth.
Unlike many bands that have been together for as long as we have, a lot of our members live in the same city. When COVID hit, other bands had members in different cities – a keyboard player in LA, a bass player in Chicago – but we've always had a shared house. Even as some members have moved out, there's always a sense of community and connection in the house. People still live here, but even those who don't, they often return, and the vibe of the house remains intact. It's something that has always kept us connected, with people coming over for hangouts, jam sessions, magical musical moments, and parties.
And it's interesting, they just keep getting bigger and nicer. Bigger and nicer"
GW: That never goes away. Beautiful. So out of these initiatives like The Squeeze House and the Squeeze Vault and live touring, what would you guys say that you're most passionate about right now?
Rob "Skywalker" Walker (Bass, Keys, Vocals): "Yeah, I feel like the most passionate we're at right now is just, like, creating a bunch of new music, trying to get to a place and elevate our sound. We've been doing that for about the last six months pretty nonstop, so we're really finding that niche right now, and it's really hitting. So it's been great."
GW: And when you say elevate your sound, what does that mean to you?
Rob "Skywalker" Walker (Bass, Keys, Vocals): "I think it's ultimately about pushing ourselves to the next level. We all know that the five of us can achieve whatever we set our minds to, but we want to commit to something that will take us to a whole new level."
GW: Any cool new influences that are really inspiring you guys right now?
Rob "Skywalker" Walker (Bass, Keys, Vocals): We definitely love Shakes, love bands like Khruangbin and a few others, but definitely just some of those elements.
Corey Frye (Lead Vocalist): "The biggest thing for us is always drawing inspiration from different bands but figuring out a way to make it uniquely ours and be original. So, yeah, I think what we're most excited about is that the music sounds like something you might be familiar with but in a cool, distinctive way. Our focus is on creating timeless songs, things that people will want to play forever."
GW: When I was in line this morning, people were blasting your music. I literally went by a car, and they were blasting Dr. Funk, and I was like, that's such a good sign. It was cool. You guys definitely are known for doing covers with your own unique twist. What's typically the creative process around that?
Reuben Gingrich (Drums): "Well, a lot of times, we'll start playing them live, and many of the covers we've played live for a long time, and it just kind of evolved from there. We never necessarily sat down and said, 'Let's do something new with this.' It would just happen organically through playing it. And sometimes, we would decide to take a cover and make it our own, elevate it, switch it up, and add our unique touch to it."
Corey Frye (Lead Vocalist): "One thing I would add is that when we started in Bloomington at IU, we were primarily a cover band initially. It was all about getting out there, playing shows, and although we didn't have our own original songs at the time, we were already skilled musicians. Many of us had attended the music school there, so we knew how to put on a great live performance. Our mindset was, 'Let's just play covers for now, and we'll develop our own original material over time.' So, we played a wide range of songs, from Grateful Dead to Stevie Wonder, Michael Jackson, Kanye, and Dr. Dre, covering a diverse spectrum of music.
We would adapt our setlist depending on the venue. If we were at a party bar, we'd keep it more on the upbeat side, maybe throw in some Grateful Dead tunes, and just have a great time. We even ventured into full-on rap covers. It served as a way for us to get to know each other's musical tastes and gave us the versatility to perform in various settings. This approach worked well until we began creating our own original music. Then came the question: 'Where do we go from here?' The answer was essentially, 'We can do anything.'
Our early songwriting process was very live-centric, involving jamming during rehearsals and refining the songs during live shows. As we've evolved and transitioned from Chicago to LA, we've delved deeper into the songwriting process. So, it's different now, but it has given us a clearer focus."
Maximillian Newman (Guitar): "Yeah, it was also cool for us because we come from such different musical backgrounds and diverse life experiences in general. In contrast to many bands, we faced the challenge and hurdle of these differences. It's not about being better or worse, just different. So, we approached it like, 'Oh, these are the songs that Corey grew up with that I had never heard before.' And he'd be like, 'I want to cover this.' It became a way for us to explore each other's music, understand one another better, and leverage each other's strengths, among other things. This approach worked exceptionally well for us, and we've continued it while striving to maintain an authentic, non-digital feel."
GW: So you guys said when you were in college, you were kind of changing your sound for different venues and depending on the vibe. Do you guys still do that per atmosphere, like, today's set, for example?
Corey Frye (Lead Vocalist) "Different covers, but yeah, the versatility is key. If we're playing at a blues and barbecue festival in the backwoods of Indiana, the set might differ from what we'd play at an Equinox late-night event. There might be some similarities, but our versatility gives us the flexibility we need.
We describe our music as a blend of funk, soul, and rock and roll, and that's how we present it to people. So, some Squeeze sets can get really funky, others can lean towards rock, and some might have a dreamy and slightly weird vibe. We can adapt to all of that, thanks to our versatility. As I mentioned, this versatility makes our music adaptable and flexible."
Maximillian Newman (Guitar): "Yeah, it's nice to have that flexibility, although we generally stick to one cover per set; that's sort of our rule. So, as Corey mentioned, it's a way for us to decide whether we want to kick off with a rock vibe, start with something more dance-oriented, or begin with something happy and uplifting. Throughout the set, we usually touch on all those aspects, but where we start really sets the tone."
GW: How is it at Oregon's first Cascade Equinox Festival?!
Smiley (Keyboardist): "Yeah, it's early in the festival, so we're excited to experience it and see how it goes. I love Oregon; I think it's going to be beautiful."
Corey Frye (Lead Vocalist): "First, time festivals are always so much fun. I love watching them evolve and seeing how they grow, as well as seeing the people who have been there from day one."
As mentioned above, as we delve into The Main Squeeze's captivating journey, it's worth noting that a few years back, they embarked on a unique adventure by moving into a shared house in LA, and thus, The Squeeze House came into existence. What made this era truly special were the countless parties and jam sessions hosted at The Squeeze House, which served as a melting pot for musicians and artists from various backgrounds to come together under one roof. Here, they nurtured their craft, collaborated, and shared their musical expressions.
In the spirit of those unforgettable jam sessions at The Squeeze House, The Main Squeeze is now venturing into new sonic territories with the same spirit of collaboration. They are thrilled to introduce "The Vibetape," a full-length collaborative mixtape featuring the talents of fifteen other artists.
This exciting project explores a diverse range of musical genres, including R&B, Hip Hop, neo-soul, and more. "The Vibetape" is a testament to their evolution, with Smiley, also known as @smilehigh, taking on the role of executive producer and guide for this creative journey.
"The Vibetape" kicks off with today's release of the first session, "Real," featuring Abhi The Nomad and Tiffany Gouche. Listen here.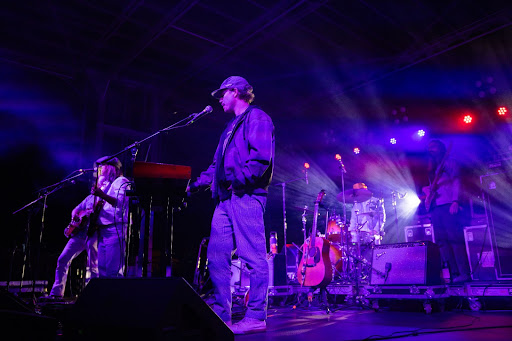 Grateful Web: So, we are in Oregon! I know this place holds deep roots for Fruition. Yeah?
Kellen: "Yes, we met there in 2008. I moved there in 2005. I mean, we [Fruition] all moved to Portland out of a desire for creative inspiration and out of necessity. At the time that we moved there, Portland was a really fertile ground for artists to come and not spend all of their money just paying rent.
It's not to say that we did it the right way. We all quit our jobs and started touring and stuff and we're playing for our dinners and scraping by for rent and essentially street performers for the first couple of years of our band's career."
GW: Seems like you owe your success to Busking?
Kellen: "Yeah, it's a crazy thing about busking. I mean, for one, it gave us an opportunity to really sharpen our skills – singing, playing, and getting to know each other deeply. We were out on the street, in the sun, in the rain, and whatever the elements threw at us. Dealing with people face to face, both the good and the bad, taught us how to communicate and how to handle sometimes brutal criticism.
When you're trying to catch the attention of passersby, they often just keep walking, which can be a little soul-crushing. But you learn to toughen up a bit and, more importantly, you learn what works and what doesn't. Early on, we discovered that vocal harmonies are what really work.
We're belting this music out so loudly you can hear it from three blocks away. People see us and hear the sound of a full-string band, an upright bass, and a guy with a drum kit all spilling out of this van, looking like the characters from the Little Rascals or something.
So yeah, we've learned how to grab people's attention, which is increasingly difficult in today's world. And that can be challenging. It's tough to find that balance between getting people's attention, not compromising your values, yet being willing to compromise a bit to attract more people to your music, the stuff you truly love and believe in."
GW: Tell me about the 10-year mark of "Just One of Them Nights" as an album.
Kellen: "Just last year, we finally pressed it to vinyl, which was beautiful. When we first released it, finding a vinyl pressing plant was actually harder a decade ago than it is now. Vinyl has made a strong resurgence, with more people pressing records due to increased demand.
It's been awesome. Seeing the artwork in a larger format and hearing it on a record player is a unique experience. Music sounds different with the needle in the grooves. Having your own art on vinyl was an early goal when I got into this business, and now that we've achieved it, it's like a milestone.
As for the Fruition section of my vinyl collection, it's always growing. They're there, and it feels good."
GW: How has your songwriting process evolved over the years?
Kellen: "Coming out of COVID, it's been challenging to regain our momentum and get back in the right zone. However, we've finally started amassing songs. In our band, we have three songwriters, so we've been accumulating a substantial collection of songs.
We recently entered the studio with a long list of material we wanted to record. We not only recorded everything on our list but even more. As we left the studio, we realized we had enough material for two albums. We've already scheduled more recording sessions in the calendar.
Our goal is to stockpile records and music, maintaining a consistent release schedule and getting back into the rhythm of the album cycle. This involves recording, mixing, marketing, building anticipation, and then releasing the music.
Following that, we embark on tours, and those are always the best. For us, these purpose-driven tours are the only ones we want to do."
GW: And for the new music on the horizon - what do you have for us?
Kellen: "It's coming, so stay tuned. I want to emphasize that I think this batch of tunes is, and of course, artists tend to say this, but it truly represents some of the most mature work we've ever created. This art is a genuine reflection of our souls, and the people who have heard it so far agree that it captures our essence. It's like we've finally cracked the code.
Over the years, we've grappled with how to market ourselves within a genre because we encompass folk, soul, indie rock, blues, bluegrass, and more. We became so concerned about avoiding pigeonholing that we didn't allow ourselves to establish a clear identity. This led to some ambiguity in our genre over the years.
With this album and our future direction, we've collectively recognized that we are an Americana band. It's a broad category that encompasses many of the elements we've explored."
GW: What were some of the key things recently that made you really come to that realization to make this new artwork? I know that's a huge question but was there a breakthrough?
Kellen: "I believe a significant factor was the time off we had [In Covid] – a chance to step back, reflect on what was working and what wasn't. What were we striving for, and where did we want to go in the long run?
We initially gained recognition in the jam and bluegrass scenes, but neither felt like the right fit. Our songs are relatively short, around three to four minutes, and we don't quite fit the jam band or traditional bluegrass mold. We hit a ceiling in both worlds.
We realized that to break through, we needed to identify our niche, and for us, it's Americana. Surprisingly, we found success in this direction.
Luckily, our music fits well in eclectic festivals like this one – not strictly jam or electronic, but a celebration of music.
Our new album serves as both a coming-of-age record and a debut, introducing our true identity. It's a vulnerable yet exciting experience, like the first day of school – relatable and energizing, especially after all these years."
GW: What's next for you all?
Kellen: "Well, the thing is, actually, we were waiting to announce our New Year's plans on stage here [at Cascade Equinox). We'll be doing a New Year's run in the Pacific Northwest.
Bellingham, Seattle, and two shows in Portland. We haven't played there in years, and it felt like the right time to go up there and share some of our music with the fans. And our goal is to go out there with something we're proud of, explode on stage, and hopefully, the energy we bring will resonate with the audience in a positive way."