Chadwick Stokes will release a self-titled record with his band The Pintos that tackles personal and political territory in ways that feel intimate and urgent. Set for release November 15, 2019 Worldwide via Thirty Tigers, Chadwick Stokes and The Pintos brings the complications of history into conversation with the turbulent yet—from Stokes' perspective—hopeful present. "We're living in a crazy time, a very upsetting time," says Stokes. "If we're not protesting, there's a problem." Having tested many of these songs on the road over the years of touring, Chadwick Stokes (frontman of popular indie rock bands Dispatch and State Radio) has created an almost timeless quality to these refined and reimagined studio versions.
The writing in Chadwick Stokes and The Pintos notes intense struggles—personal, ethical, political, or cultural—that have always galvanized Stokes as a listener and artist. Stokes has released the first two tracks "Joan of Arc" (PRESS HERE to listen) and "Chaska" (PRESS HERE to listen). Written about the famed teenager from her first vision to her execution for wearing men's clothing, "Joan of Arc" is a timely feminist anthem that sears with hope and empowerment. "Chaska" is a story of mistaken identity wrapped up in the largest mass execution on United States' soil.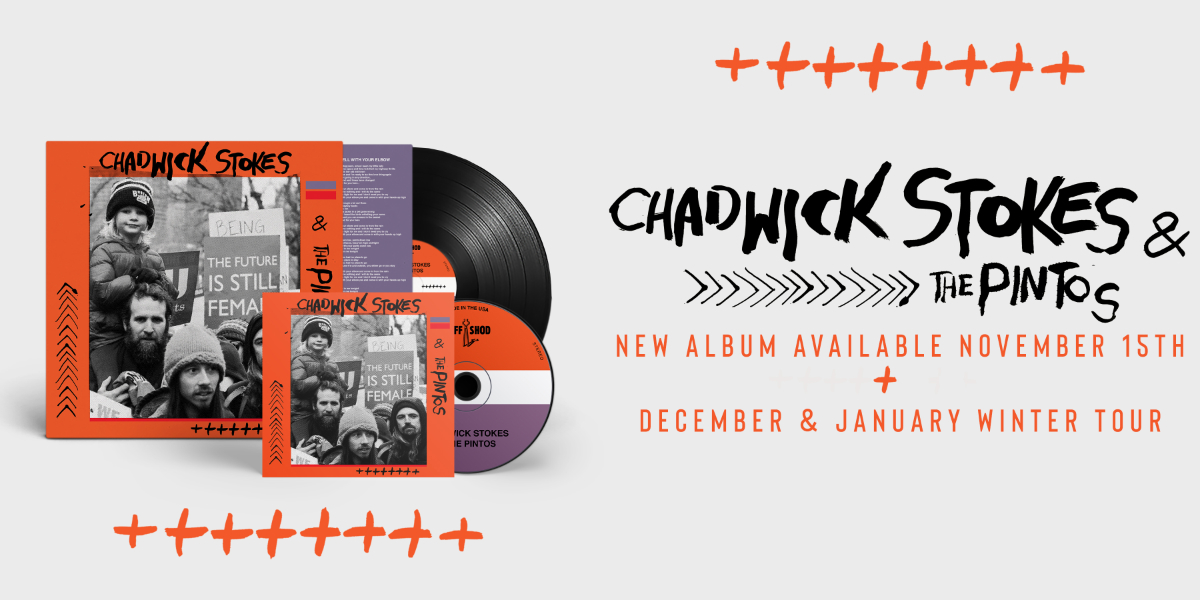 Other tracks on the album include "What's It Going To Take," "Love and War," and "Blanket on the Moon" which discuss relevant issues such as the gun violence epidemic, PTSD, and America's current immigration policies.  Other tracks like "Sand From San Francisco," "Hit the Bell With Your Elbow," and "Lost and Found" discuss disconnected relationships and the power of choice.
Chadwick Stokes and The Pintos Track Listing:
Joan of Arc
Chaska
Blanket on the Moon
Hit the Bell With Your Elbow
Love and War
Lost and Found
What's it Going to Take
Let Me Down Easy
Sand from San Francisco
Mooshiquoinox
Second Favorite Living Drummer
Chadwick Stokes and The Pintos have also announced their December and January tour dates throughout North America where Mihali (of Twiddle) will be joining the band for select tour dates.  The tour will make stops in New York, Los Angeles, and San Francisco.  Chadwick will also be making a stop at the Boston House of Blues for the 12th Annual Calling All Crows Benefit show on December 21st featuring special guests to be announced.  Calling All Crows is the social activist organization founded by Stokes and his wife, Sybil that partners musicians with fans to create change through hands-on service and activism on women's rights.  Full tour routing can be found below.
Chadwick Stokes and The Pintos is Stokes' third solo record and his first as a producer in Brighton, Massachusetts. "I always like how records have a little bit of a taste of where you recorded them," says Stokes. "I don't think I've ever done a full solo record here in Boston, so that's always nice to have the home vibe, to have your friends coming in and sing on big back up group singing parts." Stokes enlisted the artistic muscle of friends and family on this record. Willy Urmston (Chadwick's younger brother) plays banjo and sings backup vocals; Jon Reilly, Stokes' long-time touring and recording percussionist, also contributes backup vocals. Tommy Ng on bass and vocals rounds out the ensemble.
UPCOMING TOUR DATES
Dec 4 – Holyoke, MA – The Gateway City Arts + 
Dec 6 – New York, NY – Bowery Ballroom +
Dec 7 – Philadelphia, PA – The Foundry at Fillmore +
Dec 8 – Washington, DC – Sixth & I Historic Synagogue
Dec 10 – Ann Arbor, MI – The Ark +
Dec 11 – Kalamazoo, MI – Bell's Eccentric Café - Back Room +
Dec 13 – Chicago, IL – Lincoln Hall +
Dec 14 – St Louis, MO – Blueberry Hill +
Dec 15 – Nashville, TN – 3rd & Lindsley +
Dec 21 – Boston, MA – House of Blues *
Jan 9 – Solano Beach, CA – Belly Up
Jan 10 – West Hollywood, CA – Troubadour
Jan 11 – Berkeley, CA – Cornerstone
Jan 14 – San Rafael, CA – Terrapin Crossroads
Jan 15 – Chico, CA – The Big Room at Sierra Nevada Brewery
Jan 17 – Portland, OR – Doug Fir Lounge
Jan 18 – Vancouver, BC – Fox Cabaret
Jan 19 – Seattle, WA – Tractor Tavern
Jan 24 – Boulder, CO – Fox Theatre
Jan 25 – Denver, CO – Bluebird Theatre
+ with Mihali as support
* 12th Annual Calling All Crows Benefit Show