For the past 127 years, Gibson--the iconic American instrument brand--has been synonymous with creating and shaping sound across genres of music and generations of players. Today, Gibson Custom Shop has announced the release of the limited-edition Chuck Berry 1970s ES-355 in Wine Red. A founding father of Rock and Roll, Chuck Berry's stagecraft and musicianship laid the foundation for nearly every genre of rock and popular music. His playing, showmanship, and catalog of music helped inspire and launch many musicians' careers, and countless players shared the stage with him for unforgettable performances. Ever present alongside Chuck onstage were his Gibson guitars. His favorite go-to guitar, a 1978 Gibson ES-355 has now been meticulously crafted for fans to experience in the Chuck Berry 1970s ES-355, now available worldwide at www.gibson.com.

"Of all the guitars my dad played, the 1978 ES-355 by far was his go-to. The guitar traveled the world with my Dad for over 36 years," says Charles Berry Jr. (Chuck's son). "His last album Chuck and the new live album Chuck Berry: Live From Blueberry Hill were recorded with the Gibson Wine Red ES-355. It's a real road warrior and Gibson has done a brilliant job making this run of excellent big bodies. Like his original, these new ones resonate to the point you can actually feel them singing. It's a True Tone MONSTER! Tom Murphy's mad scientists in the Murphy Lab have aged them wonderfully. Put on the Captain's hat, attach the conduit connector (if you dare), turn it up to 11 and rip!"

To honor Chuck Berry's legacy, Gibson Custom Shop has made sure every aspect of construction and appointments is historically correct, including aged gold hardware, a Maestro Vibrola, Grover tuners, a Varitone switch, and a classic split diamond headstock inlay. The striking Wine Red finish features Murphy Lab custom aging, giving it the look and feel of the 1978 original.

Only 100 Chuck Berry 1970s ES-355 guitars will be hand-made by the expert luthiers and craftspeople of the Gibson Custom Shop as part of this very special limited run. Gibson went to great lengths to source Chuck's favorite Captain's hat which he wore on and off the stage. Chuck's Captain's hat is included in the custom case, along with his innovative finger holder--an electrical conduit strap--which allowed him to play his ES-355 over and behind his head.

Watch the interview with Charles Berry Jr. filmed on location in Chuck Berry's hometown of St. Louis, MO at the famed local music venue and local landmark, Blueberry Hill, HERE.
Chuck Berry played over 200 shows during a special residency at Blueberry Hill in St. Louis and the new live album CHUCK BERRY: LIVE FROM BLUEBERRY HILL will showcase those concerts for the first time. The songs include some of Chuck's fan favorites including "Roll Over Beethoven" Rock And Roll Music," "Johnny B. Goode," and more. The band for the live recordings featured Chuck Berry (Vocals, Guitar), Charles Berry, Jr. – (Guitar), Ingrid Berry (Harmonica), Robert Lohr (Piano), Jimmy Marsala (Bass) and Keith Robinson (Drums). Pre-order the new live album which will be released December 17 on CD/Digital and April 15 on Vinyl via Dualtone Records and listen to one of the songs "Carol/Little Queenie" now, HERE.
His stage bravado gripped audiences from the jump and never let up over his 64-year career, Charles Edward Anderson Berry had a gravitational pull all his own. Chuck was charming, soft spoken and determined to succeed in an era that wasn't kind to Black artists. His first chart appearance, "Maybellene" on the storied Chess Records label arguably created the term "cross-over", ushering in a style of music to the mainstream that never betrayed its blues, swing, and country DNA, connecting with young audiences who were starving for something different: Rock and Roll.

Unlike many of his contemporaries, Chuck Berry wrote his own songs. Not just any songs mind you; songs that were clever and relatable. Songs that resonated deeply with America's youth. But as extraordinary as Chuck's songwriting and performance craft were, at the end of the day it was that guitar phrasing that set his music apart: the boogie woogie roll...those double stops…and those multi-string bends coursing through his pickups that willed Rock and Roll into existence.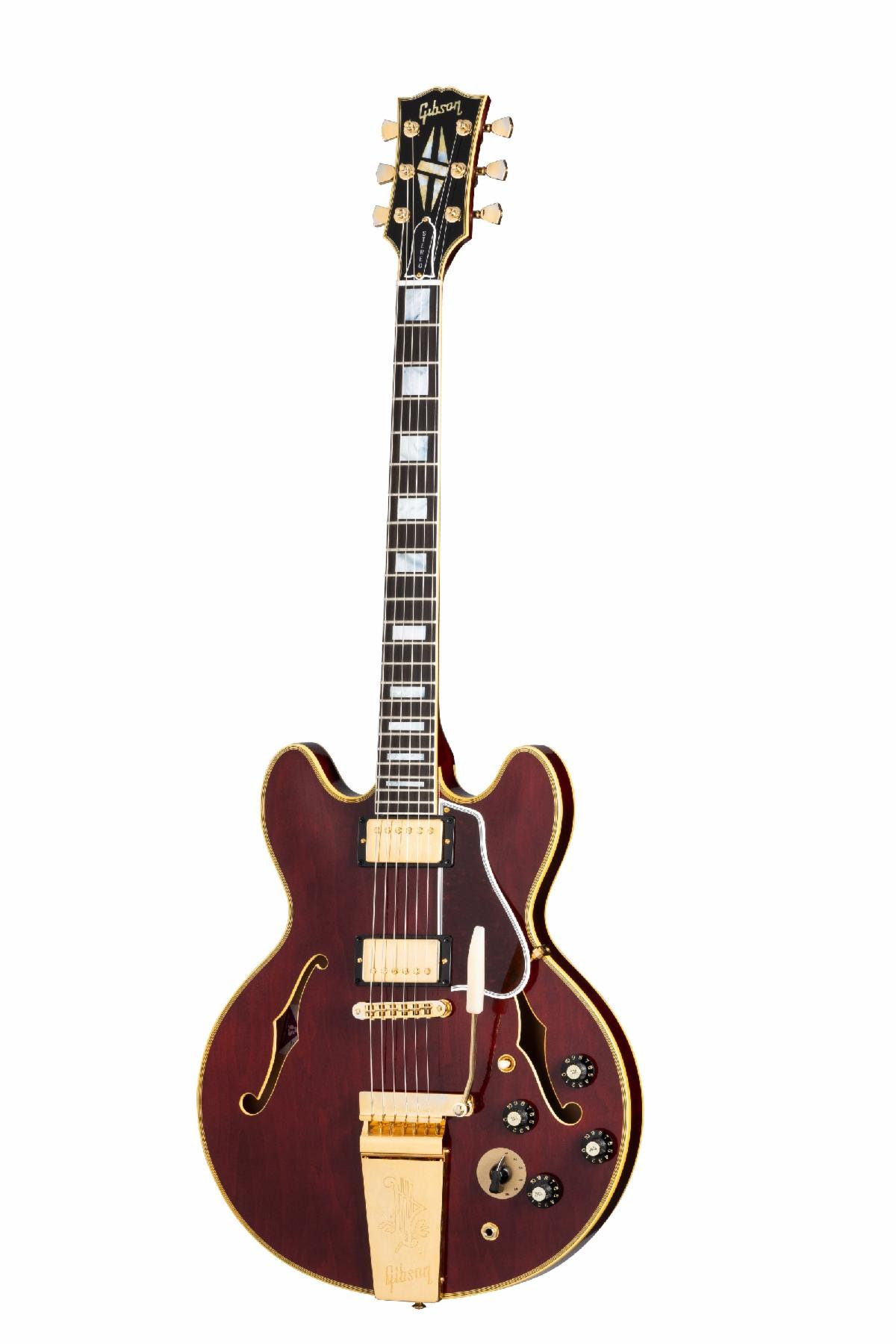 Every rock guitar player of any stature has borrowed much from Chuck. He created the blueprint all of us have followed since he first slung a Gibson around his neck. And when he passed, Chuck Berry left the stage the way he took it, with little compromise and few regrets. And along for that ride, his most prized possession was his Gibson ES-355.