Produced by Grammy winner Ted Hutt (Violent Femmes, Old Crow Medicine Show, The Devil Makes Three, Lucero), High Times in the Dark won ardent acclaim upon its April 3, 2020 release by Forty Below Records. The fifth release by the Chicago-based "garage cabaret" band, High Times in the Dark was named Album of the Week by L.A. Weekly, earned four stars and Editor's Choice on AllMusic.com and won rave reviews in the U.S., Canada, Mexico, Europe, the UK, South America and Australia.
One song left off the album was the beautiful, haunting Different Drugs (Song for Bill Hicks). This song was omitted from the album because of vinyl LP time restrictions and also because band founder/pianist/songwriter Johnny Iguana and Forty Below Records president Eric Corne agreed that the song deserved its own singular spotlight as a standalone release.
"This song idea came to me while the band was on a 25-day West Coast tour," says Iguana. "Bill Hicks was a fiercely brilliant comedian, a hero to many, and it just killed me to contemplate his last days: 31 years old, given a fatal cancer diagnosis, then moving back in with his parents, who had to witness the loss of their child." Johnny's vision for the song, though, was as much touched by bliss and contentment as it was by tragedy. "I imagined that Bill is back in his old bedroom, with his posters on the wall, his guitar on the stand…all his old high-school stuff. And this is the room where he used to maybe sneak getting high when he was a teenager--but now, his mom is bringing him pain killers. Same bedroom, different drugs. I figured: if his end had to come like this, at least it was in this old familiar place with his loving family there."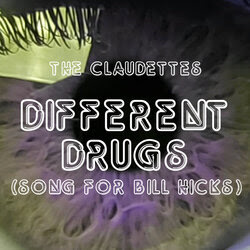 Different Drugs (Song for Bill Hicks) starts with a pounding post-punk beat. This represents the comedian's 10 years on the road and the rock 'n' roll lifestyle he enjoyed then. Then the song melts into a morphine haze and a recurring antique ballroom theme enters, capturing the nostalgia Bill feels as he looks back at those grand old times. His mother cries and we take in the enormity of the scene, but it is leavened by the familiarity of the surroundings and a surprisingly pleasant haze as he looks at the moon through his window and receives hugs from visiting family.
The band captured Different Drugs (Song for Bill Hicks) on just their second take in the studio, with Johnny's alternately pounding and caressing piano work accompanied by Michael Caskey's drums that start heavy and then drift into Elvin Jones A Love Supreme bursts and flourishes, before finally settling into an dreamy dirge. Zach Verdoorn adds cries and moans on the Bass VI guitar. In front of it all is the scene-setting vocal of Berit Ulseth, who perfectly balances the family's heartache with Bill's serene feelings of comfort and love in his old bedroom.
As Review Mexico said, this music "makes you feel as if you're in a cabaret in the middle of the last century with an unusual touch of modernity." The Claudettes (like so many others) were robbed of a jam-packed 2020 full of gigs, including two European tours. They will be updating fans and followers via social media and their website as new performances arise. On October 10, the Claudettes play their only live-in-person show this fall: a limited-capacity, socially distanced evening at City Winery, Chicago on Oct. 10 (choice of 5 p.m. set or 8:30 p.m. set). Tickets at https://citywinery.com/chicago/tickets.html?list=upcoming#scroll
Different Drugs (Song for Bill Hicks) arrives as a lyric video in an exclusive September 29 online premiere by Glide magazine, then the song will be released on all digital platforms on October 2. Johnny's 12-year-old son Roman, an avid filmmaker, created the lyric video. The Claudettes, who have opted to write and record prolifically during the pandemic rather than engage in online performances, did their first 2020 live stream on September 26 via Facebook Live. In addition, Johnny will join writer/director/musician Steve Karras and film director/producer/musician Kevin Booth on a Facebook-aired Zoom call on October 1 at 12PM Central. They will discuss and celebrate the legacy of Bill Hicks (Booth was a longtime friend/collaborator) and the Claudettes' new song inspired by Hicks and the chat can be accessed on the Claudettes Facebook page at https://www.facebook.com/TheClaudettes