Living in London has its advantages for an Kentuckian ex-pat like Sid Griffin. You get to drink strong beer, the town reeks of history, and being American gives you a decided advantage in the European alt-country scene. After all, Sid helped invent alt-country with his first band, the Long Ryders, back in 1980s Los Angeles. In the ensuing years, Griffin has pioneered a new genre, "alt-bluegrass."
Find the One, the fifth album by his band, the Coal Porters, was produced by English folk-rock legend John Wood (Fairport Convention, Nick Drake, Beth Orton, Squeeze). The album will be released in the U.S. on September 18, 2012, on Prima Records Ltd. through Burnside Distribution, and digitally through IODA. Two installments of a ten-minute film about the Coal Porters will be uploaded to YouTube in August.
Recorded in north London studios once used by the likes of the Clash and Queen, the new album contains five new Griffin songs. Guitarist Neil Robert Herd added three brilliant tunes to the pot, fiddler Carly Frey contributed two songs that, according to Griffin, "wed acoustic folk with the Left Banke's 'Walk Away Renee.'" The band's longtime encore "Paint It, Black" finally got recorded, with a sitarist evoking the Rolling Stones original. Also included is an acoustic, campfire-style take on David Bowie's "Heroes."
In addition, two legendary guests make quite different but equally wonderful appearances on Find the One. Folk-rock guitar hero Richard Thompson plays on Sid's new song "Hush U Babe," a harrowing tale of escape from Dixie via the Underground Railroad. And British DJ Brian Matthew, most familiar to Americans as the voice introducing The Beatles on more than a dozen of their live sessions for BBC radio, performed the same chore for the Coal Porters, introducing Griffin's song "Ask Me Again" on Find the One.
 
The Coal Porters started as an electric band, "kinda a Long Ryders-Lite" according to Griffin. But a decade ago Griffin produced an album for U.K. folk-rockers Lindisfarne and he caught the acoustic folk music bug. With guitarist Herd riding shotgun the duo revamped the Coal Porters as a mandolin, fiddle, banjo, guitar and doghouse bass act — no amps, no drums but lots of harmonies and hot soloing. "Our live fees went up, our gig calendar became crammed . . . I dunno, why I didn't think of it earlier?" laughs Griffin today.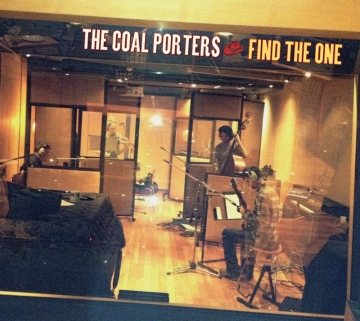 In the past decade, Griffin has started a family, written and published three books, heard his scripts performed on late night BBC national radio, toured, toured some more, and learned his Coal Porters can affect an audience with great songs, harmonies and not much volume needed.
"My music has the same passion it always did," states Griffin, "It is still anthemic as it was when I sang 'Looking for Lewis & Clark.' But now I find myself playing to audiences who are intensely listening, and who pay rapt attention.
"For any artist such devout attention is so terrific. It is such a blessing. I am grateful to receive it. With Find the One the Coal Porters are paying back that devotion. And I hope you can hear it on the record too."
The band, which played Indio, Calif.'s Stagecoach Festival in 2011, will return to the U.S. in support of the new album with dates to be announced.