Concord Music Group is launching five new titles in its Very Best Of jazz series, which showcases some of the very best tracks culled from the recordings of some of the most influential artists in the history of the genre. The five new titles, which highlight the work of Dave Brubeck, Vince Guaraldi, The Bill Evans Trio, Thelonious Monk, and Cannonball Adderley, are set for release on August 7, 2012. Each collection is mastered by Joe Tarantino — who has brilliantly remastered most of Concord's highly acclaimed jazz reissues — and supplemented with liner notes by well-known music journalists, historians, and scholars.
The Very Best of Dave Brubeck — The Fantasy Era is a 15-track portrait of the legendary pianist in his early days on the Fantasy label between 1949 and 1953. "This collection presents the music of Dave Brubeck — but before he became 'Dave Brubeck,'" says Neil Tesser in his liner notes, referring to the mantle of fame that the artist had assumed by the late '50s. "Brubeck thought of himself as a composer who happened to play piano, but his concepts were way ahead of his time . . . So he supported himself as a jazz pianist, applying his remarkable ear to the music he heard but had never learned to read. The recordings in this collection document those days, starting with Brubeck's first trio, which comprised the rhythm section from his octet: bassist Ron Crotty and drummer Cal Tjader, who would later achieve fame as a Latin-jazz vibraphonist."
The Brubeck collection also paints a picture of a humble individual whose contribution to jazz, however towering it would eventually become, would never get the best of his ego. "Among music people — instrumentalists and singers, writers and fans, record producers and concert presenters — you will find a consensus: Dave Brubeck is the nicest man in jazz," says Tesser. "When Brubeck's name comes up, the most reliably cynical speakers soften; their eyes light up, and the word 'nice' blossoms into a portrait of considerate kindness and unassuming artistry . . . It's the reason why 'Dave Brubeck,' the celebrity, has never strayed far from Dave Brubeck, the musician you hear on these tracks — the place where it all began."
The Very Best of Vince Guaraldi contains 14 tracks from Fantasy sessions between 1957 and 1966, including Guaraldi's 1962 Grammy winning hit, "Cast Your Fate to the Wind," from Jazz Impressions of Black Orpheus.

"Certainly a Very Best of Vince Guaraldi collection has to feature some of the beloved Peanuts themes — like 'Linus and Lucy' and 'Christmas Time Is Here' — that made him a household name," says Nick Phillips, Vice President of Catalog and Jazz A&R at Concord Music Group and producer of the series. "But by the same token, as this collection illustrates, there's much more to the artistry of Vince Guaraldi than his perennially popular Peanuts compositions, and more to him than the fame that he acquired with the hit 'Cast Your Fate to the Wind.' He did some really fun and inventive things with his arrangements and there's a contagious joyfulness in his playful piano style and in his interactions with his supporting musicians. He had a rare gift for creating music that's not only interesting to devout jazz listeners, but also accessible and memorable to those that might not consider themselves hardcore jazz fans."
The Very Best of The Bill Evans Trio captures the celebrated pianist at the front of his most influential trio, which included bassist Scott LaFaro and drummer Paul Motian. Recorded in three sessions between December 1959 and June 1961 and produced by Orrin Keepnews, the 11 tracks in this collection are culled from the trio's four Riverside albums, Portrait in Jazz, Explorations, Waltz for Debby, and Sunday at the Village Vanguard. This cohesive lineup came to an abrupt and tragic end less than two weeks after the last of the three sessions when LaFaro died in an auto accident in upstate New York.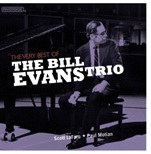 "The selection of tracks for this set easily lives up to the appellation of 'Very Best,'" says Neil Tesser, author of the liner notes for the Evans collection. "Half the program comprises uncontested examples of the Great American Songbook, each transformed subtly but utterly by Evans's 'new jazz conception' (to borrow the title of his 1956 Riverside debut) . . . On The Very Best of the Bill Evans Trio, you hear the seeds, and the roots, and in the opinion of some, the full flower of the 'piano trio' that proved to be so much more."
The Very Best of Thelonious Monk includes ten tracks recorded between 1954 and 1957, mostly for Prestige and Riverside, but with one track from Thelonious Monk with John Coltrane, a 1957 album on Jazzland, a Riverside subsidiary label.
The sessions in this period, most of which were also produced by Keepnews, start after Monk's obscure beginnings on Blue Note but predate his rise to fame on Columbia. The Prestige and Riverside dates capture the moment when, as Tesser tells us, he "began to earn the credit he deserved, as a bandleader, composer, and bebop innovator. He worked with a fairly wide roster of famous collaborators — among them trumpeters Thad Jones and Clark Terry, saxists Sonny Rollins and Coleman Hawkins, bassists Oscar Pettiford and Wilbur Ware, and three of bebop's foundational drummers in Art Blakey, Roy Haynes, and Max Roach — and recorded in contexts ranging from unaccompanied piano to a ten-piece orchestra. It was clearly the most productive segment of his career."
Although this collection primarily focuses on Monk's compositions, which include such all-time classics as "Blue Monk," "Ruby, My Dear," and "'Round Midnight," it also includes selections from his first two Riverside albums that sought to present a more accessible Thelonious Monk to the public. "One of many things that I love about the Thelonious Monk Plays Duke Ellington and The Unique Thelonious Monk albums — both of which featured Monk covering other artists' compositions — was that each song he played sounded like it could have been written by him," says Phillips. "He had a very distinctive approach to playing the piano and a rhythmic, harmonic, and melodic vocabulary all his own. So even when he played an Ellington tune or an old standard like 'Honeysuckle Rose,' it still sounded uniquely like Thelonious Monk."
The Very Best of Cannonball Adderley encompasses a broad swath of the saxophonist's career, from the Portrait of Cannonball and Things Are Getting Better sessions in 1958 to the Inside Straight and Phenix sessions in 1973 and 1975, respectively. Everywhere along this 17-year continuum, says Ashley Kahn in his liner notes, Adderley demonstrates his ongoing commitment to playing for the benefit and satisfaction of the audience and not for that of the artist or the band.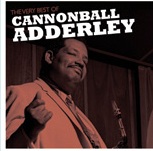 The collection "serves as an exciting introduction to Adderley's 20-year journey, a career that ended far too soon in 1975, when a heart attack felled him at the young age of 46," says Kahn. "The performances, running mostly chronologically, have been taken from a number of timeless albums recorded for the Riverside and Fantasy labels, most with legendary producer Orrin Keepnews guiding the sessions. As the collective weight of the sidemen on this session reveals, Adderley had ears for great talent and commanded the necessary respect to recruit them."
The other consistent thread throughout the ten tracks, says Phillips, is Adderley's trademark soulfulness. "Whether he's playing a straight-ahead bebop-oriented tune like 'A Little Taste,' the opening number, or getting downright funky with a track like 'Inside Straight,' he was an artist who — while he had amazing technique — was foremost absolutely passionate and soulful in his playing. It's something that's evident at every point in his career, and certainly throughout this entire collection."