Whenever any loosely-based bluegrassy band comes to Chicago, Cornmeal is always called upon to make the touring band feel welcome, usually by whipping up the audience into a frenzy before they take the stage. They've shared a bill with Yonder Mountain String Band, Blueground Undergrass, and the wildly innovative and popular band, Railroad Earth. "We've played a bunch of shows with Railroad Earth," said Chris Gangi, upright bass player for Cornmeal. "It's sort of grown into a nice relationship with them, and we've become friends over the years, just from playing festivals and such and running into each other on the road. When they first started, they came to Chicago a few times. The likely band to match with them is us." Though those pairings are do to the incredible talent of the musicians in Cornmeal, Gangi suggests that their being booked may be because of "the lack of not many people doing what we do here in the Midwest."
You would think, though, that bluegrass and its various jammy versions, would be more prominent in the homespun areas of the Midwest. After all, Bill Monroe began a yearly bluegrass festival in Bean Blossom, Indiana, forty-two years ago, that has been showcasing local and national bluegrass acts, as well as some international ones. And there are a handful of smaller bluegrass festivals in surrounding states. But, these are traditional bands that don't normally book bars and clubs, especially those that cater to a more eclectic audience. And, Cornmeal is anything but strictly traditional.
"We've played the serious bluegrass festivals," Gangi admitted, "and we enjoy doing that just as much as we enjoy doing the jamband festivals. We can also do the rock thing, rock festivals, country, folk festivals. We kind of curve our show a little bit, to bend and flex, to fit into all these types of venues."  This has allowed them to bring their original songs to a wide audience. "Our fan base will run the gamut of a 60 year old country and western fan to the traditional bluegrass fan to the young, 18 year old jam fan," Gangi added.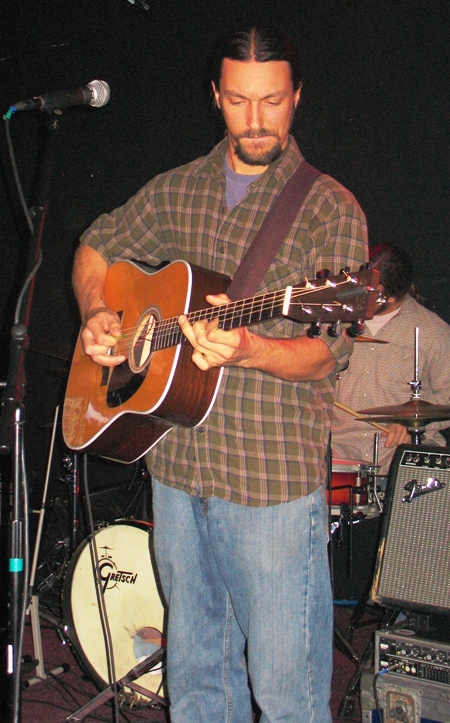 Though some purists still squawk at the drums and some of the treatment of the material they do (like adding doowap to a tune), Cornmeal has been gathering respect from more traditional bluegrass/acoustic folks like the Del McCoury Band, David Grisman, and Sam Bush, one of the founders of New Grass Revival. But Grisman and Bush also did their own bending of the bluegrass rules. "That's where we stem from are people like that. These guys laid the tracks before us and kind of got it out there," Gangi said. But as they are exposing more and more people to their brand of bluegrass, those negative reactions to what they are doing with traditional bluegrass music are passing by the wayside.
"For us, it's impossible to close off our outside influences," Gangi added. "If you're a musician, you can only hope to grow by listening to all different styles and different types/genres of  music and respect everybody that's out there that's doing it and playing, whether you like it or not. There's a definite, formidable respect between musicians out there for doing what they're doing. As we're kind of growing and expanding, a lot more of that respect comes with it. Some people are confused sometimes when they see us. But it's getting far and few between. I think when people actually stop and listen to the music without prejudgment to it, they usually walk away with quite an enjoyable experience."
Gangi noted that bluegrass was never supposed to be set in stone. "Bluegrass music didn't just pop up as an origination from nothing," he said, "Bluegrass was born out of fusion. It came from string band music, Texas swing, and traditional British Isles music. It melted into the Appalachians. When Bill Monroe 'brought it down from the mountain,' out of the hills of Appalachia, it was fused then again. It constantly kept changing.... For us, it's about fusing the past with the present and looking into the future. We want to keep the old traditional style alive and turn on a lot of people to it. We can only hope that people will go away from our shows when we're playing a cover of  an old tune, and go look up an original recording of it and be able to take that for what it's worth and enjoy that as well."
Traditional material, however, is only a tiny part of a Cornmeal set. Most of what they offer are originals. In fact their latest album, Feet First (2006), their third on Livin' Live Records, contains all originals. The first album was written by someone who left the band soon after that record came out. That was the beginning of personnel changes in the band. Of the original members, only Gangi and banjoist Wavy Dave Burlingame remain. Cornmeal's current line up also includes Kris Nowak (Guitar), JP Nowak (Drums), and Allie Kral (Fiddle). They all sing. Burlingame, Gangi, and  Kris Nowak contributed original songs for Feet First.
"Cornmeal continues to evolve," Gangi said. "It's surprising, even to us, how much. Starting out as an acoustic bluegrass band  with original songwriting, and adding the elements of improvisation and stretching the bounds a little bit, our backgrounds just sort of seeped in....Rock and roll and jazz and classical always will make their presence known if you give it time."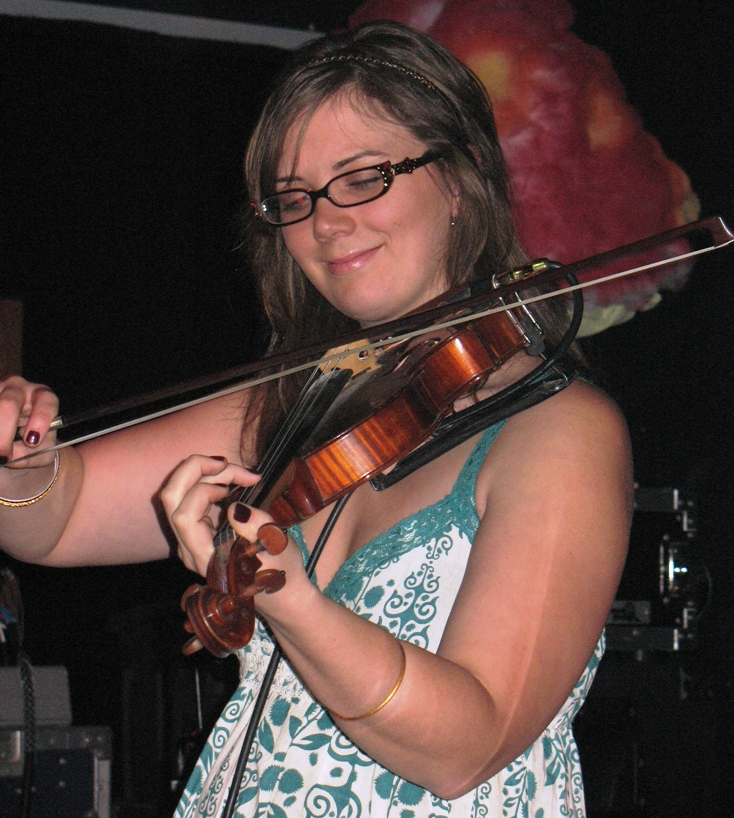 Those influences run deep. Gangi grew up listening and playing rock and roll, Led Zeppelin and the Grateful Dead. Allie Kral is a classically trained violinist who discovered bluegrass in college.  The Nowak brothers grew up singing in a Slovakian dance band, and JP played drums for country touring bands in Indiana.  That's why in a typical Cornmeal set, you'll hear rock, jazz, doowop, folk, and, of course, bluegrass.
Of exceptional note, the song "Stealin' Away My Heart" has vocal harmonies that are to die for and has a little 50s doowop with a little jazz ending. And, "On my Own," is a very sensitively written song, pulling from some place deeply personal about finding meaning and finding yourself. This little gem is tucked away in the middle of a bluegrass album. Then, there is Dave Burlingame's delightful "Hasten Jason." It's a wonderful little song about how things are carried on from one generation to the next.
Gangi does admit that the late John Hartford was a great songwriting roll model for him. "John Hartford was one of those guys who's traditional in theory, in musicianship, but really expanded the world of songwriting," Gangi said. Hartford was a risk taker. "That's one thing I learned from him and obviously a few other select musicians out there.  You need to be able to take those risks and you shouldn't really be afraid or be hindered by what you think is the accepted norm in music. That's usually when you get stuck in that rut and you get pigeonholed into something that you're not necessarily content with.  As far as us, we try to gear our live shows and everything else with that open-minded attitude."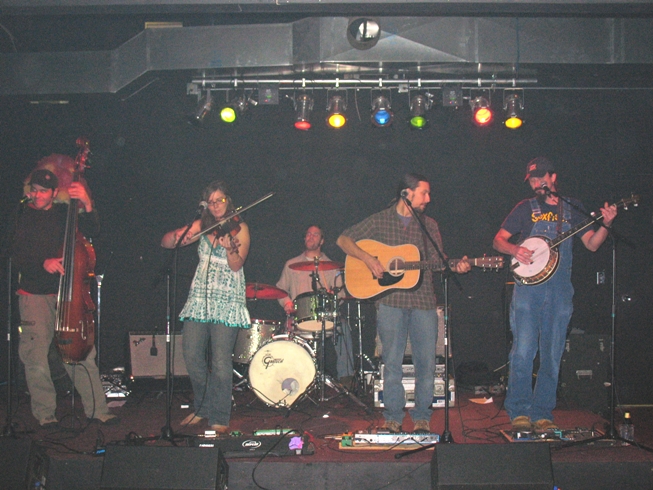 Cornmeal is also finding the festival experience as a learning ground. "Even in the last fifteen years, so much fusion of music has gone on that it's mind-blowing," Gangi said. "The festival circuit from a musician's standpoint is one of the best music lessons you can take because you get all different styles of music there at once. We get to hear it live, and we go home and say, 'Man, I really loved what that band was doing or I like this particular player or what style they were fusing in there. We should try something like that. Or what if we added something like that on top of what we're doing?' We kind of propel each other in that sense at these multi-genre festivals."
This year's 10,000 Lakes Festival promises to expand its already broad genre base. There will be plenty for Cornmeal to absorb before they do their own multi-genre set at the Barn Stage on Saturday July 26 at 11:30 pm.