On Sunday, the revelers at the second annual Mile High Music Festival were granted a temporary reprieve from the heat.  The sky was cloudy, and lo!  The grounds were clean!  The night before, as I waded through a sea of discarded plastic beer cups, it occurred to me that perhaps a better way to save the planet would have been to sell freely refillable beer cups, in the hopes that folks would use the same cup all day, rather than burning through five or six.  Now I'm all in favor of just about any recycling program you could think of, but refillable beer mugs is definitely a movement I could get behind.
Even though it was early in the day, I could tell that the grounds were a bit quieter than the day before.  Many of the black-clad Tool fans had gone home, having little or no interest in seeing Tool's polar opposite, The Fray, headline on night 2.  Not that day 2 didn't have a lot to offer, with bands like Jet, DeVotchKa, Buddy Guy, Gov't Mule, and a second serving of Panic all making the day's must-see list.  For me, it all kicked of with The Wailers.  A little reggae first thing in the day is just what the good vibes doctor ordered – its hard not to smile when the Island Rhythms kick in.  Even the terrible backlighting (making for some of my least good photos from the fest) wasn't enough to frustrate me.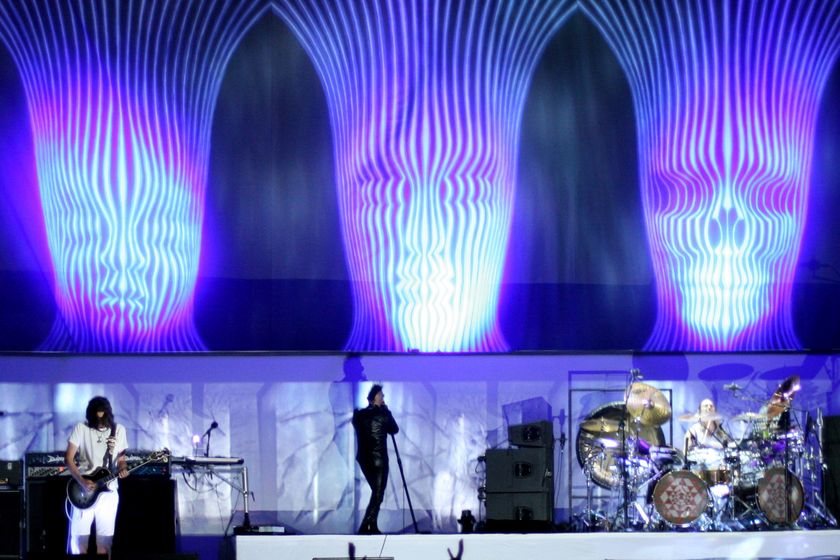 Historically, The Wailers have been responsible for some of the world's best reggae music, both as the backing band for Bob Marley, and as their own entity.  Peter Tosh made a name for himself in The Wailers, as well, but these days, very few of the original members are left.  In tribute to their biggest star performer, and also probably because American audiences have little knowledge of reggae outside the works of Bob Marley, The Wailers grooved through a Marley-heavy set list, including such classics as Jamming, I Shot The Sheriff, Three Little Birds, Is This Love, and Waiting in Vain.
The Wailers kept the good vibes coming for a solid hour, then sent the crowd out into the world again with cheer in their hearts (I love reggae for exactly this reason).  Australian rockers Jet were setting up on the East Main Stage just next door, and I headed over to catch some AC/DC style rock and roll.
These Australian lads rocked east main stage pretty hard, breaking out popular tunes like Are You Gonna Be My Girl, Cold Hard Bitch, the Beatle-esque Look What You've Done, Seventeen, and Goodbye Hollywood.  The crowd was a mix of fans, and folks discovering Jet for the first time.  Most anyone who has turned on a radio has probably heard a few Jet songs, but only a few.  Getting the whole Jet picture probably garnered the band at least a few new fans, and reconnected a few of us with a band that we hadn't heard much from for a while.
One of the most dynamic, exciting acts of the day was about to play at the opposite end of the grounds, and I hustled on over for a listen.  The band was Gogol Bordello, a gypsy, punk rock band with infectious energy and one hell of a live show. Led by Eugene Hutz, one of modern rock's most electrifying frontmen, Gogol Bordello has a well-deserved reputation for rowdiness and debauchery.  At Bonnaroo a couple years ago, I watched him crowd surf on top of a bass drum – that's something you don't see everyday.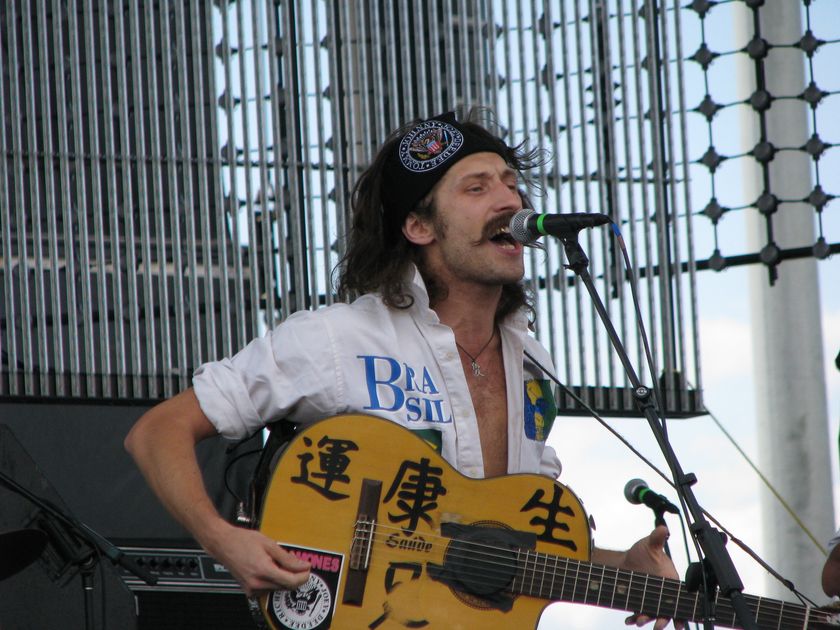 Minus the bass drum crowd surfing, Gogol Bordello's Mile High performance was not exception to their balls-to-the-wall style.  Hutz ran around the stage like a whirling dervish, screaming into the crowd and screwing up his face with a fierce like of intensity, and fuck-all attitude, all while wailing on his acoustic guitar.  Accompanied by a fiddle and all the other traditional rock and roll instruments, Gogol's Eastern European swaggering sound has made quite the stir in the West, reminding us all that Rock and Roll is a world-wide phenomenon, irreverent of borders or boundaries – something that truly unites the world, whether we see it or not.
Unfortunately, I had to leave the show early because one of my favorite guitarists was coming on at a different stage.  John Butler, formerly of the John Butler Trio, is going solo these days, but is just as inspiring to listen to as ever.  With a unique slide-guitar style, and both American and Australian roots, John Butler has expanded the niche of what a "singer-songwriter" can be.  This time, he was a one-man rock band.  Finger pick-strumming (or sliding), and stomping on the stage, he was essentially playing the quadruple role of rhythm section, lead and rhythm guitar, and vocalist.  The only prohibitive factor to experiencing total musical euphoria was the fact that this particular stage was set up on concrete instead of grass, and since the sun had finally come up, it was sweltering.
John Butler noticed too.  "In this kinda heat, we can either get dehydrated and pass out, or we can all get naked," he said.  "It's totally up to you."  Then he launched in Used to Get High For a Living.  Although the crowd was not as big as "real" publications like the Westword Online Blog would have you believe, the loyalty and enthusiasm of John Butler fans certainly made the event feel bigger than it was (not the "biggest crowd" of the weekend by any means, what's up with the lies Westword?)
Unfortunately, my brain was starting to bubble, and given the fact that guitar legend Buddy Guy was about the rock the East Main Stage, my time to leave came too early.  Fortunately John Butler tours pretty much constantly – I'm sure he'll be back.  Buddy Guy, on the other hand, well, his visits are fare less frequent.  And anyway, there was too much going on for me to stay long for Buddy Guy either.  I hoped I wasn't biting off more than I could chew…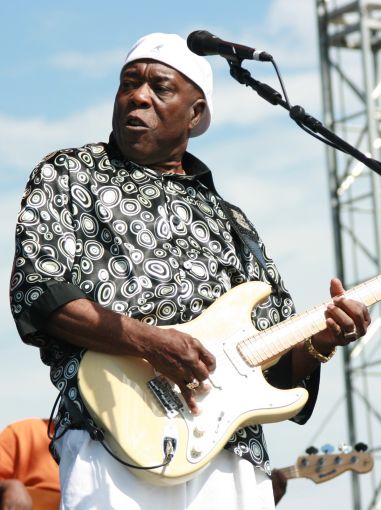 Buddy Guy, for an old guy, can still rock with all the energy and sexy-suave style of a dude half his age.  And, with a smile like this guys got, its hard not to smile along too!  During Hoochie Coochie Man, however, he got as close as I could imagine to getting mad, and that was still a long way off (it was a pretty hilarious moment actually).  The music kept playing, but Guy stopped singing.  "You know," he said, "we were in Tokyo about a week ago, playing this exact same song, but you know what? When we sang this line, THEY didn't fuck it up!"  He was referring to the line "he's gonna be a son of a gun."  "But this is home!  I KNOW you know this line, 'cause I heard you mumble through it.  Now lets try this again!"  Then he launched back in and the crowd did its part, screaming out the line with gusto.
I'm told that Guy left the stage to walk amongst the crowd late in the set, never missing a beat.  I wouldn't know for sure however, since I felt compelled to leave and visit one of my favorite local acts – DeVotchKa.  Buddy Guy is a legend, but DeVotchKa is local, and as a music fan, you gotta support the locals!  Unless its 3OH!3 – I can't stand those guys.
The not-to-distant (in time or space) pairing of Gogol Bordello and DeVotchKa had to be something planned out, giving us our "world music" fix in a big way.  Both Gogol Bordello and DeVotchKa come heavy with Eastern European gypsy twang, but where Gogol's is mixed with a punk rock aesthetic, DeVotchKa's is more operatic.  Lead singer, guitarist, and thereminist, Nick Urata uses his powerful voice in much the same way an opera singer would, or at the very least, like an Italian gondolier would while serenading young lovers on the canals of Venice.
Denver area favs for some time now, DeVotchKa was introduced to the rest of the world by way of their involvement with the soundtrack for the film Little Miss Sunshine, and more recently because their song "How It Ends" is featured on a television commercial for the new Gears of War video game.  In many ways, the band's recorded work gives the public only a narrow view of what DeVotchKa is all about.  In person, the band are renowned for a higher energy, more rock and rolly, but with the operatic qualities still intact.  At their annual Halloween show at the Boulder Theater this year, they had a gymnast perform acrobatic feats while the band got seriously atmospheric, hypnotic, and even a little psychedelic.  Mile High was not the appropriate venue for those sorts of shenanigans, but the energy, and the intensity was still there.
The band did play "How It Ends" (which was an awesome, darkly emotional ballad long before it was the hawk for Gears of War), as well as a bunch of tracks off their most recent studio gem A Mad and Faithful Telling, including "The Clockwise Witness," "Transliterator," and "Undone."
Is was beginning to seriously miss the morning cloud cover by the time Thievery Corporation came to the West Main Stage.  The grounds were looking more like a desert than the foothills of the country's biggest mountains, but the electro-psychedelic dub sounds of Thievery Corporation fit the vibe perfectly, like a little taste of Burning Man right in our own backyard.  Sans the dust and the nudity of course (*sigh*).
I wasn't sure what to expect.  The Main Stage seemed a large venue for a two-man DJ act, especially considering that the rowdy 6-7 piece Robert Randolph and the Family Band were cramming themselves into the festival's smallest stage at the same time.  What I didn't know about Thievery Corporation, given that this was my first real experience with them outside of MySpace, was how many supporting musicians the duo brought along with them.  After the first track spun to a close, Rob Garza and Eric Hilton brought out the big guns – a bass player, several percussionists and singers, and even a sitar (which really made the "desert" feel like home).
It was Beer: 30, and rather than run off across the grounds to see an act I'd already seen (sorry Randolph's – you know I still love ya!) I decided to hang with my new favs, grooving on Thievery Corp's political angst and social commentary in the waning, though still intense, light of the setting sun.  Like some of the best bands around Thievery's got something to say, bringing it out straight from the nation's capitol, where some of the dirtiest political fiends our fine society has ever known live and die, and take the innocent with them.  Talk about being in the heart of the beast – Thievery might know better than most how f-ed U.S. politics really are.  Despite the heavy topics, there is something upbeat about Thievery Corporation's message, along the lines of "this is OUR country, so let the revolution begin!"
Before cruising to the opposite end of the grounds to catch Gov't Mule, I had to stop off at one of the tent's to catch a glimpse of the Rappin' Rabbi – Matisyahu.  Although not devout to any religion anywhere myself, the idea of someone expressing their ultimate faith through song, and not like the crap you'd find on Christian Radio, but through Reggae, sounded too interesting to miss.  That's how Bob Marley did it after all, and that guy definitely puts a smile on my face.  Somehow, though, Bob Marley's message was (and is) more universal.  Just to hear someone who is passionate about something can be uplifting, and Matisyahu is nothing if not passionate.
The wind picked up and clouds were rolling in again as Warren Haynes and Gov't Mule started to play on the East Main Stage.  Looking for all the world like some sort of human-lion hybrid, Warren Haynes and his bushy blonde mane is something of a guitar genius, doing it they way they used to, and the they they've seem to have forgot now-a-days.  I mean really, is busting out a wicked AC/DC meets Aerosmith guitar solo now and then too much to ask for?  Fortunately, it's not too much to ask from Gov't Mule.  Rather, that kinda thing is par for the course.
"The only way to beat the wind," Haynes told the audience after shredding through a couple of long, drawn-out classic rockers, "is to play louder!"  He and the band cranked the volume, and tore into a cover of Zeppelin's "Trampled Under Foot."  At this point it was starting to spit rain a little, but the plus side was that Haynes and the gang looked über dramatic standing against the slate-gray, furiously cloudy sky, the wind ripping through their hair like it was some kind of cheesy music video shoot.
Then, suddenly, it was time for the last act of the night… for me anyway.  Widespread would be playing again, but I wasn't interested in seeing them again so soon.  Teenage girls had been camped out all day to see The Fray, and although the entirety of the front half of the field was packed with rabid Fray fans, you could tell that the crowd was considerably smaller than the night before when Tool was about to play.  Most of the Tool fans in attendance seemed to be one-offers, buying tickets for Day 1 only, then getting back out of town.  The Fray is, after all, pretty much the polar opposite of Tool.
It's hard to get excited about an act when you know exactly what's coming.  So it is with The Fray.  These Denverites, as far as I could tell, were only able to headline a festival of this magnitude due to their residence in Denver, and the intense but probably fleeting popularity the band has gained in the area (prove me wrong, Fray, I'll be happy if you do).  I'll be the first to admit that when "Over My Head" first hit the airwaves I sang along – it's quite catchy after all, and brutally honest – but when the next three singles proved to be virtually indistinguishable from the first, I lost interest fast.  Clearly here is a band who is completely unconcerned with inventing anything new.  They've got a formula that works, and they're sticking to it.  It's as if they all sat down one night, watched the first couple seasons of Grey's Anatomy, and said "let's try to write a soundtrack to this soap opera."  It must've worked, because the show picked up The Fray's "How to Save a Life" as one of its closing "let's get all our emotions out while talking about how tough it is to be a sexy surgeon" monologues.  No one ever said the folks at Grey's Anatomy were creative either…
In fact, the band opened with "Over My Head," and touched on all the rest of the fan favorites too, songs like "How to Save a Life," "You Found Me," and "Look After You."  With Chris Martin type emotionalist flair, lead singer Isaac Slade reached his arms out to the crowd and up to the sky in an effort to be dramatic and pouty.  Only the lack of the words "make trade fair" penned across Slade's hand could keep people from mistaking the band for a Coldplay tribute act, something the band claims to try to avoid.
To their credit, The Fray do the piano rock thing pretty well, and since the band clearly wears its heart on its collective sleeve, it would be tough to accuse them of not meaning anything to anyone.  I can see why people like them.  With so much falsehood cluttering up the music industry, its nice to see a group of genuine people.  Again, seeing someone who is passionate about what they do goes a long way, and sometimes Isaac Slade seems to drip with passion.  They even slipped in a real rocker somewhere in the middle of their set, driven by Tool-esque machine gun drumming, and some uncharacteristically heavy lead guitar care of Dave Welsh.  The stage erupted in a strobing explosion of starkly contrasting colors, mostly white and green lights against the black stage background.  It would have been awesome to see more of this side of the Fray, but for now, I'm not sure there is more of this side.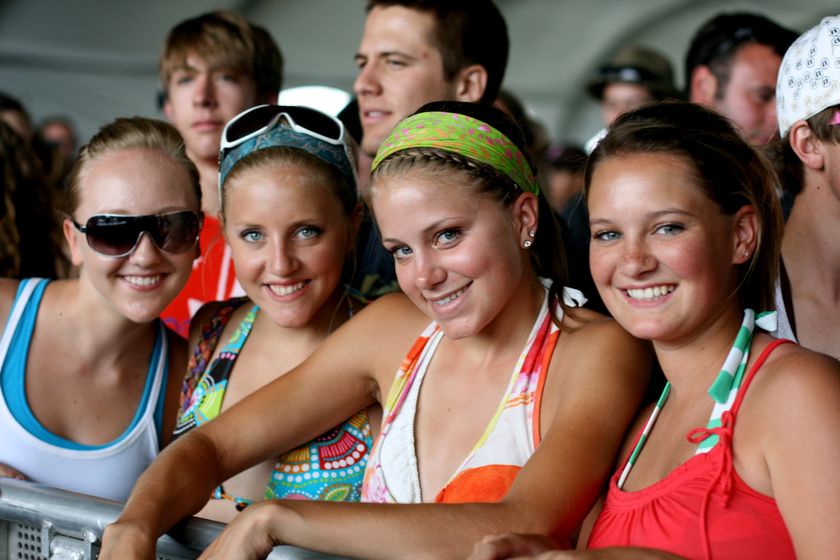 In between songs, I could hear hints of Widespread drifting through the air from the opposite end of the grounds.  A few people were getting up to head in that direction, but mostly people stuck around for the entirety of The Fray, singing along and clutching their hands together in a near-weep.  I stayed until the end too, and got to hear a few more songs I'd never heard before.  Its important to hear these before judging a band, and although my judgments of The Fray may sound scathing, its not that I don't acknowledge their talent, and its not that I'm not proud they hail from my hometown.  Denver IS proud to have The Fray, and that's why a small time band was able to headline the biggest musical event Denver has to offer.  But please Fray, lets try to do something out of the ordinary now and then.  Keeping us guessing, keep us wondering, and that's how you'll keep us coming back for more.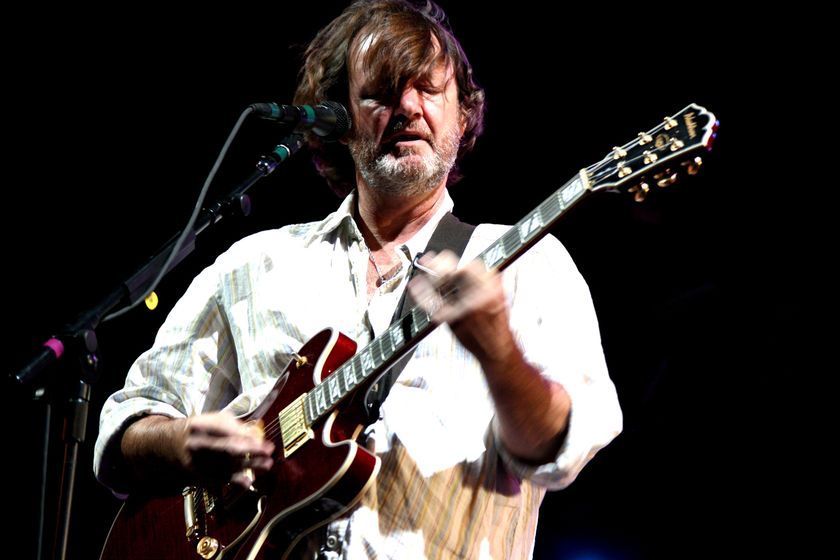 I relived the last few days in my head as I walked back to my ride, while Widespread Panic rocked the same 6-note bass line for the entire journey.  It had been quite the festival, I thought.  Smaller in numbers than last year, smaller in physical size too, but not in the caliber of the artists in attendance.  The smaller crowds, maybe the result of our nation's floundering economy, made big acts like Tool, The Black Keys, Thievery Corporation, Incubus, Gogol Bordello, and The Fray seem all the more intimate, all the closer, and all the more ours.  Watch out world, because Denver's got a festival too, and this one means something because its ours!