Saturday Vibes. The festival is well into full swing at this point. Rowdies who enjoyed late night shows in the wee-hours of the morning such as the Gigantic Underground Conspiracy will start to peek out of the holes at around 1PM. As much as I'm sure it was a blast, I had to save my energy for my earliest start of the weekend so far for a set. I know that part of the Vibes experience is camping in Seaside Park, which, aside from a rainy Friday morning and scattered showers at night would have been a temperate and generally pleasant time. I have friends local so had the luxury of staying in a bed with a roof over my head. For this reason I was able to make it to Dweezil Zappa and companies 1PM "Zappa Plays Zappa" set.
Who knows what the Vibes was thinking scheduling this headliner band for the second slot of the day? I caught up with drummer Joe Travers backstage, who is, by the way, like the nicest guy ever. Totally humbled about his incredibly skilled and complex drumming abilities (anybody who knows anything about Frank Zappa's music knows how insanely good all of his drummers were) and the project in general. In some ways I understand why they wanted to put Deep Banana Blackout in 3PM slot because they are local Fairfield County guys who always play the Vibes, but to me Zappa Plays Zappa is certainly more of an evening band. This did not stop the largest early set crowd I had seen all weekend from showing up to support them. The main stage field was packed to the brim with hardcore Frank fans, ready to see the premier tribute project to the man, his life, his show, and his music.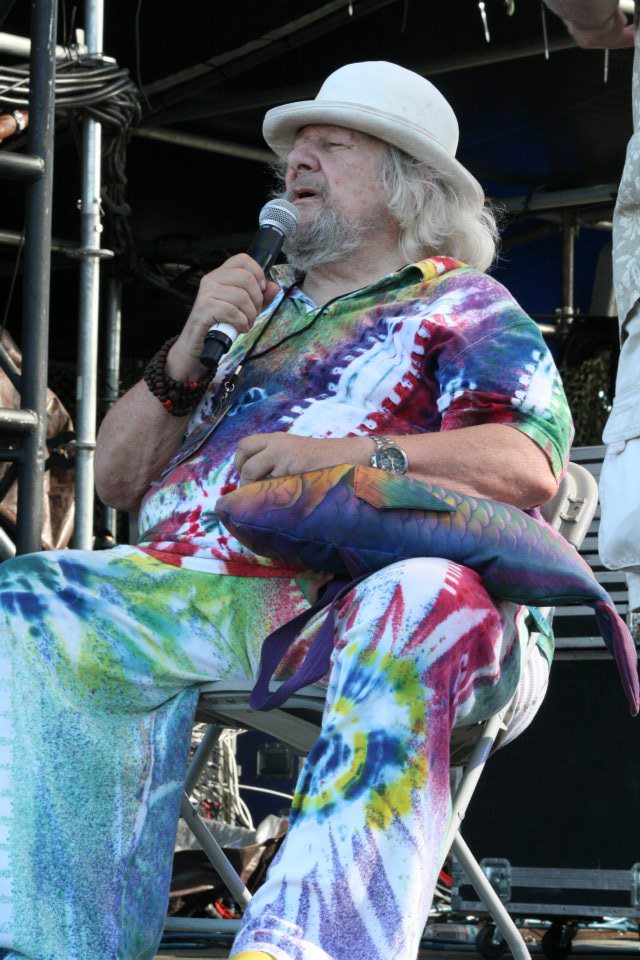 Anybody who has had the distinct pleasure of seeing this tribute knows how eerily precise these guys are. Accompanying guitarist Dweezil Zappa and drummer Travers is Key-Wiz and vocalist Chris Norton (who also plays a mean fiddle), bassist Pete Griffin, saxophone, keyboard, and vocalist Scheila Gonzalez, and Ben Thomas on Horn and covering much of the "Frank" vocal parts. The quintet really does perform perfectionist Zappa compositions to the top of their ability. The crowd went nuts for such Frank classics as "Montana", "Oh No", "City of Tiny Lights" (with an extended jam), and "Trouble Every Day".  Really taking time to recreate the nuanced shredding and unmatched energy that Frank's music represented. If covering a Mozart symphony is challenged, channeling a Zappa composition is divine. Their hour and a half set went by in an instant, and the crowd absolutely loved it.
To my regret, I did not get any photos of "Deep Banana Blackout", an old-school 1990s heyday New Orleans style jam band that got their start in Fairfield, Connecticut, the adjacent town to Bridgeport. They have a solid cult following on the east cost and their set was well received and appreciated by all, particularly vocalist Jen Durkin's soulful pipes. Saturday's review would not be complete without mentioning their crowd-rousing set.
Next on Saturday's lineup was the legendary Grateful Dead percussionist/drummer/instigator Mickey Hart and his band. Touring in support of his fresh album "Mysterium Tremendom." I admittedly had mixed feelings going into the set. When I saw Mickey's band perform last December in Boulder, Colorado at the Fox Theatre, I thought that vocalist Tim Hockenberry's voice was too close to a Peter Gabriel imitation and did not meld well with Mickey's sound. I'm sure many would disagree, as the lineup continued to pile-up praise and acclaim. Mickey showed up fashionably 20 minute late, with MC Wavy Gravy keeping the crowd engaged with his usual brand of bantering nostalgia. Once Mickey had everything "just exactly perfect" (a coined phrase Bob Weir used to use when the Dead were working out technical gremlins) he came out onstage to give a big cheerful welcome to the Vibes.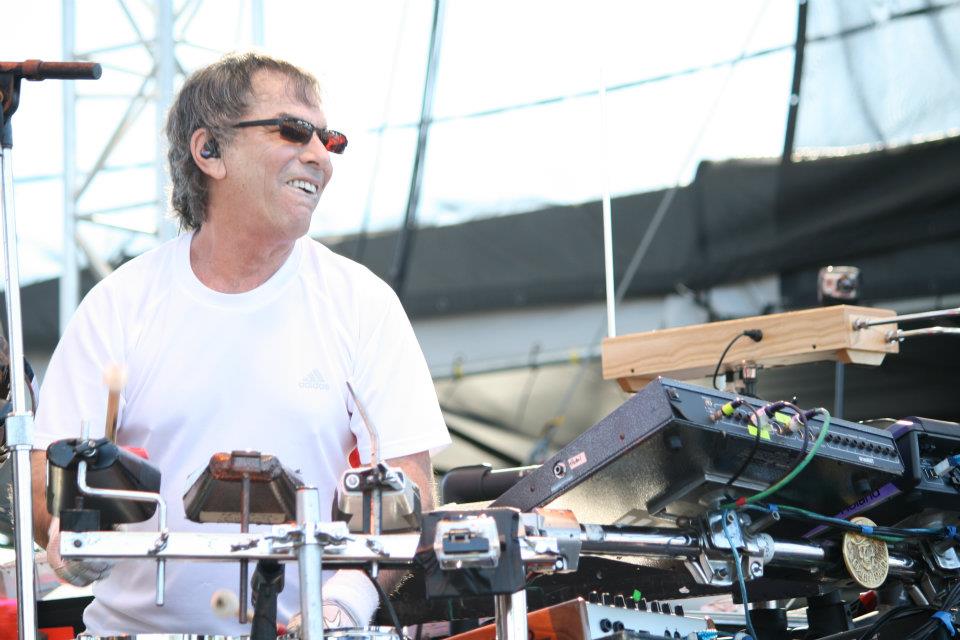 This lineup of Hart's band featured a stronger lead vocalist as Hockenberry quit the band to compete on America's Got Talent. Crystal Monee Hall is as great of a vocalist as any of the great diva singers and really upped the anti for Mickey's band. They were accompanied by bass legend Dave Schools (of Widespread Panic), guitarist Gawain Mathers, longtime Mickey Hart Planet Drum collaborator Sikiru Adepoju on talking drum, and Ian "Inkx" Herman on a second drum kit. Herman's kit was accompanied by Mickey's insane drum rig, filled with percussion from four continents, the infamous beam (a series on un-tuned piano strings used with a slide to create an effect that must be heard to be understood), all sorts of midi drum-pads and gadgets to complete one of the craziest drum sets I have ever seen. Though the band worked out Grateful Dead covers & classics like "Not Fade Away" and "Franklin's Tower", they focused more on their new album, which to me was appropriate given the project. Hats off to Mickey for his new lineup and energetic new project.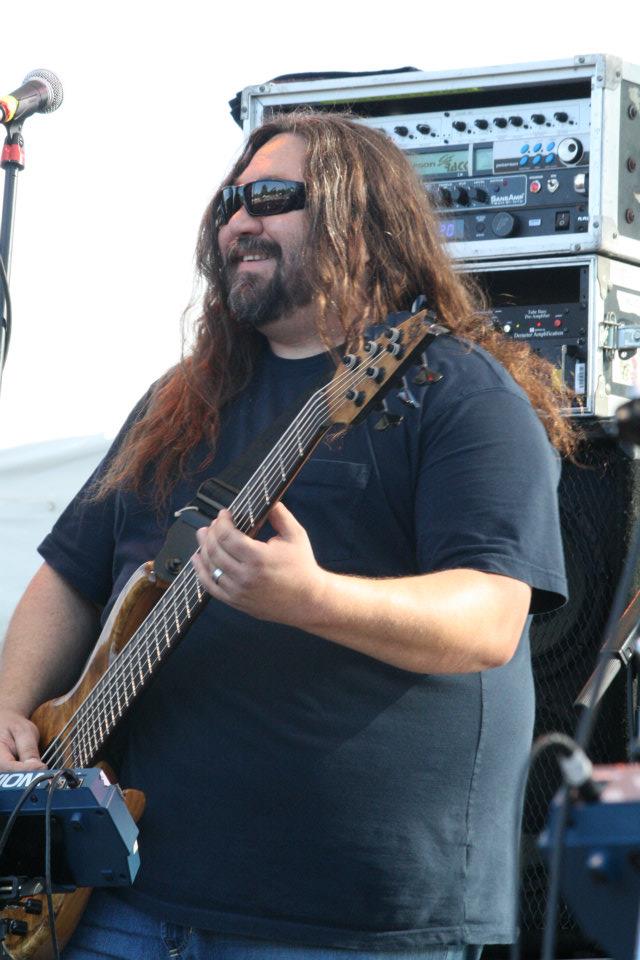 After spending roughly ten hours daily at the festival, the fatigue caught up with me Saturday evening. So I took a break after Mickey to check out a Bridgeport staple, Julio's "Famous" Pizzeria. Great and inexpensive if you ever make it out. I did unfortunately miss the opportunity to photograph the Strangefolk Reunion on the main stage. Strangefolk is a founding act dating back to the very first 1996 Vibe Tribe Reunion when they used to have the festival in New York. It seems as if regional fans will have a few other chances to see the guys this summer in other theatre appearances.
Next out of the main stage was one of the weekend's most exciting headliners, Primus. They played Vibes two years back, and were welcomed back graciously for this year's festival. The infamous Les Claypool, a self-taught bass player virtuoso, power-shredder Larry LaLonde on guitar, and drummer Jay Lane back as a permanent member of Primus since 2010 after a fifteen-year absence from the band (Lane took the opportunity to play in a long-lasting stint with Bob Weir's band Ratdog.) Having seen Primus three other times, as well as other Les Claypool side-bands, I was well acquainted with the happenings of a Primus show; dim lighting, obscured facial features, insane skank-dancing from Claypool. The low lighting made it difficult for many photographers to get a decent shot of the band and it was certainly the most challenging act to cover for that reason. The crowd praised their favorite band with the campy "Primus Sucks!" chant. They must have sucked a lot to get such a rousing encore call from the crowd. Another killer Vibes set for Primus who seems to keep getting more polished and comfortable onstage at festival settings.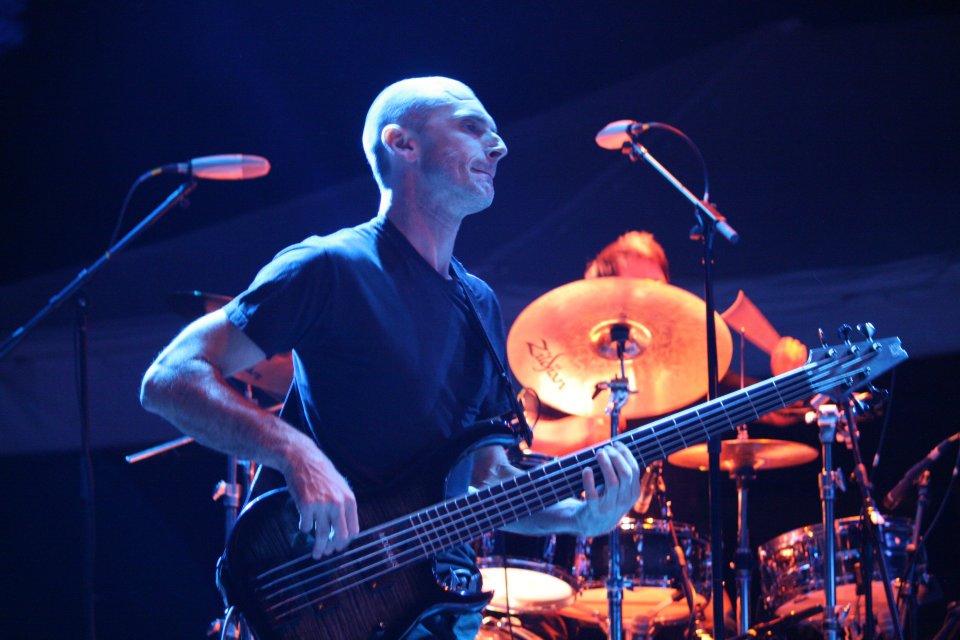 Late night main stage headliner Saturday night was Sound Tribe Sector 9, abbreviated by most as simply "STS9". The funk electro-fusion group from Atlanta, Georgia has been a music festival staple since the early 2000s and has grown to huge worldwide success. With multiple albums under their belt and an impressive cult following, STS9 could be bigger than ever. Considering the intensity of their riffs and jamming, bassist David "Murph" Murphy greets the crowd with a kind demeanor, immediately addressing their appreciation for such a huge turnout. I did not get the chance to stay for the entirety of their late night set, which probably went on well past 2AM, but I did see nearly an hour of their brand of high-octane electronic jamming. Sector will undoubtedly continue to be a festival staple for many years to come.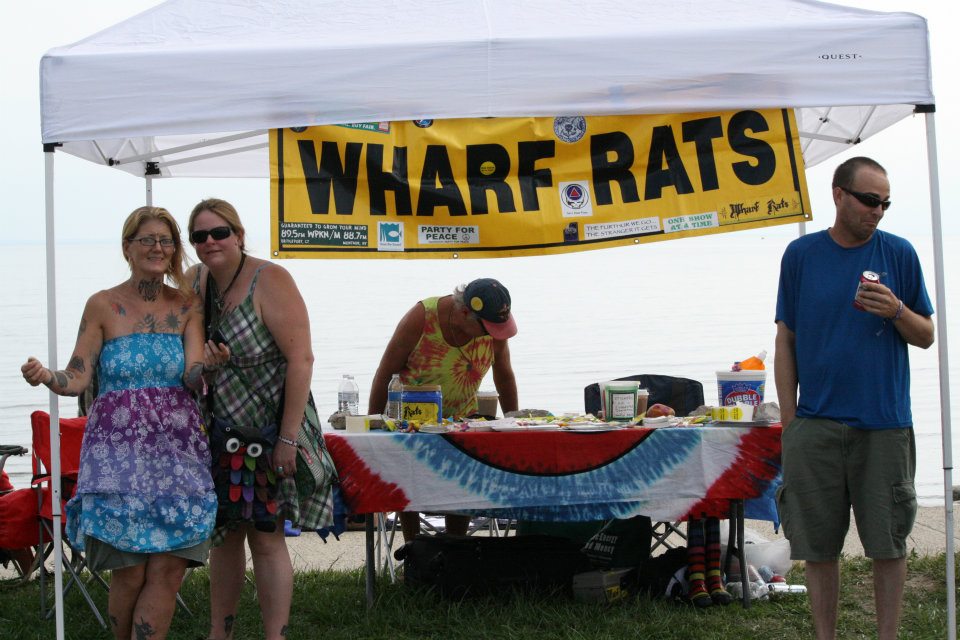 While I may have favored Friday in general due to all of the Dead Family bands performing, Saturday certainly upper the ante in terms of energy, crowd rousing, and that late-night festival vibe that can't be duplicated unless you experience it first hand. Thanks again to all of the wonderful Vibes production and security staff that made sure everybody had a fun and safe time yesterday. Stay tuned for full coverage through Sunday. We'll talk soon!