Driving down from Boulder on HWY 93, our VW Bus and every one coming from the north were treated to a wicked lightning show.  It's funny, but my friends and I often joke about leaving our little bubble in Boulder,  driving into Jefferson County, seeing the factories and sprawl instead of our lovely open space.  Most of the drive is really pretty though. But the city council in Golden hasn't a clue, they have some of the loveliest geography in America, and instead preserving it, they have turned much of into cookie cutter America.  But I digress…
The moment we parked the bus, I headed for the stairs to get in line. Red Rocks is almost always general admission & I was still early enough to get row 1, albeit on the VERY stage right corner. I laid my blanket down, made some new friends, and drink my beer. 
Warren came on stage around 7PM and played a few original tunes and some Hunter/Garcia tunes, such as To Lay Me Down.  I knew we could of been in for intense heat and no breaks from the sun, but fortunately a we had a little rain before the show and the temperature was near perfect.
Let me preface my cynicism.  This is a good band, and I think they're going to have some really good shows this summer. This is show #2 for them and I already prefer this line up to last year's.  Warren Haynes fills up a lot of needed energy, soul, and takes a lot of the pressure off Jimmy Herring.  Personally, not even an entire orchestra could fill spaces like Jerry, so in my opinion, two good guitars players are necessary (not including Weir).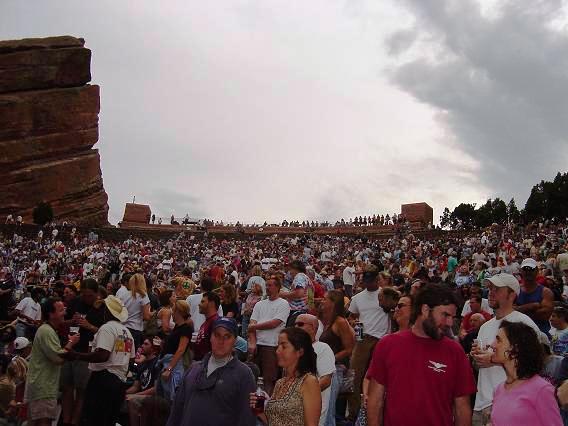 The Dead opened with Shakedown Street.  Not a bad start!. It was apparent right off the bat they were excited to be back at Red Rocks. How couldn't you?  Red Rocks will live up to all the hype, its impossible to get tired of the venue and if you're within the first 30 rows, you're in for a treat (Red Rocks can get windy and the acoustics can be affected up in top).
Milestones (Miles Davis instrumental) was next, followed by a fun Dupree's Diamond Blues. Phil started up 'New Potato Caboose' and by then my friends and I were feeling our microbrews.  Took a few minutes before one of us blurting out the title – a treat, obviously not a song us 30 something's have heard live before.  When I was 19 year old kid in New Jersey; we would venture over the GW Bridge, down to Wetlands to see a Dead cover band, who called themselves New Potato Caboose.  They rocked!
Eight Miles High, by The Birds was next.  I never dissect the lyrics well and sadly Weir and Warren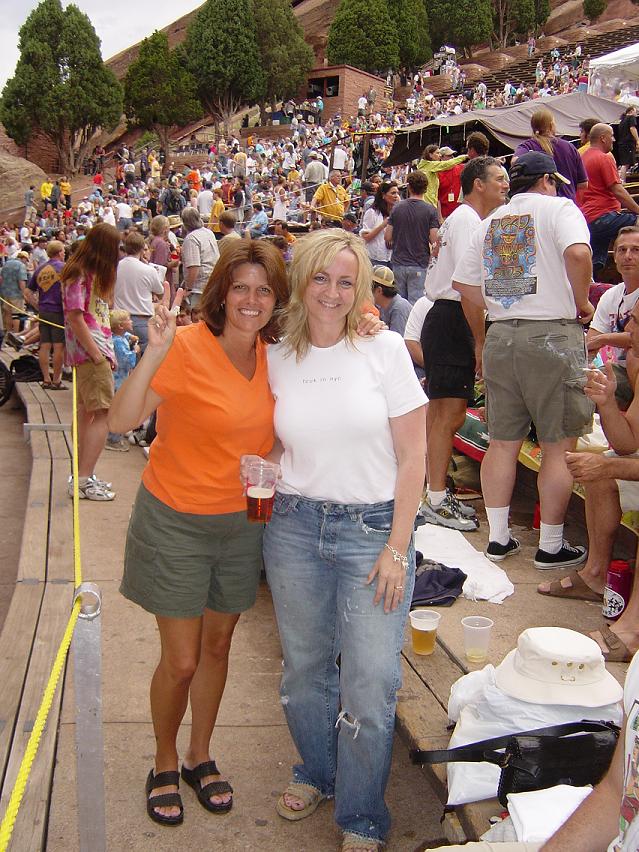 didn't help me understand them any better.  Thank you Google Search!

   Eight miles high and when you touch down
   You'll find that it's stranger than known 
   Signs in the street that say where you're going
   Are somewhere just being their own.
   Nowhere is there warmth to be found
   among those afraid of losing their ground
   Rain gray town known for its sound
   In places small faces unbound
                               
   Round the squares huddled in storms
   Some laughing some just shapeless forms
   Sidewalk scenes and black limousines
   Some living some standing alone
She Said She Said,'however, ripped and this gem by Lennon I know well.  I've seen Phil and Friends play this tune and with Warren's soulful voice, some of the coolest lyrics on the planet, how could this go wrong. . Jeff Chimenti had a great solo, reminiscent of the beloved Brent Mydland.  I thought She Said was clearly the highlight of set 1.
Ramble on Rose, a definite standard, was lively and had most of us singing along. Cold Rain and Snow, was another great sing along. I thought the set was over, but Weir still had another in him and started up Playin in the Band.  Some decent jamming led into eventual noodling, before finishing off the set.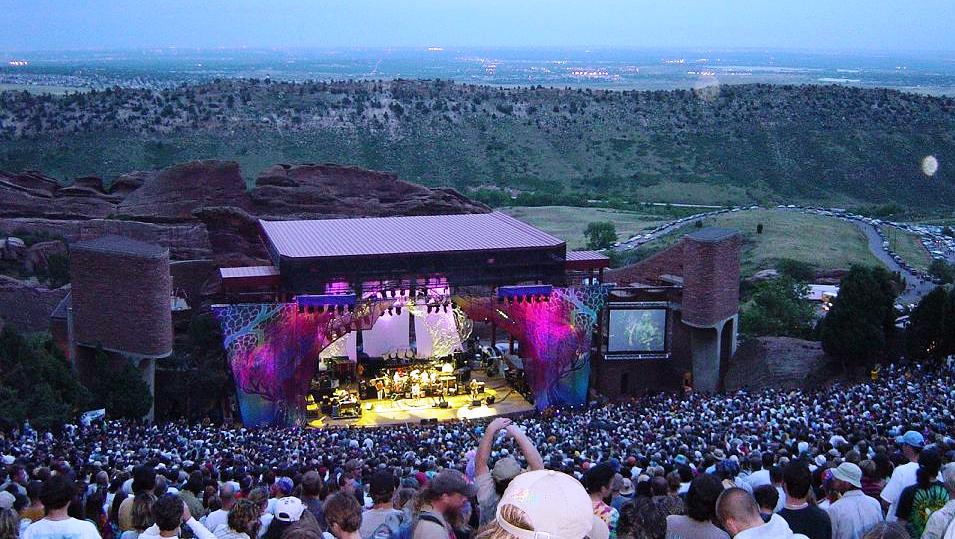 Set 2 started with a pretty sloppy El Paso.  I love this Marty Robbins song but this time it just didn't flow well. Weir started out solo with his acoustic, before each band member made their way on stage joining Weir in a discombobulated fashion.  After the rough start to set II, the band started a loose jam before making their way in the Van Morrison classic, Into the Mystic.  Warren may not be the guy to take the place for Jerry on guitar – his voice is oozes soul and with a song with perfect lyrics, Warren nearly brought us to tears.
Weir started into a pretty inspired West LA Fadeaway, but after 7/19/89's Alpine Valley's West LA... I'll never be the same.  :)  Next we were back into some Playin teases into a bouncy Pride of Cucamonga. Phil was singing it with a big ole smile on his face. Uncle John's Band followed, keeping everyone singing and dancing along.

'Strange World,' a new Mickey Hart tune, was next.  I'm glad Weir and Warren took turns singing this, because I really don't care for Mickey singing any tune.  It's has a pretty catchy little riff, but probably not a song that will have a long shelf life.
Drums followed.  Unfortunately even tonight's drums were nothing to write home about.  Mickey put on some funky outfit when he hit the beam. Almost like a big white doctor's suit. His time on the beam was short and didn't do much for me.  Weir hit the stage to start off a short space, which led Warren singing Days Between.  He had a teleprompter but still didn't articulate the words too well.  This is a song I believe would have grown with time – it's a powerful song, haunting, eerie.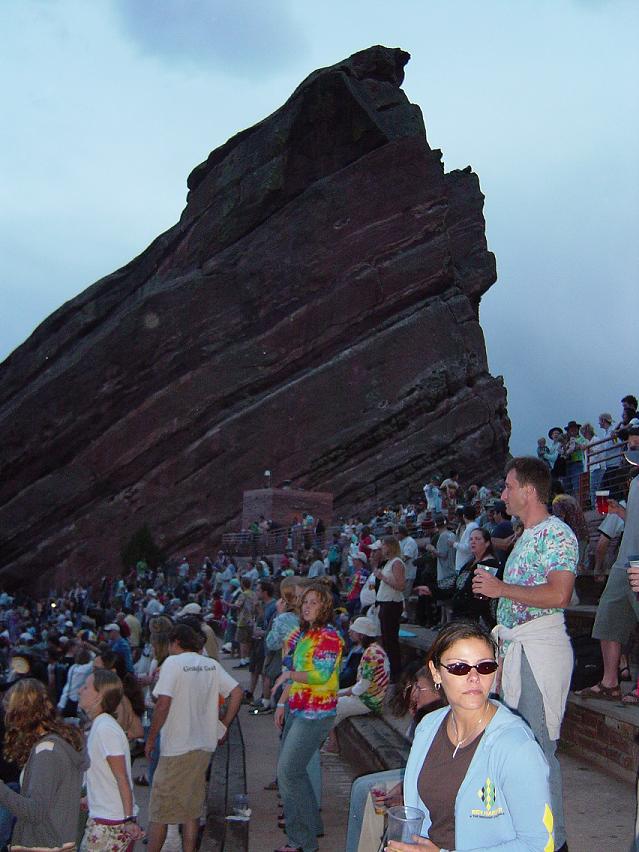 Weir started up the China Cat Sunflower riff, before Warren, Jimmy and Phil joined in. The jam into 'Rider' was fair. But once I know You Rider' started, the energy really turned up a notch and everyone was in prime time.  There's nothing more special than singing 'I wish I was headline on a northbound train... I'll shine my light through the cool Colorado rain'  that here at Red Rocks Ampitheater and boy did we all belt it unison.
An Uncle John's reprise followed and was pretty tight. Weir immediately followed that up with a Playin reprise to end the set.
Phil came out and did is spiel on donors, etc. but the real coolness was next when Bobby told everyone to vote!  Weir said: 'this might be the last time you can.' Keep it up, Bobby! In this election more than ever we need you guys to speak your minds!. 
Ripple was the encore (around 12:30 A.M.) and had everyone leaving mostly satisfied and some of us wanting more.  For those who do, there are still four more shows to go.. Ahh, life is good in Colorado!