The Del McCoury Band's tribute to Bill Monroe, Old Memories: The Songs of Bill Monroe, will be released on CD just in time for the Grammy Awards.  The album was previously released digitally and on vinyl in September 2011 and received a Grammy nomination for "Best Bluegrass Album" in December.
The aforementioned September date, also marked the 100th anniversary of Bill Monroe's birth, and not surprisingly, there have already been plenty of tributes to the Father of Bluegrass Music, with more still to come.  But when listeners turn to Old Memories: The Songs Of Bill Monroe--what they hear won't be the result of a carefully crafted campaign, but the result of a decision that was as spontaneous as it was inevitable—because for Del McCoury, Bill Monroe's legacy isn't just a matter of history, but something that's as immediate and personal as the guitar he picks up every time he gets ready to play.
"I had done songs of his on different albums I made through the years," says McCoury, who served a life-changing year with Monroe's Blue Grass Boys from 1963 to early 1964.  "But I'd never really thought about doing a whole album until the day we were flying home from the Grammy awards—and by the time we got to Nashville, I'd made a pretty good list of what I wanted to do.  I didn't want to do a lot of things that everybody had already done; I wanted to do somethings that weren't real popular but were really good.  Some were songs I'd never heard him sing, some were songs that he'd sing on a show—and some were songs that he sang on the record, but he made me learn the lead.  And I wanted to do them in the same keys he did, because if you change that, you just don't have the same sound he had on them."
The result is a set that perfectly captures the essence of Bill Monroe's music—and does it in a way that stands head and shoulders above the crowd.  For when Del McCoury lifts his voice to sing "In Despair" or "Live And Let Live," what comes out is what he learned to sing standing next to Monroe on stage, tempered by another few decades of bluegrass tradition; when he tackles a song like "Heavy Traffic Ahead," he remembers his brother bringing that 78 RPM record home from the store when it was first released; and when he harmonizes with son Ronnie on the Monroe-Hank Williams gem, "I'm Blue, I'm Lonesome," family and tradition blend perfectly as he sings the master's part while Ronnie takes over the part Del used to sing himself with Monroe.
That intimate knowledge of Monroe's style—and of his repertoire—helps to make Old Memories a truly unique collection.  "I put more runs in my guitar playing for this one," McCoury notes "Because, you know, Bill really liked Edd Mayfield's playing, and Edd played runs all the time.   So without even thinking about it, I think I played guitar on this record more like the way I played when I was with Bill—I even took a break on 'Used To Be,' because Bill had Charlie Cline take a solo on that one.  And I got some songs that you don't hear too often, like 'Lonesome Truck Driver Blues.'  That one kind of hit home to me, because I used to drive a truck myself, and there are a lot of things in that song about what a truck driver goes through."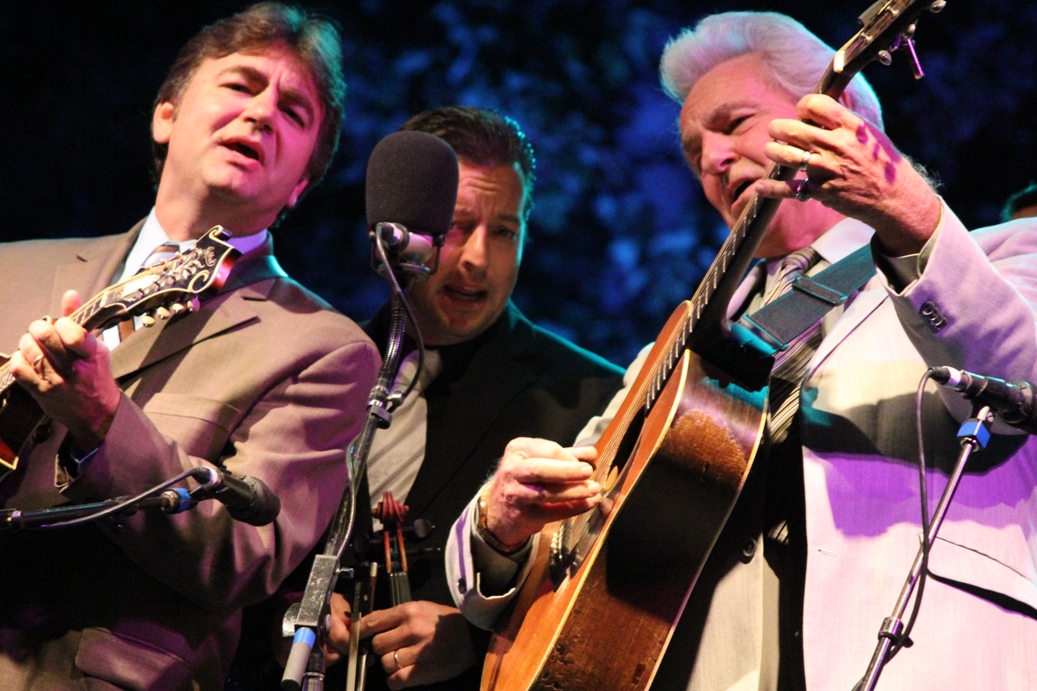 Backed as always by his ace Del McCoury Band—son Ronnie on the mandolin, son Rob on the banjo, along with long-time fiddler Jason Carter and six year veteran Alan Bartram on bass—McCoury works his way through a generous 16-track set that nods to the show he played with Monroe by starting with a quick "Watermelon On The Vine" and concluding with a bit of a favorite closer, "Y'all Come."  In between there are well-known classics like "Close By" and "Rose Of Old Kentucky," obscurities like the Hank Williams-penned "Alabama Waltz," rarities like "The Girl In The Blue Velvet Band" and "Train 45"—Monroe was one of the few to record the tune with lyrics—and much more.  But whether they're staples of the bluegrass repertoire or resurrected rarities, what each has in common is an incomparable authenticity, bestowed in equal measure by Del McCoury's personal connection to Monroe and his music, and by his unalloyed musical integrity.  And in the end, that makes Old Memories: The Songs Of Bill Monroe not just the tribute to Bill Monroe that it's intended to be, but a tribute, too, to the newest member of the Bluegrass Hall of Fame—Del McCoury.