Award-winning female vocalist, CARRIE HASSLER will kick off her new album, THE DISTANCE at a CD Release Block Party on Saturday, April 28, 2012 in downtown Pikeville, TN at 4:00 pm.  The event will include performances by DALE ANN BRADLEY, STEVE GULLEY, Harlan, Kentucky based national touring act and fellow Rural Rhythm Records label-mate, CUMBERLAND RIVER, and many more special guests.  This free event will take place in downtown Pikeville adjacent to Carrie's family owned restaurant, LITTLE MAGGIE'S. 
THE DISTANCE releases April 24, 2012 and showcases Carrie's tremendous vocal talent which to date has produced #1 songs and chart hits around the world.  The album includes the award-winning talents of: Tim Stafford (guitar); Ron Stewart (banjo); Justin Moses (fiddle); Alan Bibey (mandolin); Mark Fain (bass); Mark Laws (Percussion); Dale Ann Bradley (harmony vocals), and the album's producer Steve Gulley (harmony vocals).
The songs on this special new project were especially written for Carrie by some of today's top songwriters including:  Carl Jackson, Tim Stafford, Steve Gulley, Mark Wheeler, Jennifer Strickland, Bobby K. Boyd and Ashley McBryde.  Tracks include: "Luxury Liner," "All I Have To Do Is Breathe," "Catch My Breath," "Keep Your Memory Warm," "Eugene & Diane," "Give Me Love," "Get Me Over You," and "The Distance."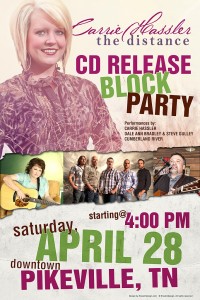 Fans will no doubt be thrilled to hear her wide range of musical styles that represent her incredible vocal talent and diversity as she performs heart and soul love songs, beautiful ballads, Patsy Cline Country, Country Inspirational, to a hard driving bluegrass song.
Carrie's previous albums on Rural Rhythm Records earned her a string of #1s on a wide variety of radio charts including: "I Can Go Back Anytime,"  "Faith & Hope," "Country Strong,"  "Leaving You Behind,"  "Second Chances," "Least That I Can Do," along with Top 10 hits and fan favorites such as "Seven Miles From Wichita" and "Going on the Next Train."
Carrie Hassler is nationally sponsored by Chattanooga, TN based company MOON PIE.  For more information on Carrie, please visit CarrieHassler.com and RuralRhythm.com.