The annual Django Reinhardt NY Festival now is semi-annual, June and November, due to public demand for this very popular event of HOT JAZZ.  The Festival is produced by Pat Philips & Ettore Stratta.
Returning are 'THE YOUNG LIONS OF GYPSY JAZZ' from France headed by SAMSON SCHMITT, guitar great and son of legendary gypsy star Dorado Schmitt, who will return in November.  Samson, out on his own now, is a rising star all over Europe. He grew up alongside his Dad on the Birdland stage having appeared for over 10 years, full of talent and personality.  Samson comes from the Strasbourg region of France, part of the Manouche gypsy culture, and is joined by the very popular LUDOVIC BEIER on Accordion and Accordina.   He is a familiar favorite face on the Hot Jazz scene at Birdland and on tour, along with PIERRE BLANCHARD, great Violinist, both from Paris.
A newcomer last year, French Rhythm Guitarist DOUDOU CUILLERIER,  created a great energy, and his surprise Scat-Singing brought the house down.  Our very own BRIAN TORFF supports the band on Bass and by Hosting the fun on the stage!  Special Guest is EVAN PERRI of "The Hot Club of Detroit".  Their new CD "Junction" will be released in July by MackAvenue Records.
Top Women In Jazz join each night as Guests: ANAT COHEN/June 19 & 20, GRACE KELLY/21 & 22, and CYRILLE AIMEE/23 & 24.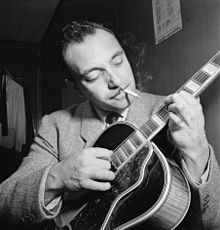 The DJANGO REINHARDT NY FESTIVAL carries on the legacy of legendary gypsy guitarist DJANGO REINHARDT, but with some new songs and new interpretations keeping it fresh, exciting, cutting-edge…but true to the HOT JAZZ, ROMANTIC, style which has exploded across the US.  It all started at Birdland in 2000 with the launching of the Festival and continued with tours including prestigious venues such as The Kennedy Center, Disney Hall in LA, and The San Francisco Festival. (In November they will again be back at this important Festival as they celebrate its 30-year anniversary at the SF Performing Arts Center!) Birdland, home of Django's music in the US will be swinging June 19 – 24, joined by great Women in Jazz.
All Aboard! Birdland Django Reinhardt NY Festival
On WORLD YACHT,  August 3rd
With "The Hot Club of Detroit"
For Info:  www.worldyacht.com
Or:  [email protected]